Velvet, now Clover
Gender: Female
Age: 2 years
Height/Weight: tbd / 33 lbs
Housebroken: yes
Fenced yard required: yes
Location: SE Michigan
Foster Home: Chris and Don


Crate-trained: yes
Treat-motivated: yes
Toy-motivated: learning
Likes Car Rides: yes
Good with cats: no
Good with kids: 10 and older
Commands: sit, down, come, wait, working on ringing a bell to go outside
---
April, 2014: "Clover GLBCR alum is five and is a love bug velcro pup who loves nature watching & herding basketballs & me! She's so very happy, healthy an is always on hyper speed. Clover was fostered by Chris & Don - thank you forever for agreeing when Clover chose me!!"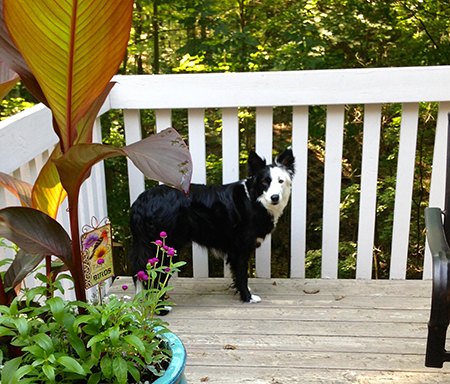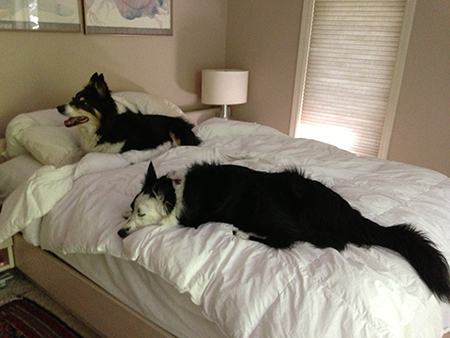 With brother, Riot, adopted from GLBCR in 2001
---
Update: Velvet was adopted in November, 2010. We've received the following updates from her new mom: "Velvet had a good trip to her new home in Grand Rapids. Last night we took a long walk, had dinner & played with lots of toys. We put Velvet's crate in our bedroom right next to Riot's bed, she had a bedtime biscuit & went right to sleep. Thanks for doing the crate training!

"She & Riot have been having a lot of fun playing outside. I brought out a basketball so she could herd it instead of nipping at Riot. She seems to be getting the hang of it. Riot used to have a herding ball but he would herd it into my ankles - those balls are really hard & heavy & I got pretty bruised up so we gave the ball away to another BC & switched to a basketball.

"We've decided to change Velvet's name to Clover. Clover - a sweet petite flower who we were lucky to find (as in the rare four leaved clover). "C" is the symbol for speed of light - she does everything sooo fast! The rest of the name is "lover", self explanatory.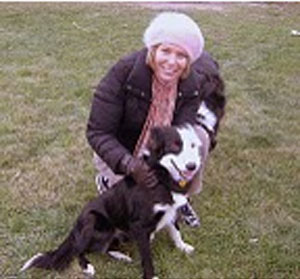 "This morning, she woke up at 8 a.m. & we took long walk before breakfast. This afternoon, Riot, Jim & I spent an hour showing her how to catch tennis balls but she still prefers to chase Riot. I experienced some shoe heel biting as I was walking outdoors around the house (thanks for the heads up on this) - she easily corrects with a gentle "no" - she's a sensitive little girl. Thank you for the notes on her, they're very helpful. Right now, they're both napping on the couch in our home office. Velvet & Riot are easily getting their routine down & appear to enjoy each other's company. Jim & I absolutely love her & she's going to be a breeze to train in all kinds of fun stuff.
"Thanks so much for giving Velvet a loving start.
---
From the tip of her ear to the tip of her toe, this is one sweet girl! It won't take much for her to steal your heart.

Velvet has the looks, athletic ability and the personality to match. She is the complete package! She has enormous potential to do just about anything you ask of her. She is full of spunk and energy when its time to play and settles down quietly when the fun is over. She gets along great with other dogs and she loves to be the center of attention. She is very attentive, curious and eager to learn and please. It is very important for her to be close with her person(s); she wants to be wherever you are.

Her new family will need to keep her busy with different activities because she has a lot of energy to burn. She rides nicely in the car and is a pleasure to walk on leash. She will be a rock star in an obedience class and it will do wonders for her confidence. She has just been spayed, microchipped, is up to date on her vaccinations and is eager to meet her new family.

Please note that Velvet will require a home with Border Collie experience.
---
Photos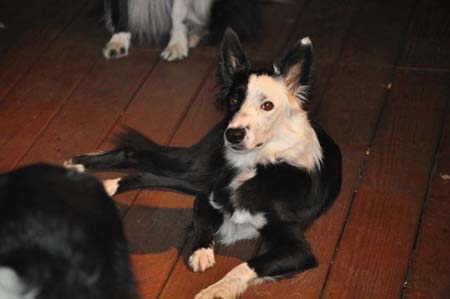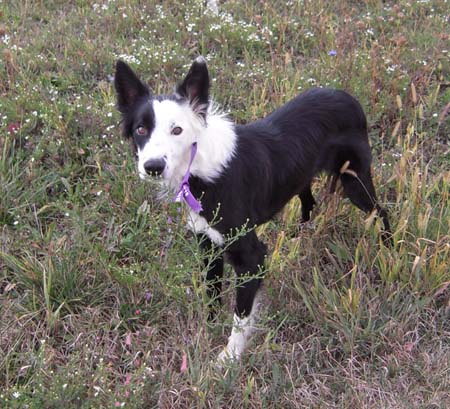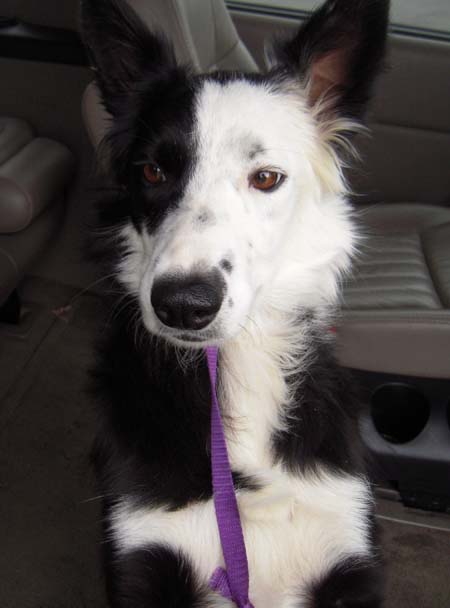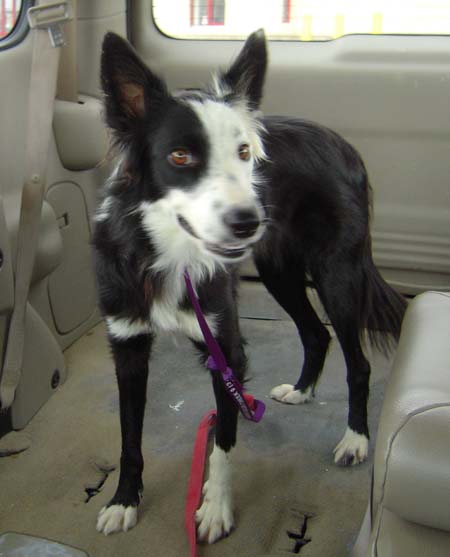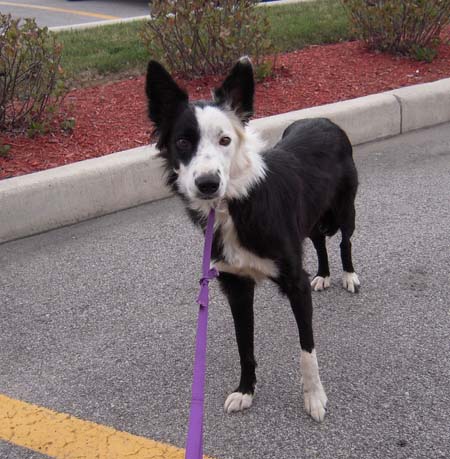 ---
Videos