Bowdy
Gender: Male
Age: 3 1/2 Years
Height/Weight: tbd / 55 lbs
Housebroken:
Fenced yard required:
Location: Northern Michigan
Foster Home: Tina


Crate-trained: Yes
Treat-motivated: YES!
Toy-motivated:
Likes Car Rides: Learning
Good with cats:
Good with kids: Yes
Commands:
---
Bowdy was adopted in December, 2011. He looks pretty comfortable, doesn't he?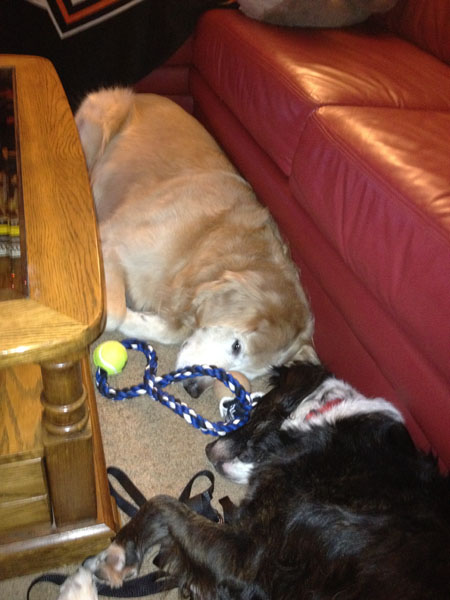 ---
Update December 5, 2011:Well, the snow isn't flying yet up here in Northern Michigan, but the Christmas tree is up and Bowdy stares at it in amazement! He sits and quietly watches the lights twinkle and the tree skirt moving silently as the cat enjoys her constant vigil under the tree. He knows she is there, but he can't see her. Still, he waits to see if she will come out so he can chase her back to her room. Bowdy sees new things all day long and he is doing his best to take it all in. After a very sheltered and lonely past, he can still be easily excited with fast moving objects or people walking pets past the window, but he has made huge progress as he is exposed to many new things everyday. Even the cat is getting braver about slinking around near him.


Bowdy is a very loving dog, always wanting to be near, he will only be a couple of feet away, whether I am home or at work He loves to ride in our trucks, especially with my husband and will sit peacefully in his truck for hours while he works outside. When travelling down the road, he occasionally will see a dog or someone jogging and he will bark and whine. He has been getting a lot better, in a few minutes will usually lay down and take a nap. When outside, whether on a line or in a fenced area he is generally quiet. He can be out for hours without a complaint, but, like his foster sisters, sometimes he gets bored and barks. He really enjoys the out of doors in any weather and loves water too.


Bowdy plays ball, especially for treats, and he learns tricks very easily. He knows sit, stay, down, shake and we are working on recall. He is very treat motivated so it is easy to get his attention.


In my opinion, one of his most redeeming qualities is his ability to just be a companion. He does not have the typical BC energy, he is fine if he doesn't play outside for hours on a rainy day or if you would just like to nap instead!! But, he has all of the smarts and endearing quirks and qualities we love about our Border Collies. He is, in short, a rare find for those who would like a little less energy from our favorite breed.


In the house, his manners are perfect. He can be left for hours at a time, with or without another dog. He will not get up on the furniture, counter surf or chew on anything. He does sleep with us (my husband taught him that) but will not get on any beds at other homes unless he is invited to do so. He has never marked or had any accidents in the house and he will whine if he needs to go out. Bowdy is calm and quiet in a crate, but getting him to go in can be a challenge. A peanut butter filled Kong can work, but not always. If he is in the crate he will lay down and not a sound he will make. He will wait patiently by the door to go out, but he can and will escape if he thinks he can get away with it. He sees grandchildren in ages ranging from 2 to 11 and he is fine and happy with all.


Bowdy loves walks and is definitely improving his leash skills. He always stays on all fours, but can pull at times. At work he greets new people everyday and his beautiful fluffy tail is always wagging. He has a thick, soft and silky coat and he loves hugs and kisses.


Bowdys' wish for a perfect forever home would be with someone who could spend time with him, either at home or outside or in the car. Maybe someone who is retired or works part time or a few days a week so he could enjoy their company. Even if it's just working in the home ( he loves to lay on your feet under the desk) or even watch TV together. A little ball playing or learning a new trick or even just a walk around the neighborhood would suit him just fine!


Bowdy needs a no nonsense partner that will continue to work on his recall and reaction to occasional new things. He would be great as a playmate to a larger dog that likes to play, or a cat who is dog savvy. He is very easy dog to have around and as life unfolds for him (with a little help) he will continue to be a calm and wonderful companion with all of the smarts and silliness we know and love about Border Collies.
---
Bowdy is a 3 1/2 year old male Border Collie/Shepherd mix. He has a beautiful Black/Brown coat and BC markings. He weighs about 55 lbs. His previous owner found him at the age of about 6 monthes and kept him about 3 years. Although he was very well treated physically, she didn't have the room or energy to deal with his energy and quirkyness. Bowdy has met many dogs, people and kids during his short stay and has loved everyone. He has met the cat and is OK with her too. Bowdy has enjoyed swimming, being outside on a line or in the fence, playing ball, frisbee and tug of war with my dogs and I am sure he had never done any of these things before. He knows sit, stay, outside, OK, shake, and is VERY treat motivated. He learns new things immediately! He sleeps quietly in a crate, has excellent indoor manners, and is fine at home alone. Bowdy does need work on riding quietly in the car as he is easily excited.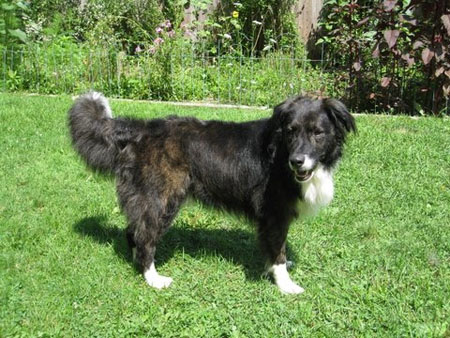 ---
Photos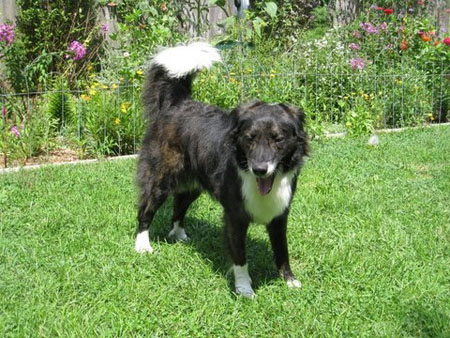 ---
Videos