Cazzie
Gender:Female
Age: 6 Months
Height/Weight: 35lbs and growing
Housebroken: Yes
Fenced yard required: At First
Location: SE Michigan
Foster Home: Terri


Crate-trained:Yes
Treat-motivated:Yes
Toy-motivated:Somewhat
Likes Car Rides:Yes
Good with cats: If dog savvy
Good with kids:Yes
Commands: Uh-uh, no, sit, ball, drop, up, down
---
Cazzie was adopted in February, 2011. We received the following update in September, 2011: "I'm emailing you to give you an update of CAZZIE! We adopted Cazzie almost 6 months ago, or should I say, 'our whole life just got better almost 6 months ago.' Not only is she my baby girl, but my running partner! We love to go on runs around the neighborhood, or sprints in Cazzie's mind. When we're not running, you can't get her out of the water. Cazzie loves to play fetch in the pond although she never gets out of the water to give you back the stick, just swims around like a muskrat :) Frisbee is her way of showing off in front of me and her daddy, Kevin. She jumps so far in the air and risks getting hurt to just catch that flying frisbee. She astounds us everytime!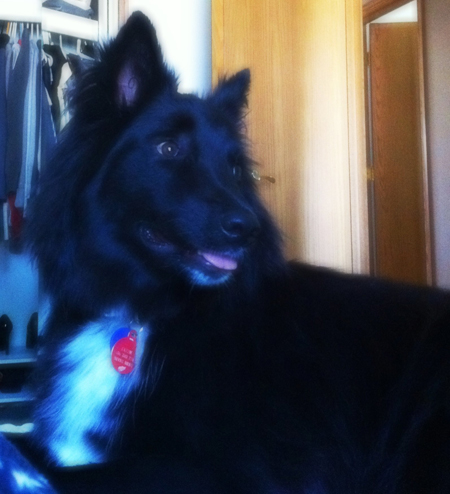 "She loves her weekly trips in the big red dodge truck to the farm to play with her best buddies, a black lab, Boe, and cockerspaniel, Buddy. They can run for hours chasing soccer balls and running up and down the creek.

"After a long day at the farm she loves to chew on her newest bone she just got while I read my book and wind down from the day.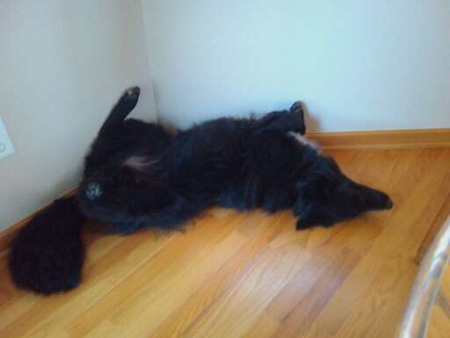 "Winter is coming up and it's her favorite time of the year. Snow and cold are defiantly in her favor! Until then, it's swimming, chasing leaves and playing frisbee!"
---
UPDATE JANUARY 2011
Cazzie, now 6 months old, and 35 pounds of wonderful, is ready for a home of her own! Cazzie is now housebroken and crate trained (though after 1 1/2 months of shelter life, we often prefer to confine rather than crate her). She continues to adapt to the schedule of a normal household, and has settled into our routine. She does like toys, but a treat sure gets her attention quickly! She is working on learning new commands, and now additionally knows ball, drop, up, and down. Once her recall is solid, she may not require a fenced yard, as she does not seem prone to wandering. So far, she has done well with children (she does not jump up or lick) as well as with our dog-savvy cat. She enjoys participating in the kids chase games. Over the holidays, she wowed us all by behaving beautifully in a store crowded with strangers.Cazzie would do well in an active household, and would love to take some obedience and/or agility lessons with you. She will need a firm, consistent handler. Since Cazzie thinks she should be alpha, and will challenge others for authority, some attention to fit with other canine household members is recommended.
DECEMBER 2010
This 4 ½ month old Border Collie mix is full of zest. Although she doesn't appear to have been in a home before she was picked up as a stray, she is doing well with learning what house living and a family is all about. Cazzie spent almost two months at the shelter before being brought into foster care. Her first night in her foster home was a night of firsts…first time she saw stairs, ran on wood floors, saw herself in a mirror. We are working on housetraining at the moment. She is quite smart and a fast learner so I'm sure that will be learned in no time. I'm still learning her personality and what type of home would be best for Cazzie. She does like to try to dominate and will need an experienced home as well as obedience training would be highly recommended. She is very fast and agile, the stairway is meant to be taken in four steps from her point of view, loves playing ball and fetch and will snuggle up when she's done playing…which takes a while. She is interested in the cat and pesters her a bit but I do not feel she would harm her, just wants to play. She did well with the young kids when they visited. A home with other dogs would require an introduction as she does want to be alpha but when she met our female, she put Cazzie in her place. Cazzie does listen well, has a good recall, knows uh-uh, no, and sit. More updates to be coming soon!
---

Cazzie came to Borders Book Store and worked the crowd while the GLBCR volunteers wrapped gifts in exchange for donations this past holiday season. As you can see, she was a big hit!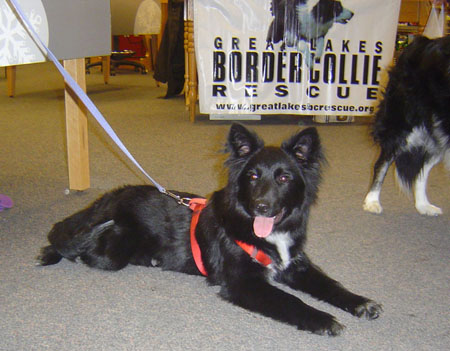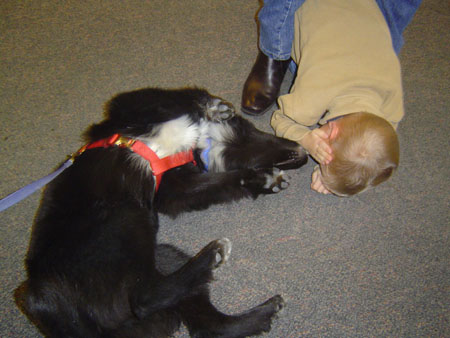 ---
Photos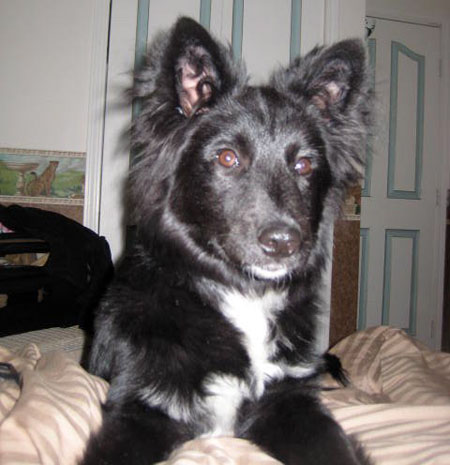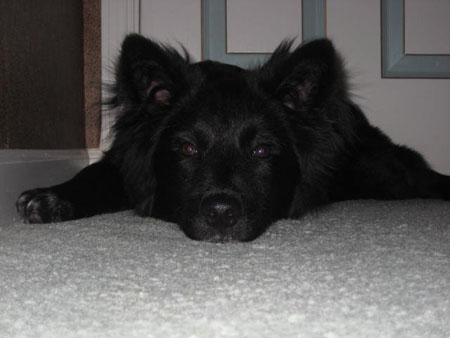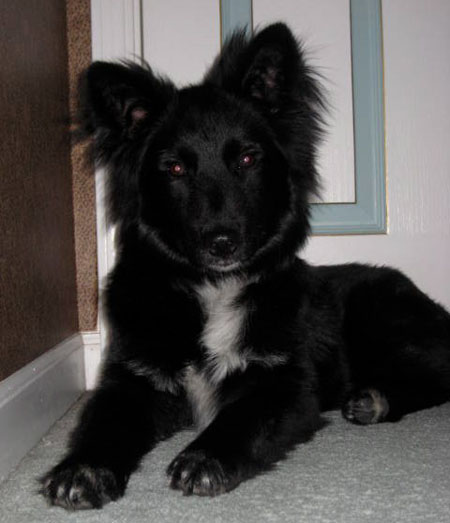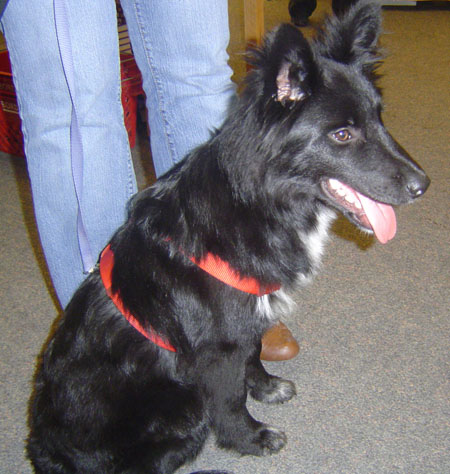 ---
Videos