Freddie
Gender: Male
Age: 6 Months
Height/Weight: 19" / 32 lbs
Housebroken: learning quickly
Fenced yard required: No
Location: Mid-Michigan
Foster Home: Patty


Crate-trained: Yes
Treat-motivated: Yes
Toy-motivated: Yes
Likes Car Rides: Yes
Good with cats: Yes
Good with kids: Yes
Commands: learning
---
Freddie was adopted in July, 2011. We look forward to receiving updates from his new home.
---
Update June 7, 2011: Freddie joined the GLBCR Booth Crew at the 2011 Frankenmuth Dog Bowl where he demonstrated what an awesome little dog he is. He was there both Saturday and Sunday, and greeted everyone with a smile and a wagging tail. Here he is, taking a break with his foster mom Patty.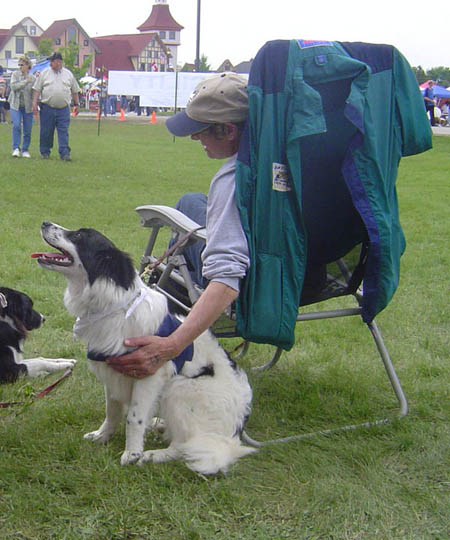 Below, Freddie meets Ambassador Dog Gulliver, the World's Largest Border Collie.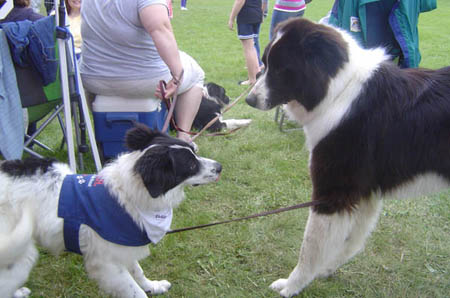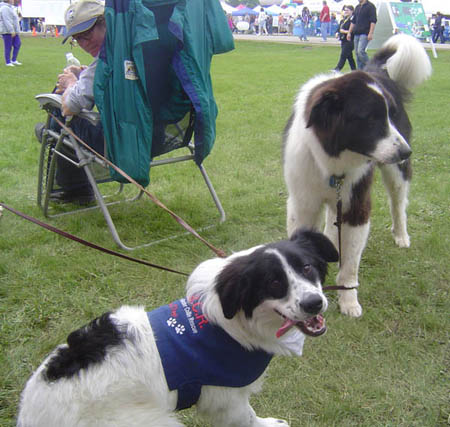 "That's the biggest Border Collie I've ever seen!"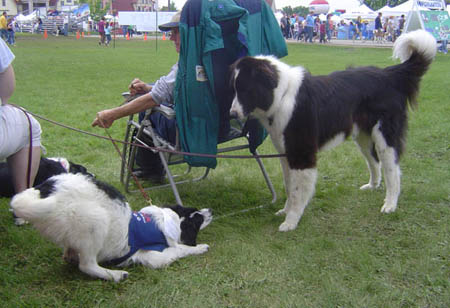 "Let's find out if he likes to wrestle!"
---
Update May 20, 2011: Freddy has come a long way from the scared, filthy, sick little boy he was in that rural KY shelter. He's a happy, healthy bouncy pup who doesn't know a stranger. Freddy is around 7 months old, and we believe him to be mixed with Spaniel. He has the best of both personalities. He's fun, he's smart and loves kids. Maybe a little too rambunctious for wee little ones. He's learned a lot from my own dogz, is pretty much housebroken and learned manners. He's happiest when just hanging with his people and doesn't let you get much out of his sight. Freddy is very much a puppy yet and likes to chew. So he needs to be supervised or he'll grab what ever's closest. He's done teething now and he's getting over it quickly but still likes his toys. He's crate trained and getting good about walking on a leash. I can't say enough nice things about Freddy. He's still a silly pup but he's going to grow into the bestest family friend you could ever want.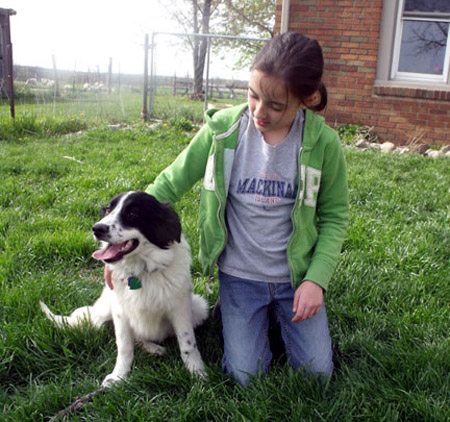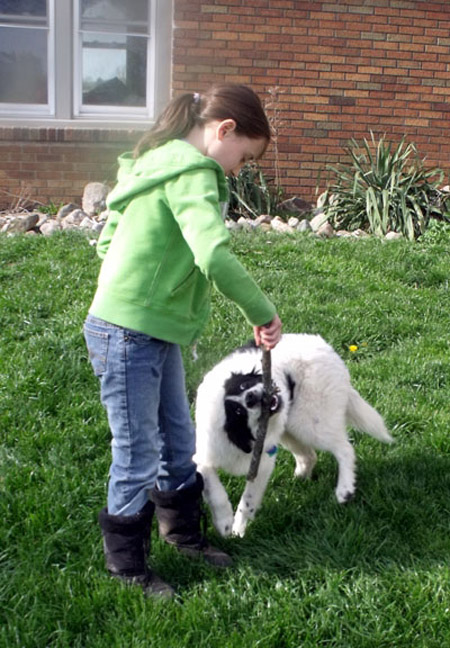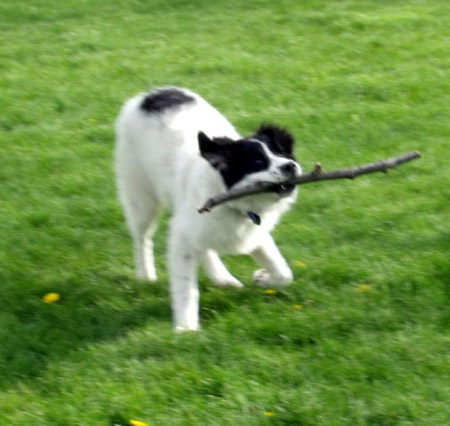 ---
Freddy was a stray, pulled from a rural KY shelter on his last day. He's just now losing his baby teeth which makes him 6 months old. Since he's teething, he's chewing on everything in sight but will happily redirect to stuffed Kongs or Bones. Right now, outside, he's on yard quarintine having come with a couple unwelcome parasites. But we're working on that and his treatment will be over soon. Inside the house, he only had a couple accidents the first day. Already he runs right to the door when I let him out of his crate. Freddie is most likely mixed with Spaniel or Setter - a terrific combination. Smart and fun without the need for a job. He's just the happiest little guy, gets all silly and wiggly when you talk to him. He just loves to be held, loves tummy rubs, and he loves everybody. He will stick around his people out in the yard. Freddie had never been in a house, he had to learn steps & doors. He has yet to learn all kinds of things. He'll go wherever he feels like, such as the back of the couch or a bookshelf. However, he's learning house manners very quickly from my resident kidz. He picks up on things fast. With a little work and a household obedience class, Freddy is going to make some lucky family an awesome buddy.
---
Photos
---
Videos