Jackson
Gender: Male
Age: 4 Years
Height/Weight: tbd / 57 and losing
Housebroken: Yes
Fenced yard required: No
Location: Mid-Michigan
Foster Home: Tammy

Crate-trained: Yes
Treat-motivated: learning
Toy-motivated: tennis ball
Likes Car Rides: Yes
Good with cats: Yes
Good with kids: Over 12 Only
Commands: sit, down, comes to his name, "yes", "no", wait, target, get it, watch me
---
Jackson was adopted in May, 2011. Here are a few pictures of him in his new home.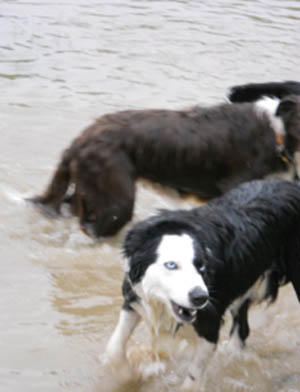 Going for a swim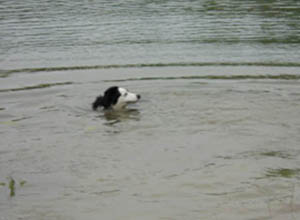 He loves the water!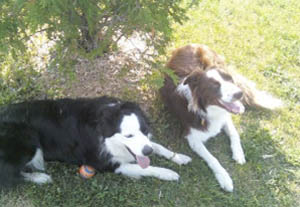 With new brother, Java.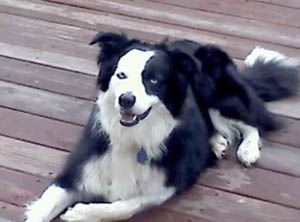 How's this for a happy boy???
---
Update April 25, 2011:Jackson has completed his agility class with flying colors! He was successful with all of the equipment we tried, he even made it over the teeter-totter with a little assistance.


He has blossomed into a very nice dog, and is learning that kids are not so scary. While still timid, he has become comfortable with the children in his life and is learning to live among them rather than just sitting back and watching them.


Jackson continues to lose weight and his endurance is increasing rapidly. (so is his drive to play ball)


Any person would be lucky to have a dog like Jackson. He is loyal, loving and funny. His personality is blooming with his confidence in himself. The sky is the limit for Jackson, if only given the love and support that he will require. A gentle sole and a sweet face, that is Jackson.
---
Update March 22, 2011:Jackson is making some progress in his comfort level with young children. With continual exposure, Jackson is becoming to trust kids more every day. He is willing to initiate play with the toddlers in his world, and is willing to let them pet all over him. He will lay on the floor and let them pet him, all the while lavishing them with kissies. He is quite the smoochie-poochie! My outlook is improving for him being comfortable with children at younger ages with every exposure. What he struggles with is the noise level of some kids. If they have a loud-high pitch to their voice (like most kids do...), he tends to shy from them...
---
Update March 10, 2011:At this point with Jackson, I would say that young kids would be a deal breaker with Jackson. He is still a little shy with new adults, but he warms up quickly when socialized. He is still struggling with kids, no aggression, just really timid. He maintains the curious but cautious behavior. He would rather exit the facilities than to have to deal with kids. I continue to work on this issue by building his confidence and exposing him to kids, but it will take time.


My dream home for Jackson: Active single person, or couple, who are willing to spend time with him on the agility course, or possibly fly-ball. He is not turning out to be the "companion dog" that some people seem to want. He is not content to just hang out in the house with the family. He wants to be busy, and by that I mean play fetch.... ALL THE TIME!!! The agility class is helping and so are the exercises I have been giving him to learn to use his brain. He needs a challenge on a daily basis...


He is also not that keen on having kids around. He is not the "companion for the kids" that I see a lot on the applications... Not sure he ever will be. (even now he is giving me the stare-down to get me to throw his toy... never ends.)
---
Update March, 6, 2011: Jackson has a voice! I heard Jackson bark for the first time the other day, and since he has also learned to do a little speaking. He will now give a little greeting when I get home, and he barked to alert a car coming in the driveway. He is very mild-mannered with his noise, still a very new development. He seems proud of himself when he makes noise. Hope I am not creating a monster... We have also had a breakthrough with the kids last week as well. He is still timid and cautious, but he eventually engaged in playing fetch with my 3-year-old niece. He let her hug all over him and turned to give her kisses on her foot too. We are slowly working to conquer his fear and build his confidence. More to come later in the week. He starts agility Tuesday... Wish his fat little self some luck!
---
Jackson's favorite thing in the world is his tennis ball. As long as it flies, he likes it. He is interested in dogs, but not at all aggressive. He enjoys running around the backyard with his foster-sister, checking out the smells and sights. He is not bothered by cats. He does not seem inclined to chase animals in the outside world, he is only concerned with the ball.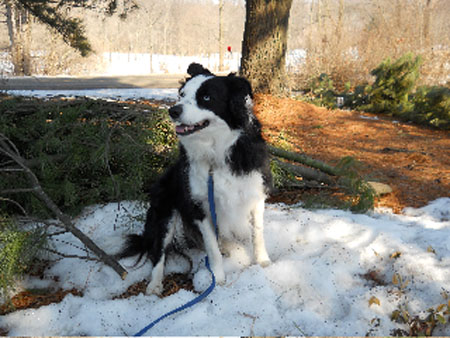 Jackson struggles with being timid, a challenge that we are working hard on with lots of socialization. He is coming a long way, and I am confident that he will gain trust and confidence in the people in his world once again.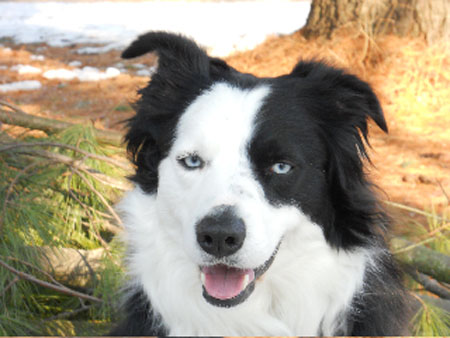 If a quiet dog is on your wish list, Jackson is the dog for you! I have yet to hear a sound from him. He does not bark, but does not seem to be intimidated by other barking dogs. He does not join in on the noise. His eyes do the talking for him. His "baby blues" say everything there is to say!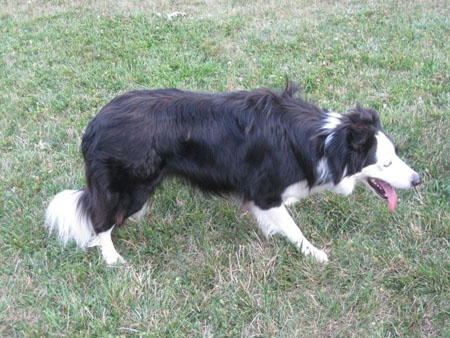 It seems that Jackson was not used to having young children in his world, and he adopting well to the idea. He is shy with kids, but he is tolerant and curious. I think he would do well in a family with dog-savvy children. Age does not seem such the issue as a child's ability to be calm with him. He warms up really quickly, but he will need help to realize that little people are safe. We are working on that too.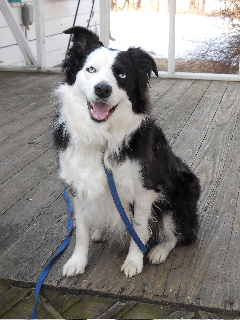 Jackson might not do well in a situation with a real dominant dog, as he is so timid. He has responded very well to having a very passive female to play with. He also has done well with little dogs too.

Obedience class as well as a fly-ball class would make Jackson a very happy dog and give him a chance to please you. He seems inclined to want to make his humans happy.
---
Photos
---
Videos