J. J.
Gender: Male
Age: 5 Years
Height/Weight: 21" / 40 lbs
Housebroken: Yes
Fenced yard required: Yes
Location: Northern Michigan
Foster Home: Tina


Crate-trained: Yes
Treat-motivated: Yes
Toy-motivated: Yes
Likes Car Rides: Yes
Good with cats: Yes
Good with kids: Yes
Commands: sit, down, come, drop, ball, bye-bye, and last one
---
Update: J. J. was adopted in March, 2011. His foster mom writes: I don't know who is more in love with whom. The kids adore JJ and several hugs were given. A match if ever I saw one!" Here are a few pictures of J. J. in his new home - doesn't he look happy?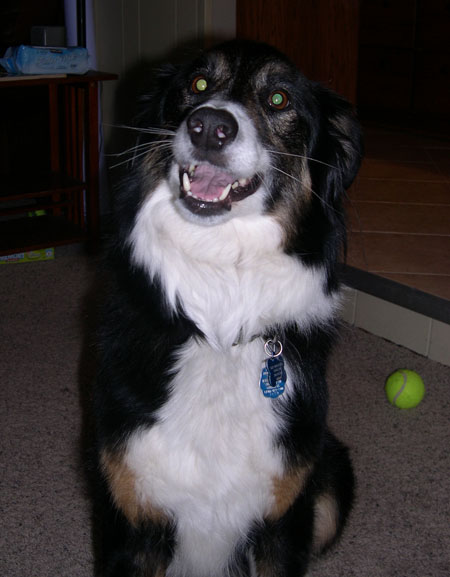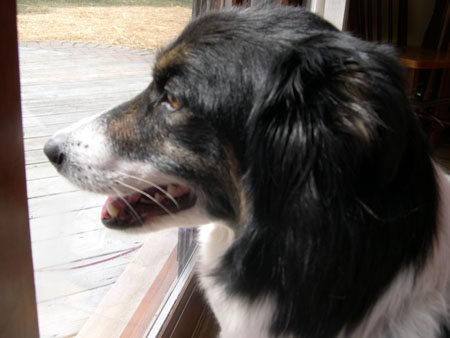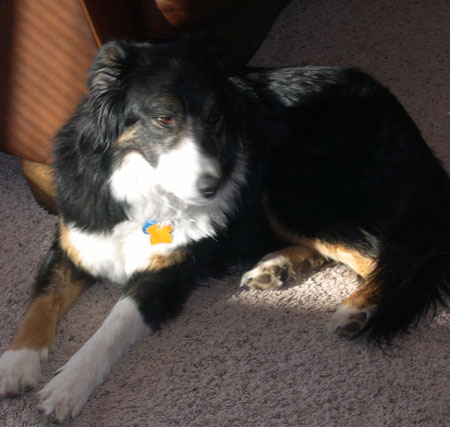 ---
2/21/2011Hi, my name is J.J. and my foster Mom said now that I have been with her over 3 weeks it is time I spoke up for myself and told you how wonderful I am.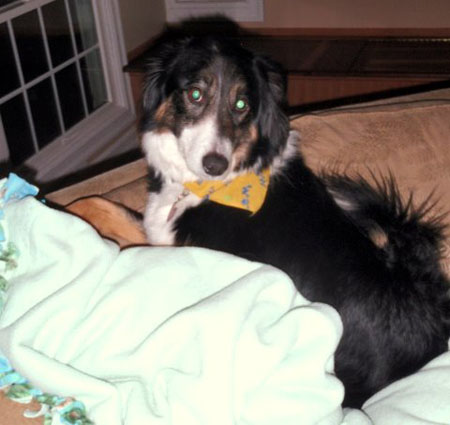 First of all, I want to thank rescue for bringing me in. I had a pretty sad life. I was tied outside in the yard all the time as my owners were allergic to me.

Now I know what a great life a lucky dog has! I play every day with my foster sisters and they have taught me a lot about being a good dog. They make me give up the ball and Frisbee when we play so we can run and chase it again! What fun! I have learned to take turns with the toys, not to play so rough, and be respectful to the cat. My foster sisters let me sleep next to them ( yep-even the crotchety one) because I have earned their trust.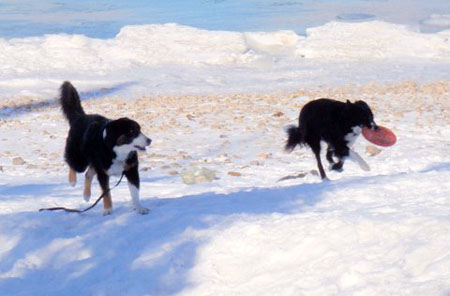 I am perfectly potty trained, I had only one accident the first day I arrived. I will whine and pace the floor if I want to go out. I love to be outside and can be tied out or in a fence, watching what is going on in the neighborhood. I have never chewed on anything that is not mine and have been just great when left home alone with the girlz. I am OK in my crate, but I prefer to be out and about and since I am so good, Mom says I can be out.

My foster Mom says that I really learn fast. I have adapted to home life so easily that it seems like I have been here all along. I am gentle when I eat, I love kids, love other dogs ( I am a little concerned about really big dogs- I bark at them) love to ride in the car, and am very friendly to everyone I have met. People are really nice to me!

My foster Dad thinks I am a sweetheart and it is great that he is not the only male in the house. He loves to give me hugs and always asks me for kisses, which I am very good at! He says I have the biggest brown eyes and he loves how soft I am. It didnít take long to win him over!! He says I am beautiful! (I know I am)

The things I have learned so far are: sit, down, stay, paw, outside, go potty, come, drop, uh-uh, bye bye, and last one. I have a lot of love to give, my foster Mom knows this because I always want to be close to her and my foster sisters and keep my eyes on them, following them everywhere. She said I have become a perfect gentleman in such a short time. She is amazed at my progress. Wonít you take a closer look at me? You will not be disappointed. I could be the best four legged friend you have ever had- I just know it!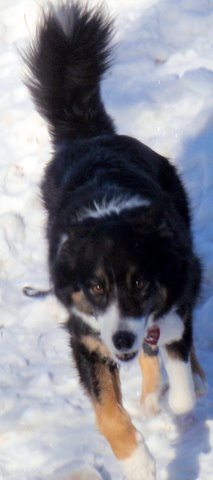 ---
J.J. has been adapting well to the life of an indoor dog. After being rescued from an outdoor only dog for the past 3 years, he took only 2 days for figure out that outdoors is where we go to potty. He has also figured out that bringing back the ball is more fun than keep away because then you can chase it again! It hasn't taken him long to respect his foster sisters, who have no problem putting him in his place. His favorite game is tug a war and he can be rough at it, so we are not playing that too often. J.J. loves toys and cleans out the doggie toy box everyday, scattering toys all over the place and will play by himself throwing toys in the air and catching them.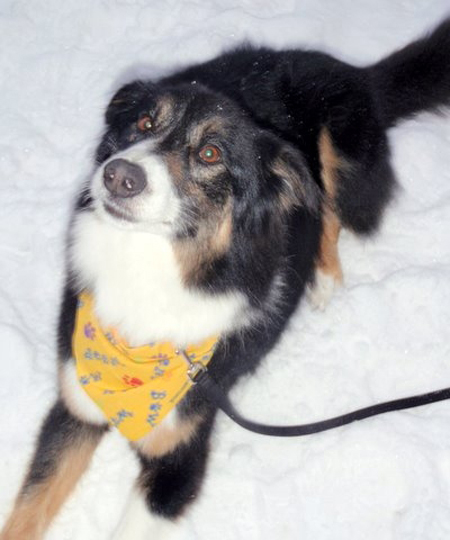 J.J. is fine with his food and takes treats gently. He can be boisterous around little ones, but he is agile and a super fast runner, sometimes beating Sally to the frisbee. He returns the toys and has learned to drop them especially for a piece of beggin strip! He also learned to climb stairs, avoiding them for the first couple days until I coaxed him up. J.J. went to the groomer today and they said he was a perfect gentleman. His coat is a beautiful and soft tri color and he has large soulful eyes. He is about 40lbs and 6 years old. J.J. loves kids (he lived with 5 at his last home) and he plays and follows my grandchildren all he can. He also loves men and has attached himself to my husband especially loving rides in his truck. J.J. has discovered the cat and he is quite interested in her, sometimes he searches her out when she is hiding, but he is not fixated or mean to her.

The only things that he does need work on is playing a little bit rough and running off on occasion. I have had a couple instances when by himself, he has noticed an open door or caught site of the road and took off. He has never been interested in running if my dogs or any toys are around to play with. He focuses on them when they are around. But, if he is not occupied, he reverts to his old ways. I have not had any problem getting him back, once he runs a ways away, he looks back and if I show him a ball or treat, he comes barrelling back. I then give him the treat and step on the leash he is dragging because he is wise to trying to grab his collar. He will need work on that, but it seems that he looks around and wonders "what am I running from?" and he comes right back. He is good on a long line outside and loves to be out anytime.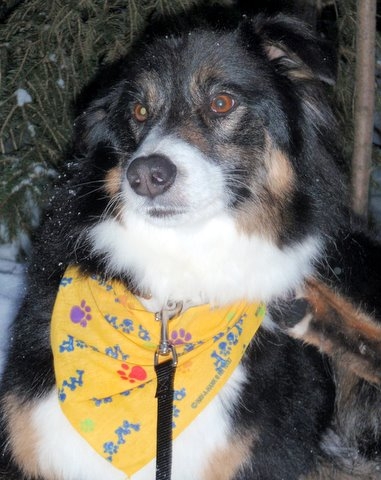 J.J. is up to date on all shots, neutered and microchipped. He has a clean bill of health and a gorgeous tri colored coat. He is being fosterer in Northern Michigan.

J.J. is a very fast learner and after less than a week, he acts like he has been here all along. He can read the attitude of my girlz (even the crotchety one) and knows his place in the group. He is polite and friendly, pretty good in the crate, medium energy (for a BC) and a beautiful boy! He will make some family a great, great companion and will ease into their lifestyle as well as their hearts in no time at all!
---
Photos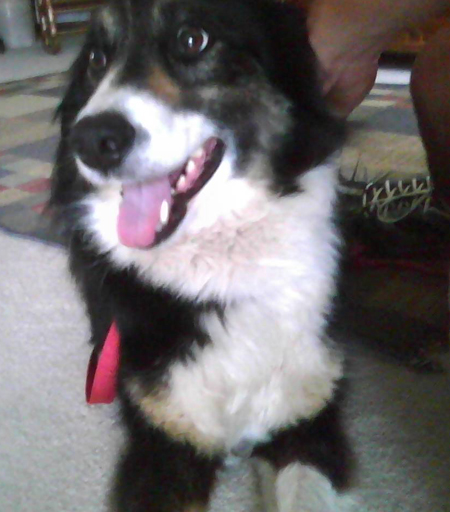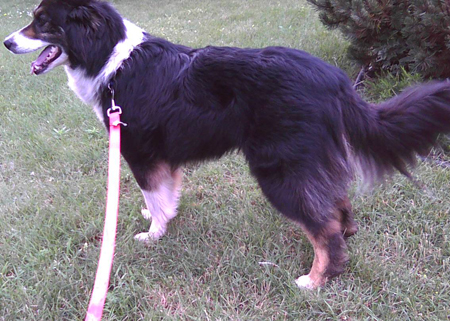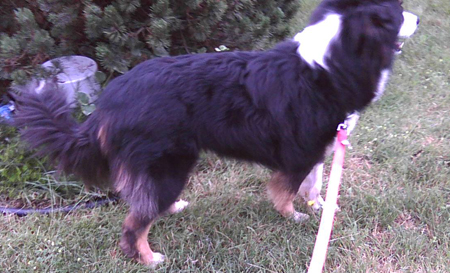 ---
Videos