Joker, now Jodah
Gender: Male
Age: 1 year old
Height/Weight: 23"/50#
Housebroken:Yes
Fenced yard required: Yes
Location: Mid-Michigan
Foster Home: Deb

Crate-trained: Yes
Treat-motivated:VERY
Toy-motivated: tbd
Likes Car Rides:Yes
Good with cats: Interested
Good with kids: tbd
Commands: sit, crate, come up, off
---
March, 2013: Jodah (second from left) and a few houseguests: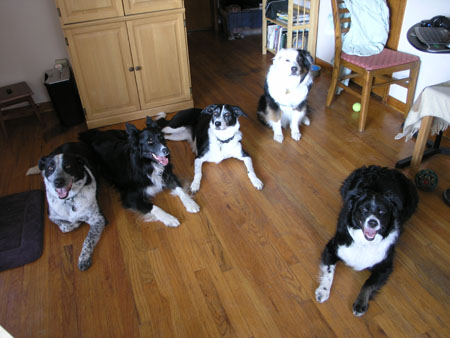 (from l-r) Zeus (GLBCR 2013), Jodah, Riley, Tai, Chewy.
---
Joker was adopted in June, 2011 and is now known as Jodah. Here he is playing with his new sister, Riley. His new mom writes: "I can't say enough nice things about Debbie, and what she's done with this dog. I can honestly say that I've never acquired a dog with a better foundation and less baggage. I didn't meet him in his "crazy youth," but he's now a very very nice dog, and it really boggles my mind that a dog this great didn't get snapped up in very short order."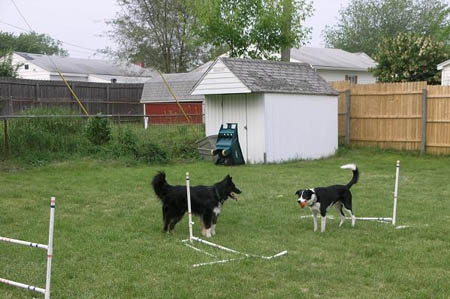 More updates eventually, of course, but some pictures will have to do for now. And sorry they're not better - he's hard to capture on film - most shots just end up a blur :-) Riley thinks it's amazing fun to have another dog to play with again, though she's still teaching him not to grab her too hard with his teeth (it's a bit of a turnabout for her to be the crabby older dog - I'm used to her being the obnoxious puppy-type, *grin*).

---
UPDATE April 5, 2011: Joker continues to mature and is coming into himself as a wonderful house companion. He is still very busy and thrives on having new and challenging games and activities. This is one dog who shows the heart and soul of a true Border Collie. He enjoys "solving" food puzzle toys and can usually figure them out in very short order. Being fast, agile, and a quick learner, he should excel at any activity, as long as YOU are there with him.


Joker was a ROCK STAR when he took center Stage at both the Novi and Cobo Hall dog shows, and ate up being the center of attention at those busy, noisy, crowded events. Although all the activity and noise could have frightened many dogs, Joker was confidently "in his element". He greeted everyone as a long lost pal, was gentle with small children and was not intimidated by strollers, wheelchairs, or people with walkers or canes. For that reason, Therapy Dog certification could also be in his future. Really as eager as Joker is to do new, fun and active things, his future potential is WIDE open! With all the nose games, thinking games and games that require concentration, speed and agility available, Joker could be the dog to fulfill your active ambitions. Would you like to try Agility? Flyball? Disc Dog? Tracking? Even Search and Rescue? As long as you are there to teach and help him, he'd be game for anything!


His new home would best not have any feline companions. Though he does not hurt my cat, he will do the Border Collie Stare and focus on her for hours. Then he drools on her which does not impress her in the least! On the other hand Joker enjoys other dogs of all sizes. Walks/runs to the local dog park would be very welcome indeed.


Joker is patiently waiting for his new forever family to find him.
---
UPDATE: January 12, 2011
Hey all just a quick note to tell you how well things are going. I've learned a lot of thinkgs here. I'm fully housebroke now. I've settled down and have house manners now, well sometime I forget and counter surf, just a little. I don't play quiet so rough with the other dogs. I'm still busy and do everything really fast but my off switch is developing. Oh yeah I learn things really fast too. Really like squeaky toys, I go and get them but I'm not real good at bringing them back I like to keep them and play with them. I'm very quiet both in the house and in my crate.
Thanks for taking an interest in me. I'd really like to find my forever home with an active family where I can continue to learn. See you all real soon. Joker
---
This boy was rescued from chasing cars with a HUGE old gash on this hind leg by an Amish farm in IN. He was patched up and spent the good part of a month with the veterinarian who helped him in his time of need. Thankfully, no permanent damage was done to muscle, tendons, or bone. Now that he is healed, he is ready to complete his healing by finding his forever home.

Joker is the dog for you if you have ever thought you would like to try herding. He has tremendous natural herding ability even without sheep - lay down, strong (Border Collie) eye, and a very fast pear shaped out run. With professional training he would be outstanding. See his video and watch him move.

Joker is about a year old; so he is still quite a puppy in many ways. He is a lover and a giver of hugs and kisses. Since he is a diamond in the rough, he is ready to learn anything and everything you would like to teach him. Once Joker learns to trust his new owner and understands how he fits into his new life, he will make a wonderful, active companion and buddy. It seems he did not receive much training or guidance or even socialization as a puppy. Joker hasn't yet learned his limitations with other dogs, although he does get along with the dogs he has met. If there is another dog in his new home, it should be a dog who can both be an eager player as well as continue to teach him his limits (he does, however, respect my older girl, who really isn't interested in puppy games). He loves to chew on bones and is an expert excavator. Joker does walk on leash with some pulling, and he sits on command. Also, a fenced yard is a must. While he was with the vet, he was neutered, vaccinated, HW checked (neg), fecal checked (neg), and micro-chipped.

Joker is an open book just waiting for the right person to teach him new and wonderful things that are waiting to be learned. He just KNOWS there is someone out there waiting for a dog JUST like him!
---
Photos
Joker joined us in the GLBCR booth at the 2011 Michigan Winter Classic Dog show. He was an absolute gentleman amidst all the choas, and charmed everyone he met.