Moose
Gender: Male
Age: Adult
Height/Weight: na / 63 pounds
Housebroken: Yes
Fenced yard required:
Location: Northern Indiana
Foster Home: Kathy P.


Crate-trained: Yes
Treat-motivated: Yes
Toy-motivated: Not Yet
Likes Car Rides: Working on it
Good with cats: Yes
Good with kids:
Commands: Sit, Gentle
---
Moose was adopted in September, 2011. Look how happy he is in his new home. Hard to believe this is the same dog!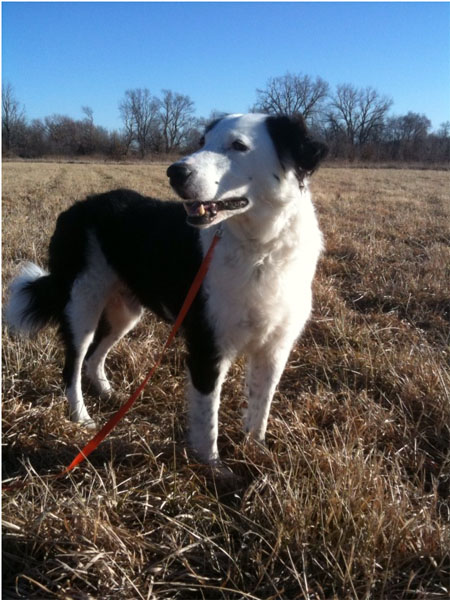 1/27/2012: Moose had an eventful few months after arriving at his new home.

First he had to learn to navigate steps and doorways without freaking out. Check.

Then he had to learn about critters of the feline persuasion and their predilection for rubbing against, launching over, and running under furry Border Collie bodies as well as thundering through the house at MACH-1 speed and causing occasional loud crashes. Check, check.

He had to learn to ride in a car without diving under the seat, tolerate the dastardly leash, and conquer his fear of The Great Midwestern Wind Monster. The latter was difficult – it felt like a hundred hands were touching him and mussing up his fur and bringing the leash to life.

And he had to do all of those while building a bond of trust with his new people and adjusting to a new home and surroundings.

Yes, Moose had a big learning curve. But learn he did, and Moose is now a pro at navigating steps and doorways and car rides. The daily walks are met with butt-waggling anticipation. And the wind monster, although somewhat annoying, is not much of a monster at all. Moose still looks at the cats quizzically at times, especially when the foster kittens (aptly named Ricochet and Crash) go into "flying squirrel" mode, but he's become accustomed to the standard feline antics and barely bats an eye.

Unfortunately, Moose has also faced some difficult and unexpected medical challenges. Within weeks of arriving, he was diagnosed with atrial fibrillation, an enlarged heart, leaky heart valves, congestion in the liver, pulmonary hypertension, a severely enlarged/dilated kidney and ureter, a multi-drug resistant staph infection of his skin, and diffuse spots on his lungs which appear to be permanent lung damage.

It's unknown whether the problems are congenital or related to his former environment or the result of a trauma he suffered or perhaps a combination of any/all of those factors, but they will most likely shorten his life. However what is known is that he is a sweet and sensitive soul who is brave. And a trouper. And a survivor.

So in addition to his new "norm" of car rides and wind creatures and flying cats, Moose now takes 21 pills a day. He visits the cardiologist every 4-6 weeks for check-ups and also sees an internal medicine doctor and dermatologist. He handles the four-hour roundtrip treks like a champ and no longer cowers under tables and chairs while at the vet clinic, opting instead to observe cautiously and lean against his people's legs when he needs extra courage.

The biggest risk is his heart (the arrhythmia could cause sudden death) but fortunately Moose is oblivious to the fact and so goes about each day, clueless to the "what-ifs" that surround his existence.

And enjoy each day he does.

He gives the full butt waggle and sweeping tail wag when his people come home, even if gone only a short time, and dances about in excitement. He gently reaches out his nose when he wants attention, closing his eyes and twisting his head when the scritches find that special spot behind his ear. He chews rawhides and enthusiastically searches out cat treats. And on walks he trots gallantly along the path, tail out and ears bouncing as his bright eyes scan the horizon.

Yes, Moose has come a long way … but he's still a work in progress. He can be timid and cautious with new situations, loud noises, and strange people, and at times something as simple as a creaking tree branch or tinkling windchime can trigger a 'high alert.' But each day a bit more fear melts away and is replaced with trust and confidence. Given his medical issues, the decision has been made not to push too hard – the meter is set to "Moose-speed," however fast or slow that might ultimately be.

Despite the uncertainties that defined his past, Moose now sprawls out peacefully and sleeps soundly. His eyes no longer dart nervously about and he no longer curls up into a tight ball of fear and trepidation. Hopefully he senses the irrefutable truths in his life: he is safe … he is loved … he is a permanent part of the family.

Welcome home, Moose …

---
Update August 3, 2011: What a transformation!!! Moose has gone from being like the Winnie the Pooh character, Eeyore to being a happy fun loving dog. He is still quite shy of new people but now that he has become accustomed to his new surroundings he is quite happy go lucky and trying to strut his stuff at home. He is a stunning dog and has melted the hearts of everyone he has met, there is no one who hasn't loved him at first sight. He has not met a dog that he has had a problem with. Everyday is a huge learning opportunity for Moose, but my favorite thing he has learned is how to give a great big border collie smile. The sad look he consistently had on coming into foster care is long gone and has been replaced with a big "ears up smile." His favorite game is "try to herd and chase my foster sister." He even gives a few happy barks when he knows the game is ready to begin. Everyday when I get home from work I am greeted with a "happy dog dance" from my Moosetracks.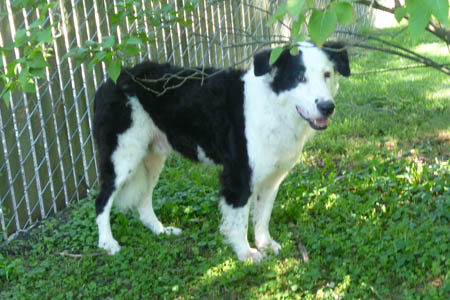 As Moose learns that that the world is not a scary place I expect that the sky is the limit for this big boy. He is a gorgeous dog and only wants love and consistency. He gets along well with kids but because of his shyness would do best in a home where kids don't live but only come to visit. He is learning from his canine companions so a home with other dogs would be a bonus. Moose is just coming into his own and I would guess a year from now the dog we see now will be long forgotten and a happy, loveable boy will have been born.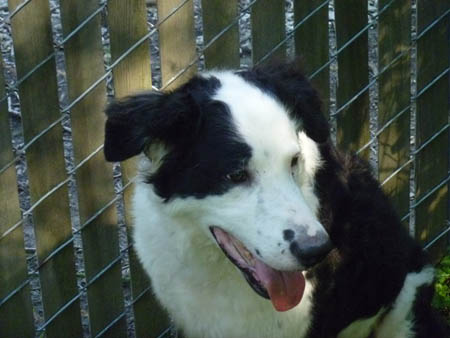 ---
Update June 7, 2011: Moose is finally making the transition from scared hoarder dog to "life is fun enough to run and play." It has been great fun to watch him learn that meandering around the yard sniffing and marking is something he enjoys. He had a rough month or two as I had lots of company in my home and he was forced to interact with people. He did well enough that in mid-May I took him to a rescue event where there was lots of stimulation and lots of people. Everyone who met him fell in love and he was patient with humans of all age. Despite his background he came to me 99% housetrained and hasn't had an accident in 2 months. He does well in his crate when I am gone to work and does well roaming free when I am gone for a few hours. He is still a work in progress but definitly workable for most experienced dog homes. He loves to watch other dogs so a canine companion would be acceptable, although he would also love the individual attention of an only dog home.


He is perimeter trained in my yard but still is afraid of the lead so a fenced yard would keep him secure yet let him roam free. If you watch in the video he actually gets to the ball before my girlie. I didn't see this when filming but was excited when I saw it on tape because it is his first interest in toys. The past 2 months have been quite significant for this boy and now he is ready to find his forever home. If you think you have lots of love and patience Moose will not disappoint.
---
Update May 22,2011: Showing just how far he's come, Moose joined the GLBCR Booth Crew as a Rescue Ambassador Dog last weekend at the Crown Point Pet Expo. Moose braved the whole day and other than trying to hide a few times, he received pets from young and old alike with a very positive attitude. All of the Lake County Animal Shelter came to our booth to see Moose as he was their most special boy of all that were pulled. There were many tears shed at how wonderful they felt he looked and how brave he was being with all the people, dogs, and commotion.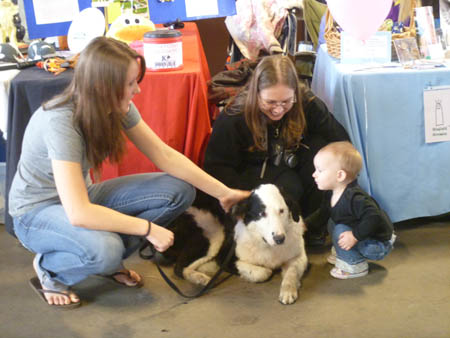 ---
Here are a few new pictures of our man, Moose!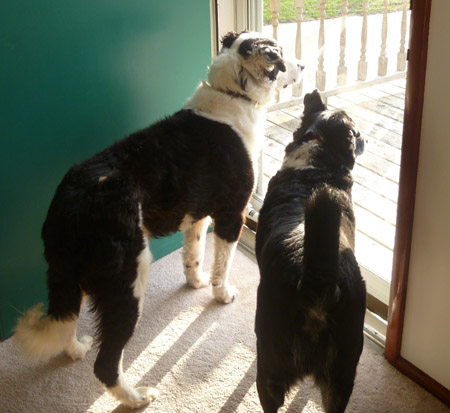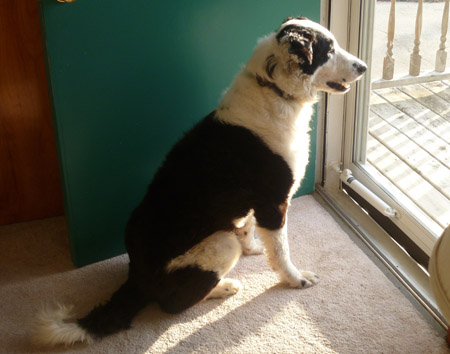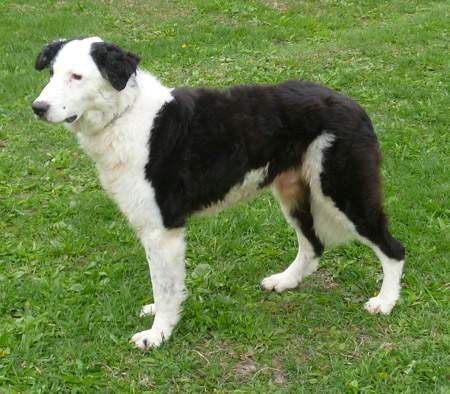 ---
Update April 28, 2011: Moose has come a long way in the month he has been with me. He is really starting to come out of his shell. This week he learned to bark wtih excitement when I get home from work and he has started to follow my dog on a game of chase when she runs after her ball. He is desparate to be friends with all people but is still very shy. Even in his most shy moments though he is as gentle as a dog can be. I have had much out of town company over the past few weeks which has sent him into hiding but he slowly comes out and is quick to recover when they leave. He his back to full physical health and really enjoying feeling better. His house manners have been impeccable although he has just learned that coffee and end tables often offer tasty treats. He is crate trained while I am at work and while eating. He sleeps quietly by my bed at night.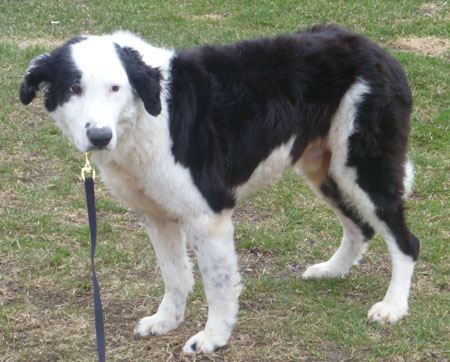 He is such a loveable boy and so excited to be part of the real world. Any home would be lucky to have such a dog. His ideal home would be a quieter environment but one that encourages further socialization. He has learned lots from my 2 dogs and really enjoys their company so a home with canine companionship would be ideal. While he does not require a fenced yard I think he would move along much faster as he has an odd fear of the leash. If you have soft heart and room for love Moose is your boy. Don't let his age detour you -- his real life is just beginning.
---
While most dogs calm down and prepare to enjoy their restful years once they hit middle age Moose is just starting to learn about life and the joys that humans can bring. He came from the home of a hoarder where he lived with a pack of dogs but had little interaction with people. He seems drawn to men as he went right up to my male neighbors. It has taken 2 weeks to get him to a stage of healthiness that he is now ready for adoption. As he feels better his tail wags faster and his ears perk up. Today he even tried initiating play with both of my female dogs. He has met the neighborhood dogs and does very well with them. Moose will need a quiet, soft, steady home to help him learn that life can be carefree and fun. We are working on Moose's confidence and will need a home that will continue to work with him and help him overcome his shyness. Through all the poking, prodding and medications he has had to endure over the past few weeks he is still a gentle soul and just wants to be loved.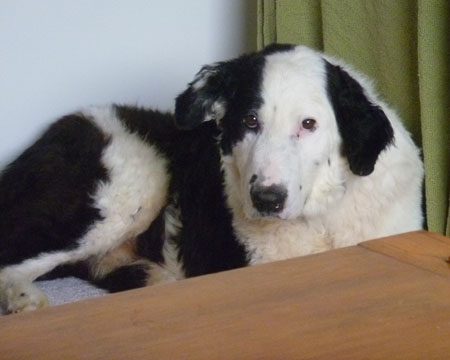 ---
Photos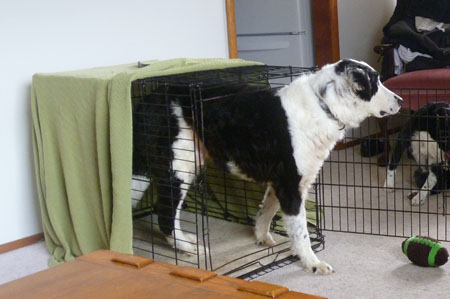 ---
Videos