Pepper
Gender: Male
Age: 2 Years
Height/Weight: 24" / 40 lbs
Housebroken: Yes
Fenced yard required:
Location: Mid-Michigan
Foster Home: Stephanie

Crate-trained: Yes
Treat-motivated: tbd
Toy-motivated: Yes
Likes Car Rides: Yes
Good with cats: NO
Good with kids: Over 12
Commands: Sit, crate, hungry
---
Pepper was adopted in June, 2011. We look forward to receiving updates from his new family.
---
Update May 12, 2011: Pepper has come a long way! He is doing great. The best thing we have learned about Pepper so far is that he is easy to train new things and he wants to please you so bad! We have had a lot of fun playing with Pepper since the weather has started warming up. We continue to think he would make a great agility/flyball dog. He has a lot of energy, but has learned to focus the energy when he is outside, not inside.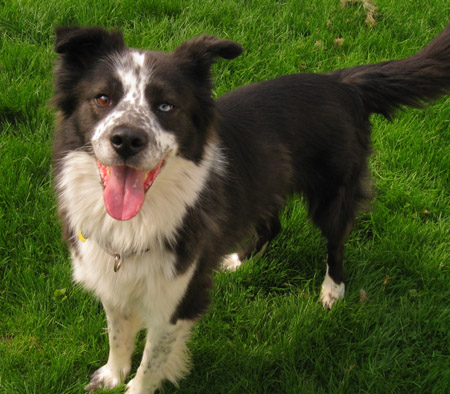 When inside the house, he settles down very nicely and lounges around with the other dogs and loves to be with his people. When he needs some alone time, he walks back to his crate and tucks himself in.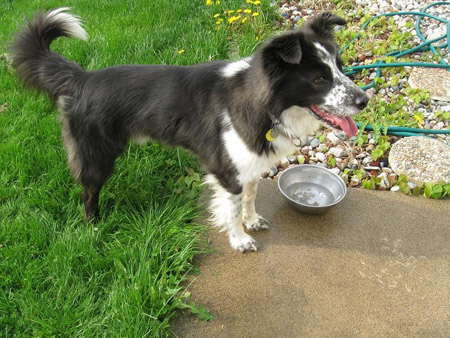 I think in time, Pepper won't need a crate, but has really learned it is a place of safety and not a place to be "caged in." He has started overcoming some of the anxiety he arrived with, which is a huge hurdle for him.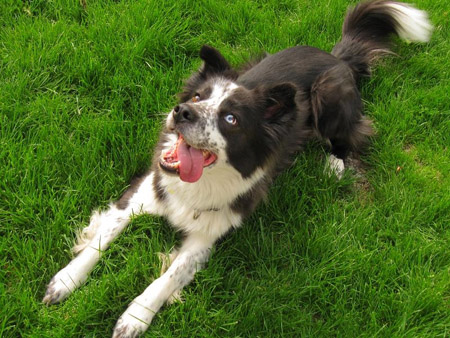 One thing that hasn't changed and probably never will is his prey drive, specifically toward cats. His forever home cannot include a cat. It would not be fair to Pepper, the cat, or the family.

If you are looking for a loyal companion that will give you his unconditional love, Pepper is your man. He has been seeking the perfect home and is ready. If you think you could give this super cute and cuddly guy the home of his dreams, please apply.

---
Update March 18, 2011: Pepper is has really started coming out of his shell and is enjoying his foster home. Pepper is a very energenic young fellow but has learned quickly he needs to channel that energy when he is in the house. He loves to come up for scritches behind the ears, play on the floor with his duck friend, and is very interested in everything going on around him.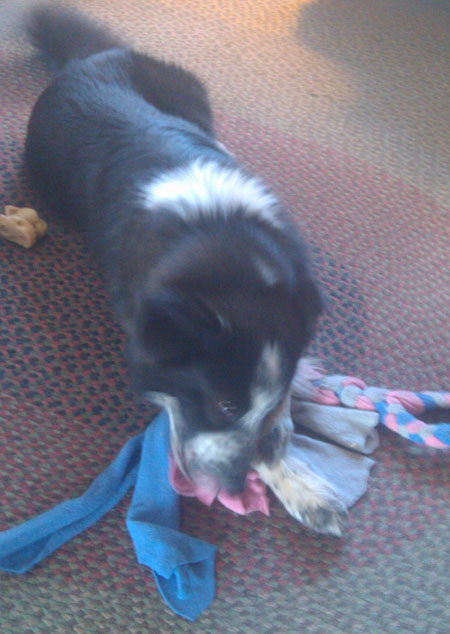 He is 1000% food motivated. He will do whatever it takes to get a treat. Because of this, he is VERY easy to train. He knew sit but has learned paw (shake), down, stay, off, crate, and no in a very short time period. We were told that he was a counter surfer when we got him, but has not once done it at our house!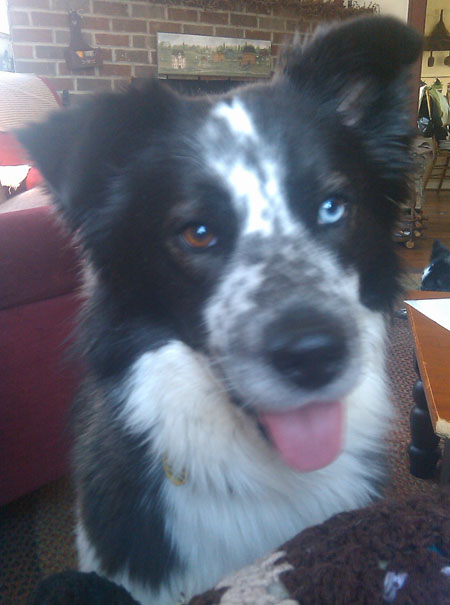 He makes a great assistant chef when cooking. He makes sure to clean up all the messes that hit the floor. He sits very nicely while I am cooking and is not pushy at all. He is very in tune with his surroundings and I think he is highly intelligent. He just wasn't given the oppertunity to learn at his full potential. I think with the right family, Pepper is going to be an outstanding and loyal Border Collie. He will be a hard one to let go!

If you think you could be the right family for Pepper, don't be shy....apply!
---
Meet Pepper!
Pepper has been with us for just a short time, so we are still getting to know this super cute guy! When he first came into our home, he was very scared and didn't know what was going on. He was very anxious and scared.
We introduced our 2 BC's to Pepper, but it was just too much for him to handle after the stress of being in a shelter. So, we decided to ease off and give Pepper a few days to adjust to the new environment.
We kept the dog separate and would take him to the yard alone to "do his business" so he didn't feel intimidated by our dogs. We also gave him some quiet time in his crate to put him more at ease. He really seems to love his crate but needs to have his stuffed duck friend for comfort and possibly protection!
We finally got to the point where we felt comfortable to see how the dogs all acted together. We brought them all out into the yard for a meet and greet and it went very well! He loves playing with my female BC and has come to the realization he has to respect our male BC as….THE BOSS! I am very happy to see he is feeling a lot more comfortable.
This is what we have learned about Pepper so far:
He LOVES balls. He could be a huge flyball contender! He is amazing.
He LOVES Frisbee! You should see this boy jump through the air!
He is very active and would make a good agility candidate.
Because he is very active, he needs to go to an experiences BC home.
He is house and crate trained.
Loves toys!!!
Will require basic obedience training.
Does not do well with cats.
Needs to be in a home where the children are at least over the age of 12.
He is SUPER ADORABLE!
Stay tuned in for Pepper updates!
---
Photos
---
Videos