Trenton, now Kai
Gender: Male
Age: 5 Years
Height/Weight: 24" / 55 lbs (thin)
Housebroken: Yes
Fenced yard required: yes
Location: SE Michigan
Foster Home: Karin


Crate-trained: Yes
Treat-motivated: learning
Toy-motivated: learning
Likes Car Rides: learning
Good with cats: Yes
Good with kids: tbd
Commands: Step up, Step down, Kennel up, wait, treat.
---
From our Facebook page, July, 2014: "Kai (middle, GLBCR alum, formerly Trenton) enjoying time at the doggie beach with Pippa (left) and Jake (right). Happy summer!"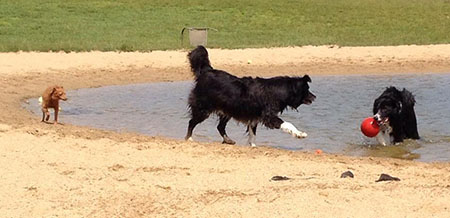 ---
December 17, 2011: Another fun Kai story -- today we had the Christmas party for the dog park. We didn't know how he would do -- it's kind of chaotic (lots of noise, dogs, and strangers), PLUS I made him wear a hat. But he did great! He was social and walked around all by himself a lot, coming back to me or Anders every once in a while. He shook only for a couple of minutes, then seemed to adjust right away -- no panicking. He took treats from strangers and didn't even mind his hat! In fact, lots of people were randomly petting him because he was dressed up and cute. Here's a video of him (not very good -- sorry.)

---
Update July 25,2011: I just thought I'd give you a quick update on Kai. He's doing very well -- he now knows "come," "sit," and "down," and we're working on "wait." He's pretty reliable on his commands in the house and even in our yard, but he loses his brain in the dog park -- too much fun to be had! We're working on that. We're also working on his fear of strangers. He will eventually let dog park people give him treats (reluctantly), but it takes a while. He's better in our house when my parents visit. Little by little, though, he's getting it. I pretty much carry treats around all the time and ask random people to give my dogs treats.


He likes to play in the mornings outside with Jake -- Jake doesn't always know how to play with him, so about half the time Jake just stands there, but the other half of the time they have a good romp. They've even played in the house twice! Kai is also excellent on his walks. We've noticed that he shies away from parked cars and garbage cans, but also mailboxes. He either has some peripheral vision or can smell or hear mailboxes! Sometime I'll take him to an ophthalmologist to check him out.


Kai is also getting more social at home. He loves to be brushed, and actually gets jealous when I brush Jake! He comes up and puts his nose on the brush and waits to be groomed. He also seems to like to be hugged and cuddled. Kai actually barks at strangers who he doesn't recognize when they enter our house (my parents and the Schwan's man most recently), even though he doesn't come out of the bedroom to see what's going on. He's got kind of a hound-like deep bray, which is interesting. He will also come up to the edge of the bed in the morning (while I'm still in it) to get his morning lovin'. And he's so much better about the TV -- it doesn't seem to bother him at all now, and he's just getting to the point where he'll settle down in the living room or kitchen while we're watching TV on the couch. The yard sprinklers don't seem to bother him much, either. The Fourth of July was a non-issue as far as I could tell -- Jake was more of a scaredy cat than Kai was. We went to a party with dogs at my friend's house on the lake and all the people were a bit scary for him, but he got a lot of practice socializing and swimming. He did a great job!


He still loves the dog park and prances around. He's getting better about sticking with us as we walk around it, but he's really drawn to the water and MUST have a swim every time. He seems to be relaxing in general and I can tell he's getting attached to me. He's been to three pet stores -- which are still scary at first -- and this weekend we'll visit my parents again. He's really improved and is such a sweet dog!
---
Update May 9, 2011: "Kai and Jake romped FOUR times last weekend -- plus a little yesterday. In that video Jake actually was playing with him until I figured out how to record, so it was actually a longer romp.

"Also, Kai has eaten his first carrot! I'll have to get a video of that, because it's pretty funny. Our dogs get carrots after their walks, and today was the first successful carrot treat for him. He's taking treats pretty regularly from me and Anders now as well. He goes on every walk that our dogs go on -- I can't wait to take him to the park.

"He's also been brushed, dealt with the vacuum (not a big deal, apparently), had his nails trimmed by me (easy -- I'm so glad!), and met our two neighbor dogs. We're working on recall, but I'm not very consistent about working with him on that yet. We're also doing hug therapy now, and he's giving me a little push back on that, which is interesting! He's such a good boy.

"As my vet said, he's a "good save!"

Kai's new mom also sent us this video - check out Kai (right) playing with his brother, Jake (also a rescue dog)!
---
Trenton was adopted in April, 2011 and is now known as Kai. We received the following update shortly afterward: "Kai has met a lot of new people -- we had friends over for dinner on Friday, my parents were here this weekend, and he met both sets of neighbors. All went well. He took treats from my hand in the presence of our friends, and he even took treats from my dad's hand! Nothing is immediate with him, but he eventually gets comfortable enough. He's also getting more comfortable with the TV.

"Kai has also started going on walks with us. My mom, dad, and I went on a walk yesterday morning with Sasha and Jake and Kai -- I thought it was going to be a disaster, but Kai did really well! On the way back he hardly pulled at all, and he seems grounded when there's another dog nearby. I really like the gentle leader harness you suggested -- it's been great on walks. Kai walked with me and Anders (and the pups) again last night and this morning. He's not perfect, but it's certainly an improvement from last week. He definitely needs his own handler right now, but hopefully one of us can handle all three in the future."
---
Update March 22, 2011: The thunderstorms that rolled through on Sunday night were hard on Trenton, and in an almost complete reversal, he's been reluctant to go outside since then, preferring to be inside. However....if I go outside ahead of him, and prop the door open, he'll follow me out and hang out nearby to do his stuff, checking periodically to see if I'm still there. It's hard to emphasize how much of a shift this is - he's still nervous, but always previously, he would stay as far from me in the yard as he could get, and now he's starting to see me as a source of safety if things get scary. I really feel for this dog - it must be hard to be frightened so much of the time, but it's been very heart-warming to see him start to come around.
---
Update March 11, 2011: For the very first time, Trenton played with ME in the back yard this morning.


He's been playing with Riley for some time, and I always am out there with him, but he tends to panic at my approach. He's gradually been getting better about this, and this morning, Riley had had enough and was waiting on the porch to go in, but Trenton was still bouncing around and play-bowing with me, and even came up to me as I was talking to him. I think the fresh snow had an influence (he *loves* fresh snow), and well, we've been working up to this for some time. But I couldn't be more proud.
---
Update March 8, 2011: Trenton has been in foster care a couple months now, and he's trying hard to come out of his shell. He's still very frightened of new people, and he's still working on trusting the constant people in his life, but he's improving a little bit at a time. He's learning that he's actually allowed (even encouraged!) enjoy life, experience new things, and even play!


He's very good with other dogs, and came out of his shell enough to play and wrestle in the back yard a bit. You'd think being blind would be a handicap, but he makes it work! He loves to chase my dog during her fetch games, and has even gone after the ball a few times himself (especially if he can hear it rolling by). He's started taking leash walks every morning, which have helped his confidence quite a bit. And he also recently discovered the location of the toy-box, and has since taken to lining his crate and his favorite hang-out spot with toys. He especially likes soft fuzzy squeeky toys. :-)


People are still pretty scary, so Trenton will need a home where his people will be gentle, consistent, and patient. Don't be put off by his blindness - he gets around really well! He loves having the top of his head stroked, but he's too shy still to walk up and ask for affection. This dog has a gentle soul, and the potential to be an amazing companion. Do you have space in your heart to help this guy learn to love and trust?
---
Trenton is a five-year-old male Border Collie who comes to us from a shelter in Indiana. A neighbor saw him running loose alongside the road, and stopped to tell his owner. Turns out the owner had turned him loose because they didn't want him anymore, and told the neighbor to do whatever she wanted with him, "even shoot him."

Horrible, right? It gets worse. Trenton is blind.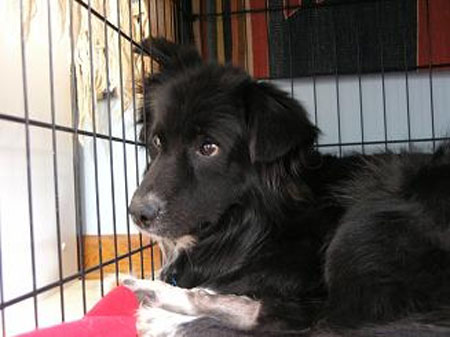 It took the neighbor three days to catch this poor, terrified dog who had spent his entire life in a kennel and she took him to a low-kill shelter. Initially, the shelter put him in an area where they have 10 dogs that have lived together for a bit and had a pack- type mentality, so he was scared and hid in the corner while the other dogs picked on him. Seeing this, the shelter moved him up to the main facility with an indoor/outdoor run.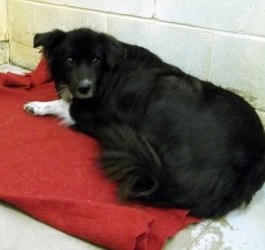 Despite his misfortune and ill-treatment, everyone who has met Trenton thinks he's a wonderful guy. He won't be available for adoption right away, as we're giving him a chance to relax and get used to his new circumstances. His blindness is probably a degenerative condition so he is especially scared because he likely was used to his outdoor enclosure and in this short time has had a lot of scary transitions. It's not likely that he will regain his sight, but what we can help him gain is a much better life, with the love and care of a family that will adore him.
---
January 31: Trenton's foster mom reports, "Today, when Riley (her dog) and I came back from agility class, Trenton met us at the door, wagging his tail! This beats the pants off his previous strategy of "aaaaah, someone's coming, quick, hide!"


He had one accident the first day, but after that, not a thing. In some ways, I think this is because he was so terrified to come out of his crate/hiding spot that he got into the routine of only going when he was outside very very early. But I haven't seen any relapses as he's explored more. And he's not a chewer or a destructive dog, at least not yet. So I've let him pick his own hiding and safe spots rather than just using the crate (apparently the corner where my 2 couches come together in the living room is perfect for him).

One of the few times I see hints of a playful dog in Trenton is in the snow. I'm hoping he enjoys this blizzard.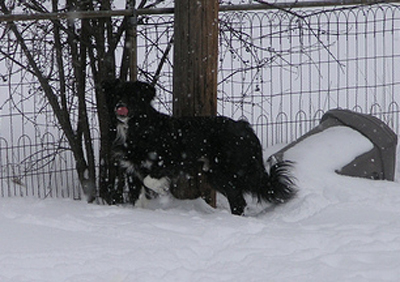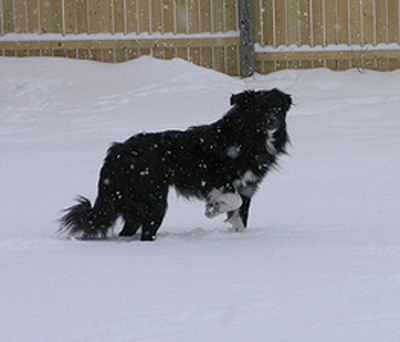 ---
Photos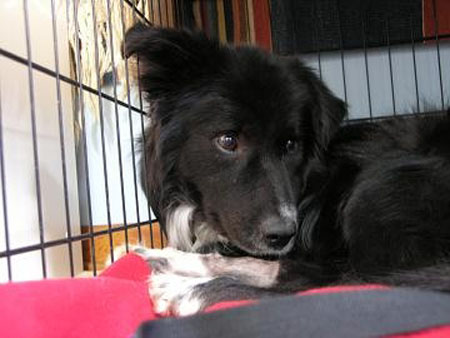 ---
Videos