Bonus, now Turner
Gender: Male
Age: 3 Years
Height/Weight: 22" / 40 lbs
Housebroken: Yes
Fenced yard required: Yes
Location: Mid-Michigan
Foster Home: Debbie


Crate-trained: Yes
Treat-motivated: Yes
Toy-motivated: Yes
Likes Car Rides: Yes
Good with cats:
Good with kids: Yes
Commands:
---
July, 2014: Here are some new pictures of Turner!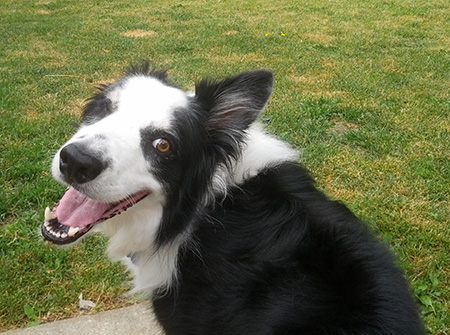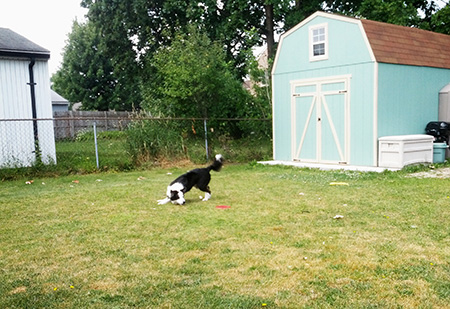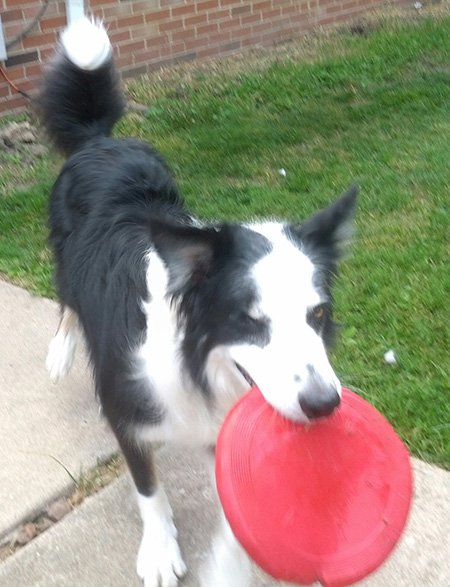 ---
From our Facebook page, December, 2013: "Turner (formerly Bonus) is enjoying his second Christmas with us! He is such an amazing dog and we are so blessed to have Turner as a member of our family. Merry Christmas!"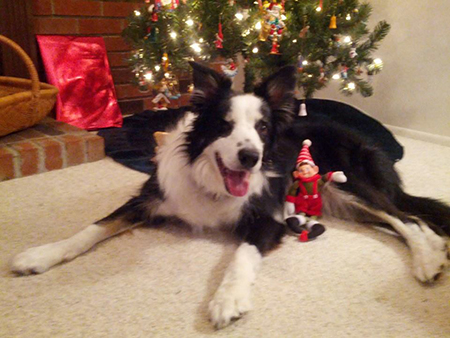 ---
Update November 26, 2012: Our best present this year is having Turner (formerly Bonus) be a member of our family! He is such an amazing dog and we are looking forward to his first Christmas with us. Thanks again, GLBCR!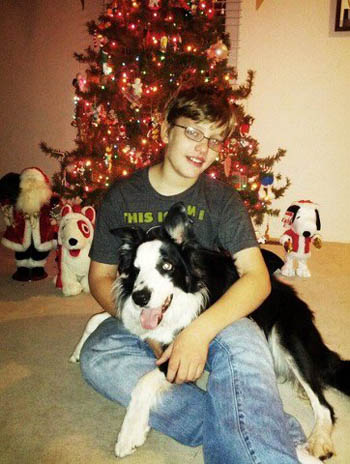 ---
Update May 30, 2012: Turner aka Bonus is doing great. We enjoy having him and he is well adjusted to us. We could not have asked for a better dog. He continues to run in circles, though not quite as much as before. We found that loud noises get him really worked up like thunder or the law mower. When anybody opens the door to leave the house he gets really excited and many times he gets to go for rides. He is doing much better in the car and is starting to enjoy the wind in his face. His favorite toy is still the elephant squeaky toy you left him. We leave his crate open for him to go in, however we have not had to crate him up for anything. The worst thing he has done was tear up a cardboard box that was going to go in the fire place. He doesn't counter surf or get into things he shouldn't, he is the best-behaved dog we know.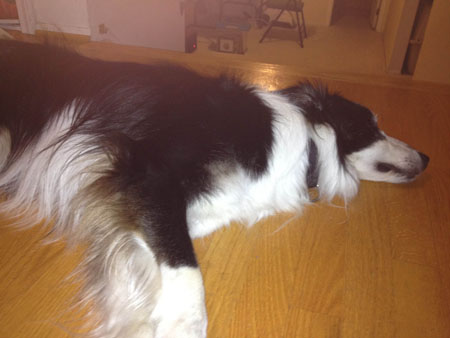 He seems to get plenty of excerise most days. He goes for a walk every morning and often one at night, plus plenty of playtime. He loves his balls, ropes, frisbees and to be in the thick of whatever is going on, even basketball.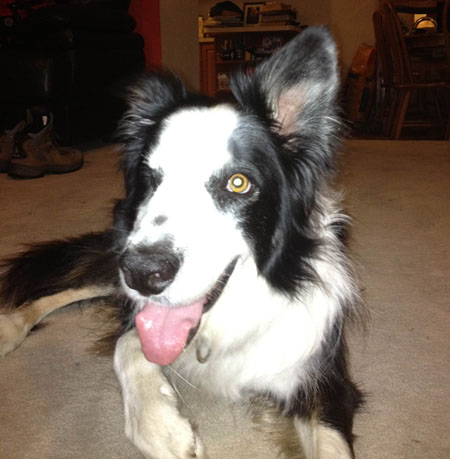 We have let him off leash a couple times at church events and he was great. He ran around played and when someone called him he would come in for a belly rub. We discovered he loves to swim when on a campout he took a break in the Huron River. We also learned he tolerates baths extremely well. We found this out after he played in some mud after a rain. I know I rambled on here but we are very grateful to have Turner.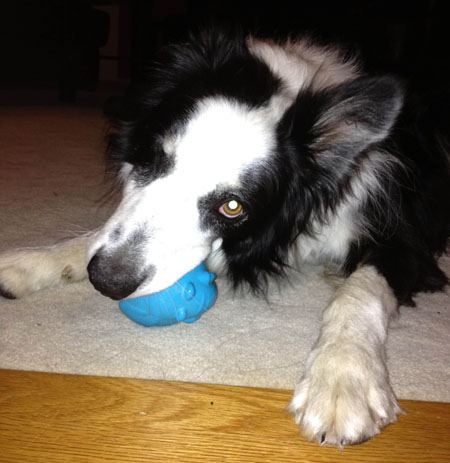 ---
Bonus was adopted in March, 2012 and is fitting in nicely at his new home. His new family sent us the following update on his first day: "Bonus has had a great night so far! He ate his dinner, had a nice walk, explored the yard (did his business) and made himself quite at home. After cleaning him off (mud) I decided to give him a quick brush. It was so funny- I have never seen a dog enjoy being brushed this much! The moment I touched him with the brush, he leaned into it and dropped belly-up on the floor and loved it. He's curled up and sleeping soundly now. It was a big day, but he's done so well, I thought you'd like to know."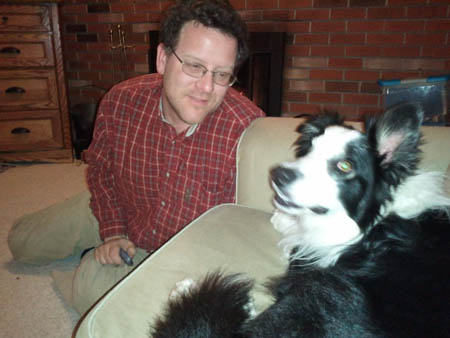 ---
February 22, 2012: BONUS …is even more handsome now that he had his successful eye surgery. This boy is one VERY happy, loving guy. You really can't be in a bad mood for long when he is with you! He loves to be with people, as you can see by the wonderful photos taken at the Novi Winter Dog Show, where he had only been with us for a week! Belly scratches can last for hours and hours, if you are willing.


The lack of sight in one eye does not slow this guy down! He runs around my back yard playing chase games with my Amber and never misses a beat. He will sometimes lose sight of her if she runs into his blind spot, but he will circle to try to find her again. This circling seems to be a coping behavior for his loss of sight – as opposed to a neurologic problem - but it also seems to be his way of coping with just about everything. When he doesn't know what to do, when he is excited, or when he is stressed, he will circle in a counter-clockwise direction. He sometimes uses an object like a table or chair to run around (or you, even!), and other times he just circles. When he is very excited he will make tight, fast circles, which gets him (and me!) dizzy. Bonus is very easy to redirect when he circles in the house by getting his attention and asking for a sit or offering a new toy to play with or treat. He also will redirect himself after figuring out what it is he wants to do. Outside, he can still be a circling challenge unless I keep him close and on leash. He will refocus and away he will go after a toy or my dog.


This boy has wonderful manners. He walks well on leash, but he will circle when in situations he is unsure of, however, he is easy to control. He is great in the house and perfect in a crate. He will sit on the couch, or in your lap if you prefer. I'm sure Bonus will even sleep with you in bed if you'd like. He will settle down very nicely with a chew or toy after he is certain that you will not throw it for him. Bonus plays tug, but you will have to watch that he does not take apart fuzzy toys and tugs. Frisbee, balls, Teaser balls are favorites outside, especially if you play with him! He has discovered that he likes to chew on bones, hoofs, and antlers. Can't play with him? Bonus is an expert at playing with himself, tossing toys into the air!


Don't call this boy late for dinner or snacks because food is a beloved pastime (and that is good, because he needs to gain a little weight!). He will do just about anything for a tasty treat. He was not much of a people food guy before he came to me, but now he looks forward to those little extra morsels. He knows sit, down, wipe paws at the door and we're working on shake. He will bring toys right to you, and sometimes he drops it at your feet, and other times he will give it right to you.


Where ever this guy finds his permanent, forever home will have to continue working on his recall, but it is a bonus (pun intended!) that he likes humans so much that he doesn't go too far unless he gets distracted. He is very interested in my cat, but she is "foster dog wise" and has not shown herself much. He has offered to chase her on those few occasions that he has found her out in the open, and I'm sure he would probably give chase to any small fuzzy critter.


Bonus has shown me that he is a real sensitive guy. There is certainly no need to yell at this one, because he just melts right into you.


Come check out this really cool boy at the upcoming Detroit Kennel Club Show. He will be manning the booth both days March 3 & 4 to raise money for his surgery and to meet everyone that attends this huge show. Stop by to say "hi" - and don't forget the belly rub!
---
Bonus has just arrived, so we're still getting to know him. What we do know is that he is a sweet boy who loves belly rubs! Bonus had somehow lost an eye before he was rescued, and we don't know how. He was a stray that turned up on the doorstep of a Good Samaritan in Kentucky, and she helped him find refuge with Great Lakes Border Collie Rescue. He is learning to compensate for his blindness on his right side, and tends to turn to his left more than his right, so he is sure see all that is around him.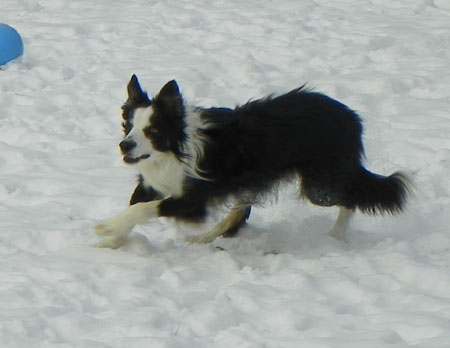 His foster mom has decided to name him Bonus, and we think that whomever adopts him will surely feel that he adds a big bonus to their lives! We do know that he loves to play with toys, and would really love a fenced yard so he can be free and confident to roam without danger from having a "blind spot"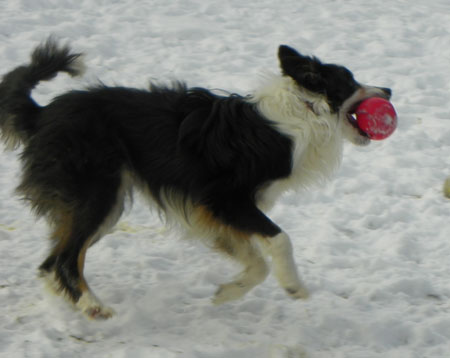 ---
Bonus joined the GLBCR Booth Crew at the 2012 Michigan Winter Classic Dog Show. As you can see, he enjoyed the attention and never missed an opportunity for a belly rub!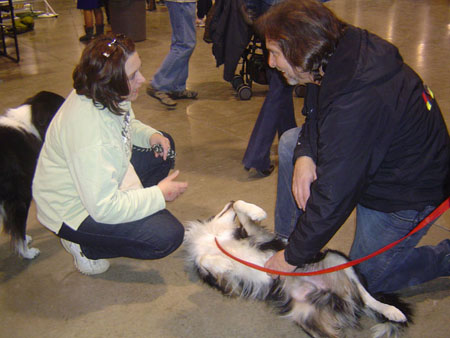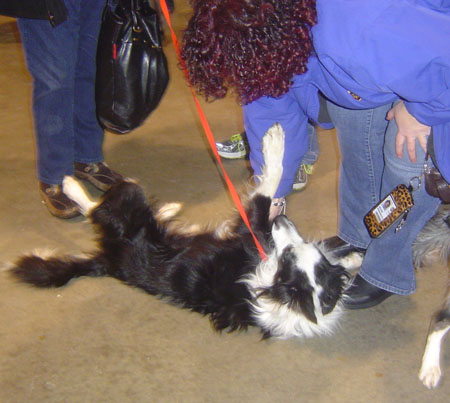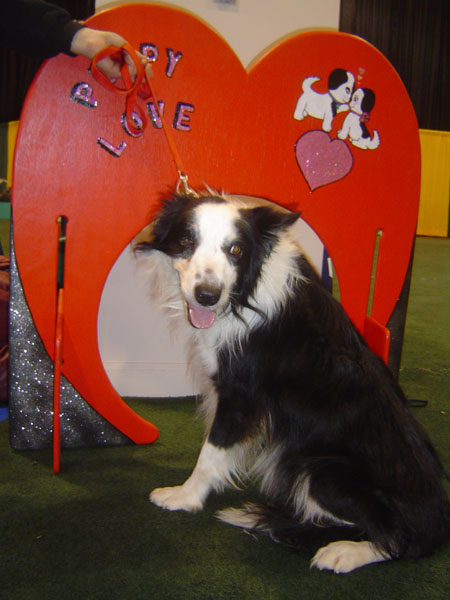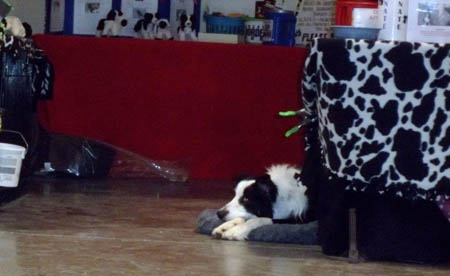 Sigh...why is no one petting the cute Border Collie....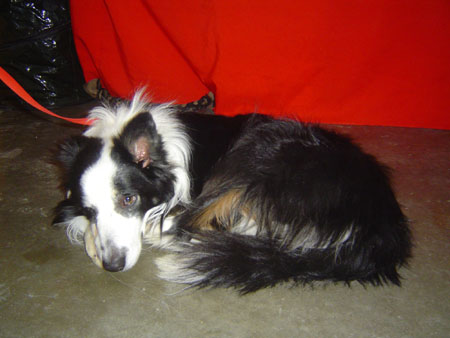 ---
Photos
---
Videos