Buddy Brown
Gender: Male
Age: 9 Years
Height/Weight: 21" / 47 lbs
Housebroken: Yes
Fenced yard required: No
Location: Mid-Michigan
Foster Home: Patty

Crate-trained: Yes
Treat-motivated: Yes
Toy-motivated: Soccer Ball!
Likes Car Rides: Yes
Good with cats: No - stares at them
Good with kids: Yes
Commands: come, sit, off
---
Buddy Brown was adopted in July, 2012 and his new family thinks he's great!
---
Buddy Brown came into rescue with his sister Gracie, and because of foster space, they were placed in separate homes. Buddy literally cried the first 3 nights he was with me. His sister was clearly the boss of him. But being and easy-going guy, it didn't take long to start investigating the new digs. Indoors, Buddy Brown is a pretty good boy. He's used to being on furniture, and he's the best TV buddy you could want. He LOVES to snuggle & his very favorite is butt scritches. He enjoys a good brushing and his favorite game is 'empty the toy box'.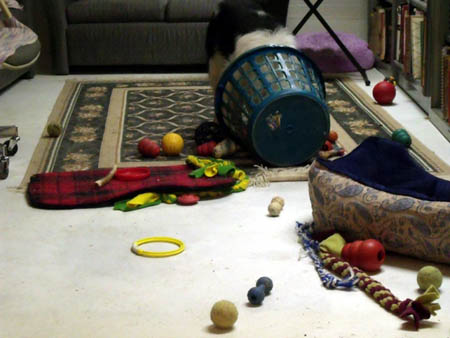 I don't even crate him at night anymore, I just leave him in my comfy office/dogroom and he's fine. He's pretty much self-entertaining, he doesn't really interact much with my kidz. He's more of a people person. He gets along with most dogs. He would be perfectly happy to be an only child, too. As far as 2 legged kids, Buddy Brown gets along with everybody and there's not a mean bone in his body.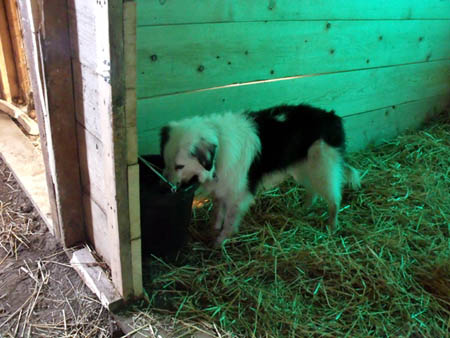 He walks well on leash and comes when called. In fact he's usually hanging with me when I'm in the dog yard. Sometimes he'll fixate on one of the other dogs and stalk it. He always stalks kitties. I would not recommend Buddy Brown with cats. Mine are pretty tolerant of dogs but he's after them to the point of obnoxious so I keep a baby gate for kitty escapes. Buddy barks at my horses so he will never have access to them. Buddy also herds me when I do yard duty with the wheel barrow. He loves to help with the barn chores. Car rides, Yes! He's a pretty good soccer player too. With our warm spring I've also discovered that he likes to play in the hose and the pool.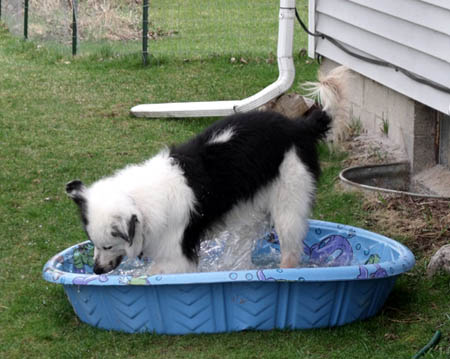 Buddy Brown is 9 years young and please don't overlook him because of his age. You couldn't ask for a nicer pal.
---
Poor Buddy...so tired from all of his Ambassador Dog duties...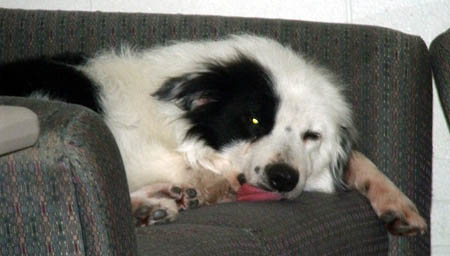 ---
Update January 23, 2012: Buddy Brown would like nothing more than a family of his own. He's young enough to play in the yard all day with his big soccer ball, and adult enough to hang out and watch TV with you. He's a wonderful snuggler, his favorite is butt scritches. He has a slight underbite which causes his little tongue to stick out all the time which just adds to his cuteness. He loves everyone but is obsessed with cats. So if you have a tolerant kitty, you're OK. Buddy Brown LOVES car rides! He's especially fond of men. His first owner said he had several siezures over his life but he has not had a single one since he's been with me. Buddy is a great dog with lots of love to give.


Buddy joined the GLBCR Booth Crew at the 2012 Michigan Winter Classic Dog show and was a big hit with the crowd - especially his younger fans. Our booth was in a high-traffic location with loud noise, music, agility demonstrations and tons of visitors (both two-legged and four-legged). Buddy just hung out and took in the sights and sounds, demonstrating the nature of a true "gentleman Border Collie."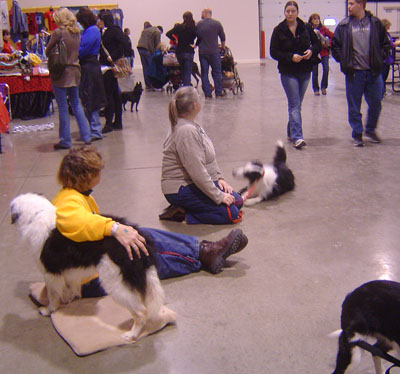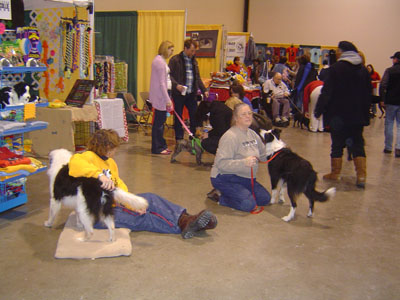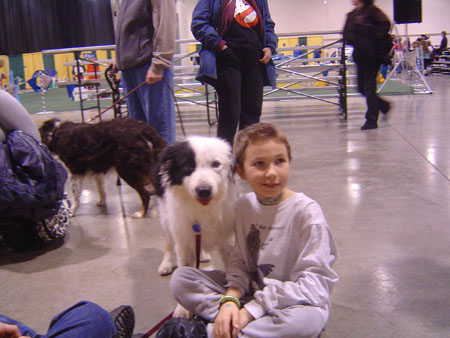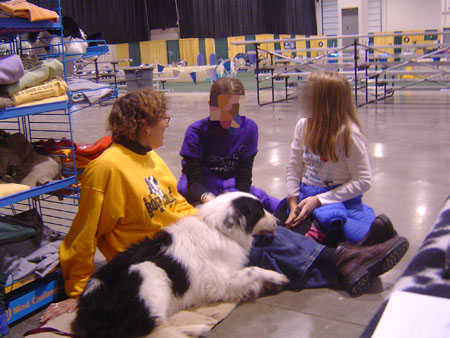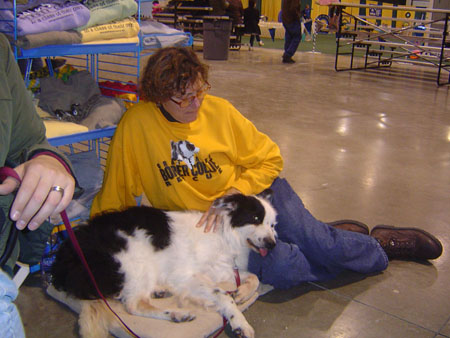 Chillin' with foster mom Patty after a job well done!
---
Buddy Brown is a sweet guy who loves to play fetch with his half Jolly Ball. He's a medium energy dog who likes his play time & walkies. But when he's done he likes to hang out watching TV. He likes everyone but would be most happy with an adult home. He's OK with older kids but his favorite is men. He is NOT good with kitties, will chase. He likes the girls...and is OK with my little 9# Peewee, but he isn't OK with my other male....but it could also be a personality clash too. So if you have another dog, they would have to meet first. Buddy has had a few siezures in his life, but not enough for him to require medication. He doesn't mind grooming and he LOVES to be loved on. Don't overlook this sweet boy. Adult dogs are the best companions.

---
Photos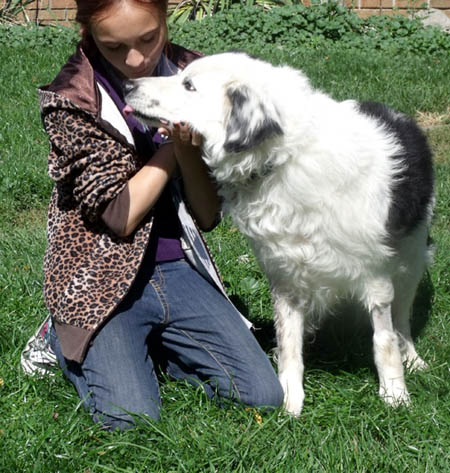 ---
Videos