Busy
Gender: Female
Age: 11 Months
Height/Weight: tbd / 31 lbs
Housebroken: Mostly
Fenced yard required: No
Location: SE Michigan
Foster Home: Peggy


Crate-trained: Yes
Treat-motivated: Yes
Toy-motivated: Yes
Likes Car Rides: Yes
Good with cats: tbd
Good with kids: Yes
Commands:
---
Busy was adopted in June, 2012, and is now known as Isabell. Or Izzy//Bella/beauty, depending on the mood and whether she's In Trouble. We received the following update on her first night with her new family: "Just wanted to let you know that Busy is settling nicely. She spent the night sleeping in the crate next to Nick's bed and didn't make a peep. We walked Nick to school this a.m. and she got lots of love from his classmates which made her happy and Nick proud. She has invited Zack to play several times. He's very gentle with her and they've done some very quiet wrestling. The only issue we ran into was that she was very timid about coming down our stairs. Last night, John carried her down twice, but she;s a quick study and has already gone down by herself three times this morning. We're very happy to have her. Nick said this morning " I love her so much!" I think we all will."
---
Miss Busy came to us from a shelter in Southern Indiana with her brother, Reo. She's clearly a mix, but we're still trying to figure out what with. What we do know is that she is pure punkin, with a side of mischief. She has a stellar temperment and recently spent the Memorial Day weekend with us up at the Dog Bowl in Frankenmuth, Michigan. This was a very active, high-stress environment, and Busy's tail never stopped wagging.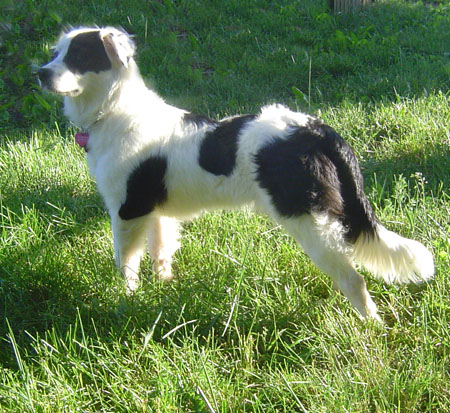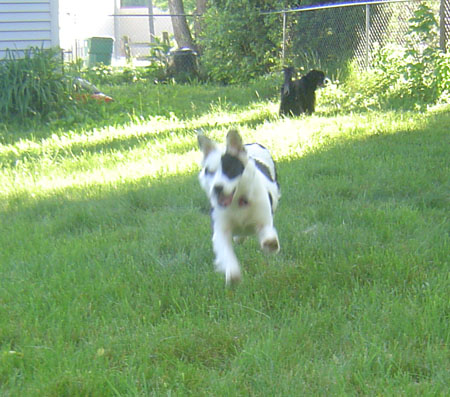 More to follow as we get to know her! .
---
Photos
---
Videos