Casey
Gender: Female
Age: 3 Years Old
Height/Weight: na / 38 lbs
Housebroken: Yes
Fenced yard required: Recommended
Location: Mid-Michigan
Foster Home: Debbie T.


Crate-trained: Yes
Treat-motivated: Yes
Toy-motivated: Yes
Likes Car Rides: Yes
Good with cats: NO
Good with kids: Yes
Commands: sit, down, comest to her name, kennel-up, no, off, leave-it
---
From our Facebook page, December, 2013: "KC enjoying the comfort of her forever home. This is her second Christmas with us now, and lovin' every minute of it!"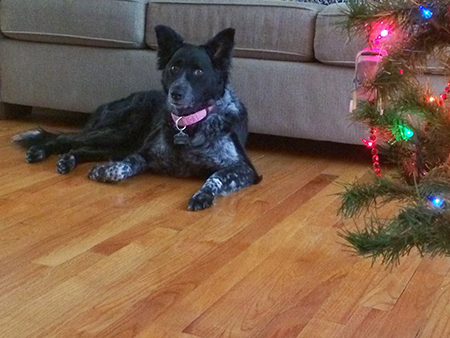 ---
From our Facebook page, August, 2013: "Happy birthday KC. She has been with us for one year. Obviously, some new toys are in order."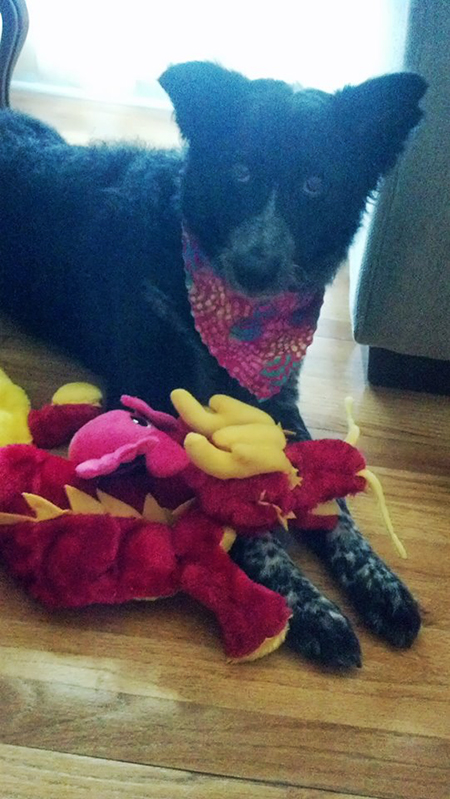 Happy "Got" Day, KC -- hope you enjoyed the new toys!
---
February, 2013: K.C. has been with us for 6 months now, and is doing great. The holidays were no problem for her at all. We had a few family events with 50 or so people at our house, and she was great. She has gained about 5 lbs. and is looking very well. Her coat has recovered from the treatments and has become a shiny black. She is looking very good. We are still making progress on here timidness with me. There is steady improvement, however; it is clear that Paula and the kids are preferred. The progress is slow, but steady, so this is good.


While we are home, she knows that the furniture is off limits, to the point that we are not able to persuade her onto the couch with us. When we are not home, apparently the rules don't matter as much. When Grandma has stopped by the house while we are at work, she has been found fast asleep on the couch. This is something that she is quite careful not to allow us to witness. I don't know how she does it without leaving so much as a single hair on the furniture, but she somehow accomplishes this. She is skilled. If this is the worst she does while we are out of the house, I guess we can consider ourselves lucky.


She has refrained from giving chase to a cat across the street. When she spots it, and we give her the "leave-it" command, she complies. This is very good to have confidence while outside with her. She loves rides in the car, especially to Grandma's house. She has a set of toys over there and Grammy and Pa give her plenty of attention. All I have to do is start the truck, and grab her leash, and she is suddenly my best friend. Camping/cottage season is coming, so there will be plenty of opportunities for rides and fun outside.
---
Update: November, 2012: K.C. is doing quite well. Although she is still timid with me, we have, and are, making progress. "All good things come from me" is helping. I am the only one that feeds her, and we have found a "special" treat that only comes from me during the times that she is most afraid of me. Summer sausage, and bologna are what she really responds to. K.C. has gained a few pounds, and does not feel so "bony". Her coat is coming in well, shinny and smooth. A noticeable difference.


Squirrels, rabbits, and especially cats are still fair game. While on a leash, she only pays very close attention to them. When not on a leash, it is sometimes too much temptation and she must give in to the chase. We are working on this and it is improving. We are able to have her in the yard with us, unleashed, and with confidence now.


We have been on a few camping trips and found that K.C. loves camping. Always something to do, many of our camping friends have dogs, and K.C. gets along with all of them. She has her special spot in the camper where she can keep an eye on all of us.


This past weekend we went to the cottage to do some final closing for the season. While we worked to clean up the leaves in the yard, she was quite content to stay nearby and enjoy the day. When we finished our work, we went down to the beach for a long walk, and she was VERY excited about this. Plenty of things to investigate, and in true BC fashion, coming back to Paula's side periodically to "check-in". She stayed close by, and with a simple call of her name returned for a "check-in". See attached photos from the beach. On the way home everyone was very tired, an our daughter, Meghan, fell asleep in the back seat with K.C. who was also asleep. This was awesome to see. In just a few short months, the bond that has formed between all is amazing. She is truly a member of our family.


We have had a couple of events at our house where there were many strangers, and K.C. handled it very well. We are looking forward to the holidays when we routinely have 50 or so guests in our home. We are confident she will take it in stride.


Thank you again for everything, we'll keep you updated on everything K.C.
---
Casey was adopted in August, 2012 and her name has been changed to KC. Here she is with her new family: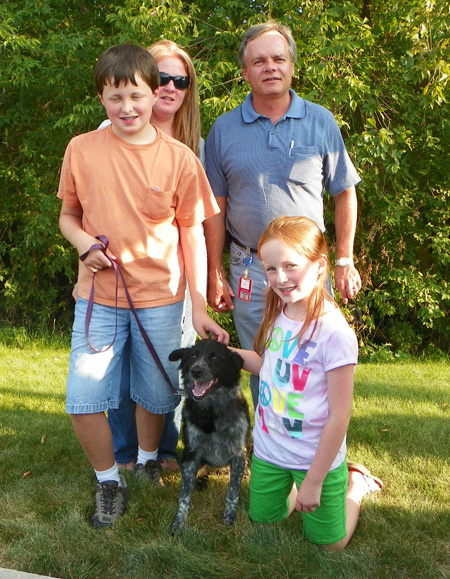 Here is what they wrote about her first weekend: "The weekend went very well. KC has taken quite a liking to Paula, and shadowing her every move. KC is still very reluctant with me, however; we feel this will subside with time. She is very comfortable with the kids.

"Last night, after the kids went to bed, Paula and I were up, and sitting in the living room. KC went and laid down in the hallway between the kids bedrooms, as of it were her post. This was good to see.

"She has been spending the nights in the crate without argument. Soon we intend to work her off of this, because we think that we will be able to trust her during this time. KC has helped us to find some weakness in our "dog proofing" of the house, and now that these are cured, we feel it won't be long before she can be trusted in the house alone.

"No real signs of playing as of yet. She has had a couple of "bursts" with her favorite ball, but they are few and far between. KC walks very well, and has meet a couple of other dogs with ease. Her "cousin", Bailey, was very happy to meet KC, and they got along wonderfully. She was quite playful with Bailey.

"KC had a good visit to the veterinarian, and to the groomer. No problems at the vet, and the groomer used some kind of "wonder conditioner" and her coat is smooth and soft to the touch. She appeared to enjoy all of the attention of the grooming, however; was very happy to see us picking her up. Riding in the car is awesome. She jumps right up on command, and down as well. She laid down for most of the ride, which made it completely uneventful. This was encouraging to see, as we often travel by car.

"We worked in the yard for most of the afternoon yesterday, and she was content laying in the grass sleeping. I don't think she once found the end of the tether, she chose to stay close by, no matter where we were. Squirrels do draw her attention where ever they are, only reacting if they happen to come within range."
---
Update July 26, 2012: Casey is doing so well. She has no symptoms from her heartworm treatment. She is now exercising all she wants, which in this hot weather that we have been plagued with this month is not that much. She is looking good, feeling good and ready to find her forever family.


Casey is a medium energy girl. Has a wonderful off switch and will spend part of her time chewing on a chew toy. She has discovered balls that squeak at my house and those are great fun. She does not understand the chase game much to my Amber's disappointment. She will go out and get the ball but does not want to bring it back yet.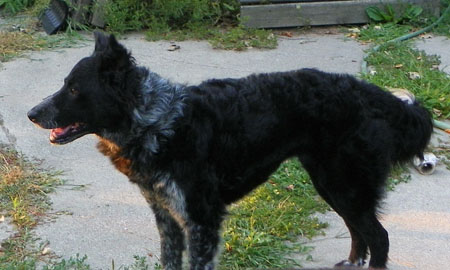 She is a very quick learner. With her being so people orientated I believe that she will fit into a family setting very easily. With proper boundary training she should do well with underground fences or no fences (Note: Proper training AND Never being left alone outside without adult supervision)

Casey is very content to sit by her human and have them pet her. She adores children and naturally gravitates to them. She may have to be redirected if little ones are playing and roughhousing outside she really just want to get in on the action in typical Border Collie Style.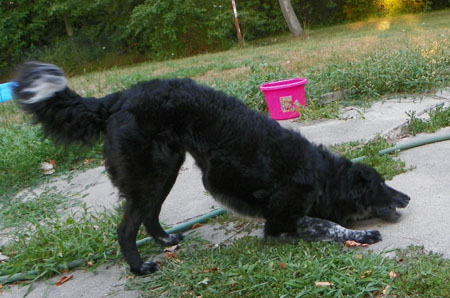 She is quiet in the house and in her crate. House broken and not to rowdy but playful and very loving. She is eating very well and has put on a pound or two but she is still pretty boney. Her coat is going to be wavy and curly when it is finally fully grown out. She is very good with other dogs and will make a wonderful dog park girl. Cats are fine in the house but outside she would like to stalk and give chase if they run. She walks very nice on leash so a walking or running partner would be just perfect for this girl.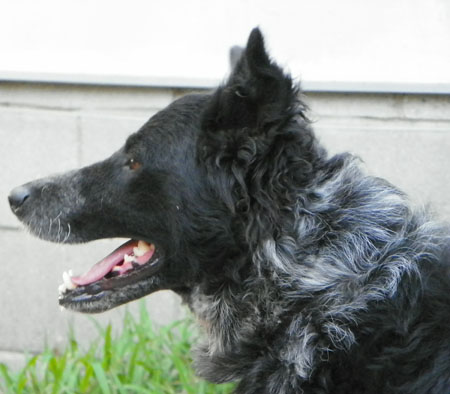 Donít miss out on this young outstanding family dog.
---
Casey is in the process of recovery from heartworm treatment. She has one more week of total restrictions and then she will be able to discover her world all over again. The recovery process is going well for Casey and I have no reason to expect that she will have any problems in her recovery.


She is a very sweet young lady who loves people, especially kids. She is gentle and seeks attention from the people around her.


She is coexisting with the resident cat in her foster home, though I am not so comfortable in stating that she is good with cats. She is overly focused on the cat and when outside she will stalk and lunge at the cat if he gets too close to her.


I would put her prey-drive in the higher ranges and suggest that she be closely supervised with animals smaller than she is. I would also suggest a fenced yard for her to enjoy running free in.


Casey loves other dogs and really wants to get out in the yard and run around with her foster siblings. She watches with interest as the other dogs run around the yard and play.


Casey is a quiet girl and very easy to have around. If you are looking for a companion dog who is gentle, intelligent and willing to please, take a look at Casey. She is a really sweet girl with a heart of gold. She would be a great family dog for an active family.
---
Photos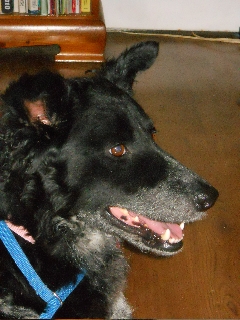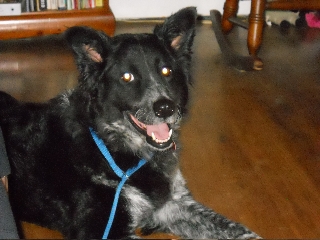 ---
Videos