Charm, now Lili
Gender: Female
Age: 6 Months
Height/Weight: tbd / 33 lbs
Housebroken: Yes
Fenced yard required: Yes
Location: Mid-Michigan
Foster Home: Debbie


Crate-trained: Yes
Treat-motivated: Learning
Toy-motivated: Learning
Likes Car Rides: tbd
Good with cats: tbd
Good with kids: tbd
Commands:
---
From our Facebook page, August, 2014: "Our rescue LILI proves that border collies love the water."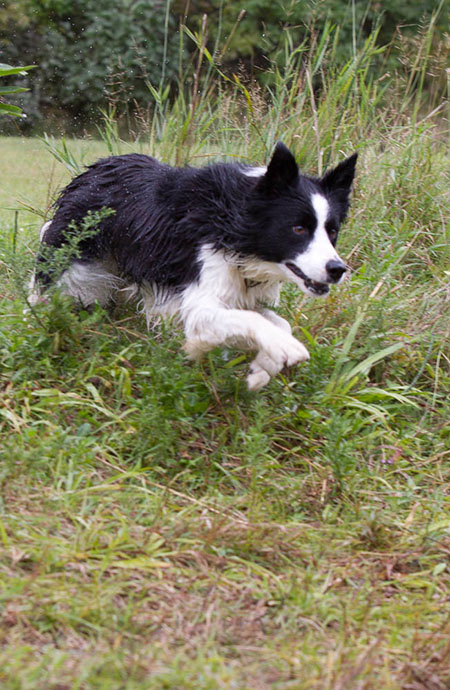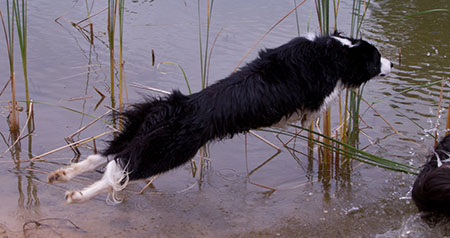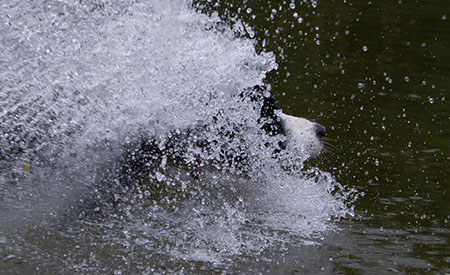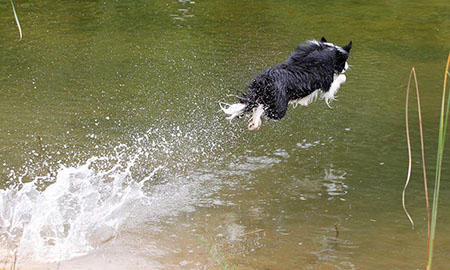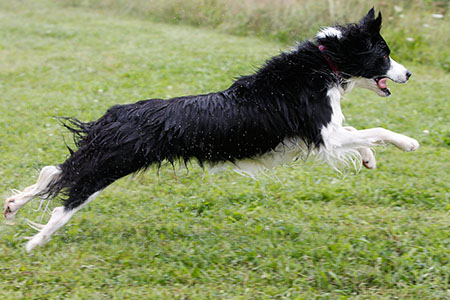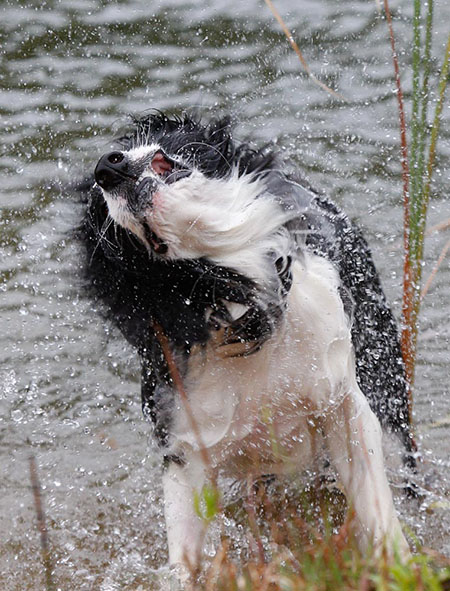 ---
June, 2014: Lili's mom got a new camera that can shoot underwater! Pretty cool!
---
Check out the video of Lili and her brother Bravo playing in the snow!
---
February 4, 2013: We are all doing well. Lili is a little maniac and we love her! Bravo played with her when she first came but he wasn't really "into it". Bravo's "cousin", Ranger, died this summer very unexpectedly. Bravo and Ranger were buddies and ran and played HARD. I think now that Bravo doesn't have Ranger, he has accepted that Lili will make a good replacement. They are so funny together. Bravo is now swimming and playing frisbee - thanks to lessons from his little sister :) Still, they have very different personalities. That is GOOD because I don't know if I could take two of them if they were the same (Bravo so lazy and Lili so NOT lazy!) :)
---
From our Facebook page, February 2013: "Lili (A.K.A. Charm) racing in front of her big brother, Bravo this weekend."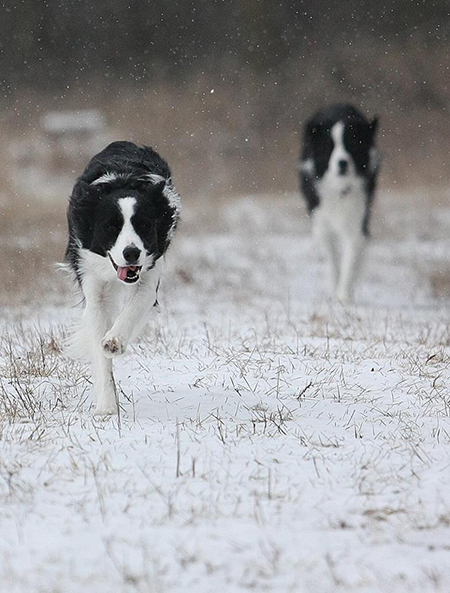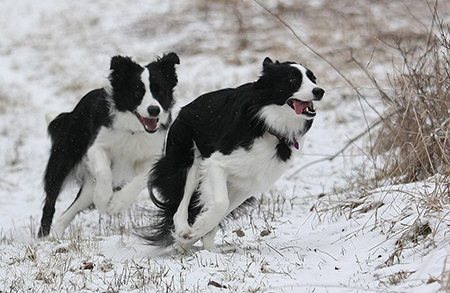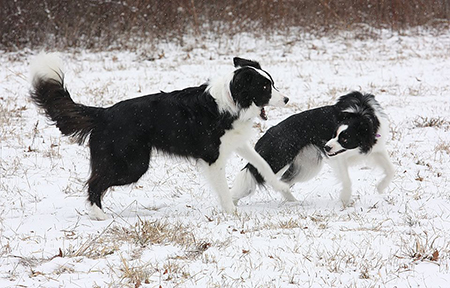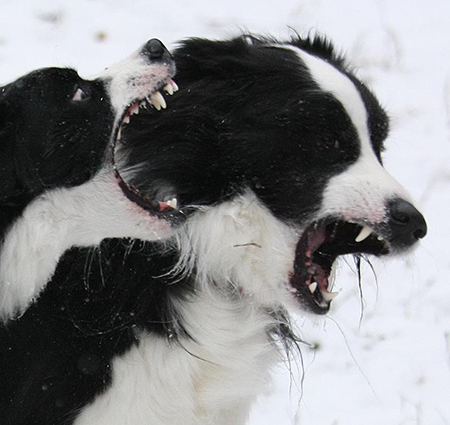 "I know this looks AWFUL! But they really are playing - or I wouldn't tolerate this behavior! Lili and Bravo love to run and play together. The camera captured a pretty scary looking "attack" by Lili (Charm) on her big brother, Bravo. One minute Lili is chasing Bravo - the next, Bravo is chasing Lili! They are SO much fun to watch. These photos were taken on a 2.5 hour walk on Saturday. They played and ran hard the whole time."
---
Check out these amazing action shots of Lili and her brother, Bravo!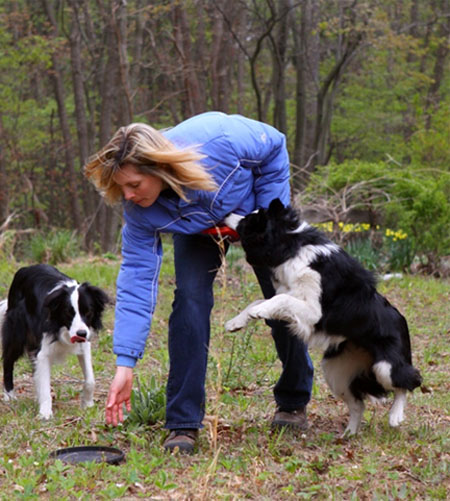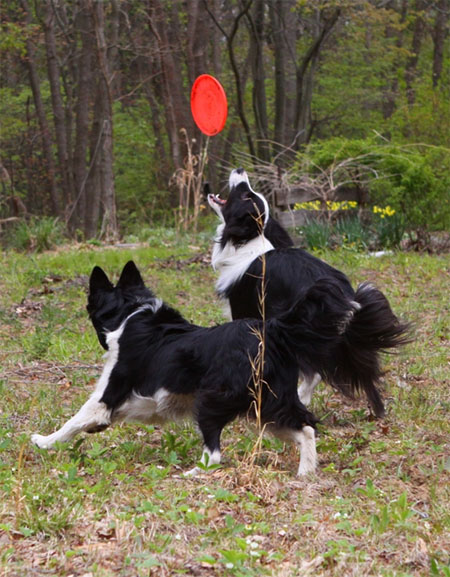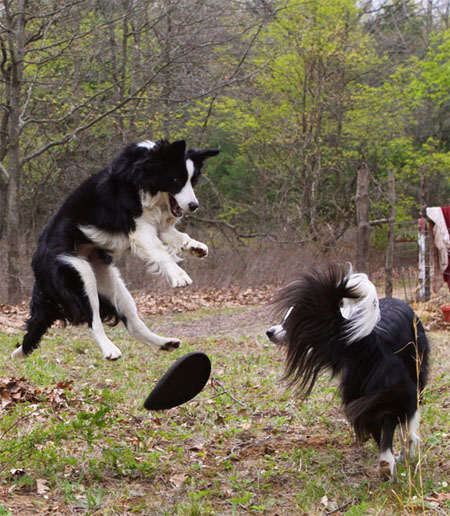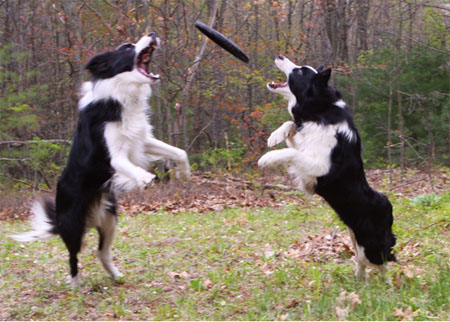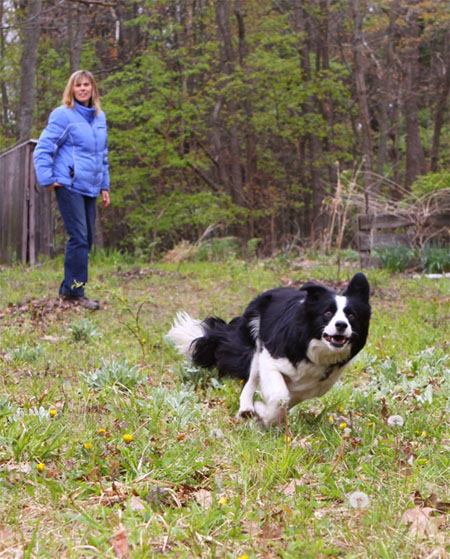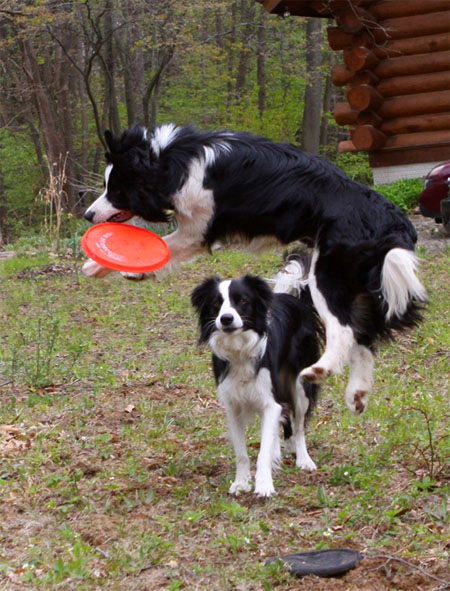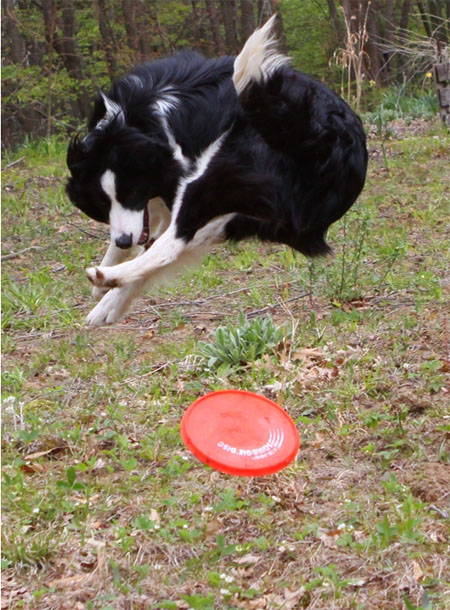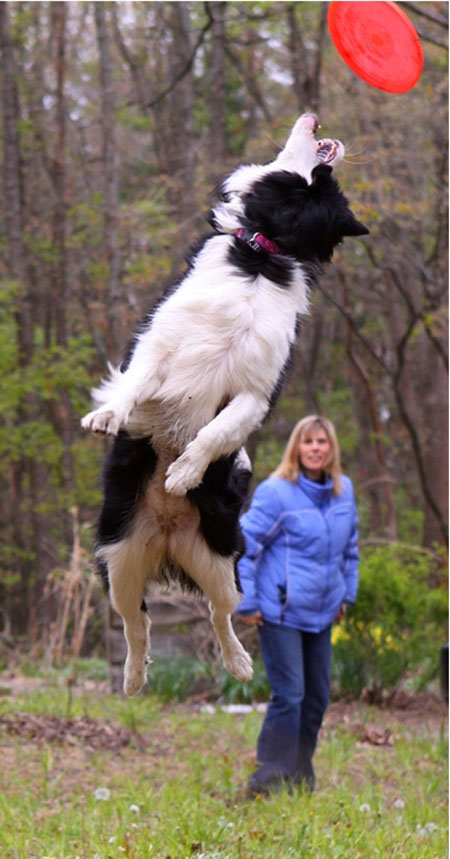 ---
Charm was adopted in March, 2012. We received the following update a few weeks later: "Sorry for the delay in sending in an update on Lili. She is doing GREAT! She made herself right at home as soon as she arrived. She loves her new "brothers". Her two older brothers are Bravo (a two year old BC) and Joey (a 12 year old cat). Lili and Bravo LOVE to race around and around outside. They take turns chasing and being chased. This is the most active Bravo has been in his life! Joey is quite indifferent to Lili but Lili seems to love Joey :) Lili also has one younger brother. He is a rescue kitten named "Babycakes". Babycakes was not use to being around people (or dogs) but he is warming up to being with us. Lili has taken a great interest in Babycakes and they are actually now sleeping on the same bed and playing together. Babycakes is so timid that he rarely ventures out of "his" room (my office) but now, with Lili at his side, he is exploring the house more and more. The two make quite a pair! It seems to be a good relationship for both Lili and the kitty. While Lili's brothers do not enjoy swimming, it hasn't stopped her. At her first opportunity, she took a dip in the pond. Since then, she has also gone swimming with her "cousin" Ranger (a husky/german shephard mix). She is non-stop energy from morning til night. We've ALL been more active since Lili has arrived. I LOVE to see her play with her toys - sometimes by herself, sometimes with her brother Bravo, and sometimes with me. I am having so much fun with this little girl and am looking forward to a lot of adventures this summer! Thank you to all of the people who helped bring Lili into our family :)"
---
Charm is a 6 month old bundle of pure wiggly-butt love. She has a sweet disposition who will turn herself inside out to get close to people.

Charm certainly seems totally housebroken, and she's a dream in a crate. As an extra added bonus - if you would like her to go flying with you in your airplane, she is experienced with that, too, 'cause that is how she arrived to her foster home!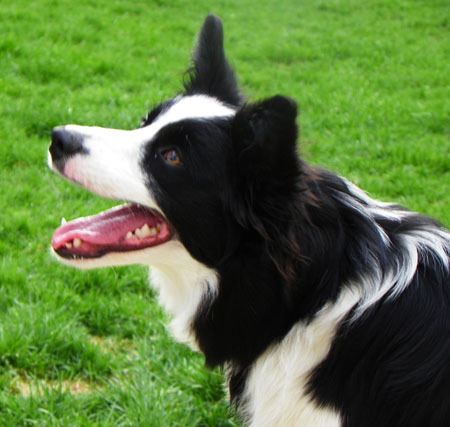 Charm has not had much formal training. She will walk on leash, but getting the leash attached to her collar is a bit of an adventure; she's either wiggling, or she'll roll on her back wanting a tummy rub. We understand she spent a lot of time left on her own, running loose in an unfenced area without any supervision, except from her 2 older dog pals. Needless to say, a busy Border Collie finds things to do… herding cars, attracting ticks in the woods and heaven can only know what else she got herself into. So her new family will need to mold and teach her how to temper her puppy enthusiasm. She is all about being with her people and readily responds to her name, which she is just learning. She is a typically sensitive Border Collie who responds well to a firm voice, and will stop whatever she is doing when she hears a stern "NO."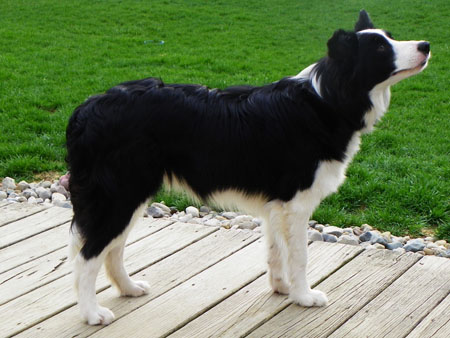 Charm does not yet seem to understand what toys are. She has learned that if she picks one up and holds it in her mouth my older dog will chase her and Charm thinks that is a great game! She may run out after the toy but she does not understand she must bring it back so it can be thrown again. With a little encouragement she will understand the concept with some one on one work.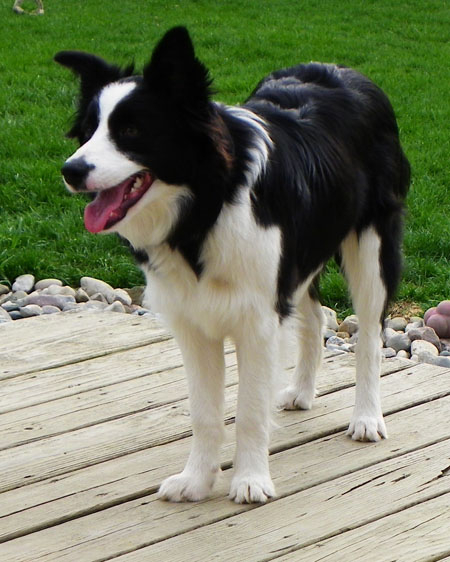 She is about 33 pounds, with very classic Border Collie coloring. She is not very tall but she is very well proportioned. She is very eager to learn and loves to please. Charm has very typical puppy energy, but at night when it is time to watch TV, she will happily climb up in my lap settle down to just hang out and maybe even take a nap.

---
Photos
---
Videos