Dixie Highway, now Dixie
Gender: Female
Age: 2-4 Years Old
Height/Weight: tbd / 35 lbs
Housebroken: Yes
Fenced yard required: No
Location: Mid-Michigan
Foster Home: Debbie T.


Crate-trained: Yes
Treat-motivated: Ye
Toy-motivated: Yes
Likes Car Rides: tbd
Good with cats: tbd
Good with kids: tbd
Commands: Sit, her name, come, down (with help), crate or hop in, and paws (she does not like her feet wiped but it is coming along nicely)
---
Update December 7, 2012: My brother took this pic of Dixie on Thanksgiving. She is doing great. We have put a couple pounds on her - which is a hard thing to do as busy as she is - LOL!!! She is also getting along much better with the kitties.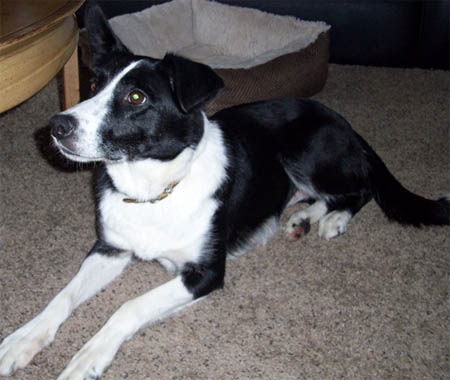 ---
Dixie Highway was adopted in October, 2012 and is now known as Dixie. We've received the following update from her new family: "Everything else is going great. Dixie really is a wonderful dog. She spends all day with me and unless I have to go to town for something she also goes everywhere with me. She rides beautifully in the car, is good with people, comes every time I call her, and has a wonderful personality; who could ask for more?! I think the thing with the cats is because they are such active little guys and the one is extremely mommy oriented so he spends a lot of time attached to me. He has also taken to chasing and taunting her and that hasn't helped either.


"I have invested some time in reading about the cat/ dog relationship and her specific instincts as a border collie. When they run it drives her nuts - when they run in opposite directions she looses her mind. I am sure that is due to her strong instincts to have them both in the same place of her choosing. They are definitely not cooperating - LOL!"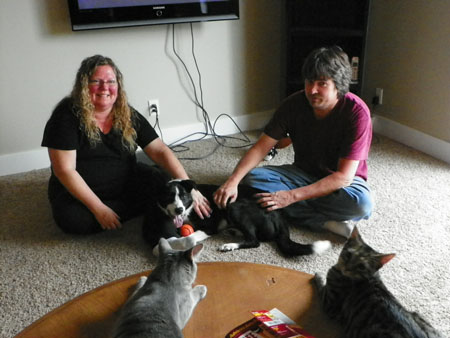 ---
Meet Dixie Highway - one world class ball player.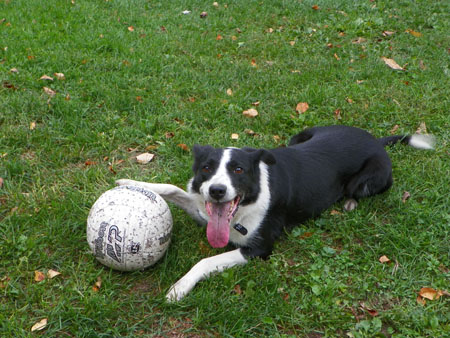 She is a true foundling who was picked up on a busy highway on a Saturday night by a concerned couple. She found her way into GLBCR's care after an exhaustive 2 week search for her owners.

Dixie is a small 35 pound adult spayed female. She is around 2 -4 years old. The veterinarian thinks that she is younger rather than older. She is a black and white smooth coat. She may look like a mix but her actions are ALL Border Collie. She drops or tosses her ball at your feet then moves back to stalk and watch and wait for you to throw it. She'll circle the ball if the person playing doesn't throw or kick the ball fast enough. Dixie is fast, agile, graceful, athletic – pure beauty in motion. She will jump and twist in mid-air to catch the ball if it is thrown over her head. Frisbee is a possibility for this girl.

Dixie is an absolute dream dog! She is smart, sweet, agile, quick, lovable, and gets along with other dogs. From Dixie's point of view, all people are put in her path so she can get pets and hugs. She gives kisses, smiles and is a cuddle bug. She stays close to her people so a solid fence should not be a requirement. Dixie will naturally need training and bonding with her new family before any off leash in an unsecured area happens. She walks great on leash, is treat and toy motivated, housebroken, and is crate trained.

Although Dixie has good house manners, she will jump up on people if allowed. She will jump up and plop down in the middle of my bed but gets off when she is told to. She is a counter surfer, but we are working on this.

Dixie will make someone a wonderful companion, and she could be a competition dog. She is willing to learn anything. Big Bonus!!! She has a wonderful OFF SWITCH and is very content to just hangout with family once she is sure you will not throw her toy anymore. This girl is a true gem and will be a great addition for a family. Come check her out!
---
Photos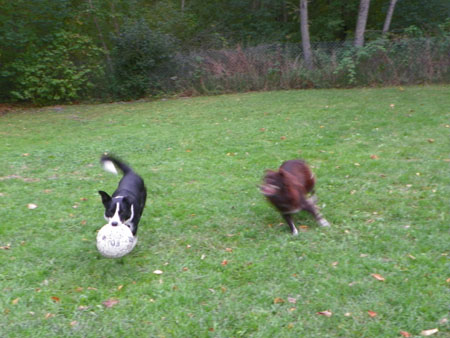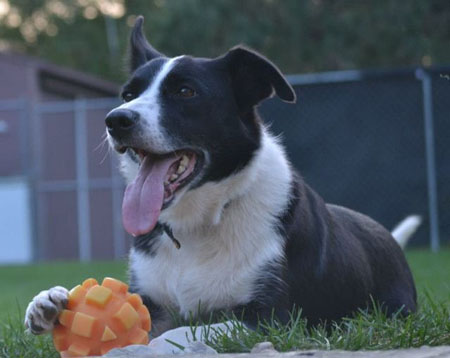 ---
Videos