Estella
Gender: Female
Age: 9 Years
Height/Weight: 18" / 43 pounds
Housebroken: yes
Fenced yard required: preferred
Location: Northern Indiana
Foster Home:Kathy P.


Crate-trained: yes
Treat-motivated:yes
Toy-motivated:
Likes Car Rides: yes
Good with cats:
Good with kids:
Commands:
---
From our Facebook page, August, 2013 - Stella and her new mom. Don't they look happy?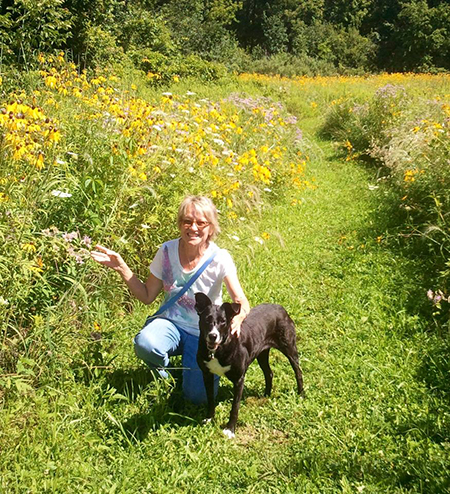 ---
January 10, 2013: Stella & I have been together now for almost 3 whole weeks!


She has a new very distant cousin to 'hang' out with sometimes each week.....a 'puggle' called Maya, fresh from the Humane Society but definitely a dog with absolutely no 'baggage!' I think that being in the company of such a character is a great thing - the little wall-flower and the social butterfly should complement each other!


This week we have been to 2 dog parks where it was safe to let her give her legs a proper stretch, done lots of street walks where passing traffic didn't seem to phase her and had lots of short car rides. (City Hall today to get a licence!)


Each day she seems to bark a little less at strange noises, responds warmly to silly talk and gobbles down her food! I can't imagine her ever, ever being naughty but last night I heard a strange 'smacking of gums' noise - she had pulled all the feathers out of a cat toy and was having a hard time removing the evidence from her lips!
---
January 4, 2013: And here is a picture of Stella - not quite up to the usual portrait standards but shows her enjoying one of her favorite activities!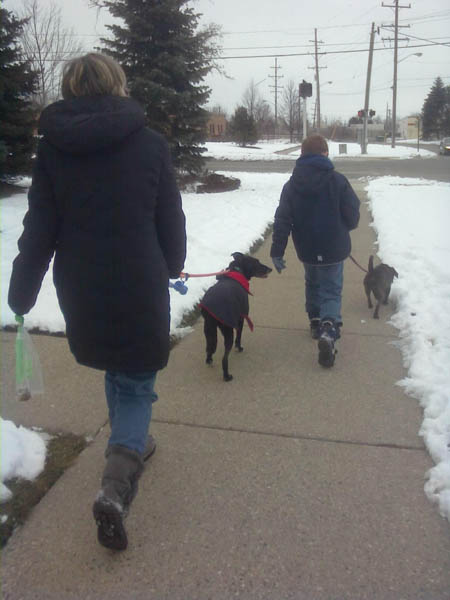 ---
Estella was adopted in December, 2012. We've received the following from her new home: "Just to let you all know that Stella has already amazed me!


"After Kathy had driven away (looking a bit tearful!), Stella's crate arrived and is eenormous...so we placed it over at the end of the room where she seemed to feel comfortable with the view, filled it with pooffy blankets and her bowls. We went for a walk and then back where she seemed to remember the yard and took only a couple of minutes to do her 'business!' (Didn't do any on the walk and I know Kathy was waiting for that event!) Since then she has eaten small portions of both her supper and breakfast, taken treats from us both and generally followed me around - upstairs and down - and even spent the night curled up by the bed. What really surprised me was that while she was trying to figure out where to settle for the night, she popped up on the bed several times.


"Her tail is definitely not tucked, her ears are up, she and the cat are ignoring each other and she is currently laying at the top of the stairs within my sight while I type. In fact, she seems to have that old Uri expression on her face...."haven't you done yet??" (followed by a big sigh)


"We wish you all, both 2 and multi-legged, very happy holidays - with love and thanks....from Lynn and Stella"
---
Update August 27, 2012: "BIRDS??.........SQUIRRELS??............ BUNNIES??.........Not in my yard. I even tried to chase a bee today but my foster mom says that's not such a good idea. I don't really want to catch any of them, chasing them is fun enough (although I have been lucky enough to catch one on occasion)."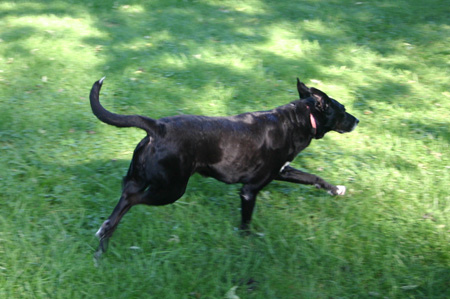 Stella has really come into her own and is loving the world. She is still a bit shy with new people but is warming up quickly (some yummy treats help her warm up faster). She has also decided that she wants to be the mediator in the house; she doesn't like disagreements. If her canine foster sisters are fighting Stella tries to get in the middle and make peace. If I am wrestling with one of my dogs Stella goes around the perimeter in deep thought on how to break it up, it is quite endearing.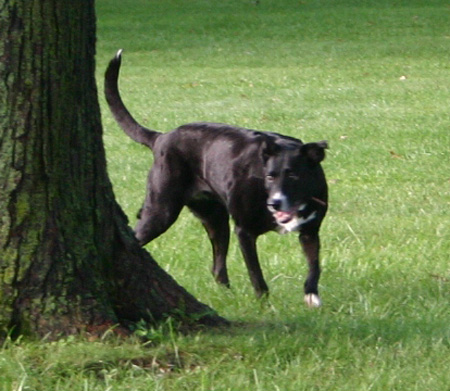 Stella is good on leash and likes to go for walks--this actually helps to build her confidence and make her more outgoing. She travels very well in the car and would make an all around excellent companion. She is sweet and gentle, a loving girl and has actually discovered that cuddling is a pretty neat thing. She is a low key and has excellent house manners which make her an easy, yet fun, house dog.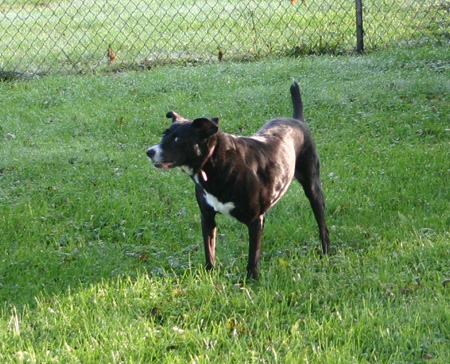 Don't let her age or her non-traditional border collie appearance fool you. This girl is a great fit into almost any home.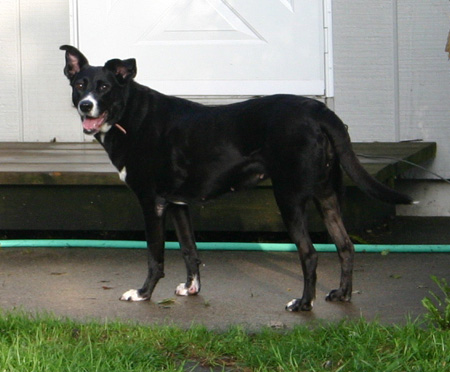 ---
June 3, 2012: I have to laugh, my hoarder dog has become a hoarder, it's pretty funny. Stella has discovered the toy bag and since she loves bones she is in heaven. I went to her crate the other date which had been empty the previous time I was there. She had collected a pile of hard bones in her crate. She is now greeting strangers at the door and barking at strangers outside. This morning she even joined the "wake up mom" dog party on my bed and was not afraid to ask for her share of the petting. This dog is truly a gem and dying for love. I'm currently trying to teach her that cuddling is not a bad thing.
---
Stella is a self proclaimed huntress (she is partial to squirrels but will also pursue rabbits, birds, pretty much anything living that moves outside). As you can see by her newest video she is quite attentive in her hunting duties. She was doing quite well off lead with recall and being boundary trained until spring hit and creatures started to roam. She is now back to using a long lead to give her reminders that chasing things is fun but needs to be kept under control. She is getting quite vocal, but not with barking. She will give the necessary bark or two to alert you that someone is here or there are noises outside but it is by no means excessive. Her vocalness is much more toward the "talky" side. She makes all kinds of amusing noises when she wants something (such as a squirrel in the tree or to tell me I'm taking too long in the morning to let her out) she cracks me up with the variety of noises she has, and they all mean something different.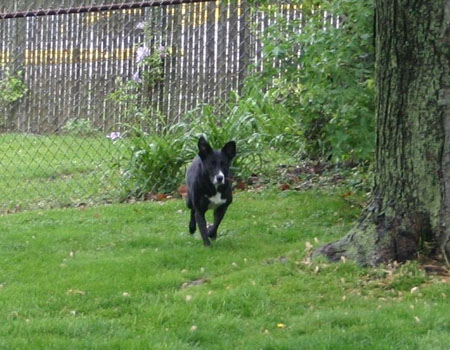 She gets along with all she has met, canine, feline and human. She is very gentle with everyone (except the rabbit her and her sister caught). She is shy when she first meets you but is very inquisitive about people. She would do well in a home with another dog but I think she would especially love to be an only dog where she can soak up all her human's attention. Her favorite spots are on the couch (where she will coax me to pet her), or on a soft bed taking in the world around her.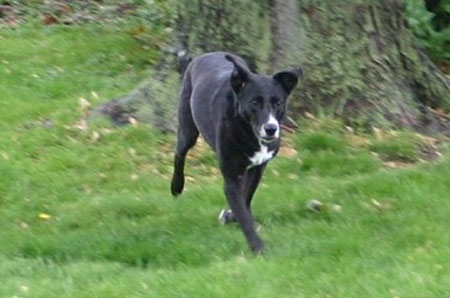 Her gentle yet inquisitive nature make her a great walking companion. She would love to explore the world with her humans. She may be middle aged but she has lots of energy and spunk and is just waiting for the perfect home to come along.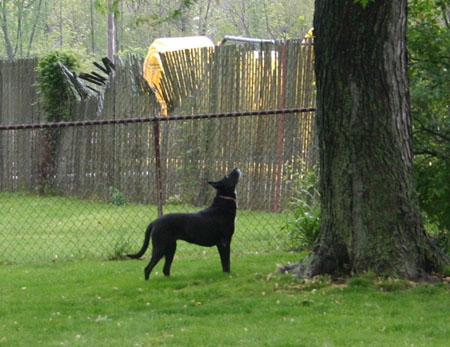 Stella also sent us a new video so she could show off her moves!

---
Check out Stella's new video!




---
March 13, 2012 Need a gardening partner? Or a walking companion? Now that spring has sprung Stella is looking for a friend to be with since she loves the great outdoors. Her lower energy level makes her an easy companion.Her loveable and adaptable nature make her the perfect dog for most any household. Stella doesn't have a tail wag, she has a tail roundabout. I laugh everytime she gets excited cause her tail does full circles and she bounces around making a "woo-woo" noise, it's the most adorable thing you have ever seen. Every morning she bounces around the house so excited that another new day has started in a safe and loving home. I almost have her doing it on command, it cracks me up.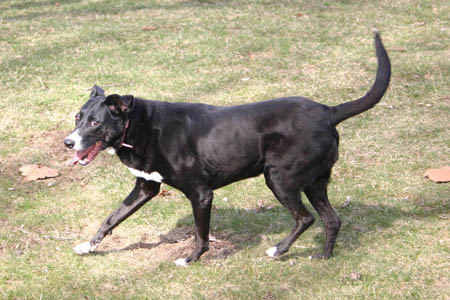 She has also perfected "the paw." When I am sitting on the couch and she wants some loving she will come over and start to paw at my hand asking for attention. For a shy dog it is quite the bold move. Estella is perfectly housetrained and has excellent house manners. I have left her free in the house for 8 hours and she has been perfect. Stella's only quirks are that she doesn't like thunderstorms (not destructive, just wants to hide and will find comfort in her crate during storms) and she becomes a bit nervous with change.

Stella is looking for someone who likes to meander around the yard. She will run around chasing squirrels and checking out all the smells in the yard but she also checks in on a regular basis to makes sure that her human buddy is till present. If you are someone who is looking for a buddy to hang with Stella may be the perfect dog for you.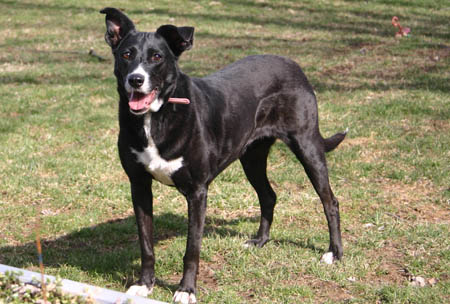 ---
Stella is learning how to have a good time - check out these new photos!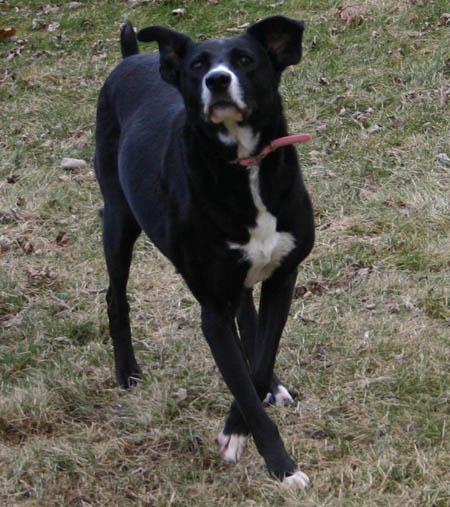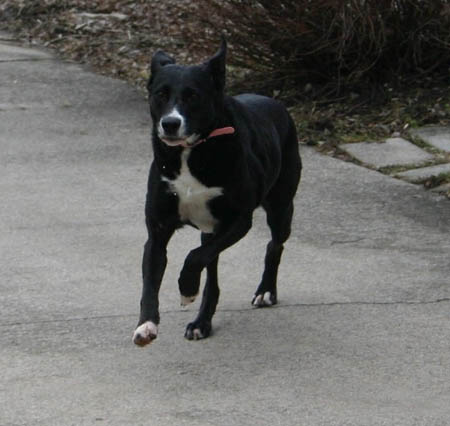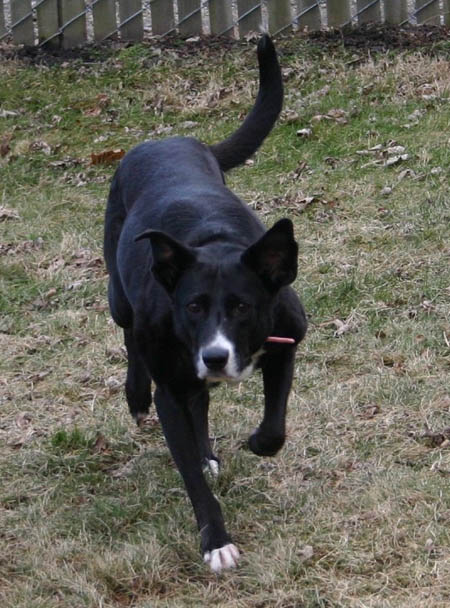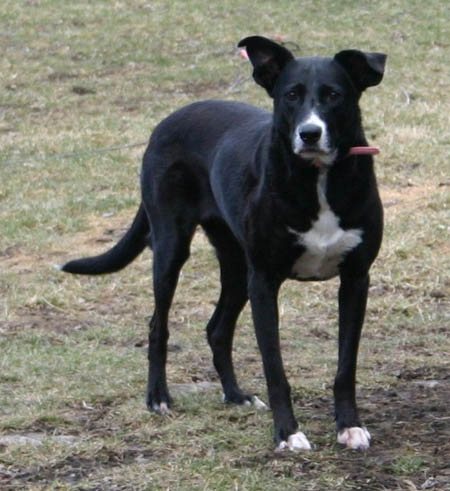 ---
Stella is quite the charming girl. She is also very diligent in what she sees as her job--keeping the yard free of those pesky squirrels. Every morning prior to relieving her bladder she very throroughly checks the yard and rids it of any squirrels. In her short time here she has learned to run and play like any other dog, despite the life she came from. She has learned her name and comes when called, she has learned that people's hands offer good things, whether it is treats or pets she happily accepts them. And today in one short lesson she learned the word sit, and what it means. She is quite a joy to have around.


One of Stella's most unique personality traits is her chameleon like attitude. No matter what her environment, she just blends right in. In the past few months I have had to travel so Stella has been the guest in a few other foster homes and all couldn't believe how well she almost instantly molded to her environment. In the first home it was a single lady with a not so canine oriented dog. Stella fit in perfectly and was described as "the easiest house guest I have ever had." Home number 2 was busy with the hustle and bustle of the Christmas holiday--other dogs and people coming and going. Once again Stella was complemented for her easy going nature and her ability to fit with the crowd. The third was a 10 day visit to a home that is quiet with exception of the 3 active dogs that lived there. For the first day Stella was a bit put off by some of the rambunctious behavior but after that she blended right in with the pack. When I went to pick her up she was right in the middle of the commotion waiting to say hello. Yes, Stella is a great dog to fit into almost any environment.


A few things she doesn't appreciate: the first is thunder and lightening. While she is not destructive during storms, she will do anything she can to get under the bed but I have found putting her in her crate during storms makes her more relaxed and less frantic. She also doesn't like when she comes in from outside and sees me holding a towel to wipe her muddy feet. She is quickly learning that it is not sheer torture and no longer runs when she sees me coming. She will now stand patiently and accept that she needs to have clean feet to enter the house.


Stella has learned her outdoor boundaries and is very good about coming when called. Because of her history she is somewhat of a flight risk so may benefit from secure boundaries. While a fenced yard is preferred for Stella it is not mandatory. While here with me she has learned the perimeter of my unfenced yard and is reliable about staying close. Anyone who applies without a fenced yard will need a good plan for establishing trust and boundaries prior to allowing her to be off lead.


Yes, Stella is a great dog who will love the time and attention she would get from a single dog home, or the companionship she will get in a multidog home. She is still a bit shy when first meeting people but quickly comes around and will seek out new people in the hope of getting her ears scratched.
---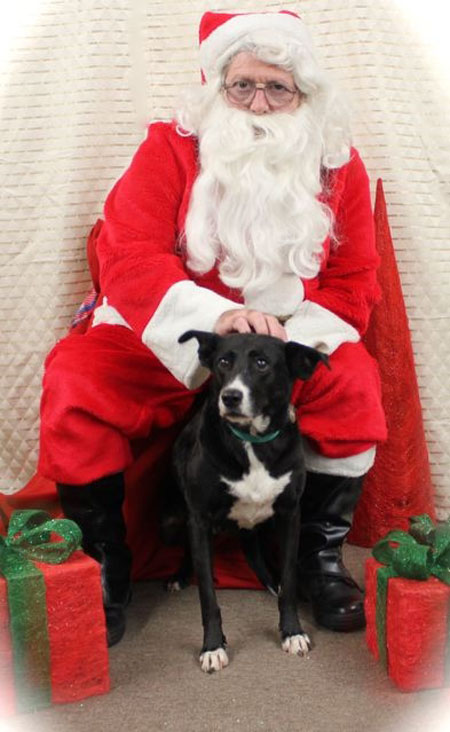 What do you suppose Estella asked Santa for this Christmas....?

The shelter where she came from had a meet Santa fund raiser so I took her at the end and the photographer did her photos for no charge. She regularly does free rescue work. It was a very warm welcome for Stella, everyone remembered her and commented on how good she looks. The shelter uses prisoners from the neighboring jail to help care for the animals. Everytime I have been there they have been friendly and great with the dogs. One of the "workers" saw Stella and fell down to say hello. She was his favorite, he said he often sat in her run to talk with and pet her. He had hoped when he got out that he could take her home with him. He cried when he said good-bye to her, it was quite touching.
---
Update December 4, 2011: Check out Estella's new Christmas video at the bottom of the page!


Estella has learned 2 big things since she came into foster care. The first is spunk and the second is that bones are great. The longer she stays in foster care the more spunky she gets. She enjoys having the freedom to explore and would love to have her very own fenced yard. Over the Thanksgiving holiday she stayed with another foster home and they described her as "one of the easiest houseguests I have ever had." Estella has excellent house manners, she is able to stay free in the house while I am gone for a few hours. Her favorite places to lay are either in her crate or on a soft bed.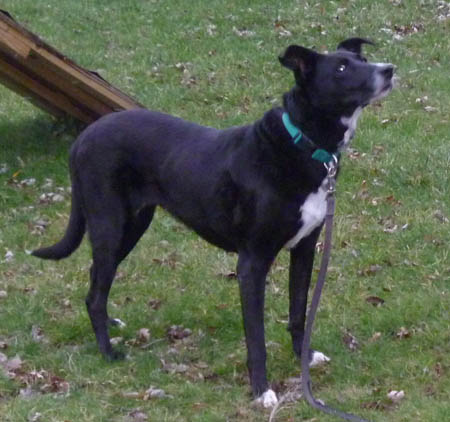 Once her mouth healed from having teeth pulled she discovered that she loves bones. I often find her curled up in her crate or on her bed with a nice bone chewing away. She is very dainty and very loveable, she is still a bit shy when in new situations but with some love and pets she quckly becomes your best friend. She has not discovered toys as of yet so isn't into playing but she loves to curl up next to her person and take all the loving they will give.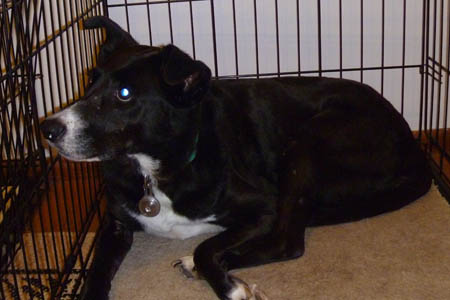 Stella's ideal home would be one with or without a canine playmate, have a securely fenced yard and be a relatively quiet home. She is in no way a high maintenance dog and would be great for a first time owner who enjoys going for long walks and wants a companion.
---
Estella really is one of the sweetest dogs I have fostered, not to mention one of the easiest. She had a few issues that we recently resolved with the vet and she is now good to go. Because of her poor nutrition in her previous home her teeth were in very bad shape. She has since had 7 (yes 7!!) teeth pulled and is now feeling chipper and can eat comfortably. She is a "talker" and greets me with a vocal good morning every day. It is not a bark, just a vocal noise as if she is happy to wake up in a real home every day. She is interested in playing with her foster sisters but neither are much into play with other dogs. She has great recall in the yard which has now earned her the right to drag a long lead instead of having a human at the end of it. She is very interested in squirrels but can easily be redirected when called as long as she gets petted when she comes to you. To say she loves to be petted is an understatement. She has perfected the "hand flip" (the one a dog uses with their nose when you stop petting as if to say you are not done I still want to be petted). She is sweet and gentle to all she has met and defers to other dogs. She would make a great canine companion for another middle aged dog. Her lower energy level and desire to please makes her a great companion dog for a first time owner or an experienced owner. Because of the history of dogs in this house and their propensity to run when scared a securely fenced yard is preferred but not an absolute.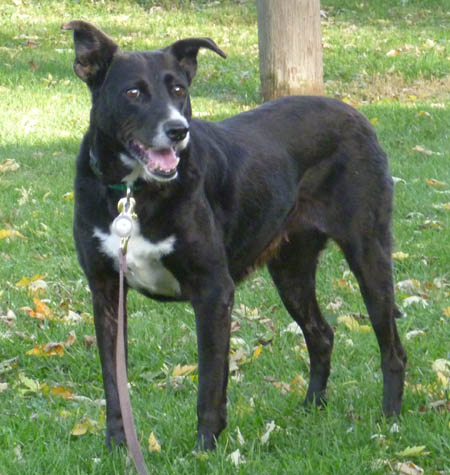 She has not discovered toys as of yet but she is starting to show an interest in bones, although with her mouth still recovering it may be a bit before she can chew them comfortably. Standing at 18 inches and weighing about 44 pounds Estella is a great little girl and not one to be easily overlooked.

---
Check out Estella's video below!
---
Estella was the last of the seventeen dogs from the Crown Point hoarder case to leave the shelter. I am not sure how she got overlooked because she is very well adjusted and socialized given her background. She has been in my home only a couple of days and I can already tell that this girl just wants some lovin. She comes to me looking to be petted but very patiently waits her turn. The shelter tells me she loved to play in their fenced area with other dogs. I have not seen this behavior yet but she has been on lead since she has come in. So far she is spending her time catching up on her rest after being in the noisy shelter, and smelling around to learn what this whole living in a house and yard business is all about.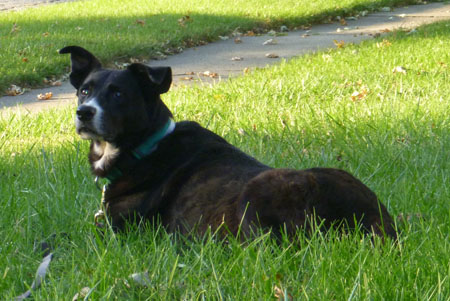 A fenced yard and canine companion would be a good bonus for Estella. This morning she saw a squirrel off in the distance and tried to make a break for it. Fortunately she was on lead and could only watch from a distance. Estella is crate trained and is working on house training. This poor girl has been bred at least once, possibly multiple times which gives her an older appearance than her 8 years.

She is definitely a mix and appears to be on the lower energy side. Estella would appreciate a home that can give her the love and rest she craves after a life of misery.
---
.
---
Photos
---
Videos