Gracie
Gender: Female
Age: 9 years
Height/Weight: 18" / 48 lbs
Housebroken: Yes
Fenced yard required: No
Location: SE Michigan
Foster Home: Karin


Crate-trained: Yes
Treat-motivated: Yes!
Toy-motivated: Yes!
Likes Car Rides: Yes
Good with cats: Yes
Good with kids: Yes
Commands: Sit, kennel up, stay, wait, down, give me your paw, go get your ball/frisbee
---
August, 2012: Gracie continues to do great. She gets exercise morning and night (ball chases and walks daily) and is absolutely trim and fit! She thinks she's still a 3 yro. I've had her in an obedience class and have done more work with other dogs. She does the best with mellow, submissive dogs. She struggles with excitement levels, so I keep it low key. I allow her to do a quick sniff, then distract her with a ball. Still her favorite toy. Zeke loves to taunt her with a toy, asking her to chase him. Once she catches him, she always takes the toy and the game is over. But Zeke will often grab another toy and take it to her to see if she will chase again. Thing is, his favorite toys are animals with squeakers or a rope toy. Often Gracie just has no interst unless it's a B-A-L-L or frisbee. Sometimes, Zeke waits until Gracie is distracted and then sneaks in and takes her toy away. Chase unsues once again. Gracie is enjoying the hot summer on the lake. She does like the water, but not sure about swimming. When the wubba-kong is too deep, she waits for Zeke to swim out and bring it in shallower. Because of course he was getting it for her, right! She also has found the best spots in the house where the A/C vents are and will lay right in front of them. Gracie is really great with kids, especially our son. He really wanted a dog that would be ok with being hugged, playful when initiated or just lounge by his feet when he's on the computer. My son likes to play the game of "let's get the dogs riled up and chase in the house". He only needs to take a few steps in a certain way and they are instantly barking and bouncing around. Gracie is a real delight and wonderful bubbly personality. We are really happy to have her with us.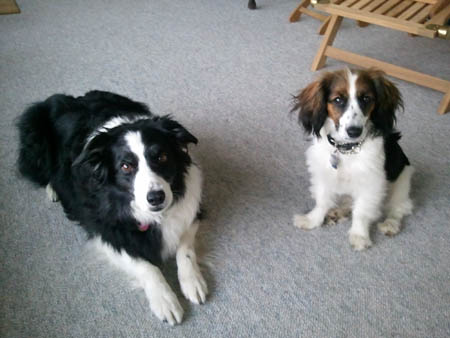 ---
Gracie was adopted in March, 2012. A picture is worth a thousand words.

---
January 24, 2012: Gracie continues to be a fantastic dog in foster care! She has charmed everyone she meets by her sweetness, and her insistence that everyone must be dying to play fetch with her, right? Obviously that's the best thing ever.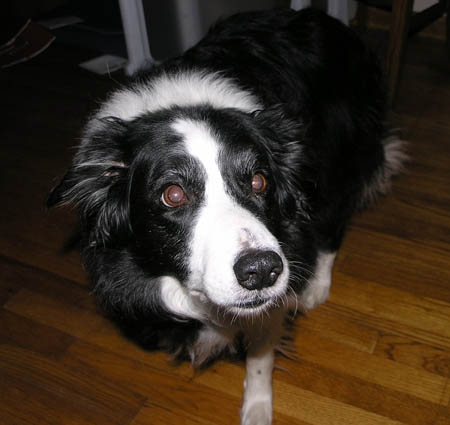 She has lost a couple pounds (no crash diets in this foster home, we take things slow!), and she's certainly not a couch-potato dog. She'll play fetch all day long if she has a willing partner, and she's recently shown a great deal of joy in keeping the squirrels on their toes in the back yard. But she's generally very well behaved in the house, and she does appreciate a comfy place (like the couch!) to sleep. A little positive reinforcement has done wonders for her recall (she used to have that "oh, were you calling me? See, there was this really interesting smell, and I didn't hear you!" attitude, but now she'll come at a full run when I call), and she's learned a bunch of tricks, too.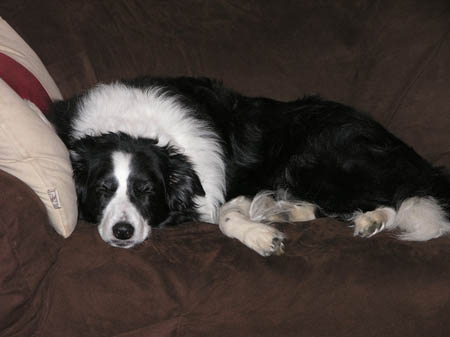 Gracie does exhibit some separation anxiety, especially when her routine changes, but a ritual for leaving the house has brought her a great deal of security, and her symptoms have faded dramatically. She also continues to be very anxious around other dogs. In foster care, she has (mostly) learned to ignore the household dogs, but still is prone to lashing out if she gets startled or frightened, so she can't be left with other dogs unsupervised. This is something that will require lifelong management for her. She's made a good deal of progress, but she will need to learn that she can trust her adoptive family to keep her safe from those scary dogs out there, and that she doesn't need to take matters into her own paws.
---
October 15,2011: Gracie continues to do well in foster. She still has problems with other dogs, but she's slowly learning how to be polite in close proximity to other dogs (like in a class situation, or on a walk).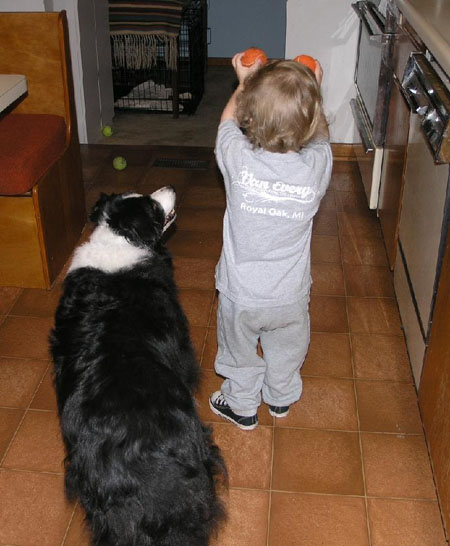 As you can see from the newest photos, Gracie is most definitely good with kids. My young assistant dog-trainer paid a visit yesterday, and he and Gracie kept each other entertained for the better part of an hour.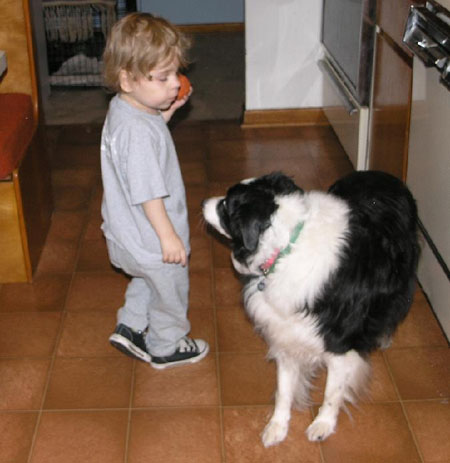 ---
Gracie is a fun-loving dog who most certainly doesn't know how to act her age! She's always got a toy in her mouth, and looking for people to play with. She could stand to lose a little of her excess weight, but she's very healthy and bouncy and full of life.


Gracie shouldn't go to a home with other dogs, as she has trouble getting along with them. She is, however, great with people, cats, and so far with kids, too.


As I've begun to get to know her in foster care, she's begun to make it clear exactly what she would like to have in a forever home! She wants people who understand her desire to keep all her toys, especially her balls, organized. She is one of those dogs who will bring you a ball any chance she thinks you might throw it for her. She wants someplace where she can cuddle with her people on the couch when she's not playing. She also wants to go to a home where people understand that she's very afraid of other dogs, and that fear sometimes makes her act out in ways that people and dogs find distressing. Gracie is currently taking obedience classes to help her get used to being around other dogs and how to act so she's not getting herself into trouble, and she'd very much like a home where her people continued with this. She *loves* learning new tricks, and she learns them super-fast! So far in foster care, she's learned "how to help her foster-mom catch the naughty cat who escaped to the back yard" (much to his disgust, Gracie just herded him back to me!), "how to give her foster-mom her paw for nail trimming," because even though having her nails trimmed is icky, she gets a treat for each one, and that makes it worth cooperating! And finally, she'd like a family who will regularly brush her and tell her how beautiful she is, because this is one of her favorite things ever (and she will believe every word).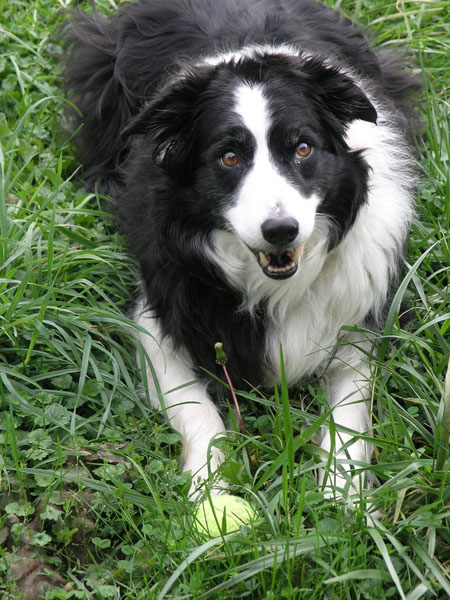 "Come on, throw it! You know you want to!"
---
Photos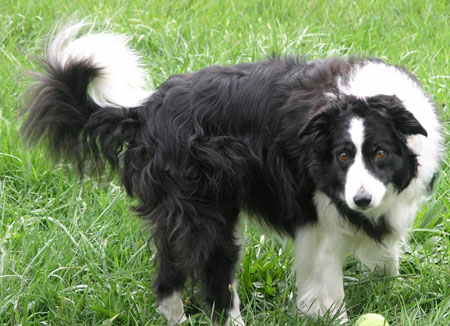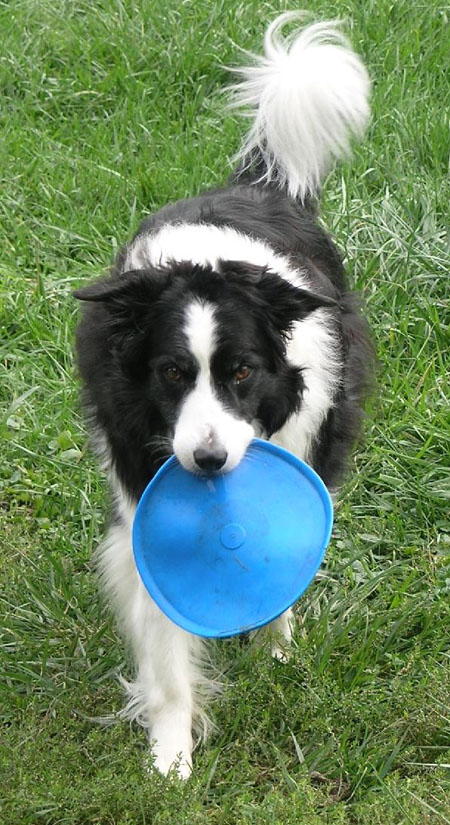 ---
Videos