Ivee
Gender: Female
Age: 11 Months
Height/Weight: tbd / 35 lbs
Housebroken: learning
Fenced yard required: tbd
Location: Mid-Michigan
Foster Home: Pam


Crate-trained: Learning
Treat-motivated: yes
Toy-motivated: yes
Likes Car Rides: tbd
Good with cats: tbd
Good with kids: Twelve and older
Commands:
---
Ivee was adopted in October, 2012.

---
Ivee is the Border Collie for someone looking to participate in dog sports. She is a tall, leggy girl, probably weighs about thirty-five pounds, and is a bit under-weight. Ivee has a tremendous amount of drive, is food-motivated, and incredibly prey-driven. She is very 3-dimensional and notices everything high and low.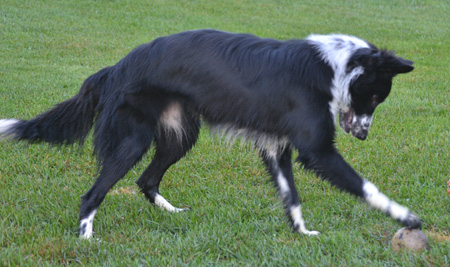 She has explored almost every toy in the dog yard, and she is an expert at playing with toys all by herself, tossing them up in the air and pouncing on them and then running around with them. She has 2 chew bones in her crate, and she will play hockey with them, noisily banging them all over.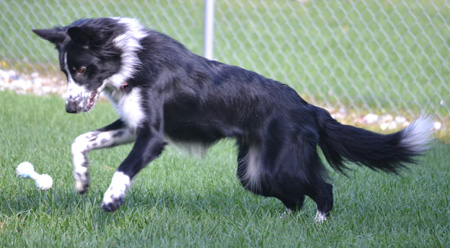 Ivee notices everything. When a plane flew overhead, she tried to locate the sound, until she looked WAY up and saw it! She will target flies, but she doesn't - yet - seek them out. Anything that moves, she is ON IT, right away. She knows her name and fairly well responds to it. She knows sit. She kinda-sorta knows down. Once she learns confidence, she'll OWN her space, I predict! Ivee is sensitive - she doesn't need a heavy hand/voice, 'cause, as a typical insecure dog, she'll just shut down or go away. She is VERY fast and agile! She is beautiful to watch as she runs around the yard! She loves to pick up and carry most any toy in the yard. We are working on bringing it back to *me*, and sometimes that happens I think by chance.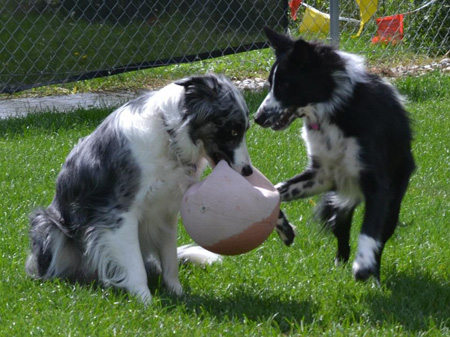 Ivee will not be a dog for someone who *thinks* they may want a BC. You have to be prepared for a dog like her, as well as understand what this breed is all about.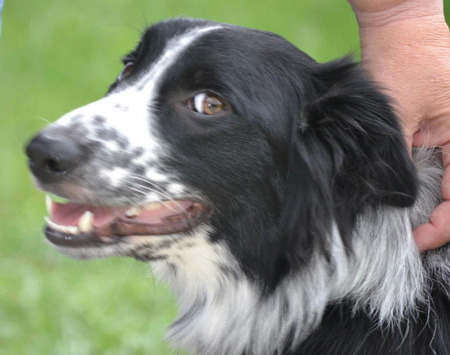 ---
Photos
---
Videos