Katydid, now Katie
Gender: Female
Age: 1 Year
Height/Weight: 23"/39 lbs
Housebroken: Yes
Fenced yard required: tbd
Location: SE Michigan
Foster Home: Karin


Crate-trained: Yes
Treat-motivated: Yes
Toy-motivated: Yes!
Likes Car Rides: Yes
Good with cats: Interested
Good with kids: Older Kids
Commands: Sit, kennel up, wait, step up, step down
---
March, 2013: "It seems like Katie (Katydid) has been part of our family forever, not just 6 months. She is so spoiled, when I work the night shift she sleep on my pillow next to Steve. She is going great and has really settled down. We walk her without the lease without any issues. She loves playing fetch- we bought her tennis balls from the braille society with bells in them. We are looking forward to taking her camping this summer. Thank you for making her part of our family.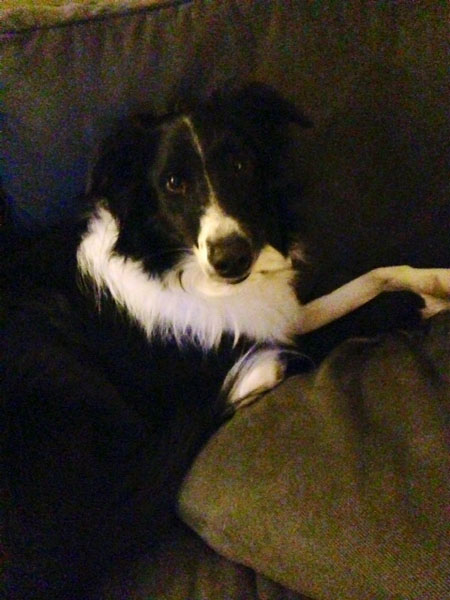 ---
Christmas, 2012: Looks like someone was a very good girl this year!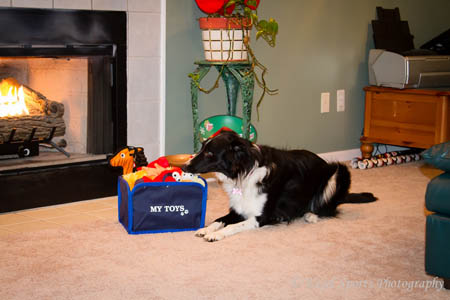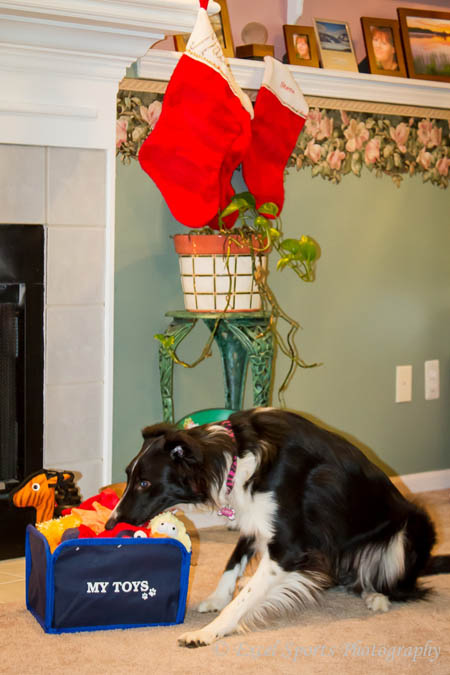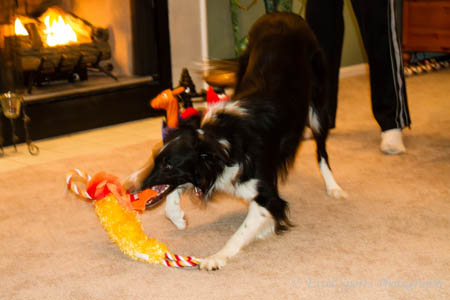 ---
Katydid was adopted in October, 2012 and is now known as Katie. We've received the following update from her new family: "Katie is doing awesome. Boy, does she love to kiss, :). She is eating perfectly two cups a day. I have had her on several long walks. She is walking to heel very well if I don't let her pull ahead on the leash. Her sit is perfect. We have her almost doing a paw shake for a treat. And with a little more work we will have her lying down too. We are also working at the jumping up to kiss people - we want to stop this habit quickly. It cute for us, but not for strangers and friends. Right now we just step away and say no when she jumps up. She is an amazing puppy with so much potential."
---
Update October 10, 2012: Katydid is working hard at maturing to an incredibly nice dog. She travels very well, and she loves meeting new people and doing new things. Nothing much scares this girl, and she's always game to give new things a try. She's working hard at learning things like impulse control and not to chew up things her foster mom would rather she wouldn't, but she is still a bit of a puppy, after all. She's learning to like brushing (she is still a little worried that it will hurt, but some gentle games are teaching her that it can feel really nice). She walks *great* on a leash, and loves visiting new places.


Her favorite things in the world are playing "bitey face" with her foster brother, Jodah, and tug and chase games with humans. She's trying hard to teach Jodah to play tug, too, but he's proving a tough case.


Katydid is patiently waiting for her perfect family to come along. She would love to go someplace with another dog or two (she can run much faster in the yard if she's chasing another dog, so she isn't as worried about running into things!), and a family who won't treat her *too* special because she can't see well - she wants people to know that she can do everything the other dogs can! She just needs a little help knowing where things like steps are in new places.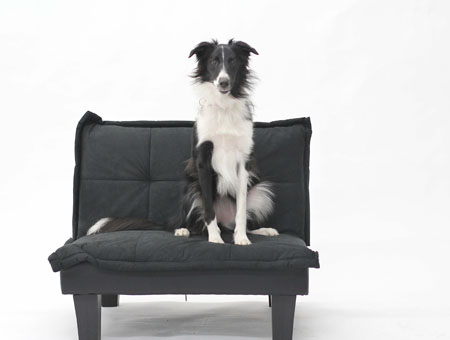 ---
Katydid, named for her very long legs, is a delightful young dog, absolutely ready to find her forever home. Her home will need to be able to make some small accommodations for her, as she is mostly blind (it's possible she still has a little peripheral sight, but it will likely deteriorate soon. She has progressive retinal atrophy, http://en.wikipedia.org/wiki/Progressive_retinal_atrophy). However, if you've never met a blind dog, you'd be shocked to find out just how few accommodations are really necessary, as Katydid's smartness and solid use of her other senses makes it almost impossible to even tell that she can't see all that well. Her previous family had to give Katydid when they had to move, and at that time, they didn't even realize her vision was going, because she already knew where everything was, and she compensated so well.



Katydid at the shelter

She is also a very high energy dog, and she loves to tear around the back yard at full speed in pursuit of a doggy friend, or even better, some small critter that had the misfortune of being in the back yard with her (rabbits in my yard live in terror). She likes other dogs a great deal, and likes to play *hard*, so any other dogs in the household will need to have some tolerance for that, along with the confidence to put her in her place if she gets too annoying for them.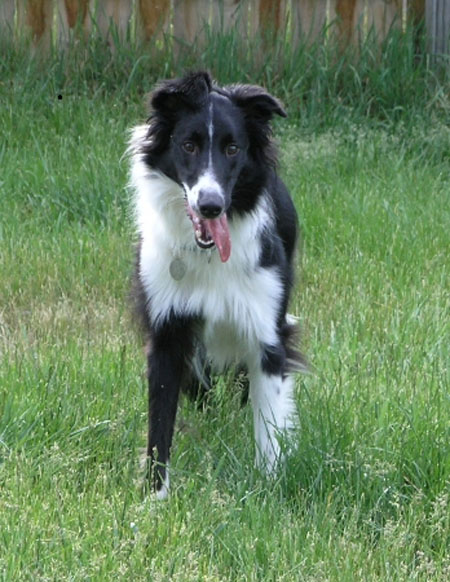 She *loves* playing tug, and playing a good game with a flirt-pole (store-bought or homemade are both fine) is a great way to get her tired out, too. She is delightful to train, and she learns things very quickly. And if she's tired out enough, she has a good "off switch" in the house, and is blessedly quiet in her kennel overnight (or if the other dogs need a break).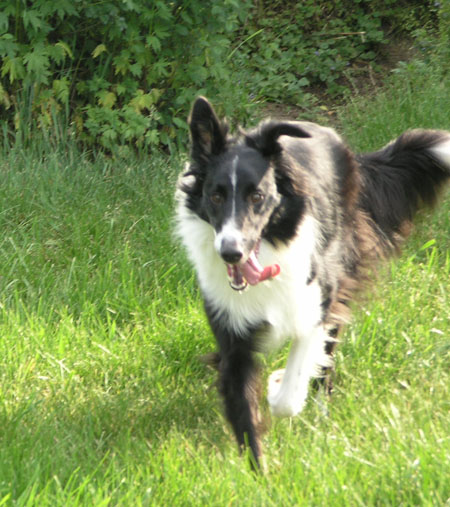 She has been gentle with the cat, but she does try to follow him around a bit, maybe hoping he'll run so she can chase him (because that would be exciting!). And she absolutely adores children, but her idea of a good time is to knock them down so she can lick their faces, so she probably shouldn't go to a home with small children until she has some better manners, but older children are fine.


Katydid's only behavior problem (besides being young and energetic, which aren't really problems) is a small amount of separation anxiety. Her previous family reported that she could be a bit destructive when left home alone, and while she hasn't exhibited this in foster care, it's something to watch for. Her anxiety is much better if she can hear and interact with other dogs, and we've also been working on desensitizing her a bit, with a nice ritual of something good to chew on and keep her busy when the humans are leaving the house.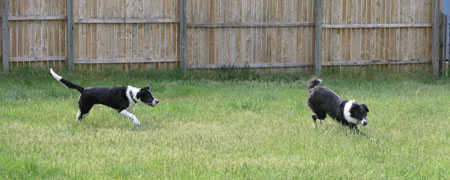 If her new family had an interest in performance sports, Katydid would most likely excel in nose work, or an obedience/rally organization like CWAGs, where they are committed to allowing accommodations for disabled dogs/handlers. Or if not, she would make a fantastic bundle-of-energy house dog, too.
---
Photos
---
Videos