Kobee
Gender: Male
Age: 3 Years
Height/Weight: 22" / 50 lbs
Housebroken: Yes
Fenced yard required: tbd
Location: Mid-Michigan
Foster Home: Debbie T.


Crate-trained: Yes
Treat-motivated: tbd
Toy-motivated: tbd
Likes Car Rides: tbd
Good with cats: tbd
Good with kids: tbd
Commands:
---
Kobee was adopted in July, 2012. We received the following update a few days later: "I vacuumed today and Kobee tried to eat the vacuum wheels-- he barked and did NOT like the noise!! My Tye doesn't either, so they are certainly 'alike' is a lot of ways! :) They are getting used to each other and it has been fun. Kobee loves to chase and retrieve for sure. He loves to play and roll in the grass like you mentioned. He loves to play tug. He is a honey. He is so sweet and loves to be right next to you, like you said. He is doing well in his crate and sleeping. I know he finds comfort in his crate, which is wonderful--he is such a good boy. He is eating well and pooping well. I'm going to have him checked for that whip worm, but assuming all will be well--you took such good care of him!!!! He will have a lot to learn about 'come Kobee' when you call him and of course other things, but I know that will take time and he seems to be very responsive and loving. We played and walked around outside a lot today. I am walking the perimeter of where he should go and getting him familiar w/ our land. He loves to be outside! When he is inside, he loves to look out the window and watch--so adorable. He and Tye both chase for the toy and bring it back when Phil and I throw it-- fun to watch the both of them together. I'm sure you are missing him! I hope your next 'foster' is a sweet boy too! Thank you again for your love and attention that you give to so many dogs! Thank you for keeping Kobee for us those extra couple weeks, it meant so much to us!


I will most likely take Kobee to dog obedience, although I walked w/ him and had him sit, stay and then come and he is fairly good at it... time and attention will have to be taken--we are just beginning to get acquainted--it all takes a lot of time and attention, which I will give him a lot of! He is easy to love!
---
Kobee is about 22 inches tall about 50#. He has a rich Golden and white coat with deep brown eyes with a partial blue spot in one. Now that he has been with me a short time he has started to show me all that he knows. Sit, fetch, brings back the toy and will give it to me to toss again. Likes tugging with me also. HIs most favorite thing to do is roll in the grass like he has never seen grass before! Housebroken, crate trained, lovable and enjoys sitting on my lap. Interested in my cat. More as he settles in and I get to know more about him.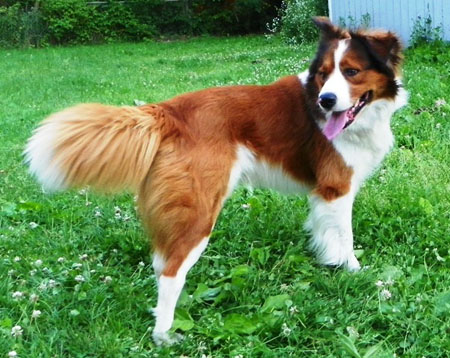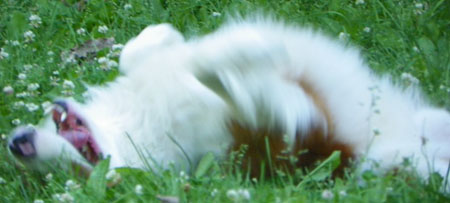 ---
Photos
---
Videos