Lilo, now Piper
Gender: Female
Age: 5 Months
Height/Weight:
Housebroken: Learning
Fenced yard required: No
Location: SE Michigan
Foster Home: Peggy


Crate-trained: Learning
Treat-motivated: Yes
Toy-motivated: YES!
Likes Car Rides: tbd
Good with cats:
Good with kids: Yes
Commands:
---
From our Facebook page, December, 2013: "Miss Piper (alum. 2012), who has truly brought joy and spunk to my life...thanks GLBC and Merry Christmas from both of us!"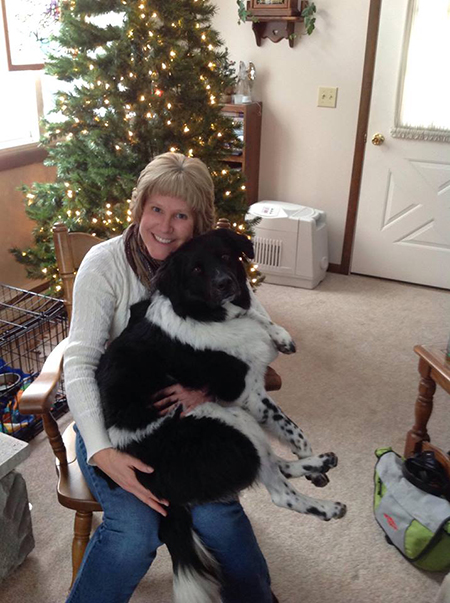 ---
Piper and her mom joined us at the 2012 Dog Bowl in Frankenmuth, Michigan. Don't they look great!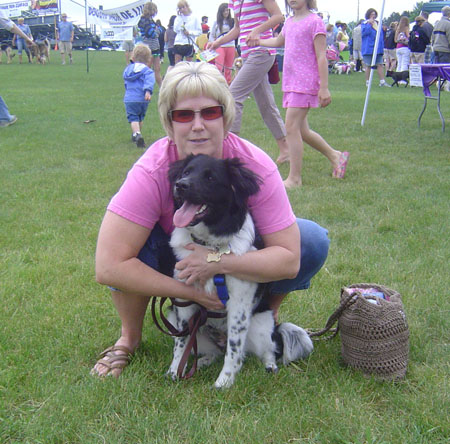 ---
Lilo was adopted in May, 2012 and is now known as Piper. Her new mom reports: "Piper is doing really well, only one accident and she is adjusting to her new home. She really doesn't mind the crate and loves my friend coming to see her once a day. We takes walks and play in the yard (she really does love toys!). She sometimes tries to bring her outside toys in the house even. She jumped into the car the other day, twice, and she rides very well. The vet went well, she had a booster to the distemper/parvo and the thermometer put up her hiney (and she didn't even care about that!). She is a lot of fun :) We are signed up to start dog obedience training through Diane Thayer starting April 25th. We will be taking that with a friend and her new pup."


Update May 20, 2012: "Haven't written in a while so I thought I would give a Piper up-date. She is still doing really well, she weighs 36 lbs. now. Obedience class is getting better, she just has a stubborn streak in her. She went up-north for the first time today to visit my parents/sister and she loved it up there (which is good because we will be spending a lot of time up there soon with summer vacation). She got to meet her cousin dog, Tanner, who is a lab/aussie mix and they had a blast playing. I also took her to the dog park where she played with 6 other dogs and made friends with another border mix. Overall, she continues to be a happy girl, but still hasn't made friends with my kitty, Lily. Hopefully she will be big enough soon not to squeeze through the door in the baby gate. "
---
Meet Lilo! Don't let the innocent face fool you...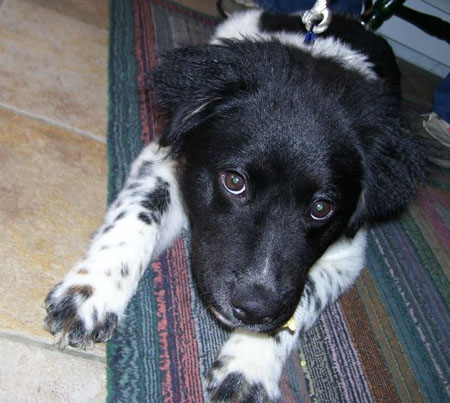 This puppy likes to party!

Lilo comes to us from a shelter down south; she was found as a stray by someone who couldn't keep her. Her foster mom has a weakness for spotty-footed trouble-makers, so here she is!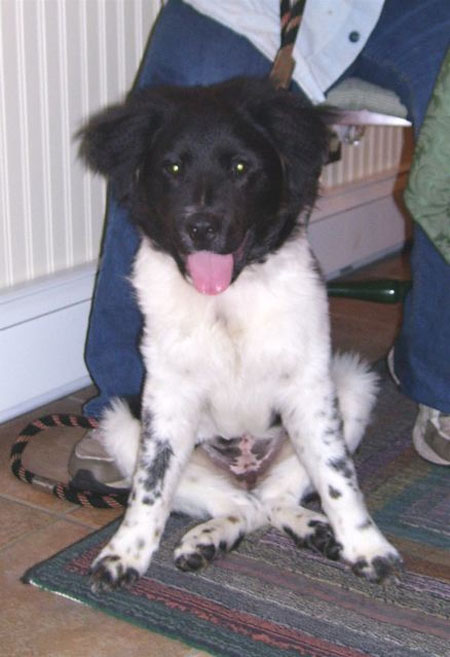 We've estimated Lilo's age to be around five months, as she's still getting her adult teeth. She's clearly a mix, though were still guessing the combination. Right now she's pretty much a blank slate, but she's getting the hang of being a house dog and LOVES to hear all about what a good girl she is when she follows the rules. Now that's she's figured out what "sit" means, her little wiggle butt hits the ground every time she wants something.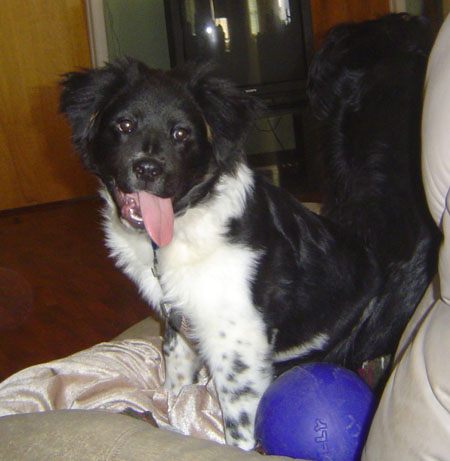 Lilo is a rambunctious little girl and may be "too much fun" for smaller kids or senior dogs. Obedience classes are highly recommended, and since she loves both praise and treats, Lilo should be the class star. She is a happy little creature, and I'm pretty sure the sun is always shining in Lilo Land.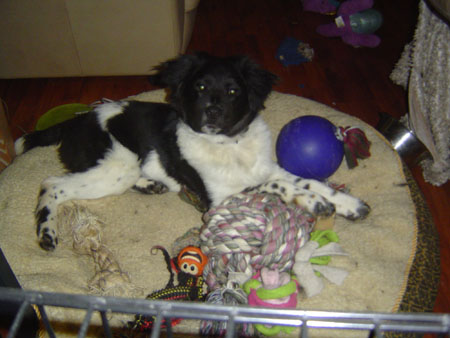 Did I mention she likes toys? Because she really, REALLY does.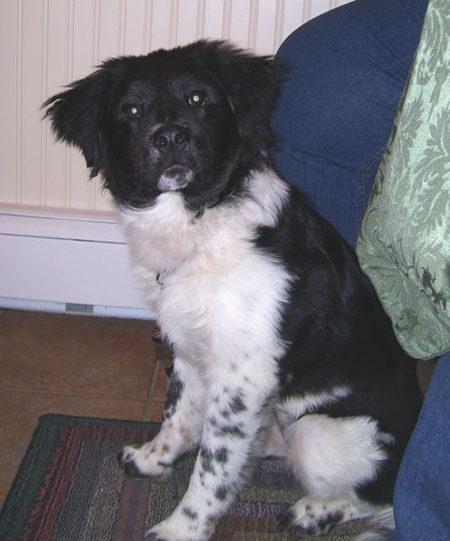 More to come as we get to know this little trouble-maker, but if you need some fun in your life, give Miss Lilo a call.
---
Photos
---
Videos