Marty
Gender: Male
Age: 3 Years
Height/Weight: 18" / 35 lbs
Housebroken: Yes
Fenced yard required: tbd
Location: Mid-Michigan
Foster Home: Pam


Crate-trained: Yes
Treat-motivated: Yes
Toy-motivated: Yes
Likes Car Rides: Yes
Good with cats: tbd - likes Chihuahuas!
Good with kids: Loves Kids!
Commands: sit, kennel-up, probably knows down, but doesn't wanna, "where's your toy" learning "leave it" and "wait" at the door
---
January 13, 2013: Just wanted to wish you guys Happy New Year! And let you know we are soo happy to have Marty with us. He is a great dog. He still is unsure of some people especially Bailey,s boyfriend, but we keep working on it. He spends the mornings when there are toddlers running around, downstairs by the warm fireplace. But in the afternoon when the preschools are the only ones awake, he is right up here. He has adjusted very well to the preschool age kids. The little girl that was screaming the day of your visit, will now be found petting him. Marty also knows my Grandma, Mimi by name. We take him to her assisted living at least 2 times per week. The minute her name is said he comes running looking for me and wagging that tail , barking with his ears perked up, like I get to go too, right? Marty has Mimi (95 years old) wrapped around his finger. She keeps her own treats there and all he has to do is look at her with those eyes and she is feeding him! I cut down his food amount on the day of her visit. I am finding he will try to push the limits now that he has settled in. Nothing major but training is an every day thing! He is super smart, as you know! Hope all is well with you. Thank You Thank You for helping this wonderful dog..
---
Marty was adopted in April, 2012. Here he is with his new family!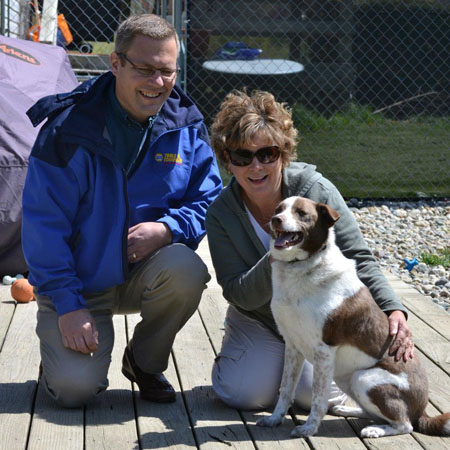 ---
Marty wants to let everyone know that he is ready for Easter!


---
March 19, 2012 Marty has become quite the gentleman and companion. He loves to be nearby, but he is very willing to lay in the yard, playing with a toy or chewing a bone. He is mannerly about kisses, and he seems to understand "give me a kiss". He loves to do bursts of energy "puppy-zoomies" around the yard, smiling and laughing. Marty, I think, will make an outstanding companion, but he would love a home with some kids. It's OK, he says, if there are no kids, but he'd love to hang out with some! He loves squeaky toys and chews, and he keeps his blankie in his crate very neat. He's not too sure about drinking out of a crate bucket, but when he drinks out of the refillable water bowl, he is surprised every time it "glugs" on him - like some of my BCs were, at first. Marty is very alert to anything that is new; if it's a person, he will bark at first.

Although Marty is a shorter-coated dog (smooth) with a different color (reddish), he is a head-turner of a guy. Whenever he comes up to me to "talk" to me, he almost invariably sits first, and rarely jumps up on me - though he will. I'm quite surprised this dog hasn't been snapped up! He's the right age (3), he's the right size (35#), and he's fairly low maintenance (just an occasional brushing to get the loose hair out). Marty's soulful eyes can see right into your soul; he'd be a good bud to share your secrets with!

---
Just a week ago, Marty was confused and afraid, because his world had been turned upside down when his beloved owner lost her home. Distraught, she gave her Chihuahua to her neighbor, tied Marty outside, and then disappeared. Marty spent three days crying and howling for an owner who wouldn't return. Finally, someone rescued him, where, through quite an amazing network of animal rescue communications, Marty came to GLBCR.

At first, Marty's "mood barometer" – his tail – was low and tucked, and barely a wag happened. His eyes were full of suspicion; he wasn't about to trust anyone. For the first few days in his new life, he was moved from the home he was familiar with, to another rescue, and then to GLBCR. He just didn't know what was happening to his once stable and happy life.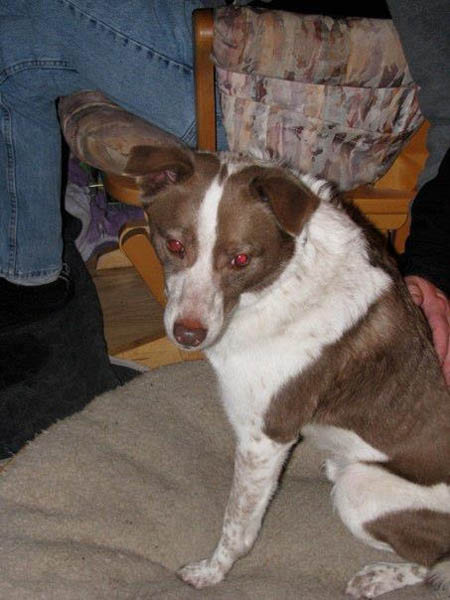 Since Marty has come to me as a foster dog, he has learned that his new life isn't too bad, after all. He has his own crate and yummy food, and he runs around outside, happily trying out all the yard toys, tail high and wagging as he runs around laughing and grinning.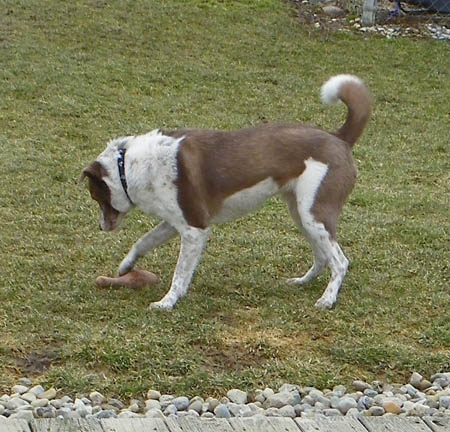 Marty was NOT abused. The only neglect that happened was when his owner tied him outside. Circumstances of the economy are all too often out of our control. Marty was well fed and well loved. A letter from his original owner arrived at the rescuing home the day I picked Marty up. It talks a bit about the things Marty does and loves, and is concluded with the owner saying how much she loves him and how she wants him to have a good, new life. We're working on that fresh start.
---
Photos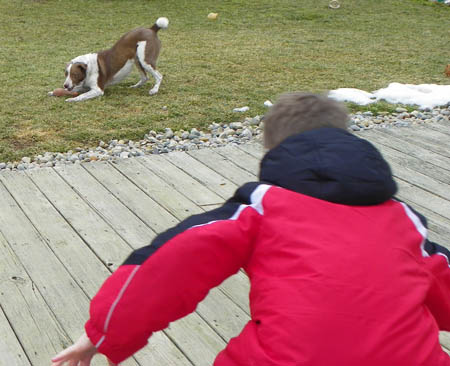 ---
Videos