Name
Gender: Male
Age: Adult
Height/Weight:
Housebroken:
Fenced yard required:
Location: Mid-Michigan
Foster Home: Debbie T.


Crate-trained:
Treat-motivated:
Toy-motivated:
Likes Car Rides:
Good with cats:
Good with kids: Yes
Commands:
---
Miller was adopted in August, 2012 before he ever "officially" hit the website. Here he is with his new humans: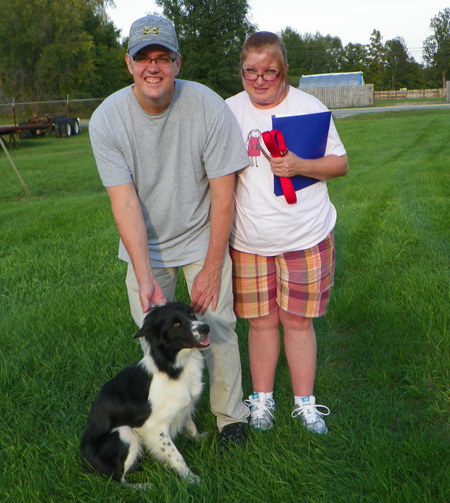 They write: "Otherwise he's doing great! Sit and Come he has down. Stay we're working on but he's doing pretty good. He's started playing with the tennis balls and he's catching and bringing them back...letting me have them is a little more challenge. We're walking on the road and he seems oblivious to the cars. I took him running this morning with me and he was better running on the leash than he is walking. The walking on a leash is coming along, it's pretty funny, now he is gradually pulling harder to see how much I'll let him get away with before I stop walking. Smart pup! One other funny story, I make myself a smoothy for breakfast, and the first morning the noise of the blender sent him running...well the second day he saw me get out the blender ...and left to go upstairs to his crate. I was amazed."
---
Photos
---
Videos