Nicole
Gender: Female
Age: 9 Years
Height/Weight: na / 52 lbs
Housebroken:
Fenced yard required: Yes
Location: Mid-Michigan
Foster Home: Tammy


Crate-trained: Learning
Treat-motivated: Learning
Toy-motivated: No
Likes Car Rides: Yes
Good with cats: Yes
Good with kids: Shy
Commands:
---
December 16, 2012: Lady is doing much better! Loves her rolling kong! She laid in my lap and rolled on her back! Small steps, but they are big when they happen! She is coming when we call her, most of the time:).
---
Lady Nicole was adopted in May, 2012 and we couldn't be happier for her! She and her new mom joined us at the 2012 Dog Bowl in Frankenmuth, Michigan. Don't they look happy??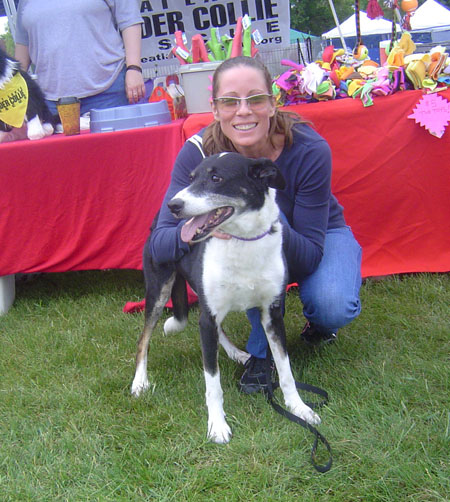 ---
March 17, 2012: With a little luck of the Irish, our distinguish gal is learning some new tricks! A trip to the park today proved to be an exciting day for Lady Nicole. She took a walk with one of the little people in her life, she took a little dip in the river to cool herself off and she went for a walk around town to check out he goings on. All-in-all, a pretty exciting day for the middle of March! I think the pictures say more than I could ever put into words. She is a very happy girl!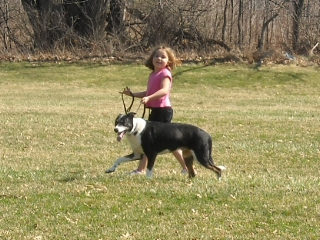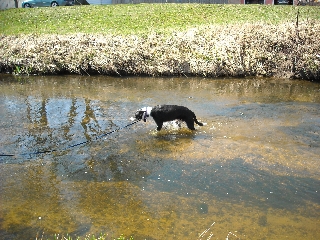 ---
February 22: Just when I get completely frustrated at our seemingly nonexistent progress, Lady Nicole goes and does something that completely blows me out of the water. In the past two weeks, she has decided that maybe visitors to her house are not such a scary event. She even came out to say hello to the kids this morning. This is a HUGE step for her. After her initial positive meeting with the kids outside, she has removed herself from their presence, until this morning that is. It made my heart sing to see her seek out and explore the kids. She is so gentle with everyone that she meets.
---
January 28, 2012: Lady is one wild and crazy girl these days! She just loves the snow and tears around the back yard with her foster sisters at 100 miles per hour. Give the girl a fuzzy fleece jacket and send her out the door and she is one happy camper.


Slowly, Lady is developing an interest in toys. I cannot go so far as say that she plays with toys, but she has picked some up lately and carried them through the house! That was encouraging to say the least.


She has also initiated play with her foster sisters on multiple occasions in the past few weeks. She has no clue what to do once she has the others attention, but at least she is making attempts at play. It is quite the comedy act to watch.


She rides peacefully in the car. Sometimes she needs help to jump up into the back of the big truck, but she is a great rider once she is loaded up. I notice that when we travel, the car becomes her "safe place," kind of like the house is when she gets stressed outside. I think this might be something which will have to be worked on for a good long time with Lady. It is just a matter of trust, and that will only come on her terms. With practice and exposure, she will come around.


It is this behavior that make me think that it would be best for Lady Nicole to have a fenced yard. Though I have not had a problem with her bolting, the potential is always there. She has a great respect for fences and never tries to go over them. Her manners are impeccable!


Lady does have a voice and she is not afraid to use it, but only when she is outside and she wants to go inside or if she sees someone pull into the driveway. I was pleased to see her bark at a strange car in the driveway. She was willing to stand up and protect her house!


Good girl. In the house she is quiet and content to curl up in her favorite spot and supervise. She is a great supervisor!
---
January 12: Ok, first a frolic, now a smile - who IS this happy girl???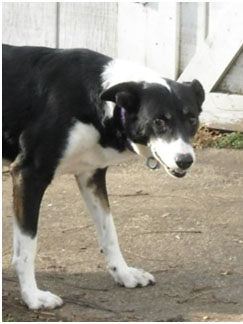 We have had another first with Lady Nicole tonight. She put a tennis ball in her mouth and chewed on it for the first time tonight! I don't know if I would go so far as to say she was really "playing" with it, but she FINALLY picked up a toy!!!

Lady Nicole is slowly working to conquer her fears one by one in this new year. Last night I put her to another test by taking her for a walk after dark, with a blinking light on her foster sister, and using a flashlight to warn oncoming traffic of our presence on the road. She did a super job dealing with her fear of the lights. (She has some difficulty with her vision in the dark and is not always so comfortable in low-light situations.) She gave a small startle reflex the first time I turned on the flashlight, but quickly settled down once I spoke to her. When we came upon a street light, she did not want to walk at first, but in seeing her foster sister moving right along, she quickly caught up and continued down the road. For a dog that has never been out on a leash, she is a dream to walk, her manners are impeccable! No pulling, no barking at cars or other dogs, no trying to trip me, wonderful walker!

She strolled down the road for her three mile tour with her head held high and her tail wagging the whole time. She is learning from her foster sister that it is fun to sniff all the objects on the side of the road She continues to encourage me with her willingness to trust the person on the other end of her leash. She has learned to rely on her people for protection and also comfort. It is really nice to see in this dog.
---
Update December 31, 2011: Recognize this happy dog???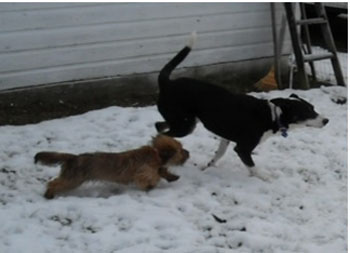 That's right - it's our own Lady Nicole, frolicking with her foster puppy! She loves to be chased around by the puppy and tolerates being chewed on for the longest time. What the camera (or the operator) is unable to capture is the joy Lady gets from running around the yard with the little dog.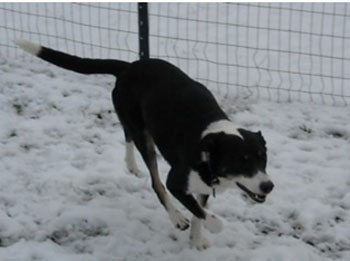 Running around outside is pretty cool, isn't it? And not just because there's snow on the ground.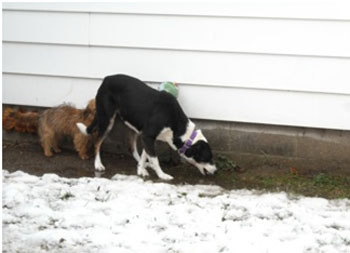 Lady Nicole is loving the outside now... She found the drip in the eves trough and took full advantage of the fresh water falling from above. She stood right in the drip and drank from the puddle. The photo doesn't show the water running off her back as she quenches her thirst.

We had another small breakthrough this morning when Lady Nicole initiated greeting my houseguest. This is the first time she has willingly come up to a strange person in my house for attention. I found the experience very endearing, and encouraging.

She has also been telling me that she is really tired of my trying to take her pictures, she really does not enjoy being in front of the camera lens... (notice all the goofy photos in her bio!) Lady Nicole is truly one of the easiest dogs to have around. She does have a few special requests and requirements, but the positives far exceed the tiny little quirks!!! Lady Nicole is a happy, healthy girl, just waiting for someone to love. No need to be afraid of this girl's past, she has left it behind her, and is looking to the future with smiles in her heart. The outside is no longer frightening, she has found joy in the outside world. She still rolls through life on her own agenda, she is more than willing to try things on her own terms. Once she has been nudged into a scary situation, she quickly learns what to be afraid of and what is not so bad anymore. Noises are still a little startling, but she is so willing to trust her person on the other end of the leash, she is really easy to work through these times.

I would still recommend an obedience class, or a puppy class, just for trust building and bonding with her forever loves. She is an older dog, but she is still capable of learning, and you should just see the body language when she figures something out. It is way too funny to ever put into words.
---
Update November 30: Lady Nicole is having a ball running around in the fresh-fallen snow. It is good to see her continue to learn to trust her world and the people within it. She becomes more trusting daily and now shows some signs of outward excitement when I come home from work now. She will run into the garage to greet me now, as opposed to just looking around the corner and waiting for me to come to her.


Lady Nicole is also making attempts at play. She is learning that the resident dogs should not be the only ones having all the fun. Her idea of "play" is still not quite on the mark and she startles her foster sister (who is extremely passive), but she is making the attempt and that is a step in the foreword direction.


The "Monster Christmas Tree" struck the other day, and that posed a challenge for Lady Nicole, and she quickly overcame her initial fear of the tree. She continues to reduce the time she requires for overcoming her fears, though she still startles quite easily. I am encouraged by her behavior, as she continues to progress in overcoming her fears and increasing her trust bond with us.
---
Update: November 18,2011:Since our last update, Lady Nicole has learned some new independence, but she has also had a small relapse into some skiddish behaviors. I am wondering if having the sun go down so early is having some affect on her. She seems to have some difficulty seeing in the dark and she does not like to go outside after dark. We are working to determine what is causing this behavior. The good thing in this situation, Lady Nicole is recovering much more quickly from being startled.


Lady has been able to go for long walks with her foster Sister and she loves to walk along the country roads and sniff the smells. I get a kick out of watching her explore her world. She is like a little kid in a candy store! Her ears perk up and her tail never stops wagging.


I think it would be best for Lady Nicole to have a forever home without children. She is fine with youngsters when out in public, but when she is in her home, she really wants nothing to do with them. She would rather just hide away from them in her crate.


Lady Nicole is wonderful with dogs of all sized, as far as I have seen. She is lovely with our puppy, and she seeks out her foster sister. Though she has no interest in "playing" with the other dogs, she is extremely tolerant of the puppy chewing on her legs and tail. She will even share her food bowl with the puppy. (I found that piece of information by accident, but was very pleased with her behavior!)


The ear infection that was bothering Lady Nicole has cleared up nicely. It will be something that will be a part of her life, but it is very easily contained and she really likes to have her ears cleaned out, so that helps. The little extra dose of vitamins in her food have helped her coat and dry skin too. She is the picture of happiness right now.


For now, Lady Nicole is patiently waiting for her turkey dinner on Thanksgiving, but what she is really wishing for is her forever home... If you have the space for the world's best foot-warmer, Lady Nicole is the girl for you! She is a fantastic girl who just loves to have her people around her. She loves to just hang out with you, inside or out, and she has a very low exercise demand. She is very content to take a walk, or just a few laps around the house before coming back in for her beauty sleep.
---
Update November 6, 2011: Our little Lady is not only coming out of her shell, I think she left it behind... She has decided that my couch is a comfy spot upon which to lie. She has also decided that the trash can is a great place to snack...


I have the worst time being mad at her for doing dog things, but she needs to understand that the couch is MINE!!! (I just have to try to make a stand, for my own place in the pack...)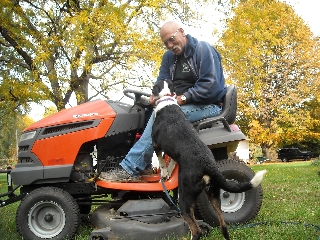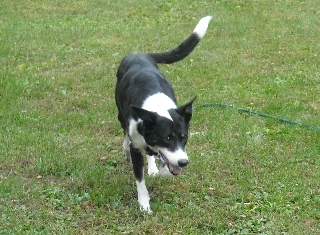 ---
Scroll to the bottom of the page for Lady Nicole's video debut!
---
September 25, 2011:Extra! Extra! Read All About It! Lady Nicole is on the Move!


Looking for that special someone to snuggle at your feet? Looking for that perfect dog that is past the puppy antics? Or are you looking for a Beautiful Lady to grace your home with her presence? Well, I have the dog for you! Her name is Lady Nicole and she is ready to love you forever. Click here to read more about her!


I'm runnin', yes indeed, I'm a runnin! Lady Nicole has a new theme song! "Indoor Detox" is having a profound effect on this gentle lady. She has overcome her fear of going through the door and will willingly go outdoors now to join the family. She is learning to use her legs, and boy can she scoot across the yard at 100 miles per hour. It is a thing of beauty and joy to see this dog learn to stretch her legs and run. Her tail comes up and her ears perk up and off she goes! She even jumped the puppy-fence several times.


Basic obedience skills are still a work in progress for this gal. It amazes me how well-mannered she is while having no clue what you are asking her to do. She has caught on to the "sit" command and we are working to solidify the cue before moving foreword. Work with this gal has been a new experience for me, as she is not treat, or toy, motivated. She loves the cookies, but not if she has to work to get them! (A Lady never begs, you see...)


We have also been working really hard on conditioning to the invisible fence. She is doing really well with the fence and able now to come out and run around a little more. At this time, I would still recommend that her forever-home have a physical fence for her, but with enough time and trust building she might be ok without one.


Lady Nicole would love to have a forever-home that is relatively quite, with another dog to hang around with. I have noticed that she really does best when she has the companionship of another dog. She loves kitties and is respectful of their space. (she was taught by the master!) She loves puppies, she is very loving with them, while still having the ability to stand her ground with them when she has had enough. Gives a warning bark and she is done. No drama, no trauma! She even let the puppy share her kennel the other day, as well as sharing a food dish.


I would love to see her forever-family join Lady Nicole in an obedience class to help her bond with them, and build her courage and confidence. She is a dog with very little confidence due to her total lack of exposure. She has the ability to learn and to love and that is a very positive thing.


She is not food aggressive, or a resource-guarder. She will share and share alike. She has quietly and subtly moved herself into the top dog of my house, without any disturbances. She does not seem to be an overtly "alpha-type" girl, and she has never had a tussle with the resident dogs.


Lady Nicole is shy with kids in the house, but she responds really well with all people when I take her out in public. She has been quite the traveler these last few weeks. I have been working really hard to expose her to all sorts of environments and have yet to find one that she refuses to go into.


Lady Nicole is a good rider in the car, though I am not so sure that she enjoys the idea of going if it means she has to leave the house... I don't feel sorry for her and drag her along on lots of little adventures. She does really well in the car and lies quietly in the back seat. Sometimes she will even look out the window!


I would not say that Lady Nicole is a dog for the faint of heart, but a gentle and firm leader can take this Lady to the Moon and back!
---
August 29, 2011: Lady continues to grow and become quite the lovely lady. She has learned how to bolt out of the door at every opportunity, and the good news is that she is not inclined to bolt, she just runs a lap around the house and waits for you at the door. She is a great fan of hangin' on the front porch with her people and watching the sun go across the sky. Her energy is increasing daily and she is developing quite a sense of wonder with the outside world.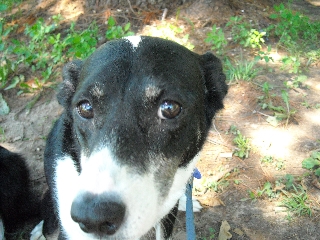 We are having little successes every day with learning manners and very basic obedience. Her recall is strong and she even stopped chasing the kitty to run back to me when I called her the other day. Seems kitties are very interesting when they are outside, though I do not think she would really harm them. She is becoming much more interested in the chase these days. I am not at all concerned by this behavior as she is willing to stop when redirected and comes right back to me.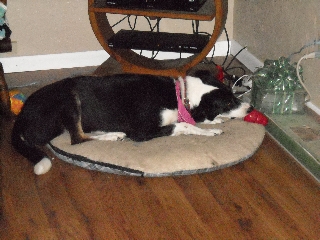 Training of Lady Nicole is quite the challenge as she shuts down at the slightest hint of fear and she is not motivated by treats. She is becoming a little more willing to work for food, provided she has some competition, but if she thinks she is "working", the game is off.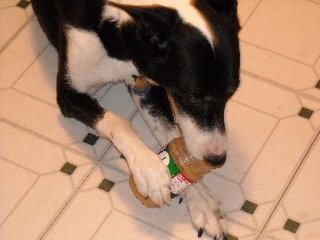 We continue to work on manners such as waiting at the door (and not using your foot as a launch pad for going through said door), sitting on command, recall. Thanks to the long-line leash, she has a solid foundation on the recall, the rest is still a work in progress! Even without the obedience lessons, she is a super dog and would make a wonderful addition to a quiet, yet active house. She loves to be right with you and really loves a good nap on her dog bed as you work. She likes to go for long walks, and loves to run around the yard and investigate things. She is learning quickly that the outside world is a good place to be, though she does not like to go out after dark for some reason. She really enjoys having a canine companion, so that would also be a good thing for her forever home, to have a buddy who is not too aggressive with her.
---
August 15, 2011: The past two weeks have been very busy for Lady Nicole. She attended the Highland Games last weekend with rave reviews! We did learn, however, that Lady is very gun-shy. That means that taking her to the fireworks on the 4th of July is out... She seems to do fine with thunderstorms though. We also learned that Lady is quite the little charmer of people. She very much enjoys having attention lavished upon her. (as any Lady would!)


Lady Nicole completed her first camping trip with mixed reviews. No matter how hard this gentle lady is pushed, she shines through with the most sweet of dispositions. She enjoyed going for quiet walks in the evenings with her resident dog and she even settled down beside the campfire for a while. The noise of lots of children playing pushed her past her tolerance levels and she wanted to hide away in her kennel, but she was still willing to have the kids pet her and give loves. In the end, I think the trip was a success, but she is very much the home-body. She had to make a few laps around the house when we got home, and her ears were as high in the air as her tail.


Lady Nicole is becoming much more energetic, though her exercise demands still seem to be minimal. This is a dog that would be content to be in the house with her family and enjoy an evening stroll along the beach! She is starting to run around the yard with her foster sister, and even followed to investigate a hole in the ground. To see her engage in a normal dog activity is encouraging. Her recall is coming along nicely, though I would still suggest that she have a fenced in yard in her forever home.


My suggestions for Lady Nicole's forever home. First, I would strongly encourage a basic obedience class for a few reasons; to aid in bonding with her new family, and to teach the skills she is lacking. Her manners are pretty good, but she knows nothing as far as obedience goes. The second is that they continue to expose her to new things. Lady will continue to need this exposure to gain confidence and also to learn to trust her family. I am very encouraged by the way that she has been willing to work for me, and I know that with the right family, she will go the distance.


This gentle girl is just waiting for that special someone to come along and love her. She is a diamond in the rough, but boy does she shine with just a little cleaning up!
---
August 6, 2011: Lady Nicole joined the GLBCR Booth Crew at the 2011 Highland Games in SE Michigan. This was a very new experience for her, and she was a brave girl all day, even after being startled by a cannon and antique firearms demonstration. Here she is below, arriving with her foster sister, Roxy.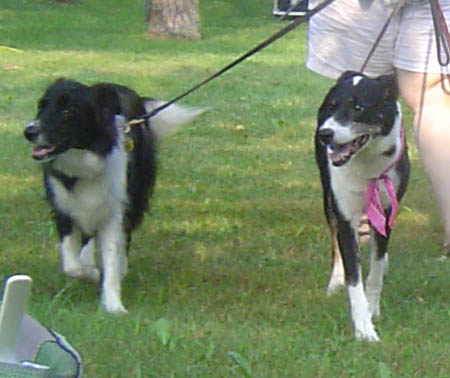 And here she is, making a new friend. She's come a long way, our Lady Nicole!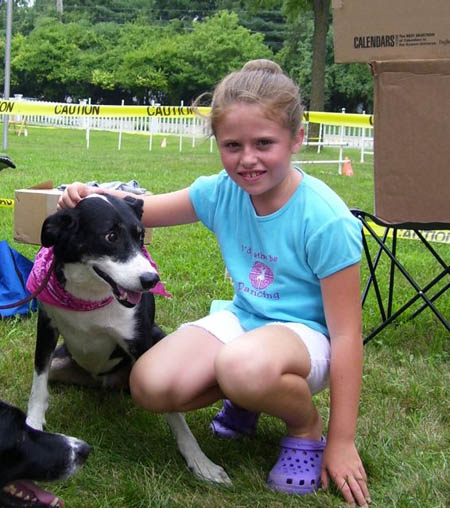 ---
July 22, 2011: Lady Nicole is progressing very nicely. She is learning some basic obedience skills and finding the outside world to be a very wonderful place to explore. While sharp noises still startle her, she is recovering much quicker from the shock of the noise and moving on with her investigations. She does not seem prone to bolting at noises and she tends to look directly for us when she is startled, and runs to us.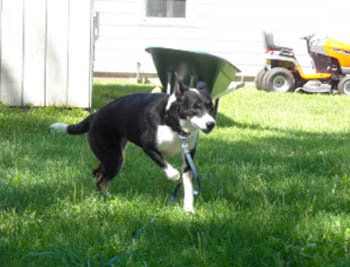 She appears to be feeling much better as she recovers from her heart worm treatment. She is beginning to perk up and is beginning to want to run around in the yard. Due to the heart worm treatment, I have not been able to observe her behaviors off-leash, however, she is learning a very strong recall on the long-line leash and she is very excited when she reaches me for her pets. Her ears are beginning to perk up a little more every day. She reminds me of the Flying Nun, with her ears sticking straight out of the side of her head!

Lady Nicole is showing signs of wanting to play with other dogs, though her idea of "play" is not quite on the mark yet. In her forever home, I would suggest that she be paired with a dog of similar size to her. She does really well with my passive female, and is also good with my cat, though attention needs to be paid to her when smaller animals are in a state of play. She is showing signs of a healthy prey-drive and I am not sure where it is going right now. More on this subject as time progresses. At this time I am NOT concerned by her behavior, it seems much more curious than malicious and she is extremely responsive to redirection when she gets a little riled up.

Personality of a diva, heart of gold, and the world's best disposition, that is our Lady Nicole! Watch for updates at Lady Nicole continues on her journey of "Indoor Detox" over the next few weeks. We have big plans for our little lady.
---
July 14, 2011: Nicole will be off her "bed rest" on the 24th of July and ready for her forever home. Her foster mom is looking foreword to seeing her run around a little more. She is still coughing a little, biproduct of the heart worms (bacteria thing...), but she looks good, is eating well and just a sweetie. She does NOT respond to "Nicole", does not even respond to your voice when you call it. She has taken to Lady (as we always tell her she is such a pretty lady!) and responds to it.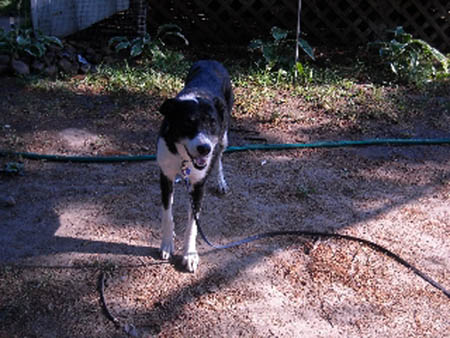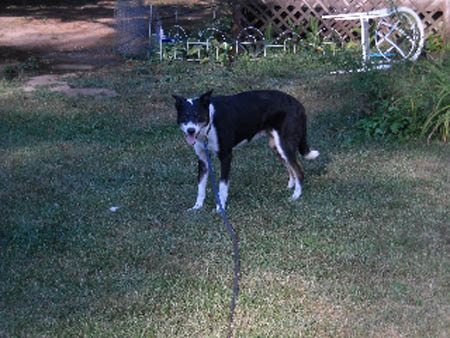 ---
Nicole is an approximately 9 year old Border Collie mix. She was rescued from the home of a hoarder so she does have some special needs. Even though Nicole comes from an environment where dogs were not housebroken she has done really well in terms of going outside to do her business. She does startle easily at some things and will need some time to get used to a new environment. On Nicole's first day at her foster home she climbed up into a rocker/recliner chair. When she got down from the chair the rocking motion scared her so much that she ran down the hallway and was clearly fearful.


She does seem to be perking up and now runs around the yard playing with her foster brother who is a fellow BC mix. Her personality is really starting to shine through and she follows the person whom she is most attached to around the house much of the time. Nicole does walk nicely on a leash, but loud outdoor noises such as motorcycles accelerating still scare her. For that reason, Nicole should have a fenced yard. Ideally a home with adults or adults with older children would be best for her. She really is a sweetheart and it has been a pleasure to see her confidence increasing every day. Nicole has not been cat tested at this time, but it would probably be a good idea to have at least one other resident dog as she is used to having other dogs to interact with. .
---
Photos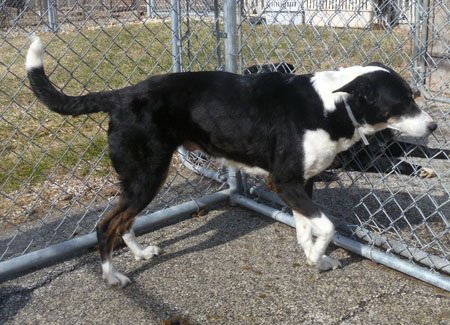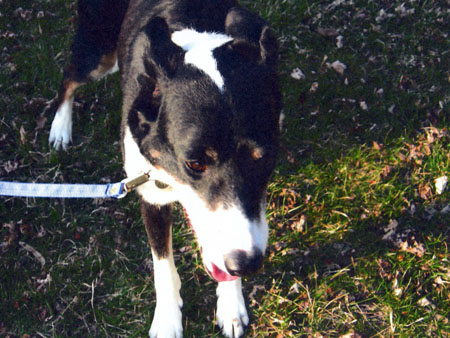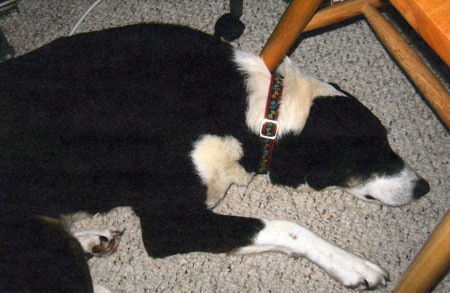 ---
Videos