O'Reilly
Gender: Male
Age: 3 Year
Height/Weight: 22" / 42lbs
Housebroken: Yes
Fenced yard required:tbd
Location: Mid-Michigan
Foster Home: Deb


Crate-trained: learning
Treat-motivated: Yes
Toy-motivated: Yes
Likes Car Rides: tbd
Good with cats: tbd
Good with kids: tbd
Commands:
---
March, 2013: Update on 'O'Reilly' who just wants to say my family loves me so much. I have this awesome stepbrother Tiger, an Aussie, who I love to play with and learn manners from. I sure like my new nickname 'Rye Bread'. I sure enjoying being with my new family!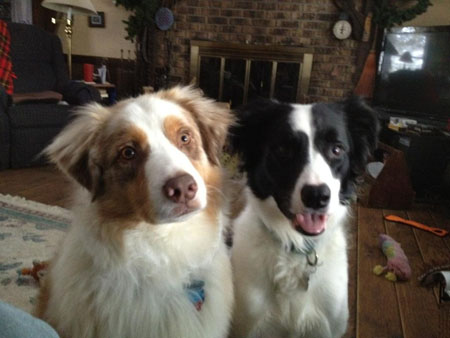 ---
O'Reilly was adopted in April, 2012. We received the following update after he had been in his new home for a week: "O'Reilly had fun chasing the chuckit ball and going for a mile walk last night. He slept well. I took the afternoon off to spend some time walking him, playing with him, giving him a short training session and even an oatmeal bath. I brushed him down and he rolled outside to dry. He's all perky and just loves all the hugs and kisses. The three dogs are still adjusting to each other. All the cats stand up to him and he avoids them. We are truly enjoying his energy. He follows me everywhere and alsways sits right at my side or lays at my feet. He has captured our hearts. Photo taken after his bath and play time. Thank you so very much for rescuing this wonderful BC and giving him another chance."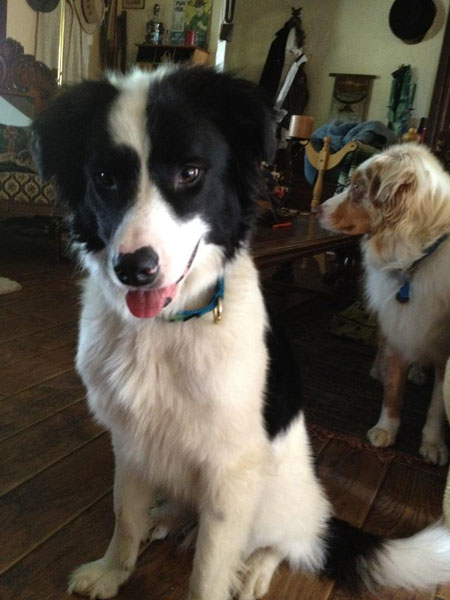 ---
Top o' the Mornin' to ya! This boy joined GLBCR on St. Patrick's Day, so he just had to have a great Irish name…Welcome O'Reilly! O'Reilly is a tall 22 inch Border Collie mix who right now weighs 42 pounds. We are feeding him well because to look his best he needs to add 8 -10 pounds. He is a big goofy clown who loves to play with people. His favorite game is Soccer-Keep-Away. He will put his foot on the ball, daring you to come kick it from him. He is sweet and lovable and will give me a bath with kisses. He also believes he is a lap dog (Really!) which is ok for about 2 minutes but not for much longer!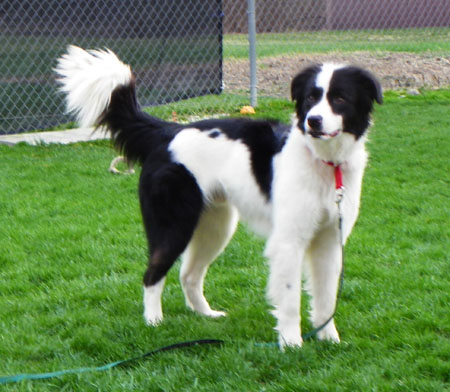 O'Reilly's great color and markings really make him a handsome boy who will be very hard to lose track of. He is very athletic and would make a great running/walking partner once he has had more leash training. He is very willing to learn anything that you would like to teach him, and he is quite motivated by yummy treats and toys.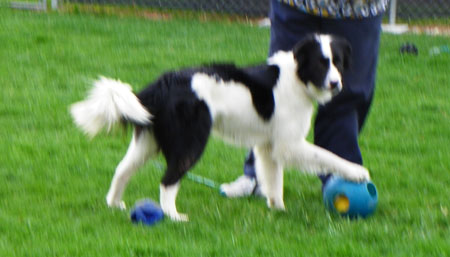 It is apparent that he has not had much direction or socialization with other dogs in his life. He tolerates my other dog, but he will steal and hoard toys in his crate. He is very good in the house, is housebroken, and does not chew on anything other than his toys. At night he is snuggly, and will settle right down with a chew bone where he is content to just hang with me.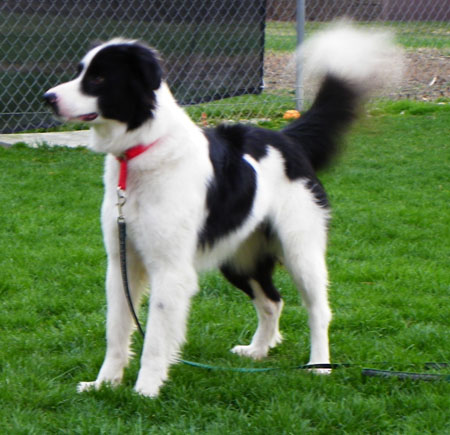 This boy will be very happy in an active home where is will get a lot of individual attention and daily exercise. He would love to find someone that would teach him how to play Frisbee, as he likes to jump up for tossed toys. He gets along best with submissive type temperaments if there are other dogs in the household.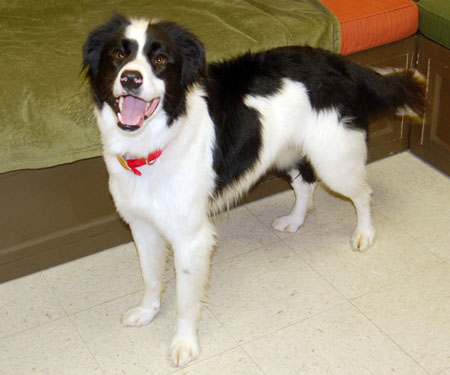 Check out this really cool dude. He is waiting for his perfect match!
---
Photos
---
Videos