Rocky
Gender: Male
Age: 3 1/2 Years
Height/Weight: tbd / 46 lbs
Housebroken: Yes
Fenced yard required: No
Location: Northern Michigan
Foster Home: Tina


Crate-trained: Yes
Treat-motivated: Somewhat
Toy-motivated: YES!
Likes Car Rides: Yes
Good with cats: Curious
Good with kids: Yes
Commands: sit, wait, down, outside, bye-bye, toys. Good recall. Very good house and car manners
---
August, 2013: Just wanted to share some pictures of our sweet rescues! Bond (Rocky) who we adopted from GLBCR last year is doing so well! He's such an intelligent dog! Someday, I'm going to come home and find Bond teaching the puppy how to read. He calms our newest addition, Zoso (who we just adopted from CBBCR) down and Zoso makes Bond act like a puppy again. It's a very happy balance they have. Our house is no longer quiet, there are always dogs wrestling under foot, but it is always fun and full of love. Having them here at the clinic with us is such a blessing too. We now have 2 qualified clinic dogs. The stress level around here is so much less now that we have them to cuddle and play with when we need a break or a good cry. Everybody loves them! Thank you so much for what you do. I can't tell you how refreshing it is to work with rescue groups who support each other and share a common goal, the animals, instead of groups who constantly feel the need to compete.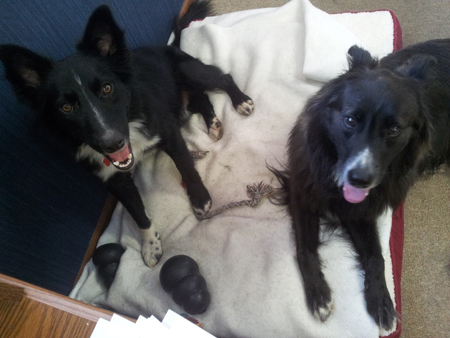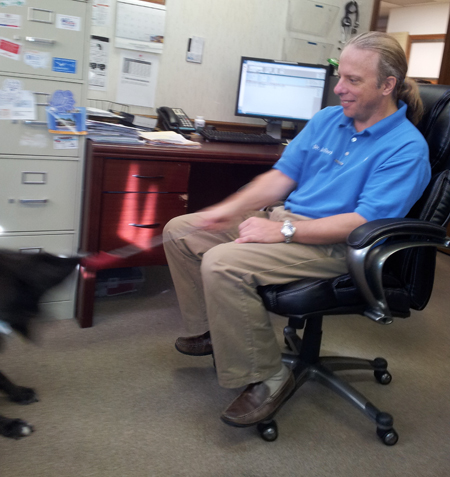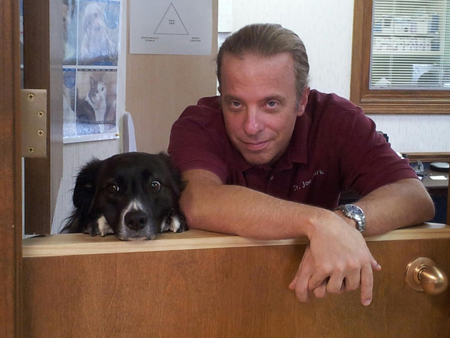 ---
Update November 18, 2012: "Me and Bond (Rocky) watching a rainbow come out after a storm."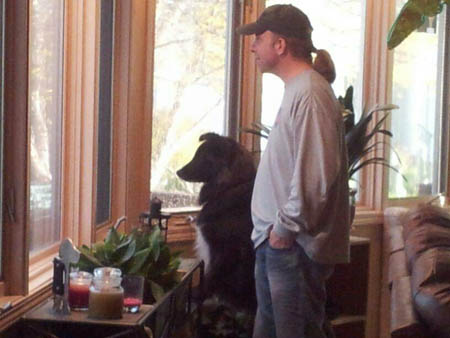 ---
Rocky was adopted in September, 2012 and is now known as Bond. He met his new people at the GLBCR Reunion picnic, and was adopted the very next day! Shortly after the adoption, his new dad told us: "He is so smart and intuitive- I may have found my second once in a lifetime dog, and I don't say that lightly!"


Here is Bond, hanging out in his new home with his brother, Clyde.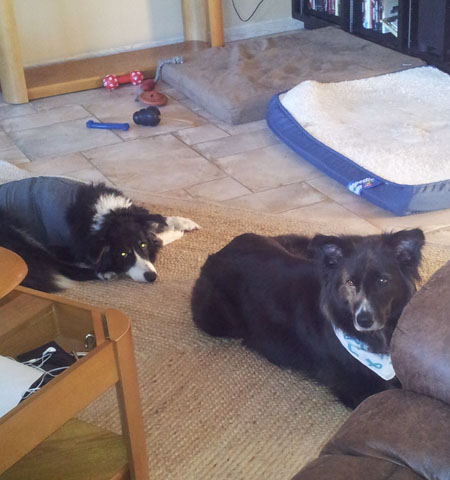 Just dropping a line to let you know how Rocky is fitting in. He has gone through 2 name changes, originally we named him Sly, in keeping with the Rocky theme. However, our other BC's name is Clyde and we found that when we were applying corrections to Sly, Clyde was getting upset because he thought we were correcting him. We've finally settled on the name Bond because he looks like he is wearing a tux and he's such a ladies man! When Bond first came home he was very interested in my cats, he just wanted to play, but he was so exuberant that the cats were pretty intimidated. We've been working on showing him that cats are for cuddling and not for playing. He's picking this up very well, and someday soon maybe the cats will want to play with him as much as he wants to play with them.

He is VERY good with Clyde. He has even gotten him to play some. Clyde is not a normal BC. He's very passive and is easily frightened by anything new, and Bond has picked up on that intuitively, only paying attention to Clyde on Clyde's terms.

He comes to work with us everyday, and people LOVE having him here. He is very friendly, and always willing to cuddle, should someone need a cuddle break! He is also extremely bright, like most BCs. He only needs to be corrected a couple of times before he gets it. Overall I think he is a perfect fit for us. He's active and plays with us when we want to play. He quiet when he needs to be quiet. He's no slouch when it comes to protecting the house or the clinic. However, I don't think he has a mean bone in his body. If we introduce someone new he's very quick to accept them as part of his "pack". I've attached some pictures of him with Clyde and at work. The girl in the third picture is one of our technicians, Crystal, and she has taken a special shine to him- even giving up smoke breaks to come hang out with him.
---
September 22: Need a hug? Some gentle wet kisses? Well then, Rocky is your man! With his thick coat of soooo soft fur and his gentle disposition kisses and hugs, cuddles on the couch and sleeping on your feet are his specialties! Rocky is a little larger than some Border Collies, we are not sure what he is mixed with, but he is light on his feet, agile and has many Border Collie traits. He enjoys toys and balls and will happily play fetch with you or chase toys and play by himself. Of course a rousing game of tug of war is great fun is his book too!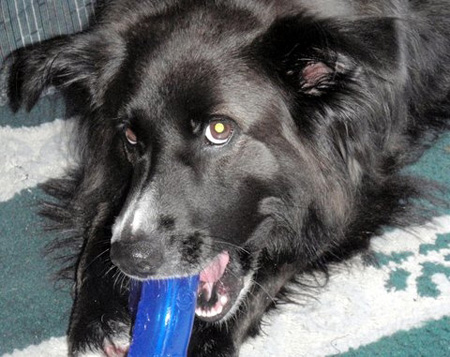 Rocky has wonderful house manners. He can be trusted in the house while you are away, does not countersurf, is quiet out in the yard and is good on a long line. He doesn't need a fenced yard. He absolutely LOVES to play with other dogs and would really be great with even a bigger dog to wrestle with. He can play gentle too, and has gotten both of my girls to play with him (something that no other dog has been able to do at my house) He has gentle manners with fussy dogs and will give them space if they want it. He is curious of my cat, he tries to find her sometimes, but she hides from him and that's OK with him.

Rocky is crate trained and sometimes will be found just resting there with the door open during the day. He is a medium energy dog and is fine with a walk or a ball play session. A car ride is his favorite thing in the world! He will sit up straight in the back seat and quietly watch out the window for hours. Last week he went for a 7 hour car ride and when we were unloading the truck, he got back in, ready to go again!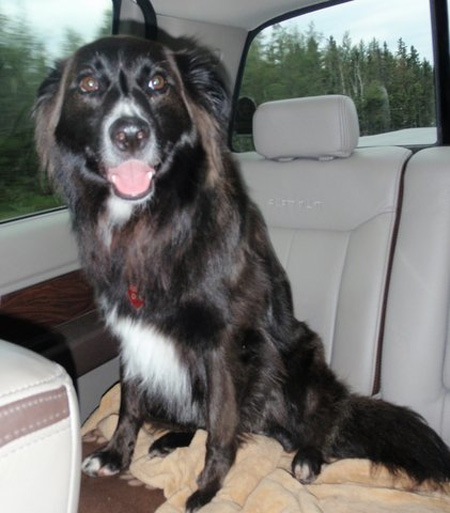 Rocky's idea of the perfect home would be semi active, with either a doggy playmate or near a dog park so he can have 4 legged friends. His social skills are excellent so a family would be fun (with kids over 3) but he would be fine with a single person who is active and outdoorsy. He does need leash walking lessons, he does pull quite a bit, but I understand that he is good with running alongside a bike ( I have not tried that) Rocky learns very fast, is sensitive and fun-loving, and very loyal. He is looking for the same qualities in his new home! Would he like to meet you?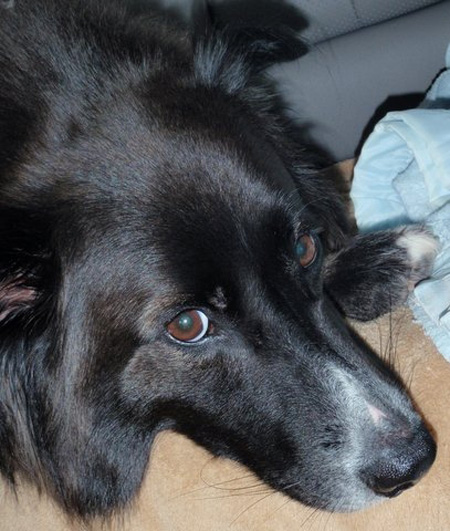 ---
September 14: Rocky is doing great! He is on a trip with us in 'da U.P.' He has taken a liking to our "middle girl" Bandit! She rarely plays, but they have been having the greatest time together. Rocky rode along in the backseat of my truck for seven hours, as if he has been riding all his life! He has adapted so well, it seems like Rocky has been with us for years! Since his grooming, he is so soft, and loves hugs and kisses! He doesn't seem to mind the cat, has met other dogs, is not possessive of food or toys. He has been an easy, sweet teddy bear!


If you're looking for an easy, medium-energy, huggable, companion dog, take a look at Rocky! (And the sooner the better cause my husband is falling in love!! LOL)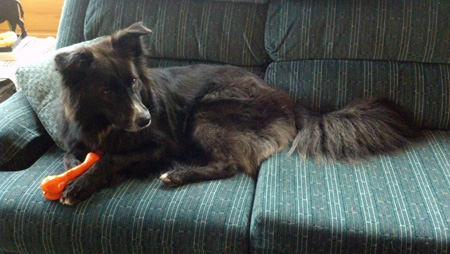 ---
September 8: Our big huggy bear Rocky is settling in nicely. He ADORES car rides and will happily get in and ride for hours! After two days of prowling around every square inch of the house and yard, he finally laid down and rested last night. He loves his crate and will rest peacefully for hours, never a peep. I haven't heard him bark yet!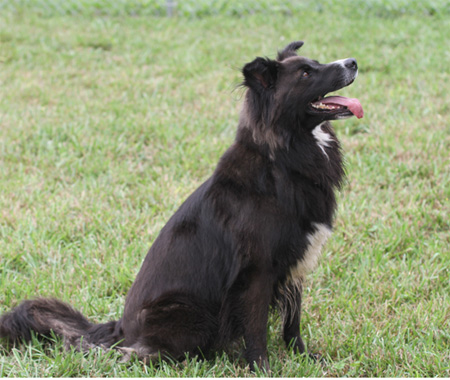 Rocky enjoys playing ball and loves to keep toys away from my BC, Sally. He is pretty agile for his size. He is gentle with the girls and not possessive of food or toys.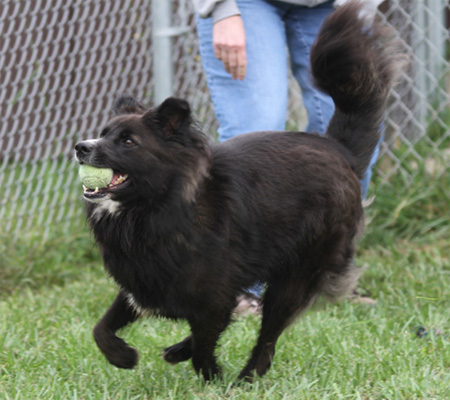 Rocky is very warm and fuzzy and seeks me out for attention. He seems very happy to be amongst us and hasn't shown me tendencies to scoot away or run free. After such a short time, he seems to be right at home and very easy to get along with! He is next to me as I write this and looking at me very endearingly. I think he will win someone's heart over rather quickly, he has mine already.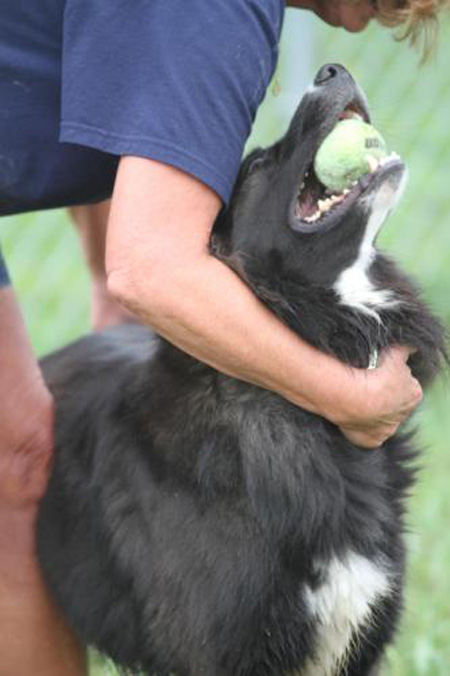 ---
Photos
---
Videos