Turtle
Gender: Male
Age: 1 Year
Height/Weight: 18" / 33 lbs
Housebroken: Yes
Fenced yard required: tbd
Location: SE Michigan
Foster Home: Karin


Crate-trained:
Treat-motivated:
Toy-motivated:
Likes Car Rides:
Good with cats:
Good with kids: Yes
Commands:
---
March, 2013: "We are all totally in love with Watson. He has wiggled his way into the hearts of all the Bleekers and pretty much everyone he comes in contact with. We take him to Urban Pooch, here in the city, for play group and he is received like a movie star. He loves his time there playing with the other dogs and comes home totally exhausted.
"We are working on obdience training. he is doing really well with his commands but still has a hard time leaving the "action" if he is playing with other dogs to come when called. He has totally stopped whining when we leave the house and has,we beleive adjusted to his home!
"He is no longer in a crate at night but sleeping on a fluffy bed in our room (unless he can sneak up on our bed). We have had him groomed and he is just gorgeous. People always stop when they see him to compliment him on his rugged good looks.
"We will start therapy dog training in May. I think he will really love that and be so good at it. I am also hoping to do some agility classes with him in the spring.
"All in all, this was a great match. He is amazing!"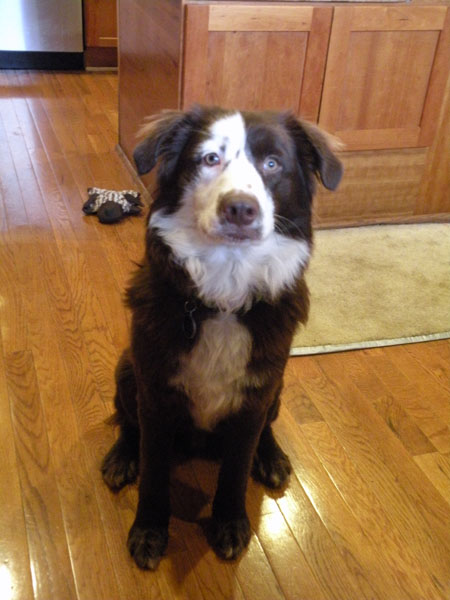 ---
December, 2013: We will have had Watson for a year on the 29th and love him more each day. He is a very special amazing addition to our family and has a way of getting himself right in the thick of things. Watson has just completed his Therapy Dog Training and we look forward to taking him to the Children's Hospital and a variety of nursing homes to share his warmth and gentle love with as many people as possible. He was a natural in Therapy class but had a bit of a mind of his own. He worked really hard and was the star pupil. He was great with wheelchairs, crutches, walkers, would not take a treat from anyone unless told it was OK and left everything on the floor until he got the "take it" command.
One of the great joys of his life is running free in the big park, the deeper the snow the better! He is a really good listener and come back when called. He loves most other dogs(and the ones he doesn't like, he simply ignores)and all people and likes to greet everyone with a big wag of his tail. He has taken it upon himself to save the world from squirrels and is quite single minded in his effort. He has grown some and gained a bit of weight-23 # to be exact and we think he is the most handsome boy ever.
We did not realize what a good swimmer he was until he plunged into Lake Michigan this summer and ran and jumped and swam until he was exhausted.
He is a big fan of tiny babies and is so very gentle when he is near our new grand daughter. He will sniff and take a tiny lick of her ear and then plant himself close by in case she needs protection.
We are enjoying every minute with him from the early morning snuggles (yes, we let him up on the bed...something we said we would NEVER do) to the long walks.
He is the best dog ever and we thank you for making this match.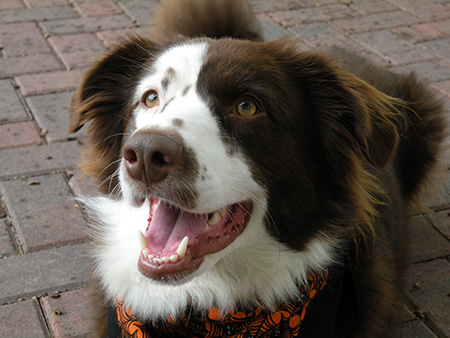 ---
January 9, 2013: Just an update from practically perfect dog land. Watson is the toast of the town. He has had a couple of naughty moment-chewed a pair of uggs, took a piece of soft art off a table and destroyed it, buried his nose in the candy bowl , much of which we take responsibility for since we have given him pretty free access. He is really very well behaved, loves loves loves his people and all other dogs, all treats and walking. He had 1 private training class and learned to be a lovely heel walker immediately-no more pulling on his leash and no more jumping to greet unsuspecting joggers! He know sit, wait, down, shake, kennel and no. He would love nothing more than to sleep on our bed and totally ignores you when he tries too. He is a love and we could not be more delighted. We took him to the tennis courts today and he had a blast herding a pretty good size year old German Shepard. He tries to keep me in line by grabbing my ankles but totally knows that is a big mo-no.
---
Turtle was adopted in December, 2012. His new family sent the following update: "Watson (the pup formally known as Turtle) has settled in really nicely. After we left Michigan, he curled up on this new plush, lush bed in the back of the car and slept like a babe. The only time he opened his eyes was when Bob got out for gas and than he was up and whined a bit when he coldn't see him! Home was easy. He did his business on command( go potty), came in explored the house, went out explored the neighborhood (lots of new smells and things to see) and came back for a nice long nap on the couch with our son. Sean was DELGHTED that Watson really seemed to like him and is gaining all the points he can before he goes back to school on Tuesday.


Watson tried to settled up on our bed last night while we were watching the news but got the strong NO! message quickly and settled on his mat in the bedroom. We crated him for the night-about 10 seconds of whining and quiet after the "good night, Watson" command. Not a peep out of him for the entire night (we think he is MUCH smarter than me, who was awake intermittently all during the night anticipating his whines...which never came!). We got him up and out at 8:00, did his stuff, came back and gobbled down his breakfast and fell back to sleep in his opened crate. Perfection!


We have bought him all kinds of great treats and new toys and have been really pleased with his behavior (Thank you, Karin) and his abilities. He does need work on walking calmly on leash but that will come with a bit of experience and some familiarity with the neighborhood. He has picked up on sitting at the curb before crossing the street and does well with that. He is quick to catch on to what he is suppose to do and very curious. He did go into the basement this morning with Bob but is quite tentative on stairs. His eye still seems to be irrated and he is rubbing it so we will have the vet take a look when we go after the holiday. He has had a few neighbor visitors and really seems to like people.


All in all, we are thrilled.


Thank you, ALL for our new addition!
---
Turtle is a one-year-old goofball of a boy. He's charming and sweet, and still very much a puppy.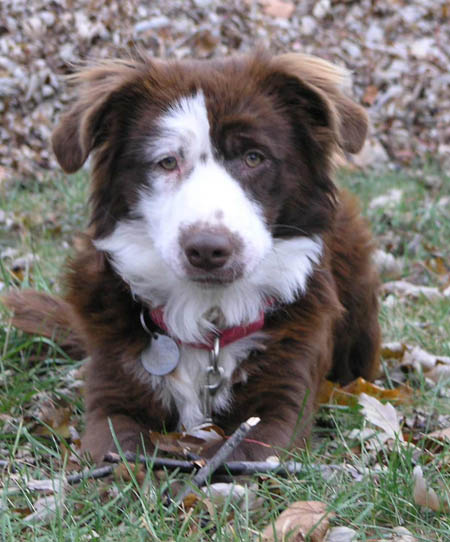 Unfortunately, he has a couple of health problems to work through before he'll be ready for adoption (you can sort of see that his skin is a little red and he's a bit puffy around his eyes - he has Demodectic mange, aka Demodex), but he's expected to be fully healthy and ready for his forever home in a month or so, after his ivermectin treatment and his retest. Also a month of good food and exercise should help boost his immune system to help take care of the infection, too.

He's a little guy, maybe 18 inches at his shoulder, and 33 lbs. He has a really fantastic curly red coat that will look a lot nicer when his skin clears up.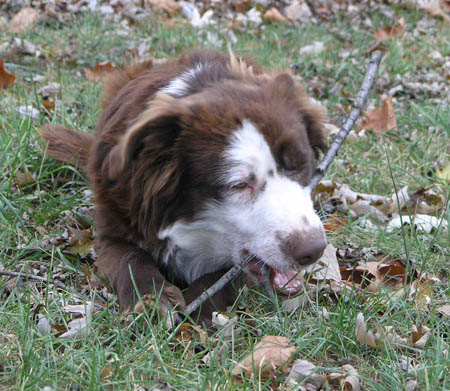 More info as I get to know him better (and he may be more of a handful as he starts to feel better!).
---
Photos
---
Videos