Ablaze
Gender: Female
Age: Puppy
Height/Weight: Wee Tiny
Housebroken:
Fenced yard required:
Location: Mid-Michigan
Foster Home: Tammy


Crate-trained:
Treat-motivated:
Toy-motivated:
Likes Car Rides:
Good with cats:
Good with kids: Yes
Commands:
---
Ablaze was adopted in July, 2013. Here she is with her new family!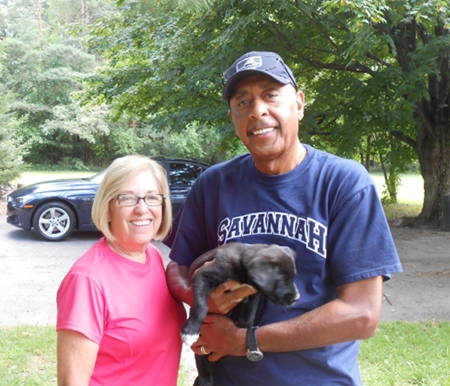 ---
Ablaze is on fire! Sugar and spice have been replaced by a little fire cracker and sparkler. She is a very bright little girl with energy to burn. This is no little wall flower, that is for sure. She has learned to run and she is fast.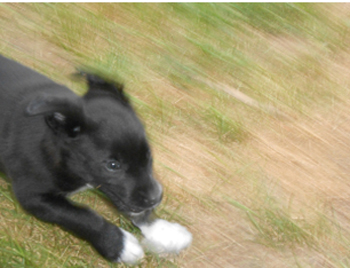 She loves to romp around with her sibs for a healthy round of wrestling and really has fun growling and snarling with her little sister. The big dogs are proving to be lots of fun too. She has learned that she can pounce on the resident Yorkie and get a great reaction. Game on!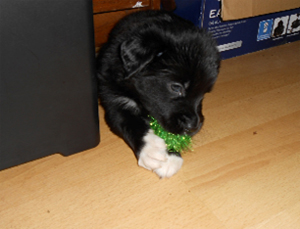 Ablaze did really well with her vet visit this week. She tolerated all the poking and prodding just like a little lady. She has grown to a lean, mean sporting weight of 6#9.5oz. Just behind her brother, Lakeston. Ablaze is the only female to have a white stripe on her nose. She has 4 white socks on her feet and a white stripe on her belly, not that you can pick her up to see it! :) All you can see is a blaze of blur when she runs around the yard. She is vocal and loves to growl as she wrestles. She respects her siblings as well as the big dogs redirections.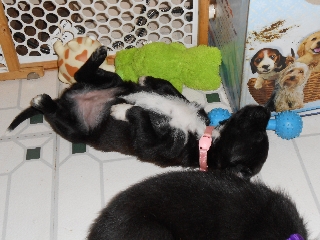 It is hard to predict how big Ablaze might be when she is grown. Currently she has a pretty compact, lithe body with tons of muscle tone. She has HUGE feet, so if she has to grow into those mits, she might just be a big girl... She also has a very short coat that is smooth and soft. She appears to have a smooth type of coat that lies flat to her body.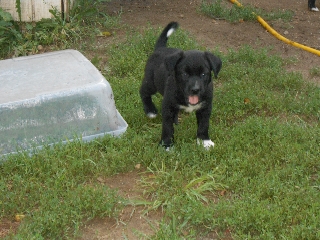 Ablaze is very agile and curious about her world. She will experiment with new things until she masters the challenge. A very consistent training style might be called for with this girl, she is very strong- willed, but she will still take direction easily at this point.
---
Brand new Ablaze, born June 6, 2013.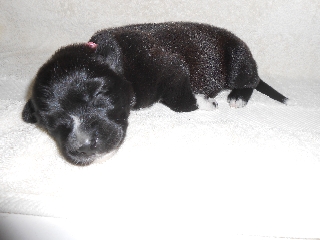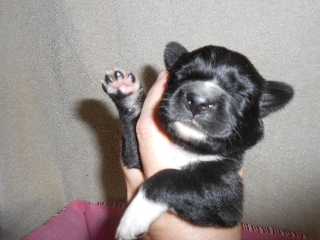 ---
---
Photos
---
Videos