Ace
Gender: Male
Age: 3 Years
Height/Weight: 21" / 38.5 lbs (underweight)
House-trained: Yes, but may mark
Fenced yard required: tbd
Location: Mid-Michigan
Foster Home: Pam


Crate-trained: Yes (reluctantly)
Treat-motivated: Yes
Toy-motivated: Tennis Ball
Likes Car Rides: Yes
Good with cats: respects teeny dogs
Good with kids: tbd
Commands: sit, down, shake "do you want to go outside?" "Kennel-up"
---
Ace was adopted in November, 2013 by one of our great GLBCR voluteers. Here he is with his new family: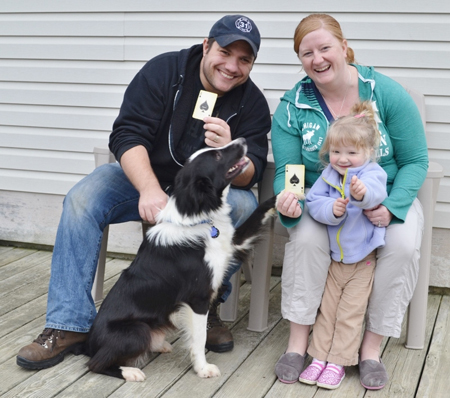 His new mom writes: Ace is doing great! He has meshed seamlessly into the family. He is a little freaked out by all the wind, but has found comfort in the bathroom of all places! Cinder and Ace have made quick friends. They have been running all over the place with each other. We can't wait to get him out in the back part of the yard when this nasty weather clears up!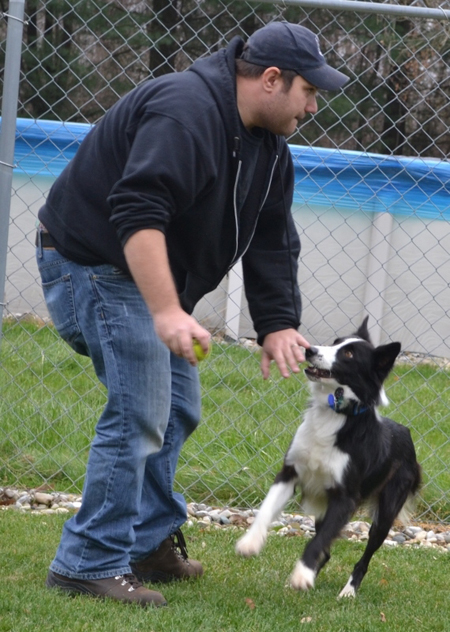 Quinn and Ace have already made a bond. He lays near her all the time. Even when she is taking a bath. She was right there trying to calm him down when the thunder started..."its ok buddy, its ok buddy" she just kept saying it giving him hugs. If anyone is going to spoil Ace, it will be Quinn. She already considers him part of the family. When we were on our way home from the store today she was saying to missed her doggies....Gaga (Cinder) and Ace. Its great that Ace is so gentle. I can't believe it. He is more than we ever expected to get out of a BC. He is so good with Quinn....definitely a gentle soul. We already love him dearly.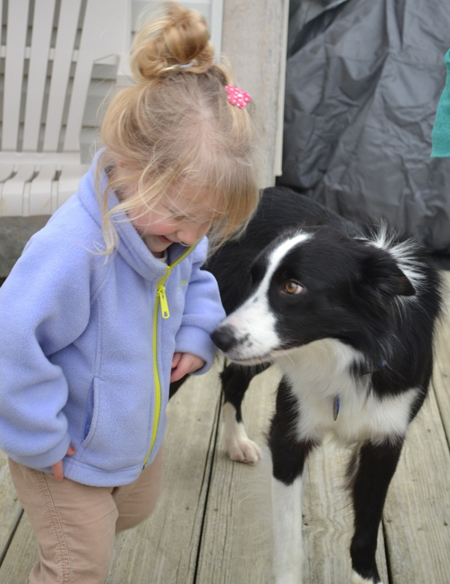 Thank you Pam, Rob, and GLBCR for doing what you do! I can't express to you all the joy we have gotten from our 3 GLBCR pups! We look forward to many great years with Cinder and Ace!
---
Things are moving right along for this handsome and personable guy! I am lucky enough to be able to house guest dogs (fosters and boarding dogs alike) in my dog room, while my own dogs get the privilege of being with their family without having to "endure" a new dog. Ace, however, is one of those special fosters I've had who has quickly melded into my household.


The first couple days he spent exclusively in my dog room, and had time with just me outside. New dogs here must do that for several reasons:


* quarantine in a loose sense (possible fleas, kennel cough, or worse - yes, it has happened to me!)


* to assess a new dog's temperament and flexibility


* to allow my dogs to see & smell a new dog before interacting directly


Often these steps can take beyond the GLBCR 2 week wait time. Ace. Well, I picked him up on Halloween from a shelter, the next day he went to the vet and I bathed him, and now, LESS than a week since I've had him (today is Tues 11-5-13) he spent last night in a SOFT-SIDE crate in our loft (we didn't want to "push" him to deal with our dogs and vise-versa too quickly) and spent the night in my bedroom in the same crate. Without a peep!


Earlier this year I fostered another Border Collie, Rikku, who had been dumped at a shelter with her "brother" at the age of 7yrs old. She was *amazing*, and I wished I could clone her. I think the male version of Rikku is now with me! As my partner, Roberta, said this morning when she brought him downstairs and outside (I was managing our pack-o-dogs), "He either was taught "WAIT" or he "just knows", 'cause he stopped at the top of the stairs (without a leash attached) and looked back for me. I told him "sit" which he did, and I used the hand signal for "wait" or "stay" and also said "Wait", and he DID, while I walked down the stairs, reminding him with every step, just to make sure. I released him when I reached the 1st floor, and he then came down!"


If ever there was a "ready-made" dog - which there usually is NOT - Ace is that dog! He is simply amazing! He is curious about the cat, but he didn't obsess. He is curious about our birds, but again he doesn't obsess. He respects our "teeny dogs" and backed off when he sniffed our teeniest, Birdie, and she snarked at him! I show him a dog bed and tell him to "go lay down" and he does! We took a nap, he and I, in the dog room yesterday, and aside from once jumping into my lap (Ace, you are WAY too big to be a lap dog!!) and several times resting his head on my leg and looking longingly into my eyes, he found a spot and slept while I slept! He doesn't seem to be crazy about toys at all, and I have yet to see him chew. At first I thought he didn't have any drive to fetch. Weeeellll. That was until I got out a tennis ball! His eyes then seemed to bulge out of his head! We could see him thinking, "FINALLY these humans get it!" We've played with the Chuk-it several times outside.


I'm waiting to experience Ace's negatives, 'cause I've only seen a couple of teeny ones, so far. He will crate, but he doesn't care to. If a human isn't present, he will bark and bark and bark to show his dissatisfaction. He seems to be potty trained, however, since he is so newly neutered (he was neutered while he was in the shelter), he *will* mark, and he must be watched about that.


Typical of most BCs, he does not need a harsh correction. If he sees that the human is angry (and it seems to be directed at him) he is appropriately sheepish and apologetic. One of his favorite places to lay is at your feet under the kitchen table.


I KNOW Ace will NOT last long in rescue, and I'll be very surprised if this bio makes it to the available page or, if it does, I don't think it'll be there for long!
---
Here are a few pictures to enjoy while we wait for a full write-up -- how's this for a handsome boy?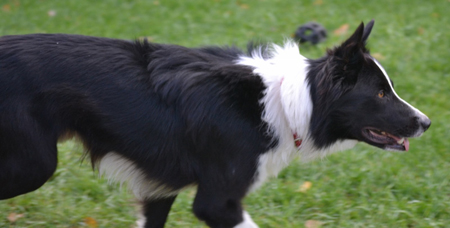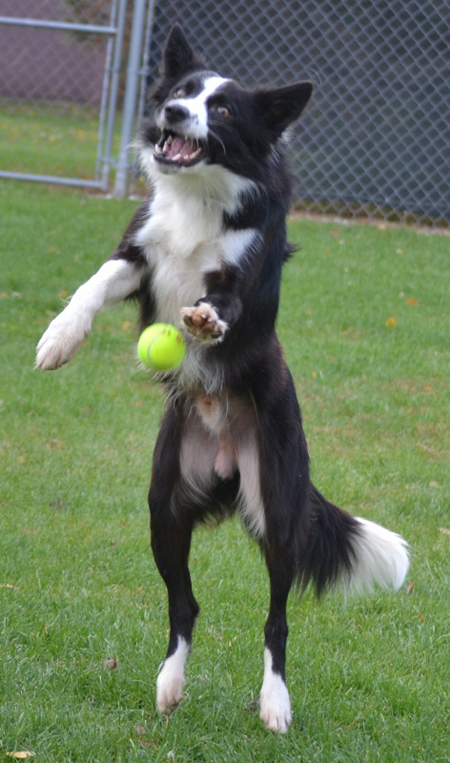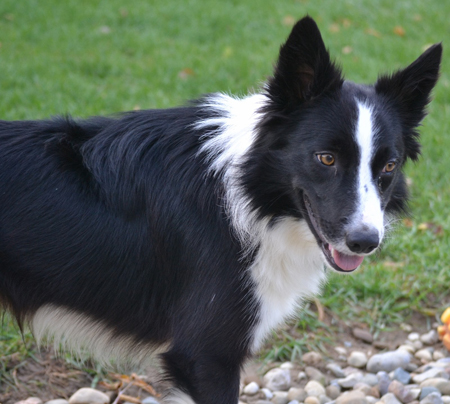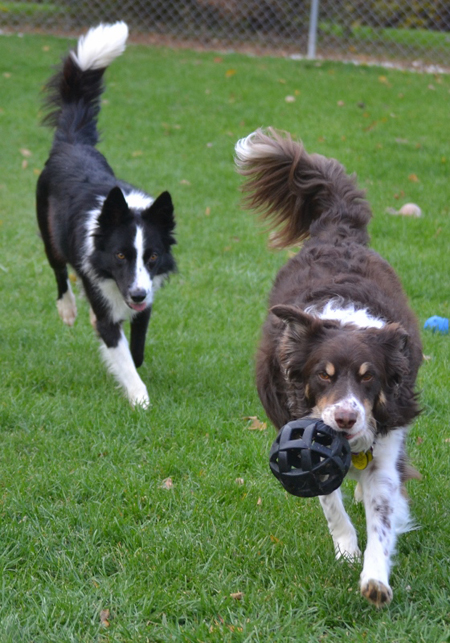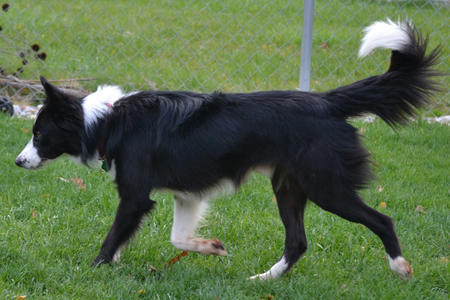 ---
.
---
Photos
---
Videos