Avalon, now Reggie
Gender:
Age: Male
Height/Weight: Wee Tiny
Housebroken:
Fenced yard required:
Location: SE Michigan
Foster Home: Debbie T.


Crate-trained:
Treat-motivated:
Toy-motivated:
Likes Car Rides:
Good with cats:
Good with kids: Yes
Commands:
---
Our Reggie has turned into an amazing dog. He is such a hoot! Still loves to chew up shoes (after 7 pairs, we have finally learned to keep all closet doors closed!) He is so funny--full of mischief and a lot of love. He is truly a sweet dog, and we are so happy to have him as part of our family.
Reggie is a joy for us and we are so glad to have adopted him from all of you. He is smart and loves to be with his people. We have taken him to two different puppy classes and he has learned quickly what is expected. He loves the other dogs in his class and just wants to play. We had him evaluated for a dog play group at a nearby vet/dog- park business, and Reggie passed with flying colors. He loves to socialize with his buddies and run himself to exhaustion.
---
December, 2015: :Here are some pictures taken by our daughter, Sarah, of Reggie playing in the snow (today). He loves romping and plowing the snow with his nose :) We have named our new dog Sir Reginald of Midlandshire-- "Reggie" for short. Because you fostered him in Midland, MI we wanted that to be in his name. Reggie is a great dog and a wonderful addition to our family. It's like having a busy two-year-old again! He can now hold still for about one-half second :) He and our cat, Moses, are buddies. They spend a lot of their time chasing each other. Moses will hide from Reggie and Reggie won't give up until he has found Moses. Each of them tries to "out-wait" the other, but that usually doesn't take long. Reggie loves his walks and is curious about everything. He has a precious personality! He sleeps on a blanket on the floor next to our bed sometimes, and is quiet as a mouse. He can sleep through the night now without needing a bathroom break. Just last night, he decided that he would try jumping on our bed (uninvited) just to see what would happen! We cuddled with him while telling him he shouldn't really be on the bed... About an hour later, he was back on his floor-blanket, sound asleep. I hope you and your family have a wonderful Christmas holiday! We are looking forward to sharing our first Christmas with a very cute, black pup :)"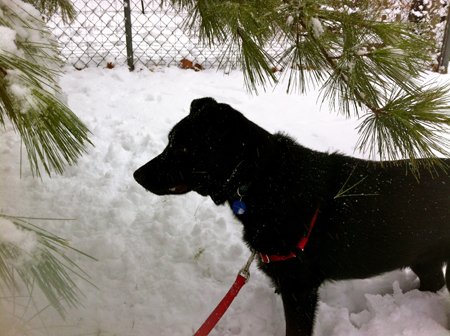 ---
Avalon was adopted in November, 2013. His new mom writes: "Many thanks to you and your son for the long drive you made to St. Joseph for us and for Avalon. Thank you, thank you. Thank you for doing what you do. It takes much courage and sacrifice. We appreciate all your work and effort on our behalf. We will love this dog for many, many years.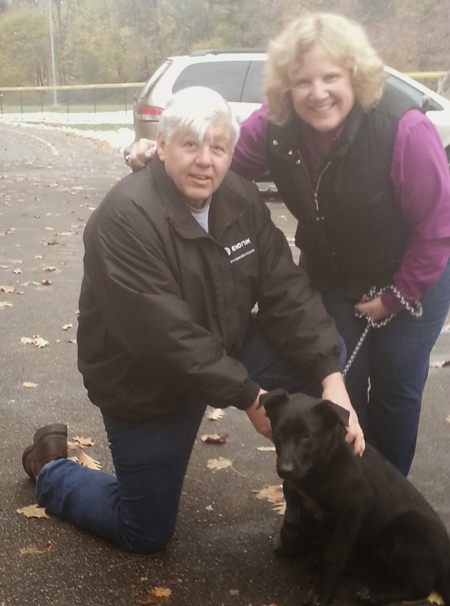 "Avalon has been a champ! The drive home was smooth--no car sickness at all. We stopped at a few rest areas to explore and romp in the leaves. Avalon just slept while Steve stroked his back the rest of the way home.

"Avalon had a quiet and peaceful night in his new crate. No accidents at all! He and Moses are working things out slowly. Moses now comes within 3 feet of Avalon, then just sits and watches intently. Avalon approaches Moses, but doesn't get too close--yet, he wags that tail of his and looks ready to play. He has not barked or chased Moses, which is making things happen faster and smoother. We have never seen a dog so quiet! Just like you and your son told us, Avalon is the quiet type--but very alert and playful.

"Avalon has really taken to each member of our household. You told us how friendly and accepting he is of people and you are so right! He has made fast friends with our daughter and future son-in-law. He loves to eat (like you said) and loves his treats. Thank you for giving us so many varieties. We have a day of rain and storms here, and lots of wind. There was a bit of thunder earlier and none of it has phased Avalon. What a brave guy! Thank you for everything, Debbie~
---
This sweet boy is from our earlier spring litter from Lexis. He was returned to rescue through no fault of his own as his adopter were VERY allergic to him. Now 14 weeks old Avalon is looking for his real forever home.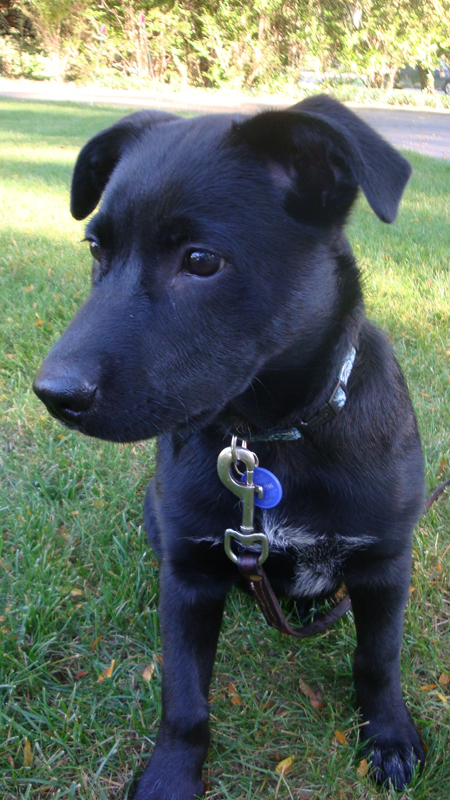 Now, this guy may look like a Lab on the outside, but he has the heart of a Border Collie. He is Fun. Playful. Snuggly. He wants to be with his people, and he likes other dogs. He loves treat puzzle toys, is housebroken (mostly), crate trained, Crazy Smart, and just an all-around good puppy. Avalon does all the normal puppy stuff: shoes and slippers make good grab and go objects, the other dog's toy is always better than his, eats like there will not be any food tomorrow, kisses, kisses, kisses, everything goes in his mouth, catch me if you can is great fun, trade for treats is even better!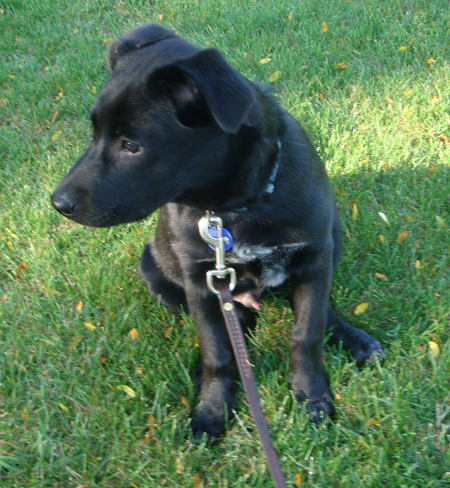 If you are looking for fun energy whose tail will be wagging when you walk in the door Avalon is waiting to meet you.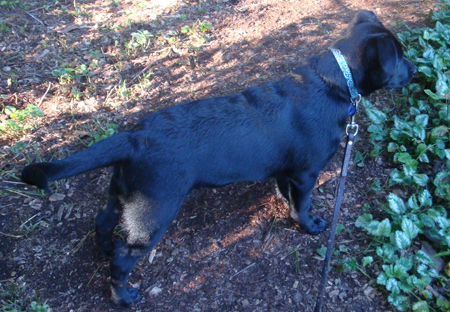 ---
Avalon has been overtaken in size now by Voxy, who has become the biggest. He's still the most laid back Teddy Bear of a boy, though!!!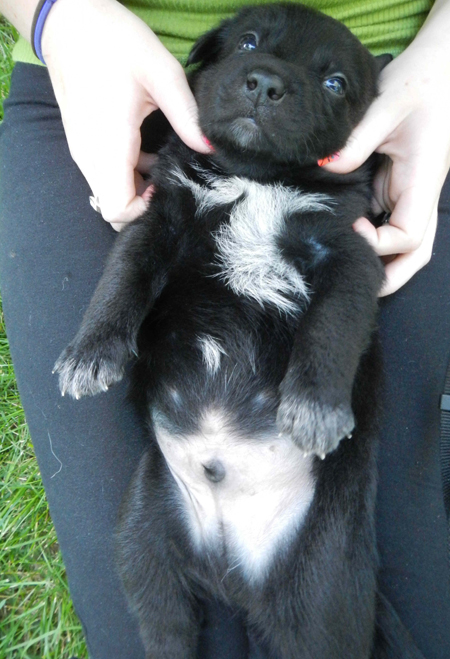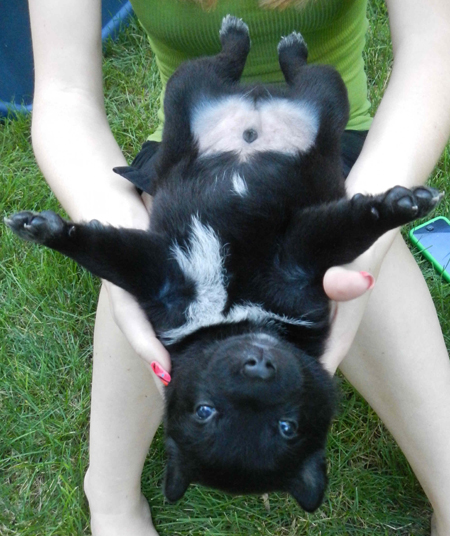 ---
Brand new Avalon, born June 22, 2013.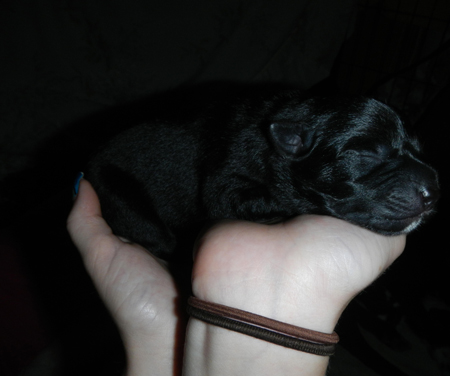 ---
---
Photos
---
Videos