Bert, now Sig
Gender: Male
Age: 18 Weeks
Height/Weight: 18" / 25 lbs
Housebroken: learning
Fenced yard required: No
Location: Northern Indiana
Foster Home: Kathy P.


Crate-trained: learning
Treat-motivated: YES
Toy-motivated: Mildly
Likes Car Rides: Yes
Good with cats: Yes
Good with kids: YES!
Commands: Sit, down, working on stay, teeter, over, working on weave
---
Hi Everyone Sig here, but you all know me as Bert! Well according to my mom and all the paperwork I was told I'm "1" years old today. My mom and dad keeping giving me this funny new command something like "Happy Birthday" I'm a little confused because I really do not have to do anything, I just get "Happy Birthday" and than I get a treat, a hug or a kiss. Don't know what it means but I really like this birthday thing. My mom gave me this brand new big squeaking toy today when she came home, I now know it was for my birthday, my sisters are not allowed to play with it, just me!!! I tried pulling the eyes off of it when mom wasn't looking so I have to wait a while to get it back. I really like my new home and love playing with my doggie sisters Porsche, Aspen and Sassy. Sassy is my cat sister she loves when I chase her down the hallway and herd her under the table, but mom doesn't like it to much, we are currently working on that. I have a big fenced in yard that I can run and play in and a warm bed of my own. I have so many toys its hard for me to decide what I'm going to play with, sooo many options, I also steal all of my sisters toys too, but don't tell anyone. I am so grateful to the Great Lakes Border Collie Recuse for coming and saving me and my brother Ernie now Blu.(Happy Birthday Ernie/Blu) But I was truly blessed to have an awesome loving and caring foster mom and family with Kathy P. Thank you for putting up with all my naughtiness and showing me how to love and to be loved, until you found my perfect home for me, but don't worry I keep my mommy and daddy on their toes all the time, I have to keep myself entertained if I get bored with my toys and sisters. And I would like to give huge kiss and butt wag to my now Aunt Jenny (Koerner) for introducing me to my new family!! Well I just wanted to say thank you again for saving me and finding me my fur- ever home. Happy Birthday to me!!!!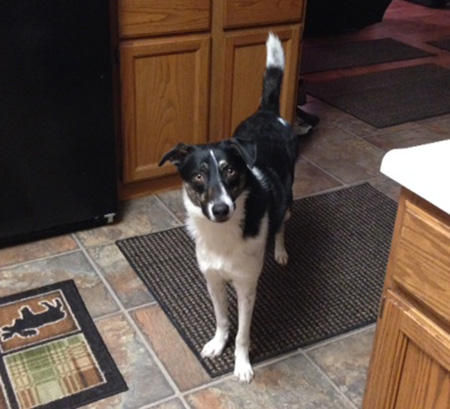 ---
What is the Meaning of the Name Sig?
Answer: The name Sig means 'victory, peace, protection or safety' and it is of Germanic origin. This name is a variant of the name Siegfried which is of English and German origin. It is usually used as a boy's name.
My husband finally named him! After seeing the meaning I thinks it's very fitting!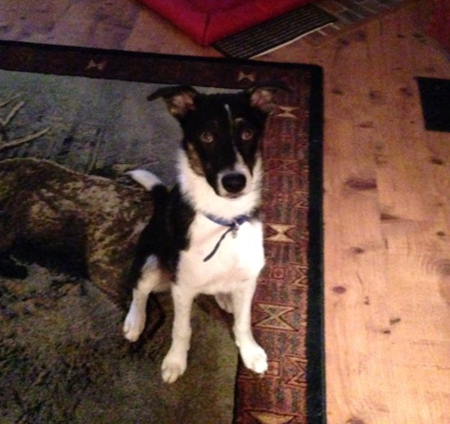 ---
Bert was adopted in July, 2013. Here he is with his new family!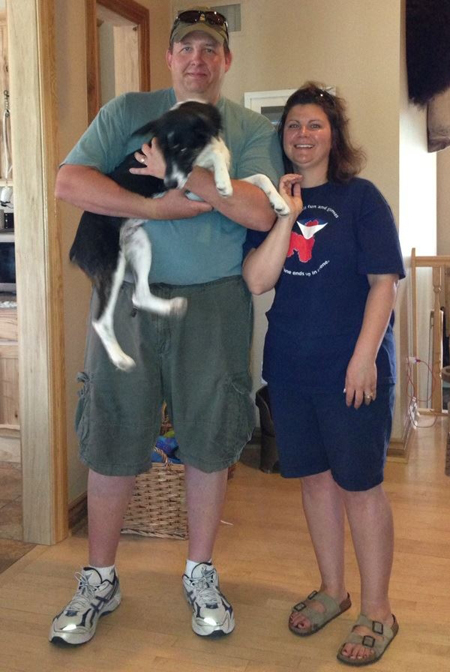 ---
Don't let Bert's outward "mix" appearance fool you, this boy is all border collie on the inside. He is fun, energetic and playful. He has a heart of gold and strong desire to please. There is not anyone that has met him that hasn't thought he is a stellar boy. We have been doing some "intro to agility" in the backyard and he was showing some great promise so I took him to his first official agility class this week and this boy has the potential to be a rock star. Each time he was introduced to a new obstacle he refused to try it (the instructor described him as a "wild orangutan" ) but as soon as he realized that there were lots of yummy treats if he completed the obstacle he was all about doing it over and over again. He would make a great partner for someone that is interested in training an agility dog from the ground up.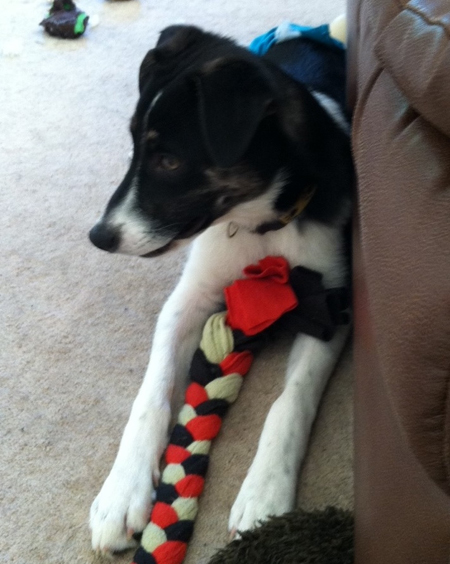 Bert has started challenging the rules but when the law is laid down he happily complies with what is expected. He is a dog that will challenge the status quo so will be best with a kind but firm leader. His adventurous spirit has caused him to wander a bit so would probably be best in a yard with a physical fence. His active spirit will make him a great running partner, hiking partner, or any other activity that will keep him busy. He has a great love for other dogs so would really enjoy a canine companion although he is starting to learn that people can also be a source of play so while a doggie brother or sister is preferred it is not an absolute.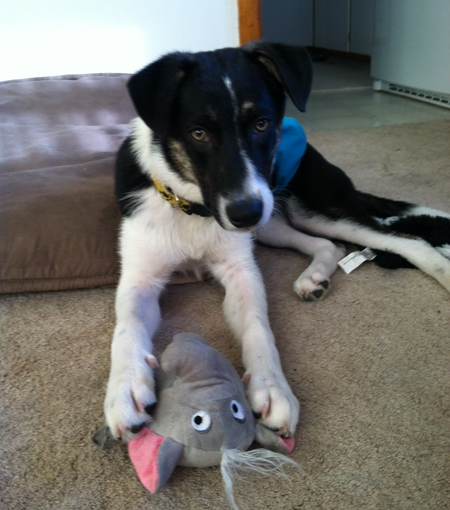 He is such a sweet boy and has the kindest most gentle eyes. He will mold into most any situation so if you are looking for an active, fun dog Bert is your man.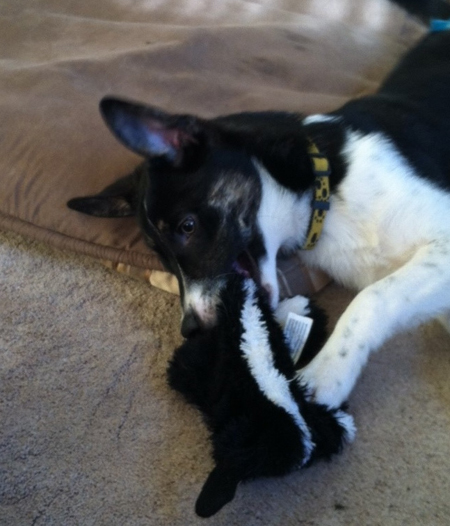 ---
Check it out - Bert got to try out the agility equipment and decided it was a lot of fun! Not a speed demon by any means but he is adventurous, smart and food motivated, not to mention that he loves to please. He learned the full height teeter in 2 days and the straight weave poles with guide wires in 2 days. Seems that he does things a couple times and then knows what he is supposed to do. Looking for an agility companion? Look no more.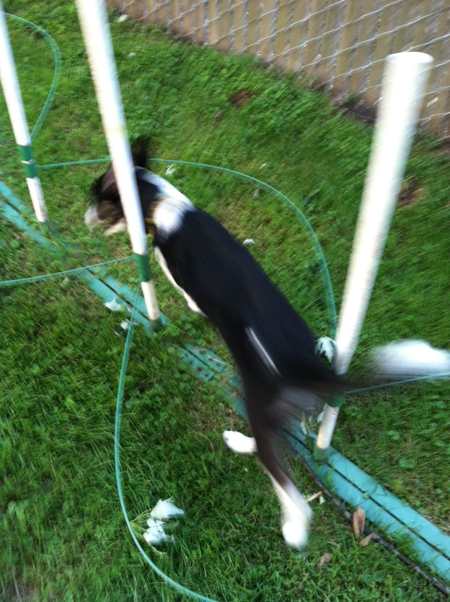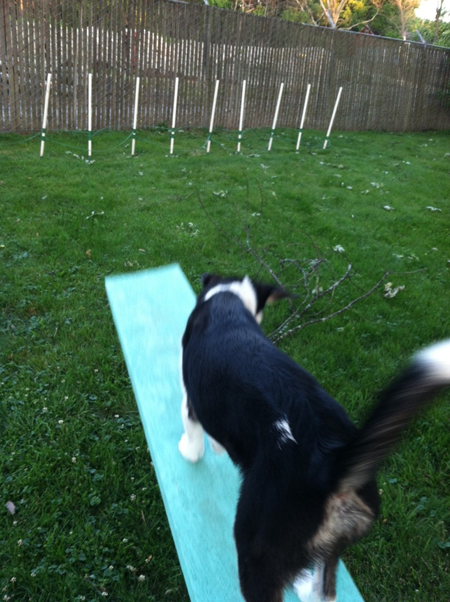 ---
Two words to describe Bert: Mr. Social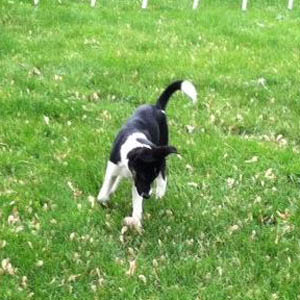 Things Bert likes: People, toys, other dogs, people, car rides, toys, giving kisses, people, crawling into your lap, toys, kids, food. Oh, did i mention people and toys?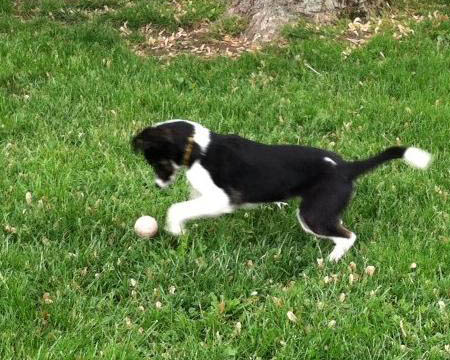 Things Bert doesn't like: Being alone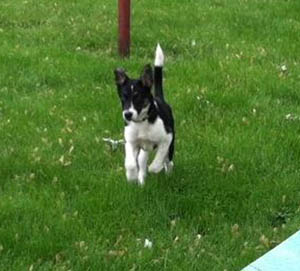 Bert is a delightful boy and loves everyone he has ever met. Now that he no longer needs to take care of his brother Ernie he is learning to interact and play with humans. He thinks he is a lap dog and will try to crawl into your lap to give you kisses. He is very food motivated which makes him easy to train. Everytime he hears a new voice he has to go investigate and say hello, doesn't matter what the age or gender of the person, he wants to meet everyone. He is a leggy boy so whatever he is mixed with is probably a taller breed but whatever it is he's one of the most loveable dogs I have ever met. The one ear up, one ear down look he gives with his golden green eyes is enough to melt any heart. It is unbelieveable that this boy hasn't been adopted yet so get your application in quickly as he won't be around long.

---
If you like a bit of naughtiness in you border collie Bert is your man. He is gaining confidence daily and is willing to push the envelope a bit if it gets him what he wants. He is extremely food motivated and is willing to do just about anything for a treat which makes him very trainable. He is gentle with people of all ages and actually seeks out the toddlers in the neighborhood. He respects an older, dominant dog and takes their corrections and learns from them. He is very people oriented and has learned that they are good for lots of loving. He loves toys but can be a "toy thief" so needs a canine companion that will put up with his rascal like behavior. He has learned that the crate is a great place to be because good things happen there. When he is ready to get out he can be a bit vocal but quiets down again if ignored. His house training is coming along well and he will often run to the door when he needs to go out. Sometimes he plays too hard and "forgets" to give you the signal so has an occasional accident in the house. In true border collie fashion he is a very quick learner, learned sit and down in one lesson. He is currently learning the word "come" which is a bit more challenging for him because his adventurous nature sometimes gets the better of him.


Bert is still a young boy with lots of maturing to do but if you want a companion that loves adventure Bert is your man.
---
Bert and Ernie - Live and In Color!

---
Bert and Ernie are brothers and best friends that were found abandoned on a river bank in Kentucky. These 2 boys have had an incredible adventure and schooling in the week since coming to foster care. A week ago they arrived to northwest Indiana after a full day ride from Kentucky. They both have a pretty significant case of kennel cough and will not be available for adoption until they are feeling better but we will continue to look at applications for these boys while they are recovering. When they arrived to IN they were so afraid of people that they would pee when approached or picked up. Since then they have learned to seek out human attention, sit, lie down, get in their crate and that toys are good things. They are doing very well on their housetraining. Ernie hasn't had an accident in the house in a few days and Bert has learned to go to the door fairly regularly when he needs to go outside.

These two boys are always found together, in fact I find it impossible to get pictures of just one. They love to run and wrestle. One of their favorite games is to chase adult dogs and work together to "herd" the adult. They are quickly gaining confidence. Because of their constant focus on each other we would love to see them separate so that each can develop their own personality.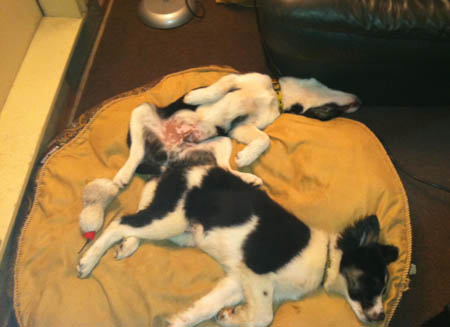 Bert is the brave one and typically the first to enter any situation. He often pushes his brother out of the way so that he can get the attention or treats he so desires. Ernie is the love bug and has developed a love for giving kisses. While he is the more cautious of the two he certainly doesn't let his brother push him around and often comes out on top during a wrestling match.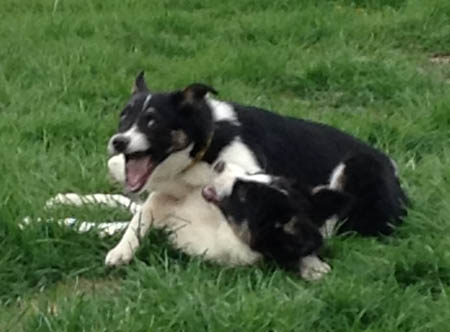 These two boys are cute as a button and have true border collie personalities even though they are mixes. Whoever adopts them will need to commit to working on their confidence and take obedience class to develop the human bond they both crave. Because of their age they will need to go out on a neuter contract.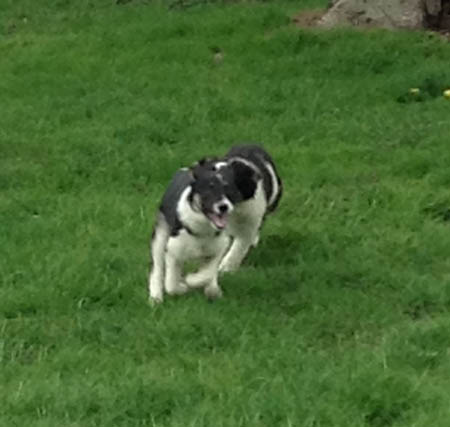 While they aren't yet ready for adoption there will be a great interest in them so get your application in if you are interested. These 2 darlings won't be around long.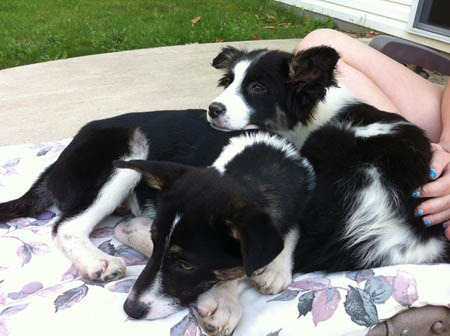 ---
---
Photos
---
Videos