Bosco
Gender:
Age: 1 1/2 years
Height/Weight: 20" / 38 lbs
Housebroken: Yes
Fenced yard required: No
Location: Central Michigan
Foster Home: Patty


Crate-trained: Yes
Treat-motivated: Yes
Toy-motivated: Sometimes
Likes Car Rides: Tolerates
Good with cats: Confident Cats
Good with kids: No
Commands: Sit, down, shake, wait, leash
---
Frome our Facebook page, October, 2014.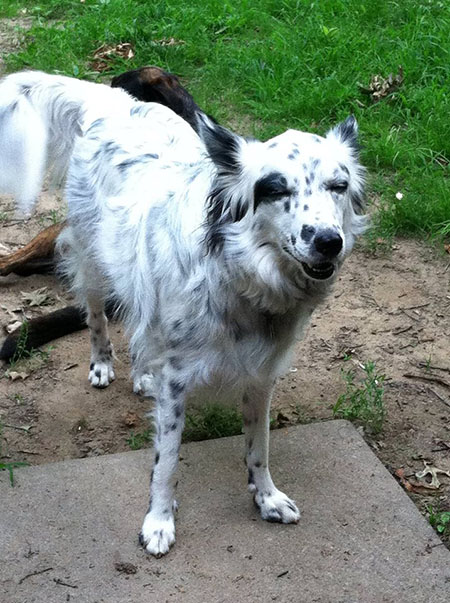 ---
From our Facebook page, May, 2014: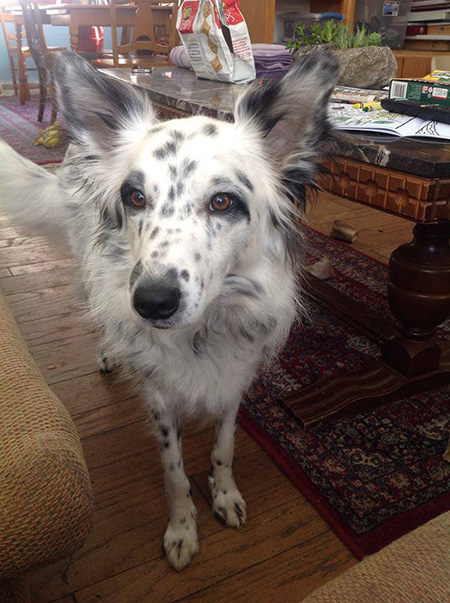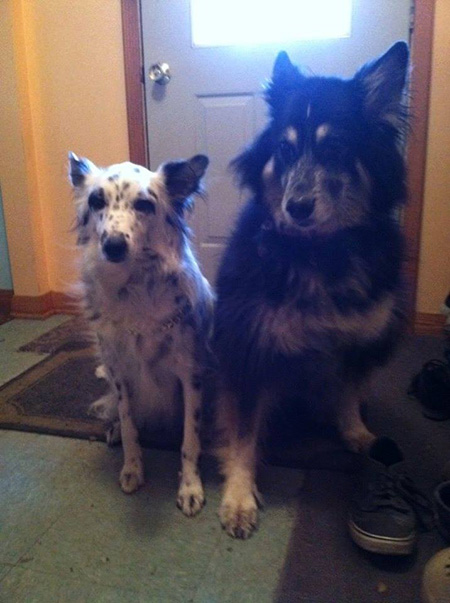 "This isn't a great photo, but Bosco with my Munchkin. She's gettin old, but still loves showin Bos who's boss."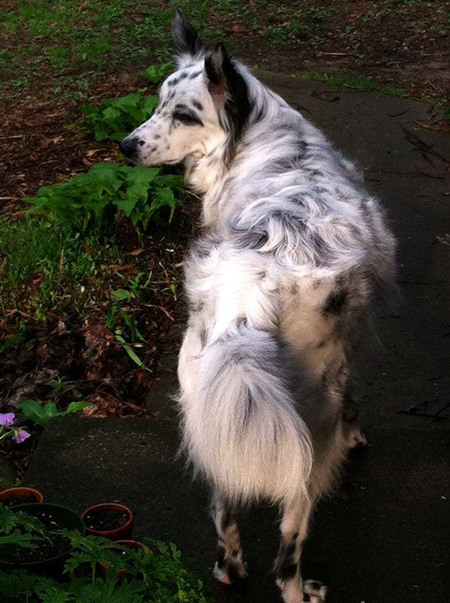 "This is my pretty boy Bosco on our back porch. Lots of critters to look for. Has an awesome recall. Not sure if it's that or he just doesn't like to be away for too long. Glued to my side of course."
---
From our Facebook page, April, 2014: "Look at my gorgeous boy!"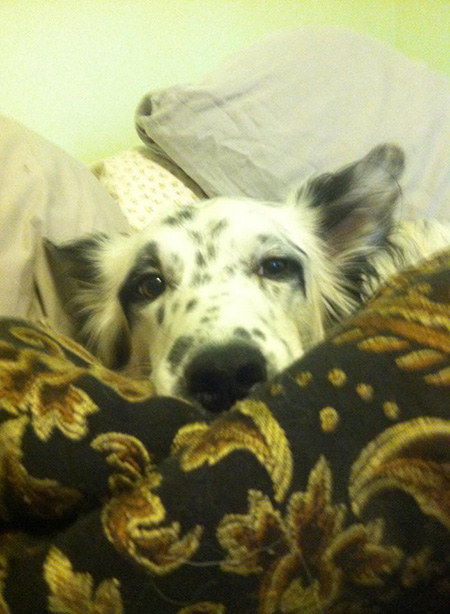 ---
Bosco was adopted in August, 2013. His new person writes: "He is the most AMAZING dog in the whole world! Bosco is so just what I wanted and needed. He's starting to play with Munch (9 1/2 f bc/shep) which is hilarious, Dutch (4 yr f cattle cross) is getting used to him quicker than I have seen with other dogs, but so far is a little unsure of the play. It's amazing. He snuggles when we go to bed, and Jon (my husband) has started to bond with him already, although he's pretty sure that Bosco will be my dog, still enjoys the new baby. Bosco snuggles right in between us when we sleep, belly up. I haven't had a boring moment yet and am so excited to have him and be able to call him all mine! I appreciate all of your patience and love for the breed. I thank the group for making this happen with a smooth transition. I am thankful for new friends that I have made threw the group and the process. Thank You again for EVERYTHING!"
---
Don't love him because he's beautiful. Bosco is a whole lotta dog and not for the faint of heart. Bosco spent some time living alone on a porch with someone coming to feed him once a day. Finally he went on Craigslist and a wonderful family adopted him. He just was not the right dog for their family. they have young children, and when their friends came over he got frantic about herding them. He is at a rough age, his terrible teens and still is a little impulsive. From his first life, he was never socialized with people or other dogs. He's quite insecure. If I'm in a chair and go to get up, he gets all upset. When he's in my fenced yard and I'm not, he barks to be with me. If anyone comes to the door, or even when my hubby pulls up and walks in, he has a barking fit complete with hackles up. If he sees a new dog, his manners are terrible. He's kind of a bully and will body slam and take cheap shots other dogs. He'll get right in their face if allowed. Hates grooming. He dashes thru doors if you aren't looking and won't come back thru. I think he's had door trauma. Plus he has the most annoying high pitched bark.


Have I scared you away yet? There is a lot to love about Bosco. He's a very bright boy, inquisitive and interested in what you're doing. He wants to be with you. He really does need a job to do but I haven't quite figured one out for him yet. He's starting to play fetch in the yard, and he loves to get his friends Ivy and Ticket to play chase with him. He's really fast. He's a great snuggler and loves his tummy rubs. He's coming along with his Hug Therapy and starting to relax. He's had some obedience class and his last family did a lot of work with his obedience. But he needs more. Bosco would like the company of another female dog, preferably a bossy one. He readily submits to a confident female. But what he really needs is a single person or couple who can commit to an obedience class and possibly private lessons and continue work on his social skills. He knows what his leash is and loves to go for walkies. This guy is a real diamond in the rough. He's going to take an honest commitment to bring out the best in him. Whoever makes that commitment will be richly rewarded with a most awesome dog. I'm not in any rush to get him adopted, I'm willing to wait as long as it takes to find him the right home. Like I said, please don't fall for his looks.
---
Photos
---
Videos