Buster
Gender: Male
Age: 1 Year
Height/Weight: 22" / 50 lbs
Housebroken: Yes
Fenced yard required: Yes
Location: NE Illinois
Foster Home: Julie


Crate-trained: Yes
Treat-motivated: Yes
Toy-motivated: Yes
Likes Car Rides: Yes
Good with cats: tbd
Good with kids: Yes
Commands: sit, down
---
Buster was adopted in September, 2013.

---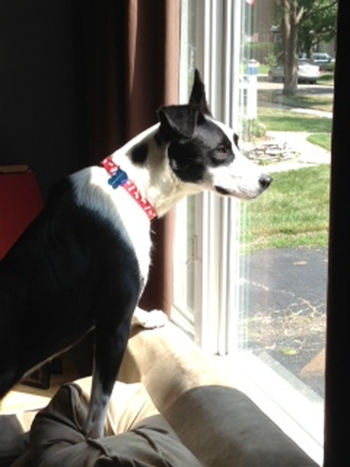 "I hope my forever home has windows I can look out all day and allows me on the couch to cuddle!"
---
Buster did well when we had house guests for a week. Buster would do better in a home with a medium to large size dog. When he met a smaller shitzu mix, he had a hard time not chasing him as a moving toy. He was gentle, but intense and single-minded. Buster is doing great getting over his mild separation anxiety as long as he is in a common area in the house. We move his cage up our bedroom for the night and if we leave him in there alone, he tends to whine. When in the living room in his "bed"/Cage he does not. He has been left alone during the day for 8 hours in his crate and does well. Overnight he can stay 12 hours. We are increasing the amount of time he is left alone without a canine companion as well and that is going well.


The biggest improvement this week has been Buster's walking. He has really responded to using the gentle leader/head collar. Walks are now enjoyable and he can walk with slack on the leash. We still have to keep an eye out for furry friends, but the reactions are controllable and less intense. He is increasinly more responsive to our commands, especially heal and leave it.


Buster is a puppy who enjoys chewing and playing with toys. He seeks out toys to play with and entertain himself. He is hard on toys like a puppy, but his chewing is limited to toys. He is not destructive to shoes, furniture, or non-toys. We feel more and more comfortable leaving him less supervised around the house. He enjoys monitoring both the front and back windows, but only makes a peep when he spots a furry friend. His peeps are plaintive whines to let him out to play.


MARKETABLE SKILLS:


1. I am loyal and devoted to my humans.
2. I love playing with canine friends.
3. I am quiet in the house and don't bark at visitors or mailmen.
4. I am an awesome cuddler. I love to just snuggle on the couch with my foster parents.
5. I am smart and learn quickly. I know how to entertain myself with toys, but also love to play with someone.
6. I love kids. I have played well with kids from age 4+.

---
Buster had a great and busy week this week. We have been socializing him with kids and adults at our home and at friends' homes. He met both boy and girl children ranging from age 5 to 14. He was comfortable cuddling on the couch with them or playing in the yard. I hosted book club in my backyard this week and he met 8 women, made the rounds and tried to climb in several laps to get some love. We are working on those manners.


Saturday we stayed overnight at a friends home who has 5 kids and a male dog, Charlie, a 5 year old catahula leopard. Charlie and Buster got along fabulously with only one real squabble over ice cubes of all things. Jeez guys, well make more. LOL. Buster does not show a need to heard kids or adults in the yard or house but he does keep an eye on Ken and I to make sure we don't leave him. He adjusted well to his "bed" (cage) being moved to a new house and spending the night.


Ken's parents are staying with us this week, so he will have some more adjusting, but Buster is so easygoing as long as he has human or canine attention and squirrels are not present.
---
Buster is a a year old male border collie mix. He is a sweet and lovable boy with an easy going temperament. He is friendly with humans and dogs. Buster loves attention and seeks out both human or canine connections. He can also entertain himself for short periods with bones, balls and toys. Buster loves and walks with slack in the leash, unless he sees a squirrel. We are working on this behavior and treats provide a great distraction. Buster loves to cuddle. He is crate trained and very smart. He came to use with no commands and in a week learned his name, sit and is working on come, bed, down and leave it.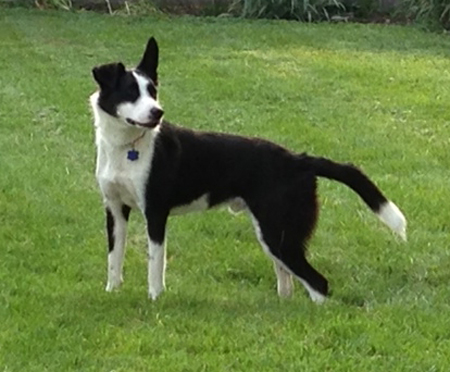 Buster does have some separation anxiety and prefers to be with either humans or another dog. Buster is a quiet puppy. We have only heard him bark when he is playing or for a short time (bark/whine) when separated. He adjusts well to loud noises including freight trains and fireworks.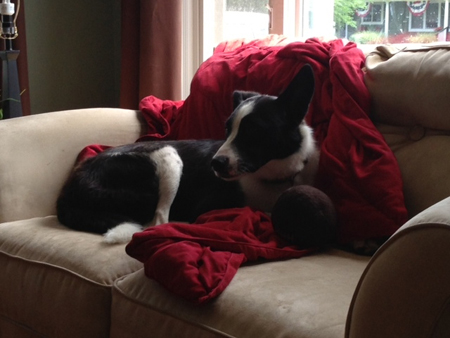 ---
Photos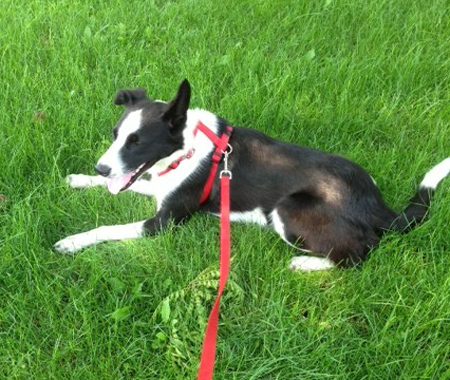 ---
Videos