Cali
Gender: Female
Age: 8 Months
Height/Weight:
Housebroken: Yes
Fenced yard required: Recommended
Location: SE Michigan
Foster Home: Karin


Crate-trained: Yes
Treat-motivated: Yes
Toy-motivated:YES!!!
Likes Car Rides: Yes
Good with cats: unknown
Good with kids: 7 and up
Commands:
---
May, 2013: "Cali is doing fantastic ! She goes out with us without any leash or longline on. She and I walk the state land trails and she needs no type of leash on and she stays with me ,always looking back making sure i'm coming and that she is not getting to far ahead. She still goes out on a cable when she goes out by herself. She can go from a sit and then lay down and then sit again on command,she can play dead(we call it "be a good dead dog") ,she can roll over,twril ,sit and stay on command know matter how far away she is, she is the biggest destroyer of toys, we have to look for really tough ones and she loves and I mean loves running thru water with pure joy and abondonment (the more dirty the better.) She gets the biggest smile on her face and her eyes just twinkle. As you can tell We just love her and think she's the greatest.
"Cali still has some issues with meet and greets. I take her on the rail trail where there is a lot more people(with a leash on of course) And I have asked people if we can approach them and explain I'm trying to show her that there is nothing to be afraid of and everytime when she can approach she goes up to them and gives them a little sniff and then ignores them. At home she is fine. She is quite the character and has a very funny personality."
Later that month, Cali and her people joined us at the 2013 Dog Bowl in Frankenmuth, Michigan.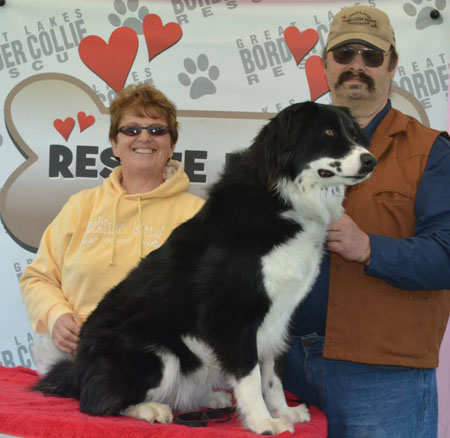 ---
March, 2013: "Quick update.... Cali is a wonderful dog her vocabulary is growing everday ,meaning she knows the meaning of so many more words than when she got here. Her meet and greets are getting better everytime I take her for a walk where I know there will be other people and dogs. She knows what hush means so she's not barking at deer like she used to.We had about 12 in the yard last night and she did really well containing herself so she didn't scare them away. She's a fantastic girl!! She also seems to be bonding with the horses ...her and Copper are buddies they play with her on 1 side of the fence and him on the other."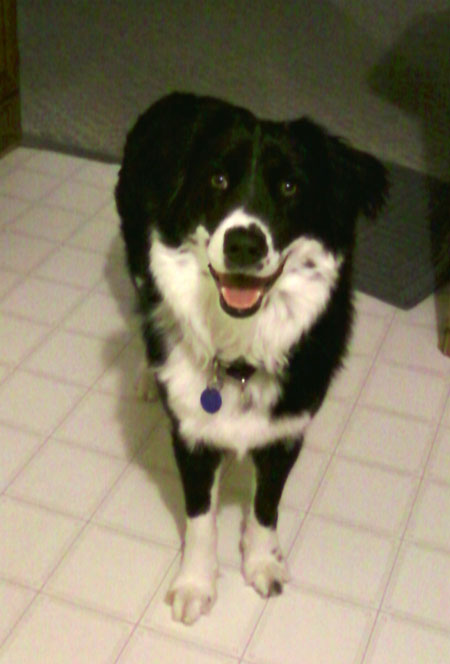 ---
Super Cali was adopted in February, 2013.
---
December 8, 2012: Cali has been spayed and is now available for adoption. Won't someone come and save this poor puppy from the inflatable collar???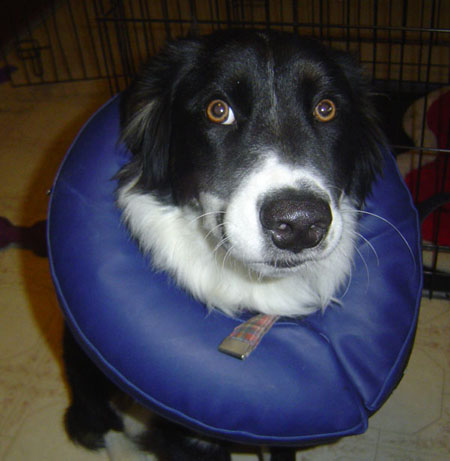 While waiting for her spay surgery, Cali spent some time with another volunteer (thanks, Tammy!), where she was able to get some high quality wrestling time in with Reo, a young male adopted from GLBCR last summer.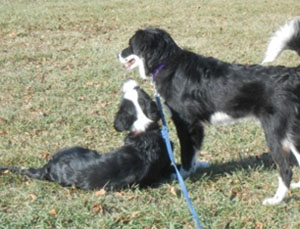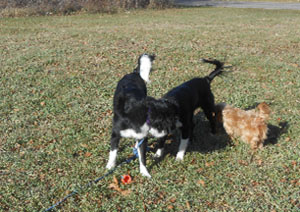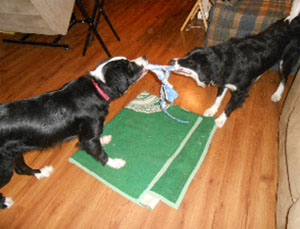 Cali also meet several of the volunteer's young nieces and decided they were quite all right as well. The only reason we have her marked for older children is because she can be a bit boisterous, and will probably be too much dog for the little ones. Despite her size and exuberance, Cali is one of the daintiest, most polite "treat-takers" I've ever met.
---
Meet Cali!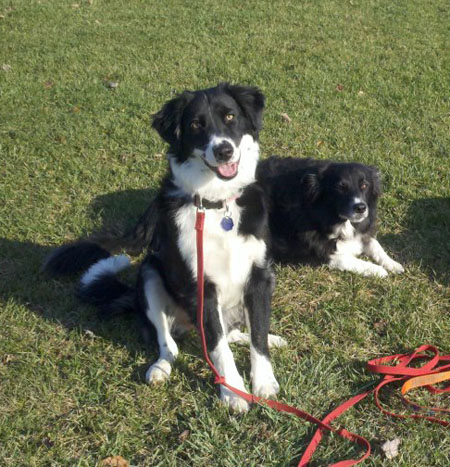 Cali is a young female Border Collie mix. We're not sure what she's mixed with; maybe Lab or Golden, or even Aussie. She's surprisingly mature for her age, with a few significant gaps in her training. Rumor has it she's been living the college life, and was passed around through a few homes before she came to GLBCR. Fortunately, she's clever and curious, and just needs some polishing to make someone a wonderful companion dog.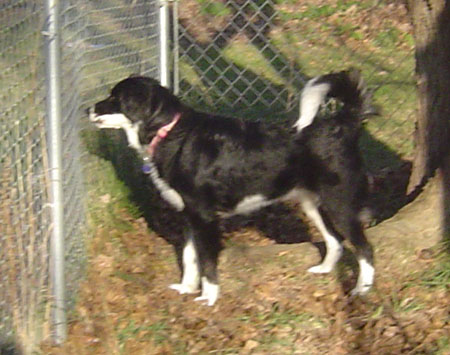 Cali LOVES toys – balls, ropes, stuffies, chewies – you name it, she will play with it. She also likes tug and fetch, even if her "bringing the ball back" skills could use a little work. And while she's good at keeping herself entertained, I imagine she'd love to have a wrestling buddy. She would probably be too much for senior dogs or small dogs – but a dog her size or larger would be just the thing to keep Cali happy (and tired)! She settles very nicely in the house and is both house-broken and crate-trained.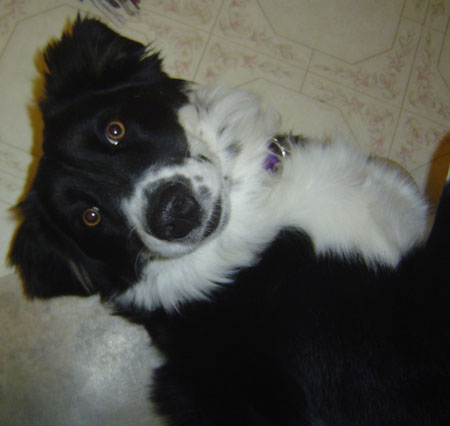 Cali does need to work on her greeting skills. Her reaction to anything (or anyone) new is to bark at it. A lot. And she has a very big bark, so she's not going to make a great first impression. Once that's over, though, she's immediately your new best friend. Cali likes to please and is a quick study, so an obedience class or two should do the trick. Cali will be available for adoption as soon as she has been spayed.
---
Photos
---
Videos