Cheyenne
Gender: Female
Age: 3 Years
Height/Weight: 18" / 40 lbs
Housebroken: Yes
Fenced yard required: Yes
Location: Mid-Michigan
Foster Home: Jenny


Crate-trained: Yes
Treat-motivated: Yes
Toy-motivated: No
Likes Car Rides: Yes
Good with cats: NO
Good with kids: tbd
Commands: Sit, down, wait, come, Leave it, kennel up, off, easy and Uh-Ah and NO
---
Cheyenne was adopted in September, 2013. Here she is with her new family!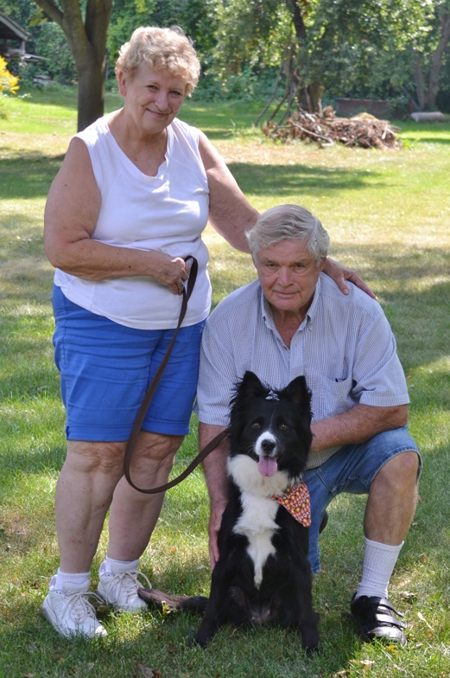 ---
September 3: I did 2 "leave it" sessions yesterday with Cheyenne.....skipped one of her meals and incorporated smoked turkey and cheese as an incentive as well as used a clicker. Any time she paid attention to me click and yummy treat. We had some success yesterday with her refocusing her attention on me and not the noise, or the horses in the environment. She was willing again this morning and I can see her fighting the urge to go crazy at the sight of moving horses, but she did choose to seek me out at least 3 times this morning, as the horses were finishing their meals and starting to move about. She started her "crazy" barking 1 time thought about it, took about 20 seconds, but she left the fence and came to get some turkey.


We also practiced in the big yard and she didn't like it when she realized she was far away from the food.


I also was able to lure her up and down the a-frame, and actually through the weave poles and back and forth through the jump uprights.


SO we can add learning leave it to her commands. She does know kennel up. She does get excited to see me and she also gets excited to see my husband. She takes treats gently and will wait with an Uh-AH or easy to take the treat from your fingers. She is quiet in her kennel. Loves to sit on your lap and watch TV.
---
Check it out - Cheyenne is a star!

---
More pictures of beautiful Cheyenne!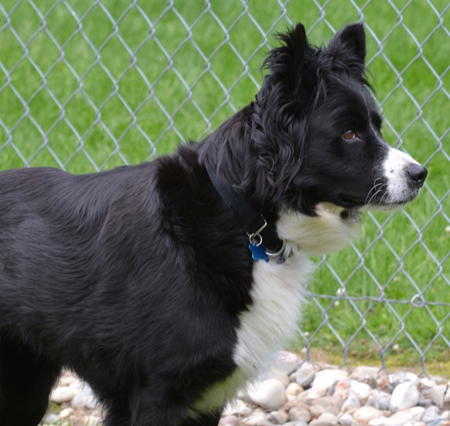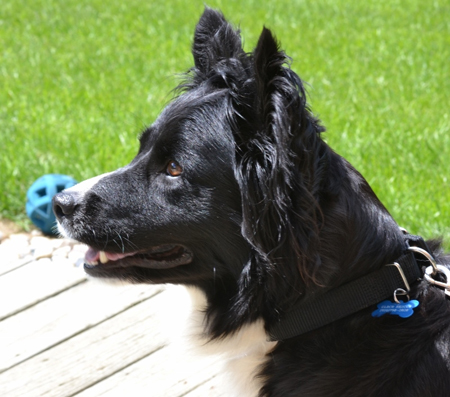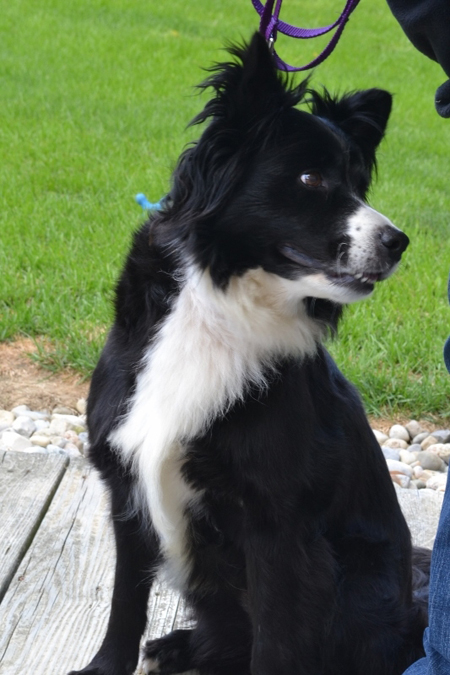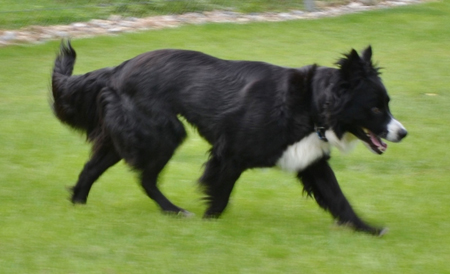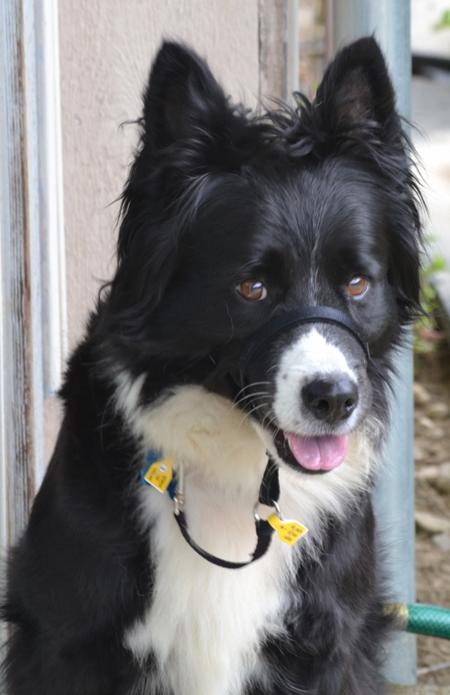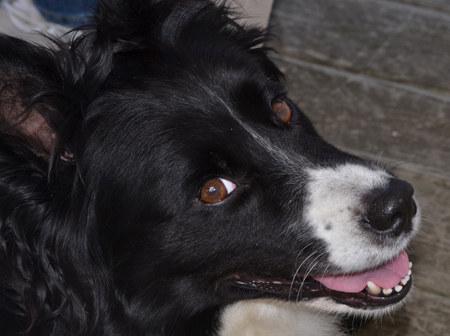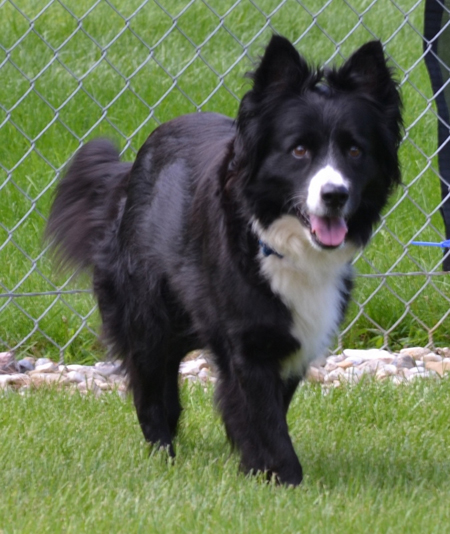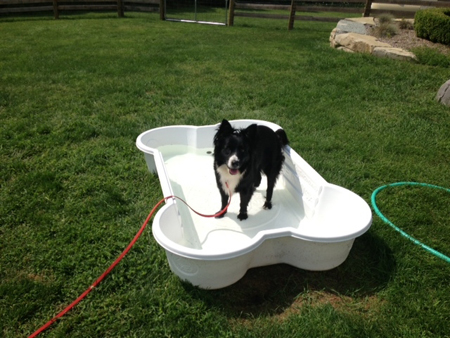 ---
Cheyenne in motion!

---
Cheyenne is a three-year-old Border Collie that came to us after being picked up as a stray. We are still getting to know her but on initial meeting she is a super sweet girl that is learning that people can be good. She is an energetic border collie that will need regular exercise but the nice thing about Cheyenne is that she has an off switch in the house. Outside she is constant motion and this morning discovered the squirrels in the back yard. She is incredibly aware of every noise and movement and is ready to chase should the noise/movement require it.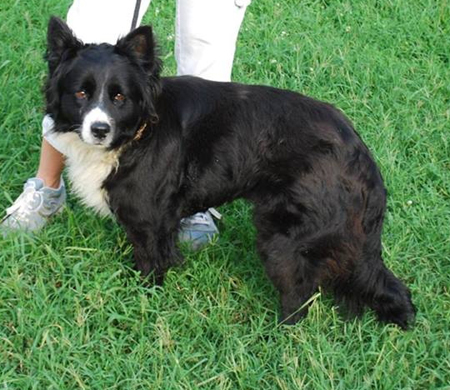 When Cheyenne first arrived she was very stinky and dirty. She sat patiently in the bathtub and allowed me to shampoo her twice all the while giving me kisses when I leaned over her. She now has a light fluffy coat and smells fresh and clean. Cheyenne is crate trained and seems to know quite a few commands although she is a bit out of practice so will just need a quick refresher.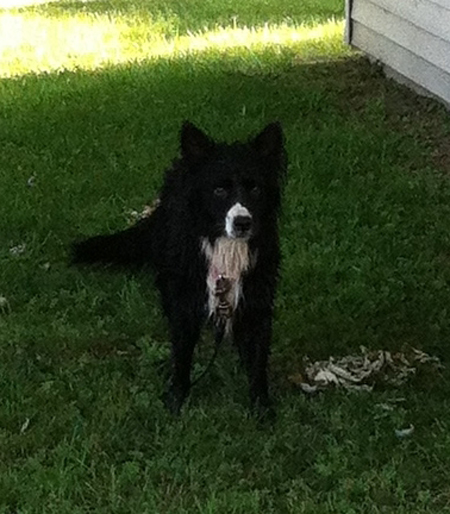 When she first came in she showed little interest in interacting with her foster mom but after a few days she has decided that people are worth making a relationship with. Because of her need to learn to bond with people and the fact that she can be a bit bossy with other dogs my first impression is that she would be best in a one dog household (although this may change as she continues her time in foster care). Cheyenne is a fun little girl that continues to develop her personality and it will be fun to watch her true personality emerge.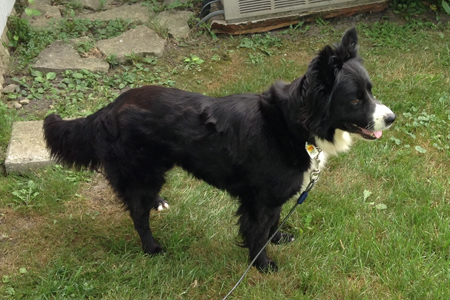 ---
Photos
---
Videos