Clinton, now Clive
Gender: Male
Age: 1 Year
Height/Weight: 22"/34 lbs
Housebroken: Yes
Fenced yard required:
Location: Mid-Michigan
Foster Home: Debbie T.


Crate-trained: Yes
Treat-motivated: Yes
Toy-motivated: Yes!
Likes Car Rides: Yes
Good with cats: Interested
Good with kids: Older
Commands: Sit, Down, Come, Shake, No, Stop, Sit on the Rug, Foot
---
June, 2014: "One year ago today we adopted Clive (the tri in the back) from GLBCR, he's celebrating his anniversary/ birthday with some aqua fetch with his four border collie friends. Thanks for bringing him into our lives GLBCR!"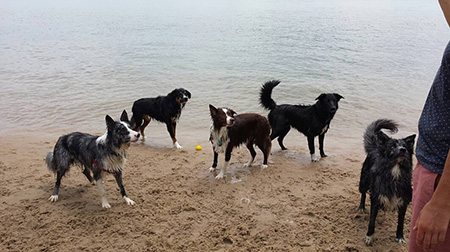 Clive is second from the left.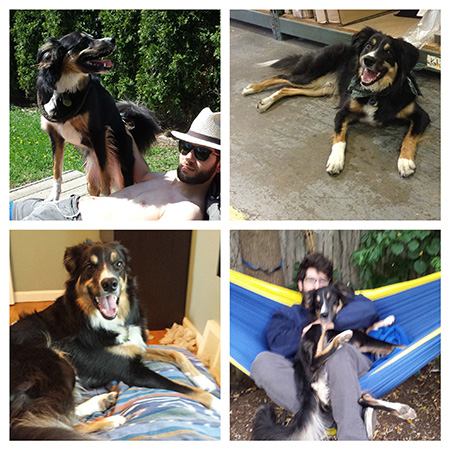 ---
From our Facebook page, December, 2013: "GLBCR alum Clive (formerly Clinton) and his adoptive brothers Remi and Iver celebrating Christmas!"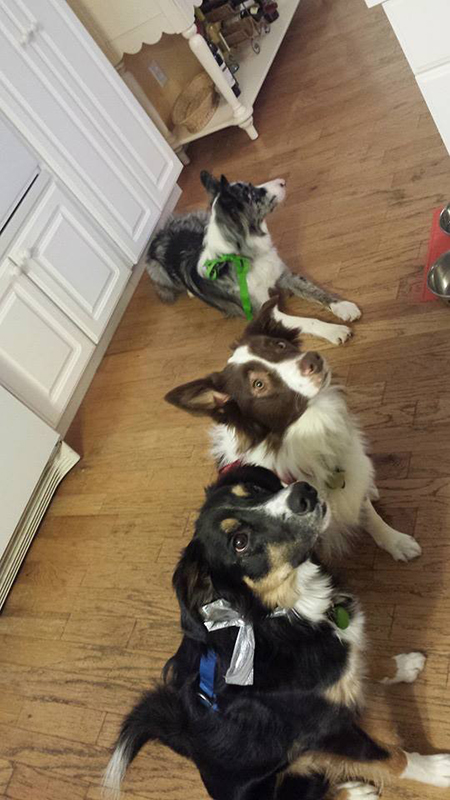 ---
Clintron was adopted in June, 2013. His new family reports: "He's doing great! His name is Clive now. Him and Remi are getting along great, always chasing each other around and playing fetch. We've been working on leash walking around the neighborhood lots. He is fitting in perfectly with us!"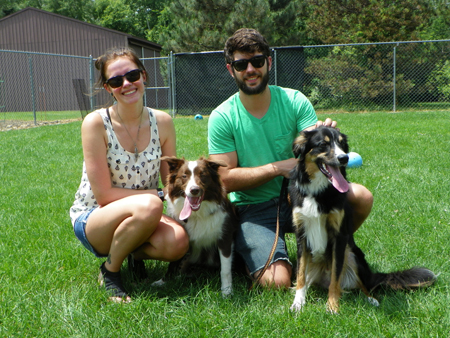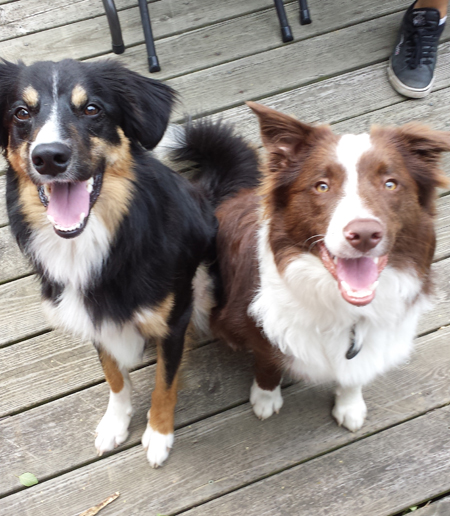 ---
Clinton met Jesse, another GLBCR foster dog. Clearly, he doesn't know what to make of her.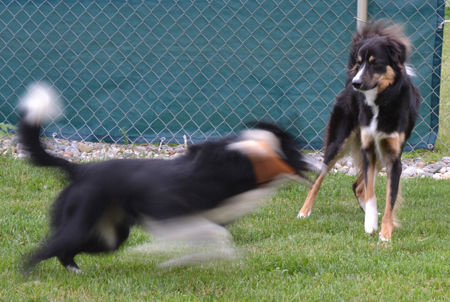 It's a bird! It's a plane! It's a....Border Collie???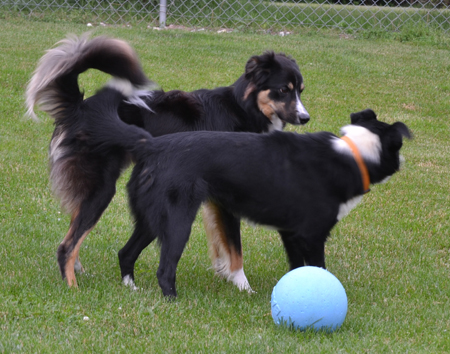 Yeah, Border Collie!
---
Clinton is a very striking guy that has had a really rough road to travel in his very short life. We believe that he is just a year old. He is full of puppy/teenage antics and makes me laugh to watch him play. He is quite handsome with his beautiful tri colored coat.


At some point in his life he had people who worked with him because he came to me knowing Sit, Down, Shake and is very nicely housebroken. He learned his new name in no time at all and now also knows "sit on the rug" to get his feet wiped off. His leash walking skills were neglected, so he still pulls and would like to drag me to see everybody and everything because EVERYONE wants to meet Clinton (at least in his mind). An obedience class will go a long way with this guy.


As you can see from the picture below Clinton was part of the Frankenmuth Dog Bowl. He had a wonderful time. He handled the crowds, noise and all the people like a pro. He LOVED all the people especially the kids giving him attention. He is a bit excitable. His tail and butt can wipe out a small child in a single wag.


Clinton is very much a loving boy and he enjoys spending time getting pets and scratches from people. He will even join me on my lap for a special cuddle. He enjoys going for rides in the car. His other favorite place is on the couch enjoying a good chew with his bone. I'm sure he would be very happy to sleep with me but he sleeps very well in his crate with his night-night biscuit. We have a cat and he has noticed her but does not stare at, jump at or even chase her. He does show interest and maybe he would chase if she ran but she doesn't.


If you like to play ball Clinton will be your best buddy. He does not show any real interest in other toys - just the balls. Tennis balls, squeaky balls or any type of ball are all fine with him. He loves to run and fetch. He will come right back to me but he doesn't yet understand that he must give up the ball in order for me to throw it again. When he does give, he is happy to fetch it again. He will play with his own ball and not challenge my older girl for hers. When one of them loses their ball a good game of chase around the backyard ensues.


Although Clinton has many endearing traits, he is not a perfect dog – but then again, what puppy is? He is very excitable and will jump up on people. Clinton is a dog who will need to learn and understand his limits. If fair rules aren't taught, the "naughty Clinton" side of him could easily surface. His adoptive family will need to be able to teach him fun and wonderful new games and tricks, but they need to understand how to set limits, too. All dogs need to understand the owner calls the shots, but some dogs, like Clint, may ask "why?" and need a refresher lesson in leadership. Somewhere in his past he was allowed to play rough mouth games. The one major thing that needs the most attention is that he will growl while he is eating if I get to close or reach down to pet him. For this reason older children would be best for his new family. He was so thin when he came to us that I believe that he did not eat regularly and maybe had to fend off others for his food. He is not aggressive nor does he snap bite; he just gives warning growls. He is getting better with me but this will take time and patience to fix. On a very good note he takes treat from my hand very politely and does not try and seal my other dogs.


I would say that he has medium puppy energy. He follows me wherever I go. Sometimes he carries his ball, too. He wants to make sure he doesn't miss an opportunity for petting. I believe with training he will not need to be in a fenced yard. He has had all of his vaccinations, has been neutered, and is on heartworm preventative. He is gaining weight and his coat is looking and feeling really nice.


Now all that is needed to complete Clinton's life story is new best friends. We'd love to meet you if Clinton sounds like the boy that you could love!
---
Clinton is still a big puppy, even at one year old. He is very playful and loving. His "likes" include squeaky toys, belly rubs, and playing fetch. He's still quite underweight and eats like he doesn't know when his next meal will be. Fortunately for Clinton, that won't be a problem any more. The only history we have is that he was a stray and he landed in the animal shelter. He's going to take an honest commitment to bring out the best in him.


Clinton joined the GLBCR Booth Crew at the 2013 Dog Bowl in Frankenmuth, Michigan, and handled the crowds and excitement like a champ!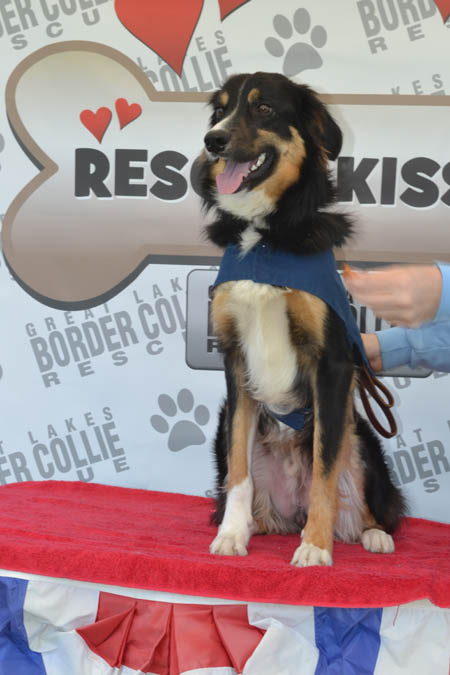 ---
---
Photos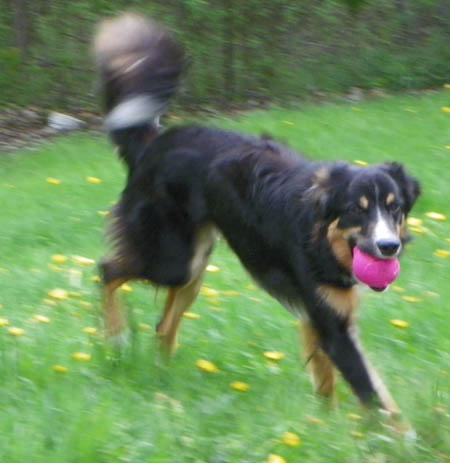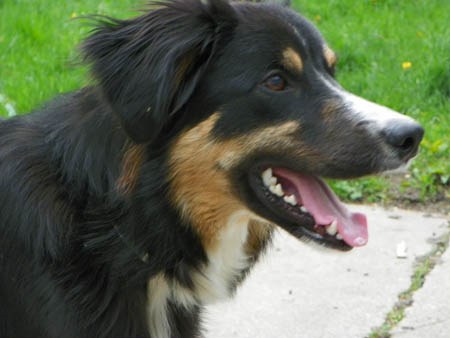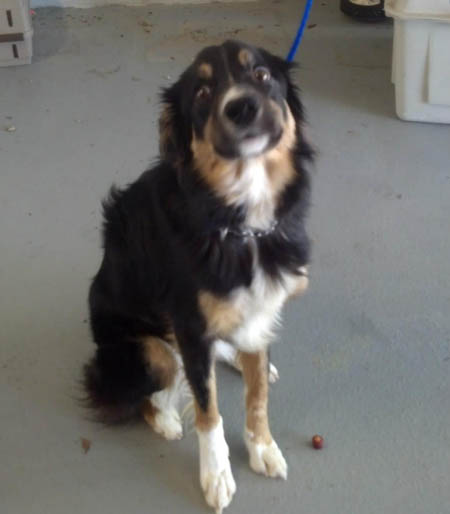 Clinton at the shelter. Poor guy was so scared he wouldn't even eat his treat!




---
Videos