Deuce, now Zeus
Gender: Male
Age: 2 Years
Height/Weight: 21" / 33 lbs
Housebroken: Yes
Fenced yard required: preferred
Location: SE Michigan
Foster Home: Shannon


Crate-trained: learning
Treat-motivated: tbd
Toy-motivated: Yes - Frisbee
Likes Car Rides: nervous
Good with cats: tbd
Good with kids: Yes
Commands: sit, down, roll over, leave it, high-five and wait/stay.
---
June, 2013: Zeus and his family have moved to Colorado. Clearly the Rocky Mountain lifestyle suits him!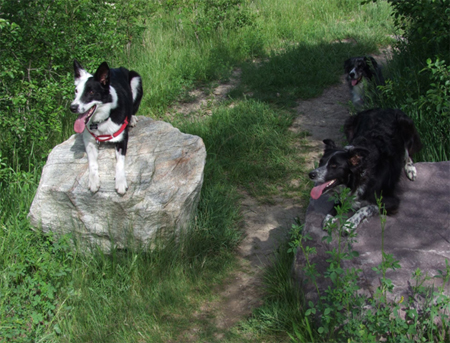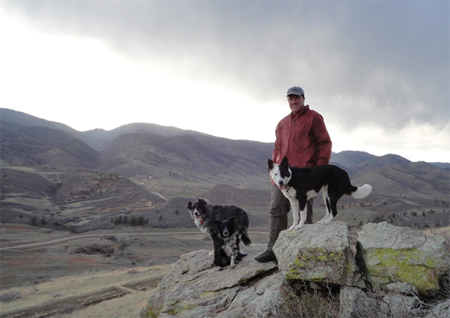 ---
Deuce was adopted in February, 2013 and is now known as Zeus. Here he is with his new sisters, Zoe and Zephyr.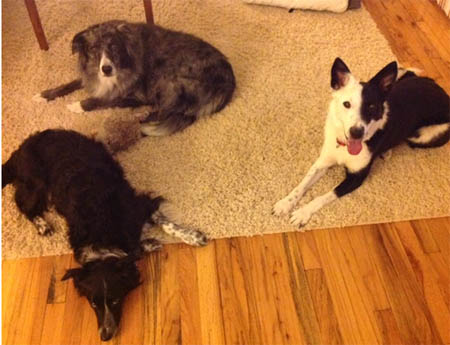 Zeus/Deuce continues to settle in. He is getting along better with the girls. Ironically, he is very respectful of Zoey and they have no trouble at all. He and Zephyr are less comfortable with each other, but working on it. When we are out on walks, everyone gets along marvelously, the little issues come up inside and are pretty mild. He has been a little snappish towards Zephyr, but we are reminding him to be nice.

He's been just fine in the crate, settles down at bedtime and doesn't make a peep all night long. I worked on campus today, so he was in the crate for awhile, but is very peaceful when I come to let him out.

Today was especially fun because I felt confident enough to try him off leash a bit. He did so well that I wanted to let you know about it. I took him to the golf course just by our townhome. There's a far corner that is not as expansive and of course the golf course is fenced (but huge). He has been doing a great job of "checking in" when walking on a leash, he'll look back at me and I immediately tell him what a good boy or "yes" so that he knows he should be checking in. So today I took him to this far corner, with the girls, and let him off leash. He ran around, chased the ball, and had a grand time. On his own, he would look for me and I immediately would tell him what a good boy and call him over for a treat - which he did each time. The few times that he started forging away from us (i.e. running in a direction ahead of me or the other dogs, without looking back), I would just turn around and head in the other direction and call my girls with me, quietly so that he didn't hear. Without fail he would eventually turn around, see that we were heading away, and come full speed to come along with us. The idea is to make sure he knows that he shouldn't be deciding on his own to go off. He's got great instincts for sticking together (of course, he's a BC!).

He is very smart and is learning the new rules quickly! One sweet thing, he has very sensitive ears. When we are in the woods/fields/golf course, he is constantly perking his ears and pausing to listen to the sounds of the birds, squirrels, trees creaking, etc., cute.
---
Deuce has come along way since he has been with us. He now looks more like a young dog than a puppy...although his antics are still very much puppy-like! He has tons of energy and we have come to learn a lot more about him!


Deuce feels that he would be best suited in a "working" home that will exercise him both mentally and physically on a regular basis...he will not be happy just being a household pet (although he does love belly rubs and snuggles when he is tired)! This home will have prior BC experience, another dog is not necessary as long as he will have the opportunity to be socialized on occasion! But he would like a home that will engage him in agility, disc or possibly even dock diving since he loves the water so much :)


We have discovered that given the opportunity and not being watched, he would be able to scale a 4 ft. chain link fence with no problems! When he sees our neighbors dog in the yard next door or someone out front walking with (or without) a dog...he gets overexcited and tries to jump the fence. One of us is outside with the dogs at ALL times to keep a close eye on everyone and keep him occupied with his tennis ball or frisbee! So a household that will not leave him unattended while in the yard and keep him active will be best.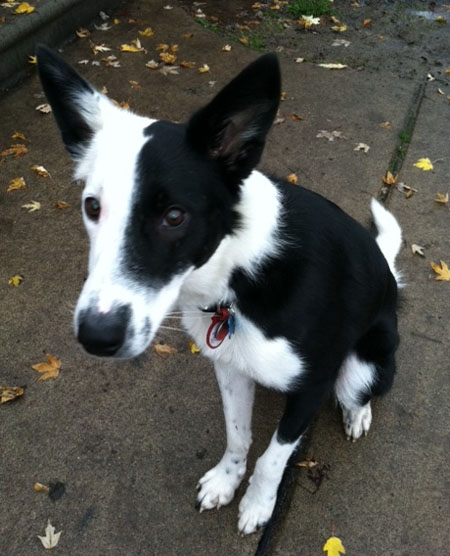 He still has some containment "aggression" issues and I have reduced his time at Camp Bow Wow due to him becoming overly stimulated! He is only allowed in the play yards when I am in there since nobody else seems to know how to redirect his misbehaving energy...which he listens to quite well when it's consistent!

If his new home does have another dog, they will need to be of similar energy. He is too rough with small dogs, so dogs of similar size is best too! He is pretty submissive when it comes to greeting people and dogs, but when he gets comfortable, he can push buttons and get overstimulated quickly...he does get "time-outs" and listens fairly well when I interrupt him and have him lay on his pillow to "chill out" with a nylabone.

He has not displayed any possessive aggressive behaviors! We (and the girls) can pretty much take anything away from him and he seems happy with a replacement. He gets the most in his food bowl and all 4 dogs eat together in their respective corners of the kitchen without any issues! He eats fairly slow and calmly, even though all the other dogs are finished before him...but mine all know better than to disturb or stalk anyone while another is finishing eating their meal! They are all pretty good :)

He is crate trained...this has come a long way!! He does sleep in his crate at night and usually puts himself in there once they all come in from the last potty run. He can't wait for me to get in there with his night-night snack...usually a kong with a little oatmeal and peanut butter or a kong genius with charlie bears. Although he does get spoiled from time to time when I sleep in the spare room with the boys for the night, just so he can get a break from his crate!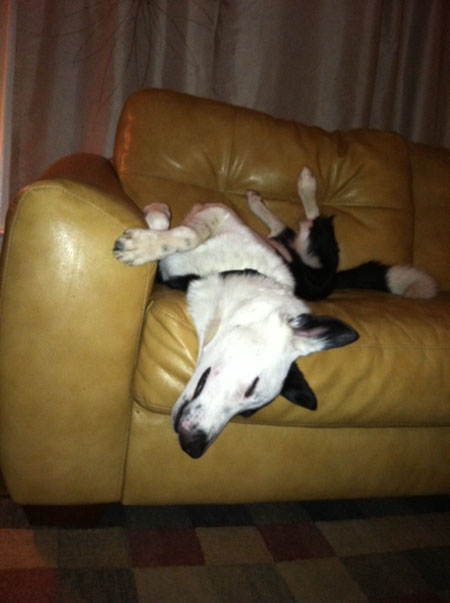 ---
Deuce joined the GLBCR Booth Crew at the Michigan Winter Classic Dog show and was a big hit with the crowd. He was our "poster boy" for the high-energy end of the BC spectrum and still managed to take time out for the occasional belly rub.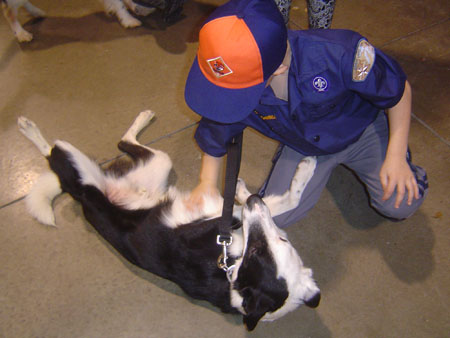 Also on the agenda - wrestling with foster brother Vince.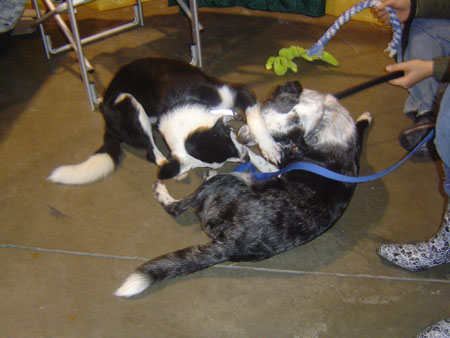 ---
Hello all, my name is Deuce…a.k.a. "Deuce's Wild". Now don't let my nickname scare you…they call me this because I like to Go-Go-Go!


Here is a little poem I wrote…it's not perfect, but after all I am a just a dog:


I wish to find my forever home
Where I can run and play
With someone who will take the time
To work with me each and every day


A home to understand who I really am
And who knows all I can be
Maybe it's herding a little lamb
Or even just playing Frisbee


I know my home is out there somewhere
So at my foster home I patiently wait
I put my trust in all at GLBCR
To make sure my forever home is great


They all know I deserve the very best
And for that I am forever grateful
Although others thought i was just a pest
They all love me if I'm not a perfect angel


I promise to continue working on myself
On both habits good and bad
And make myself that shining star
The BEST dog anyone has ever had!


I love playing chase and wrestling with my foster brother, Vince. He was adopted by my foster family from GLBCR and I hope to find an awesome home like he was so lucky to find! I really like living here, but my FOREVER home would be even better!! Maybe even one with another dog to play with!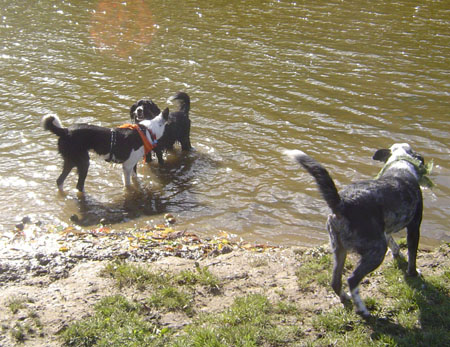 I also have 2 doggie sisters. The one likes to try and herd me in the yard as I run after my ball or Frisbee but I just ignore her and the other still isn't quite sure about me since I play a little more ruff that she likes, but she is getting used to me and I try to be nice when she comes close.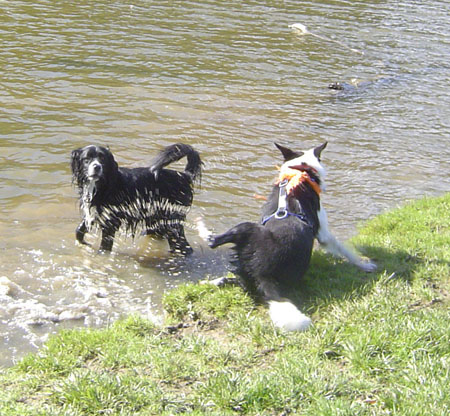 Oh and I have a feline sister too…she is interesting and doesn't mind if I sniff her, but lets me know by making weird noises if I get too obnoxious. I have chased her down a couple times, but she is fast and get to her safe place in the basement and I can't get to her because of that darn gate they put up at the top of the stairs.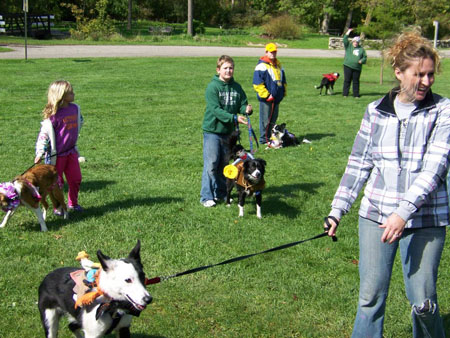 Everyday my "mom" plays Frisbee with me and we even have our own little freestyle routines, she says I am getting better at my catching everyday! We even play fetch with my tennis ball, oh how I love it when the ball gets thrown with that red stick thing.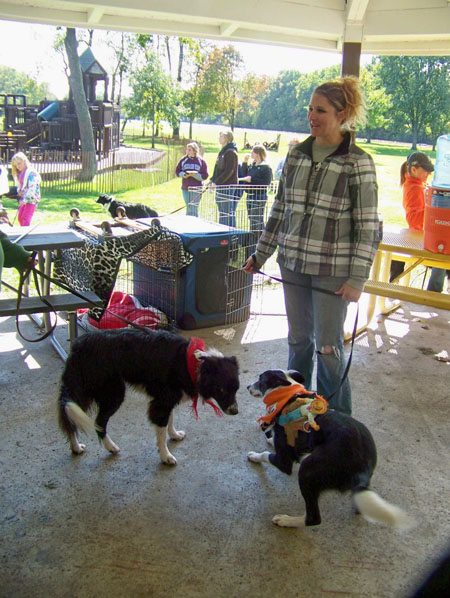 I love to learn and get excited when I know I'm gonna get to work…my family loves it too because it helps me calm down! I am a very fast learner and since we work at things almost every day I have learned a lot. Here are just a few things I know and/or are working on:

• Sit
• Down
• Go to your crate (I get a little upset at first sometimes, but calm down pretty quick)
• Go to your pillow
• Leave it
• Wait/Stay
• Identifying my toys
• Roll over
• Lay on your side
• "Uh Oh"…it's pretty much like "dead dog"
• Touch w/ my nose to your hand
• Hi-5
• Wave good-bye (this one is quite new to me)
• Walking weave through legs

I love to romp around the house with a toy in my mouth and rolling a ball around the room at the same time. It's quite fun for me and entertaining for my family too! I do like walks, however the noise of the cars and trucks get a little overwhelming for me and I get a little scared. We are trying to work on this too!

I travel quite nicely in the car too! I'm a little apprehensive about getting in at first, but once I'm in there I'm as quiet as a mouse and like to lay on the floor of the back seat. I have a seatbelt harness that I wear and the strap is long enough for me to reach the floor and get comfortable. I do travel well in a crate too.

I am housebroken and am very good at doing my business outside!

I am pretty good about leaving things in the house alone and playing only with my toys…but as soon as I saw some of those cool Halloween decorations, I had to see what they were all about. Needless to say they are trying to teach me not to touch those things too. But sometimes I just can't help myself, they all seem so fun!! I wonder what this Christmas everyone talks about will be like…sounds like a lot to try and play with! Hopefully I will have one of those sock thingy's of my own filled with my own toys and treats…I was just a little pup last year at that time, so I'm really excited!!! Ahhh, I can picture it now…laying on my big comfy pillow and in my new home chewing peacefully on one my new bones!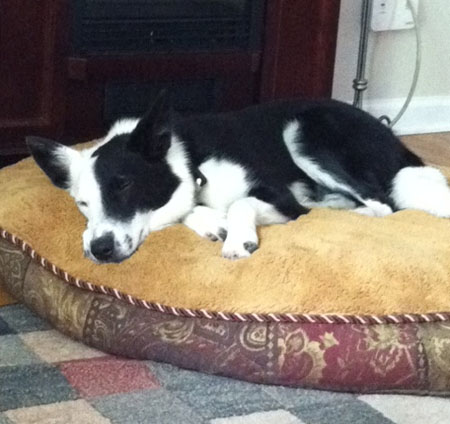 ---
History: Deuce arrived at the shelter at the age of eight months as an owner surrender. As typically happens, the family was unprepared for his energy and typical Border Collie traits. Deuce is very friendly and lived with other dogs in his previous home, and currently shares his foster home with three other dogs. He is curious about cats, but has not been formally introduced yet. He was neutered upon arriving at the shelter and is up to date on all of his vaccinations. He appears to be a pretty happy and healthy boy! Since he is quite puppy still and loves to run and play, any future dog-mates should have the same energy or at least have a tolerant disposition.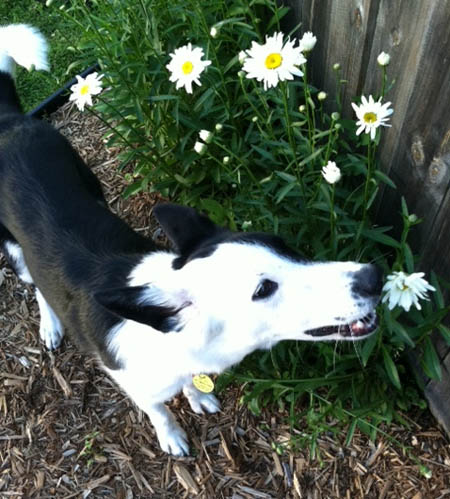 He has not been destructive to anything within the house. He pretty much plays with only the dog toys and if found with something that is not his, he is easily redirected with a "leave it" and to something that he can chew and/or play with. He likes to apologize by rolling over. He is learning to wait and be respectful upon entering the house which means waiting to enter until told he can do so.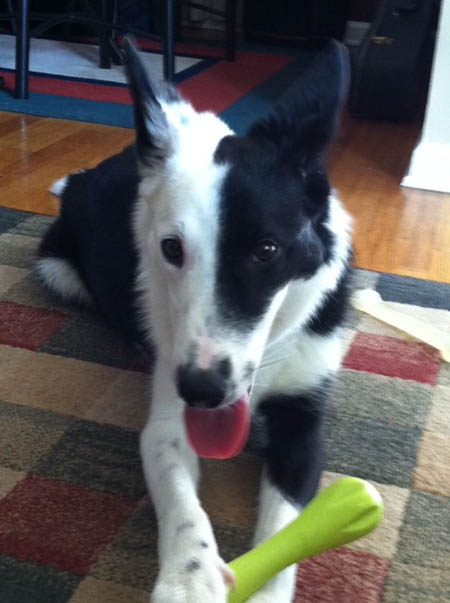 He loves Frisbee...especially if there are a few and you can throw one after the other! He is learning to jump and catch them in the air, I think he would make a great disc dog! He also loves the good old fashioned tennis ball...so flyball could be an options as well. I think he would excel at pretty much any dog related sport!! He loves his treat ball toys, Kong's, and treat puzzle games too. He does play a little rough, gets a little jumpy and mouths like most puppies do, however he is learning that these behaviors are not acceptable and is working on them. Nylabones have been good distractions. He also likes chasing and playing with a basketball. Wrestle-Mania with other dogs also seems to be quite fun!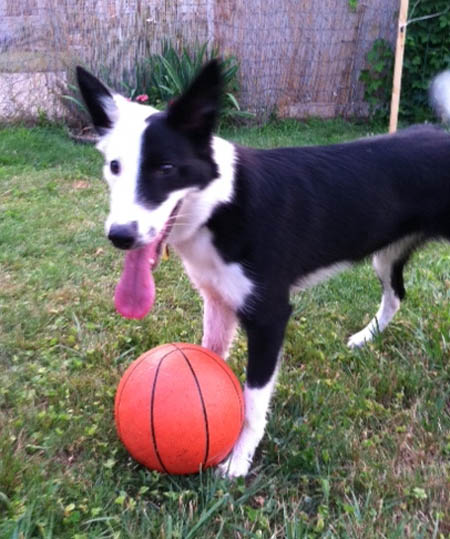 ---
Photos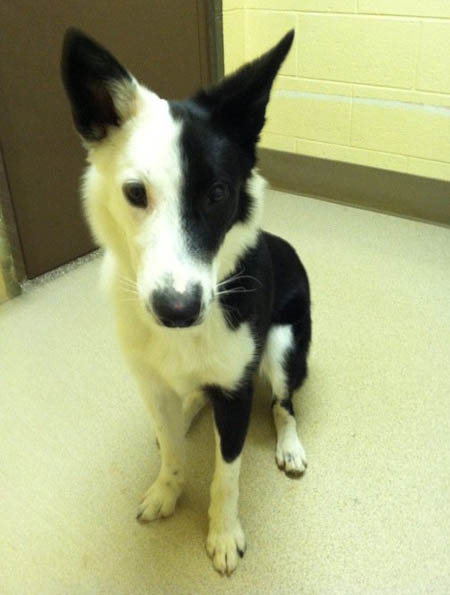 Deuce at the shelter - not a happy Border Collie.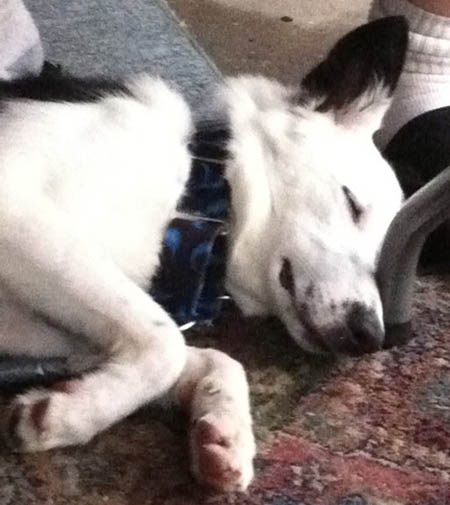 First day in his foster home - aaaaah!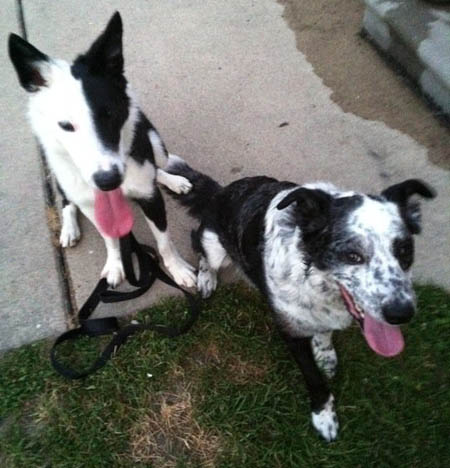 Hanging with foster brother Vince, adopted from GLBCR in 2009.




---
Videos