Dodger
Gender: Male
Age: 4 Months
Height/Weight: na / 33 lbs
House-trained: almost
Fenced yard required:
Location: SE Michigan
Foster Home: Barbara


Crate-trained:
Treat-motivated:
Toy-motivated:
Likes Car Rides:
Good with cats:
Good with kids:
Commands:
---
Dodger in February, 2014, with his two girls.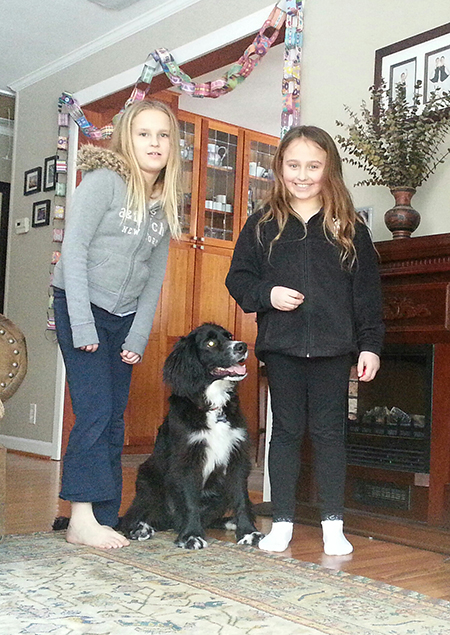 ---
Dodger was adopted in November, 2013. Here he is with his new family!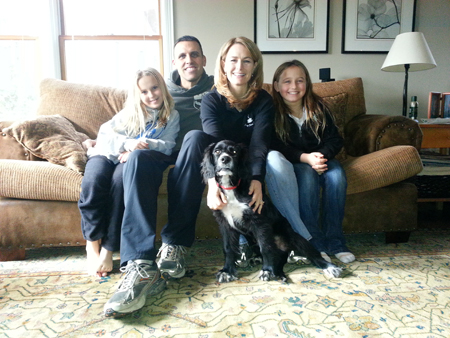 ---
Dodger is growing by the minute. He weighed 30.5 #s on 11/6 and 33#'s on 11/16. He looks to have the build of a "setter", therefore he's getting tall and more narrow by the day. He's never really been a chubby puppy. I don't have his height measured, and probably should have done that just for fun to record how tall he's gotten. He just lost his first two puppy teeth on 11/14, therefore he's probably exactly 4 months old.


Dodger is house broken, but we have to keep remembering to let him outside frequently because he's just a puppy with a puppy bladder. He doesn't ask to go outside to potty. He's good off leash, but gets too distracted to be called off of playing with my dogs when they are outside. We've been sending him outside for potty breaks by himself. For potty breaks, he wastes no time sniffing around the yard for that perfect spot. He goes quickly and then is easily called back into the house.


He LOVES his toy box! He will empty it on a daily basis. He keeps going back to experience a new toy. Once the toy box is empty, he grabs the basket to play with. He's funny that way. Being that he is a puppy, he will go for a shoe or anything else left on the floor. However the toy box is his first "go to" and he is easily redirected from wanting to play with our shoes or other items. He will fetch, but we're working on bringing it all the way back to us. He loves a tennis ball and will play with it like a cat by batting it with his gigantic paws. This is adorable to watch. Once he gets tired, he crashes at our feet.


He is very curious around the cats, but it's a healthy dose of typical puppy curiosity. He's interested in our cats, but gets a quick feline delivered slap across the face reminder to back off and respect the feline space. He likes to follow them when they leave the room, but does not chase them.


He's not a fan of being in a room alone...he wants to be with his people, or another dog. He will kennel up with a treat and a lot of encouragement. We need to work on this some more. Once he's in, he's fine but may do some whimpering. He's not had a single accident in his kennel, ever. He also sleeps in a kennel every night. He wakes us up religiously by 6:30am every morning.


He's learning that his people do not like it when he jumps up on them and that his people don't like him "puppy mouthing" us. He has dramatically improved on both of these issues. He walks VERY WELL on a leash, especially considering he is just a puppy. He seems to enjoy a good bath. He will receive his final distemper booster shot and neutering at the end of November.


Commands he knows: sit, come, off (off the couch), out (for when I want him out of the room), down, potty, upstairs (to go up the stairs before me), downstairs (to go down the stairs before me) Commands we are working on: kennel up, bring it here (for fetching), load up (to get into the car)
---
Here are a few pictures to hold you over until we get a full write-up on this adorable pup!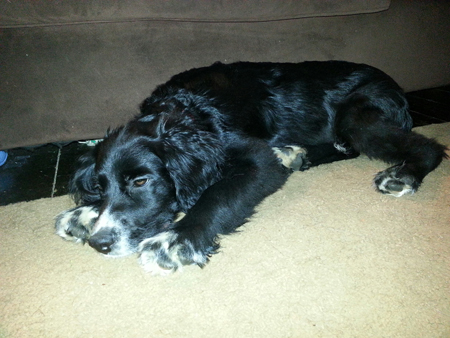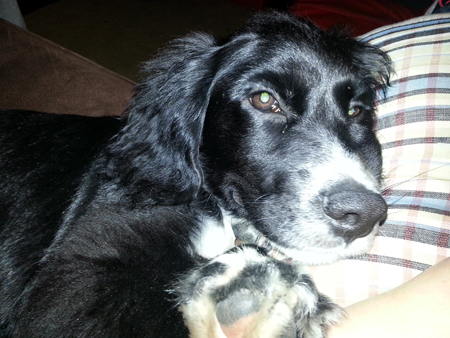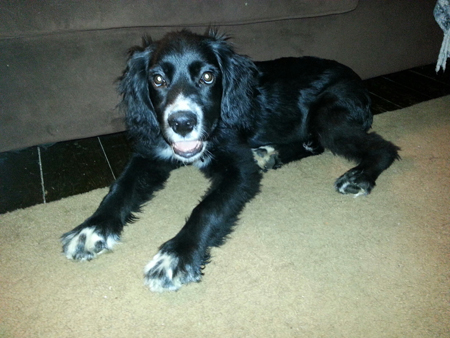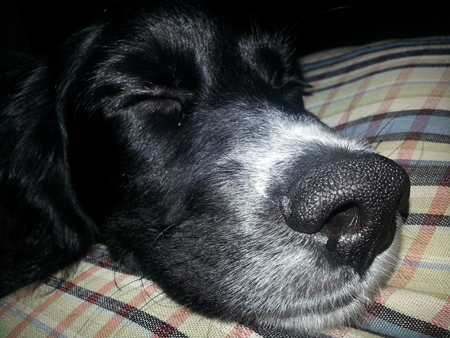 ---
---
Photos
---
Videos