Ernie
Gender: Male
Age: 16 Weeks
Height/Weight:
Housebroken: learning
Fenced yard required:
Location: Northern Indiana
Foster Home: Kathy P.


Crate-trained: learning
Treat-motivated:
Toy-motivated:
Likes Car Rides:
Good with cats:
Good with kids:
Commands:
---
From our Facebook page, January, 2014: "Blu loves the snow! He's a happy boy."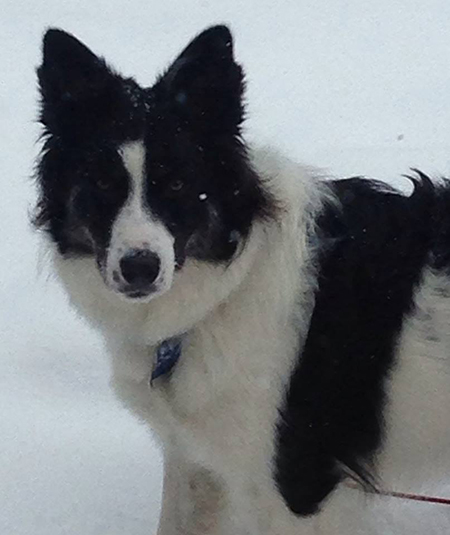 ---
August, 2013: Here's Blu with his kitty brother, Marco. Their mom describes them as "just plain ODD."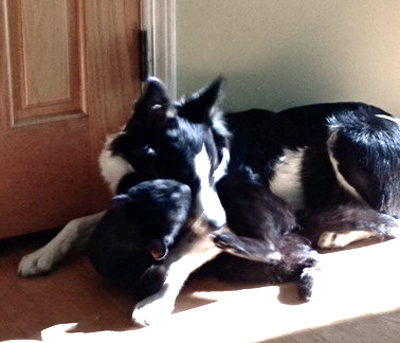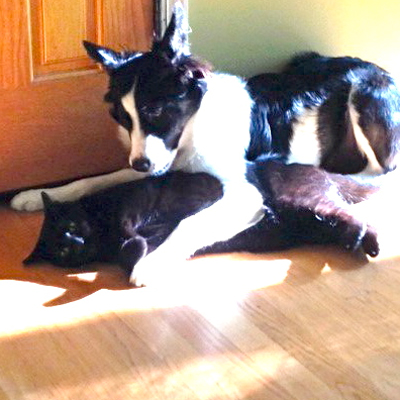 ---
Can you hear me now?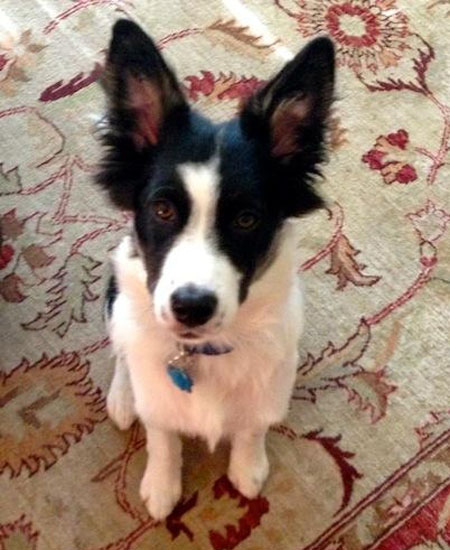 ---
Ernie was adopted in May, 2013. Here he is with his new family!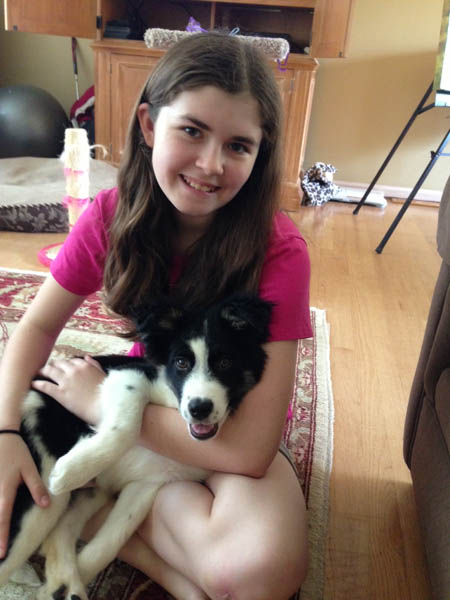 ---
If you are looking for more of a cuddle bunny in your border collie Ernie is your man. He is still a bit dependent on his brother Bert but when separated he really seeks out human attention. He is the first to come when called and desperately wants to please. He is more cautious in nature than his brother but will always follow his brother's naughty lead. He is food motivated and in true border collie fashion learns very quickly. He learned come and down in one lesson and is doing very well with the "come" command although that is still a work in progress. He loves other dogs and would do well with a canine companion although he doesn't always understand when he is being corrected by another dog so needs an older dog that is understanding of his puppyish ways. He is very good in his crate and will lay quietly until the door is opened. He is the more vocal of the two brothers and will often give you a couple of barks just to let you know he is near and wants some attention. Ernie is doing well with housetraining and has less accidents then his brother although if you reach toward him too quickly he will sometimes "piddle" a bit


Ernie is still a young guy and needs work on his socialization both with people and other dogs but the glimpse of the "mature" dog I see in him is that he will develop into a very loyal and loving boy.
---
Bert and Ernie - Live and in Color!

---
Bert and Ernie are brothers and best friends that were found abandoned on a river bank in Kentucky. These 2 boys have had an incredible adventure and schooling in the week since coming to foster care. A week ago they arrived to northwest Indiana after a full day ride from Kentucky. They both have a pretty significant case of kennel cough and will not be available for adoption until they are feeling better but we will continue to look at applications for these boys while they are recovering. When they arrived to IN they were so afraid of people that they would pee when approached or picked up. Since then they have learned to seek out human attention, sit, lie down, get in their crate and that toys are good things. They are doing very well on their housetraining. Ernie hasn't had an accident in the house in a few days and Bert has learned to go to the door fairly regularly when he needs to go outside.

These two boys are always found together, in fact I find it impossible to get pictures of just one. They love to run and wrestle. One of their favorite games is to chase adult dogs and work together to "herd" the adult. They are quickly gaining confidence. Because of their constant focus on each other we would love to see them separate so that each can develop their own personality.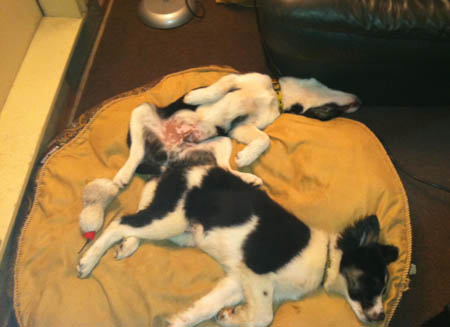 Bert is the brave one and typically the first to enter any situation. He often pushes his brother out of the way so that he can get the attention or treats he so desires. Ernie is the love bug and has developed a love for giving kisses. While he is the more cautious of the two he certainly doesn't let his brother push him around and often comes out on top during a wrestling match.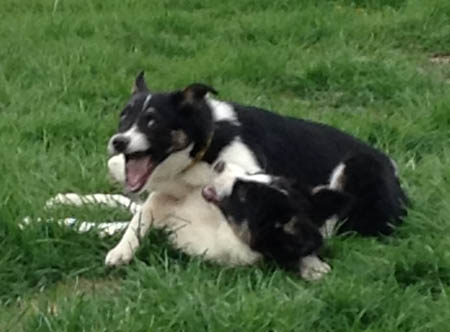 These two boys are cute as a button and have true border collie personalities even though they are mixes. Whoever adopts them will need to commit to working on their confidence and take obedience class to develop the human bond they both crave. Because of their age they will need to go out on a neuter contract.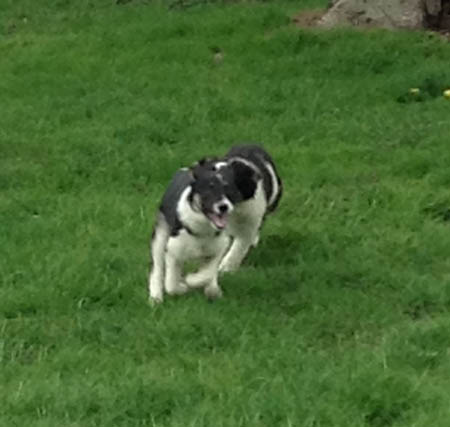 While they aren't yet ready for adoption there will be a great interest in them so get your application in if you are interested. These 2 darlings won't be around long.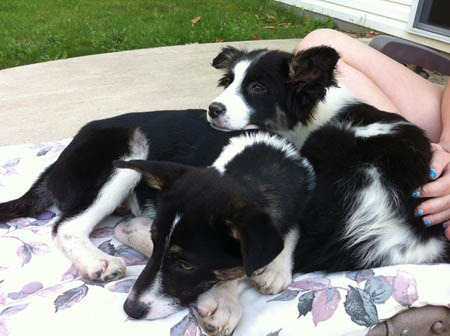 ---
---
Photos
---
Videos