Jayco
Gender: Male
Age: 1-2 Years
Height/Weight: tbd / 61 lbs
Housebroken: yes
Fenced yard required: no
Location: Northern Michigan
Foster Home: Tina


Crate-trained: Yes
Treat-motivated: No
Toy-motivated: learning
Likes Car Rides: YES
Good with cats: Yes
Good with kids:
Commands: Sit, down, crate, outside, bye bye, last one, uh-uh, come
---
Jayco was adopted in February, 2013. We received the following update from his new family a few days later: "Jayco and Rupert are getting along very well. The kids love him. We could not be happier with Jayco. Here is a picture showing just how comfortable he is."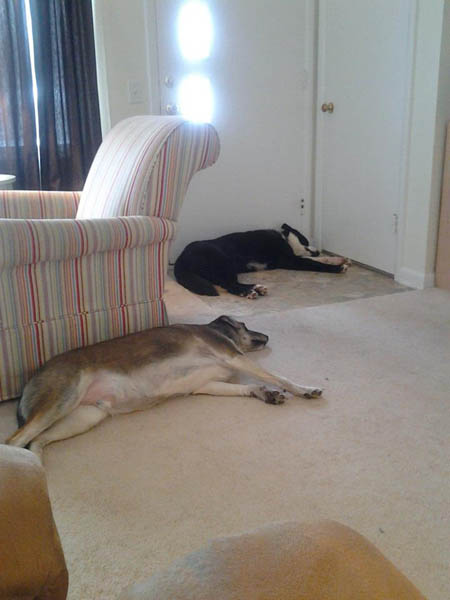 ---
Jayco is a big hit in his foster home -- here's what they've learned about him so far:


He is completely adorable when he cocks his head toward a strange sound.


He is still figuring out toys - getting there, but not retrieving balls or frisbee. Prefers tossing toys around and chewing bones.


Loves to play! Would definitely like a rough and tumble partner, but can be gentle.


Is not really treat motivated but will do the right things to be loved.


Wants to be near all the time, but is good at staying off furniture and bed.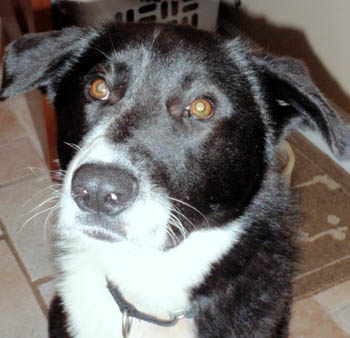 Is really good in the house, but can be a little mischievous, stealing small things or ripping up papers, but is easily called off.

Absolutely loves car rides and will sit and behave alone for hours, looking out the window.

He has pretty good recall and keeps his attention on me and the other dogs when playing off leash.

Will play alone, chasing toys around in the yard, but prefers family.

He is not food aggressive, loves everyone and every dog he has seen, seems to learn easy, and is quite respectful of the home.

He has had no accidents in the house and is not an escape artist.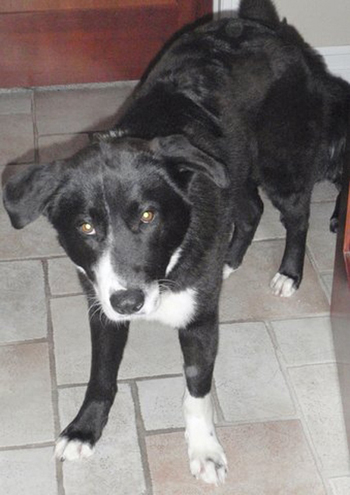 He is a little large, but not clumsy (think Lab).

He probably will learn the art of fetch and frisbee easily, but for now is preoccupied with chasing his foster sisters up and down the snowy beach while they retrieve toys that they will not share.

He would do great with a family, especially if they have a young medium sized dog to play with.

He would love an active lifestyle, he is decent on a leash, but could use work.

He is strong and I wouldn't suggest a small or senior owner because of his youthfulness.

Jayco will share or give up toys and bones to his foster sisters, he definitely lets them boss him around.

All in all, he has very few bad habits, but does need to be watched, (think 4 year old) old enough to be around the house alone, with out constant supervision, but you better check if it is too quiet or if you haven't seen him in a while!

Jayco is on his way to being the love of someones life------is that person you??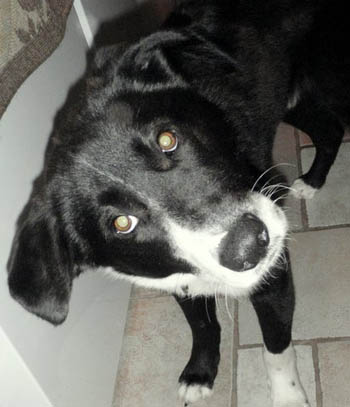 ---
We're still getting to know Jayco (formerly Kendall), now named after the motor home that brought him to Michigan. We believe him to be a BC/Lab mix; he has the Lab energy with the Border Collie inquisitiveness. He is very friendly and loves to initiate play. He is trying to gently coax the canine ladies in his foster home into playing with him and he has had some success. Our guess though is that he would LOVE to rough and tumble play, but his foster sisters are keeping him in line. He has the cutest way of cocking his head at strange noises -- we hope to get a picture of that! For now, you can compare his shelter picture to his first stop on the road to a forever home!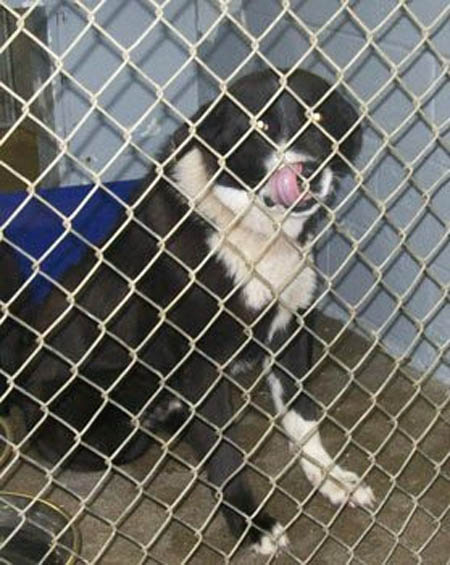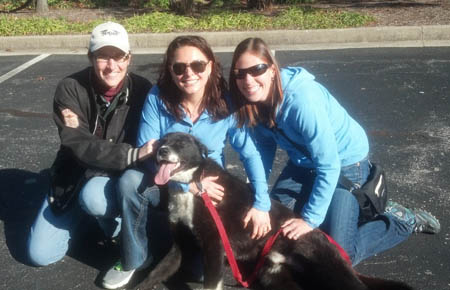 ---
Photos
---
Videos