Laddy
Gender: Male
Age: 9 Years Old
Height/Weight: 23" / 55 lbs
House-trained: Yes
Fenced yard required: No
Location: SE Michigan
Foster Home: Peggy


Crate-trained: Reluctantly
Treat-motivated: No
Toy-motivated: No
Likes Car Rides: YES!
Good with cats: tbd - ignores parrot
Good with kids: tbd
Commands: sit, shake
---
Laddy was adopted in December, 2013 when his foster home became his forever home. I would like to personally thank the wonderful prospective adopters who contacted me, mostly for their patience -- I could have handed the leash to any one of you. Laddy fits into my home like he as always lived here, and he makes his new sister Ellie very happy. I question the wisdom of adopting a senior so soon after losing Sammy, which is why it took so long for me to make it official, but I wasn't about to break Ellie's heart (or mine) a second time this year. Or Laddy's, for that matter -- he's had kind of a rough year too.
---
When I wrote that Laddy had had a rough couple of weeks, I had no idea the worst was yet to come. A few days after he arrived, he started sneezing, which progressed to coughing and a complete loss of appetite. Four days, and three vet trips later, he was admitted to the veterinary hospital with pnuemania and we received a "guarded" prognosis. The next twenty-four hours would tell the tale.


Fortunately, it's been all good news since then. Laddy spent three days in isolation, improving every day and winning over his care-givers. Through it all, Laddy's good nature held true – this poor dog was poked, prodded, crated, examined, syringe-fed, and has had pills of all shapes and sizes stuck down his throat, and no matter how bad he felt, his tail never stopped wagging.


Now he's back home, and while he's still has bit of a cough, it is nothing like it was before. And HOORAY, the boy is eating! I'm still stuffing pills into him – Laddy is an absolute master of spitting out pills disguised in hotdogs and other treats. He's due for a follow-up vet visit in a week, and we'll know then when he'll be available for adoption.


This is a sweet, sweet dog, folks. He hasn't shown an interest in toys yet, and while he doesn't play with my other dog, he clearly enjoys her company. One thing I discovered during our veterinary adventures was that Laddy really likes to ride in the car. No matter how bad he felt, he would pull me to the car, and jump in as soon as the door was opened.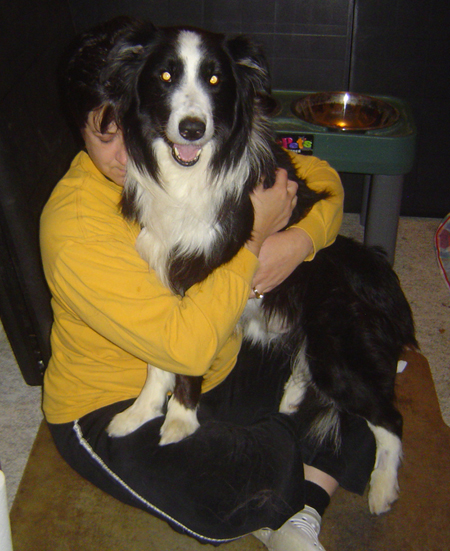 More to come on this wonderful boy!
---
Meet Laddy. A true Gentleman Border Collie.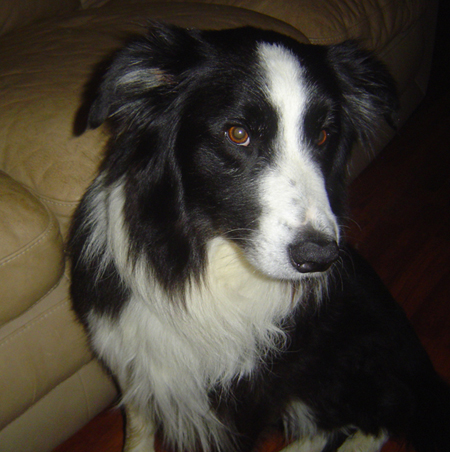 Laddy is a big soft guy whose whole world has turned upside-down. His owner passed away. He wound up at a shelter. And he got neutered. When I look at him, I imagine him thinking, "How did this happen to me? Will I ever get to go home?"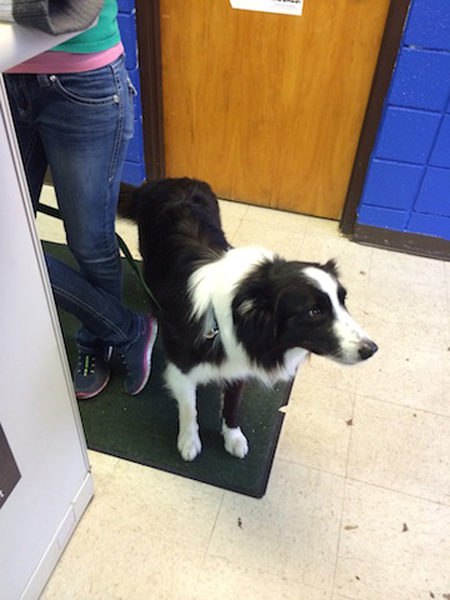 Yes, Laddy. It won't be the home you remember, but it will be your home. I promise you that.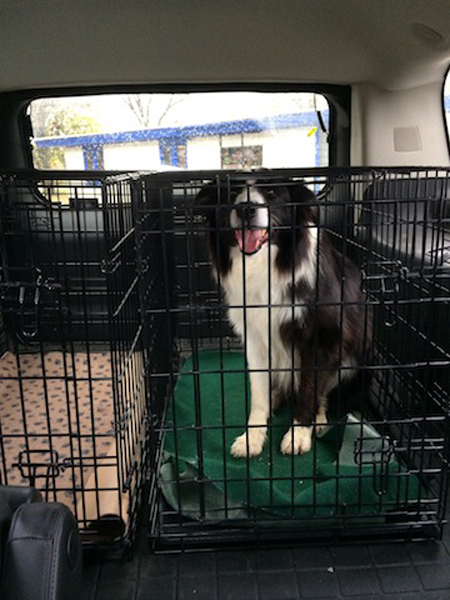 Freedom ride!!!
---
---
Photos
---
Videos