Little Boy Blue, now Blue
Gender: Male
Age: Puppy
Height/Weight: Wee Tiny
Housebroken:
Fenced yard required:
Location: Mid-Michigan
Foster Home: Tammy


Crate-trained:
Treat-motivated:
Toy-motivated:
Likes Car Rides:
Good with cats:
Good with kids: Yes
Commands:
---
October, 2014: Blue has mastered the art of lap-lading... I think I might just need a little bit larger lap though!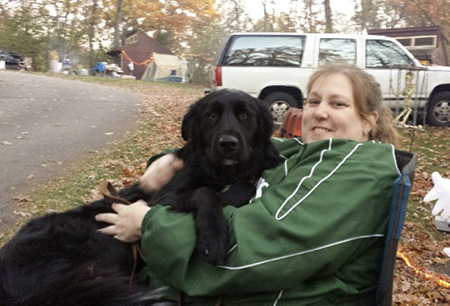 Happy Halloween!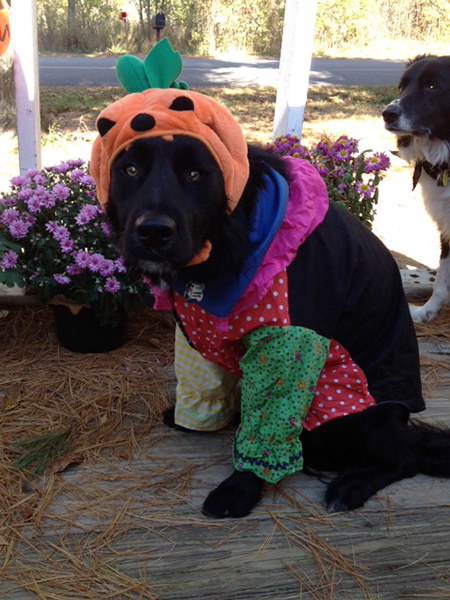 ---
In August, 2014, Tammy once again met up with Grier, Lakeston, and their family. She writes: "I had the wonderful opportunity to visit with Kyle, Anise, Grier and Lakeston after leaving the Highland Games on Saturday. Thought I would share a couple of the pics we took. Most amazing thing to see my lovely Mama (Grier) not only accepting Lakeston as her own, but welcoming Little Boy Blue right back into her ranks as well. She always did well with Roxy so I really did not worry about that meeting so much. I was so touched by seeing the pair of them again. Lakeston has grown taller, if that is even possible, and boy is he a lanky teen-ager! He is so skinny from his perpetual motion. He is one happy boy and it shows.
When I first got to the house Grier greeted me as she always does with strangers, a quiet and friendly meeting. Until I spoke to her. All bets were all then and she was climbing all over me smooching me and wiggling all over. I sat down on the floor with her and she hopped right into my lap and plopped down!
Then Kyle let Laker in. He was soooo funny! He took one look and me and lost his fool head! Wiggles, giggles and smoochies all over the place! This is a boy that knows how to show affection. Haha! Oh, but I have missed him. I could not be more pleased with his placement. Love that he has two very level-headed and capable people to love and support him. LOve that he has him mama dog to teach and guide him. (and she is doing a wonderful job of it!) Love that he has a nice yard to run safely in, a big lake to swim in at the lake house and my cup has runneth over!
Here we have Blue standing by me checking out the horses, Grier Chilling in the front of the screen, Roxy milling around with her tongue hanging low... And my Laker taking a much needed rest after cruising laps for an hour! Boy, he is skinny! Grier's coat is exactly as soft and supple as Blue's. Same length and texture. When he grows into his feathers, he will be a black version of his mama.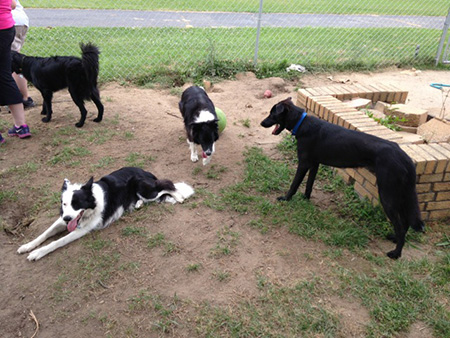 Blue and Mama Grier.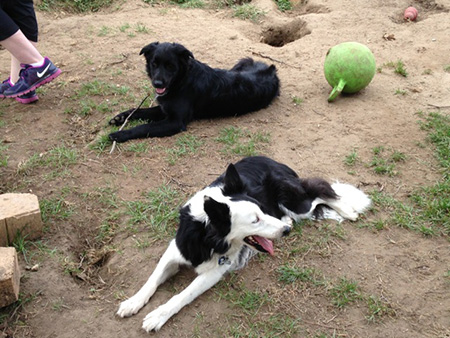 ---
June 22, 2014: Blue (far right) with his sister, Roxy, and his cousin/littermate T-Bone.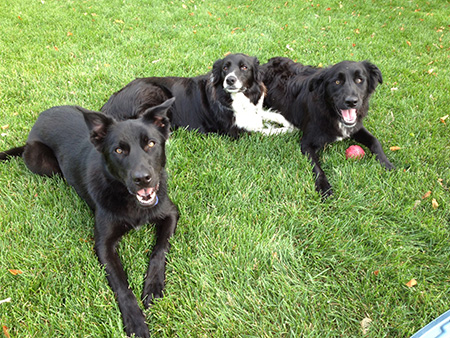 ---
June 15, 2014: Look who fell asleep while chewing on his bone!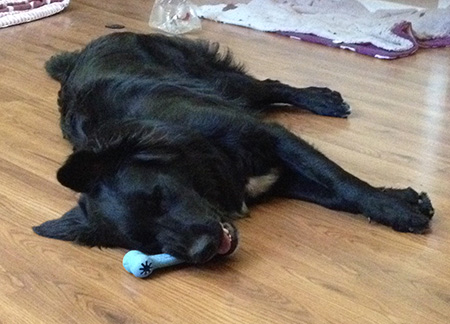 ---
June 6, 2014: the puppies from Grier's Gang, our surprise litter from last summer, turn one year old today. Their foster mom writes: "It has been a very long run for me and I am so happy to be able to celebrate this day with all of you. Little Boy Blue (who is not so little anymore...) sends his best "Happy Birthday" to his siblings. I hope that all of you are having as much fun with your puppies as I am with Blue."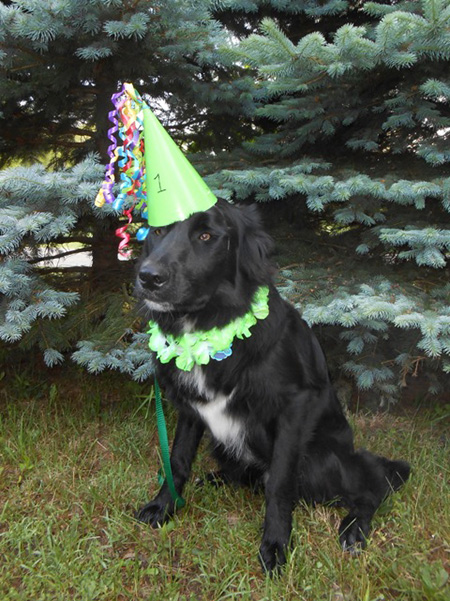 ---
Blue and his brother T-Bone want to wish everyone a Merry Christmas!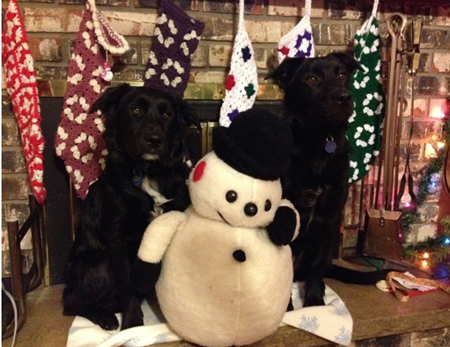 ---
Little Boy Blue was adopted by his foster mom in August, 2013. Congratulations to Tammy and Blue!
---
At 8 weeks old Little Boy Blue is a bouncing, bright little boy. He is curious and very gentle in his manner. He loves his Kitty-Boy and will seek the cat out for attention if he is able. With that said, I must put out the disclaimer that I have the best cat in the world and he loves the dogs. So, if your kitty is not so tolerant, caution should be taken to protect little Blue from unwanted results from the cat. :)


Very quite and loving is Little Boy Blue, but always ready for a romp in the yard with his brothers. By the way, slippers make the BEST toys ever, well, maybe after toes that is... After a good run, Blue likes nothing more than to snuggle with his people for a minute and then settle down with his blanket for a nap.


All around sweet soul. He will make a great addition to any family willing to love him. He is a very soft dog and willing to please. He knows to sit at his fence for attention (not that he always does it, but he will sit for petting quite consistently) and he will come when he is called pretty well too. Not bad for such a little guy.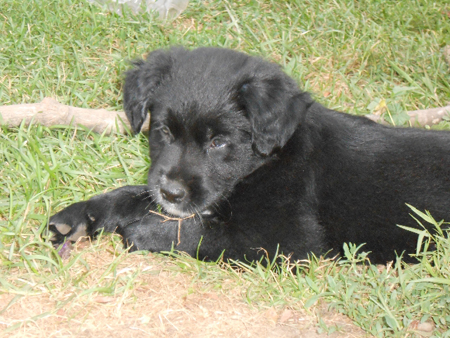 Little Boy Blue is up to 9.8 pounds on his 8-week birthday. :) Growing well and learning lots!
---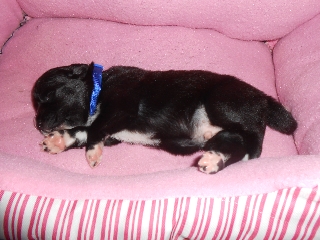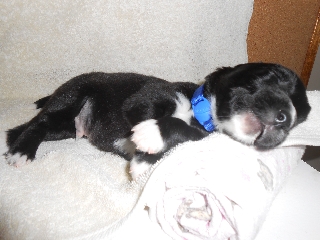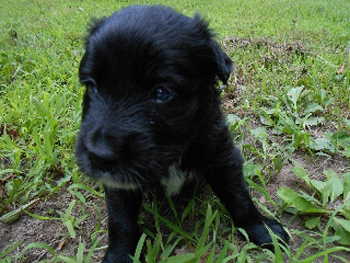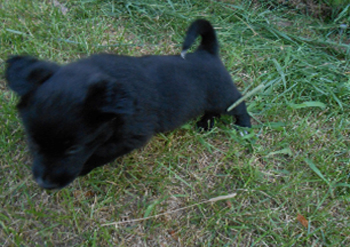 ZOOM!
---
---
Photos
---
Videos