Lucille
Gender: Female
Age: 12 Years
Height/Weight: 18" / 37 lbs
Housebroken: Yes
Fenced yard required: Strongly Preferred
Location: Northwest Indiana
Foster Home: Kathy P.


Crate-trained: No
Treat-motivated: Yes
Toy-motivated: No
Likes Car Rides: No but good in car
Good with cats: Unknown but not able to chase
Good with kids: No (due to age)
Commands: Learning signals for "look at me" and "come"
---
One of the great things about Great Lakes is their commitment to special needs dogs. When Lucy came into rescue she was 12 years old, very frail and deaf. Many rescues would pass her up because she would be difficult to adopt. GLBCR feels these dogs deserve the same chance as any other. Lucy's ending was bittersweet. While her health failed before she could get adopted, Lucy spent the last 8 weeks of her life in a home where she was loved and actually went from barely being able to walk to "trotting" around the house. She enjoyed meandering around the yard and watching life go by. When Lucy's health failed and it was clear that her time to cross the bridge had come, she was met by all the other GLBCR dogs at the rainbow bridge while looking into her foster mom's eyes and being petted (Lucy was deaf so sight and touch were her big comforts).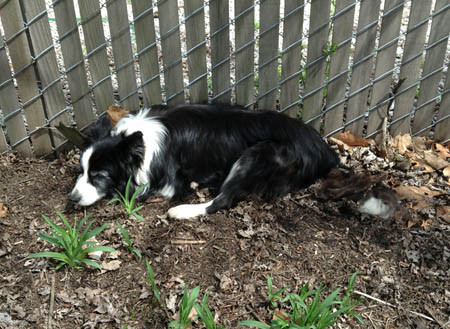 Lucy has touched the hearts of many even though she only met a few. She was a sweet, gentle girl and will always remain in the hearts of all the GLBCR family.
---
Check out our girl Lucille in motion!

---
Update April 4: I have a new shadow and her name is Lucy. As Lucy has become adjusted to her foster home she bonded with her foster mom and follows her around the house just wanting to be in the same room. Now that she is on some meds for her weak back legs she is getting around very well. In fact it seems that the more she walks the easier she gets around. She even broke into a pretty good trot trying to meet the neighbor dog. Lucy appears to be healthy for a 12 yo "young" girl. Her blood work all came back normal, she has a great appetite and she appears to be overall feeling good.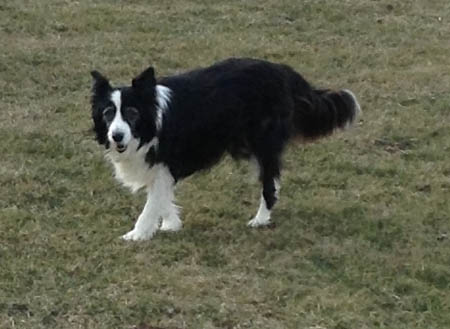 Lucy is such a happy girl and is so thrilled to be petted and loved on. She is even starting to try and do the "happy dance" when her foster mom gets home from work. As most border collies do, Lucy does have a few "quirks." She doesn't like to be confined in a crate and will cause herself some stress trying to get out. She is housetrained and has done well not crated for up to 8 hours while her foster mom is at work. Her other quirk is that she can be a little bit "snappy" with the resident dogs, seems she wants to have her foster mom all to herself. Lucy is not able defend herself because of her weak back legs so after a brief scrap with the resident dog she is now doing her best to get along, she just prefers not to have dogs in her face.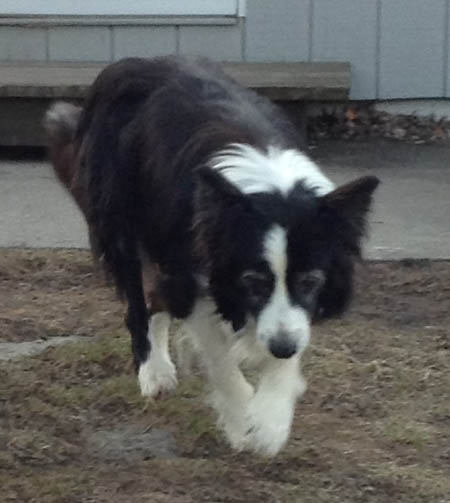 Lucy is such a love, as soon as she sees a new face she goes over to meet her new "friend." She hasn't met anyone she hasn't loved, especially if the will scratch behind her ears or under her chin. Don't let her age turn you away, she still has that feisty loveable Border Collie personality.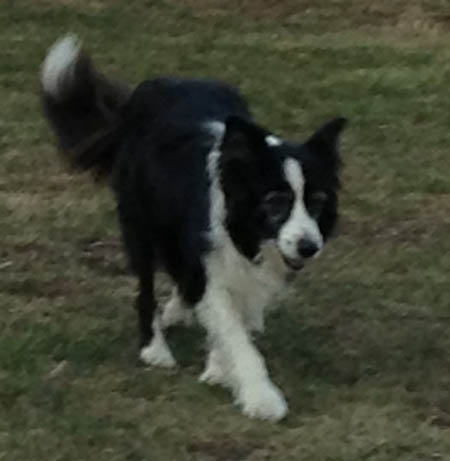 ---
Lucille (aka Lucy) came to GLBCR as a victim of the economy. Her owner could no longer afford to care for her so they took her to the local shelter. Must have been devasting to an old girl to end up in such a crummy "nursing home." Lucky for her GLBCR was notified and now she is resting comfortably in a foster home. Lucy is estimated to be about 12 years old. When she didn't respond to the name she had had for 12 years her foster mom started acting like a fool making all kinds of noises that scare most border collies. Lucy's only reaction was to raise her head at some of the louder noises but no response at others. Seems like Lucy is deaf and living in a very quiet world. We are working on signals that she will recognize as "look at me" and "come." After only 1 day she has already learned what they mean, she is not short on border collie smarts. She also was thought to have some arthritis issues but after evaluation by the vet she is thought to have some arthritis but also some nerve damage that makes it hard to control her back legs. She walks and gets up and down with difficulty but she is able to get around.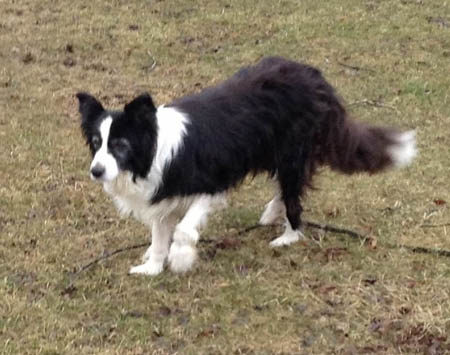 Lucy is such a good girl and so happy to have a warm house and bed to live in. She found being brushed very relaxing and looks to her foster mom with wide, alert eyes. At the vet office she went to everyone (both canine and human) to say hello and was as gentle and calm as can be. Lucy loves to lie in a spot where she can look outside. Because of her mobility issues and her lack of hearing Lucy should be in a home with a secure fenced yard (this may be negotiable for the right home) and limited stairs. She is able to get up and down one step but more than that would be a challenge and would only get harder should her nerve issues progress.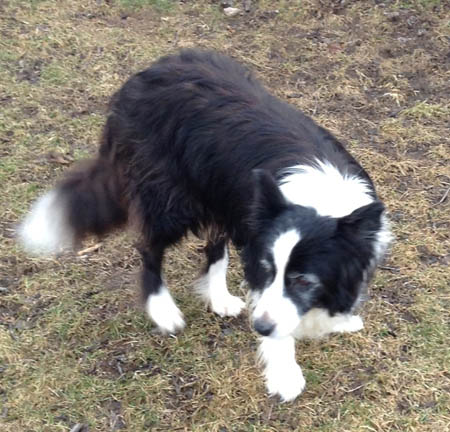 Today I was petting Lucy and when I stopped this sweet, sweet girl that balances on her front legs risked falling by lifting her paw to my hand asking me for more pets. I think at that moment this girl touched my heart and I fell in love in less than 48 hours. It takes a special home to help a senior dog retire, but this senior will bring so much love and trust to any home. Is yours the perfect retirement village for sweet, gentle Lucy?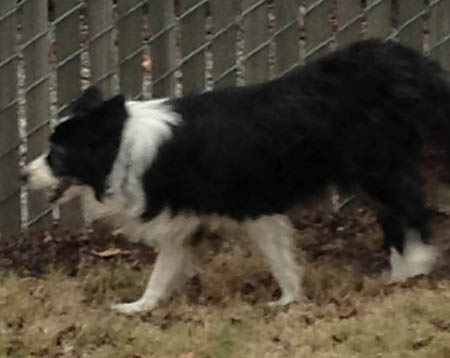 ---
Photos
---
Videos