Matrix, now Gus
Gender: Male
Age: Puppy
Height/Weight: Wee Tiny
Housebroken:
Fenced yard required:
Location: SE Michigan
Foster Home: Sue


Crate-trained:
Treat-motivated:
Toy-motivated:
Likes Car Rides:
Good with cats:
Good with kids:
Commands:
---
June, 2014: "Happy birthday to Gus and the rest of Lexis lot! Thank you GLBCR for bringing this snuggle butt into my life! He's the greatest. He has helped my senior BC Madds a lot with being active and brought him much joy and a brother as he heads into his twilight years. He is truly a fantastic little guy and our world would be far less entertaining without him! Now we're off to the dog bakery and park for birthday cake and to get pet by strangers. What more could a dog ask for on his birthday?!"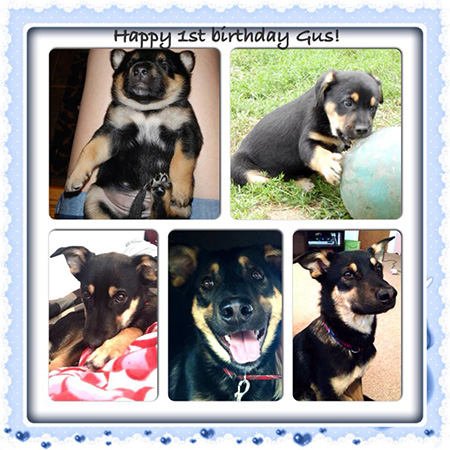 ---
From our Facebook page, April, 2014. "Gus settling in for an afternoon nap."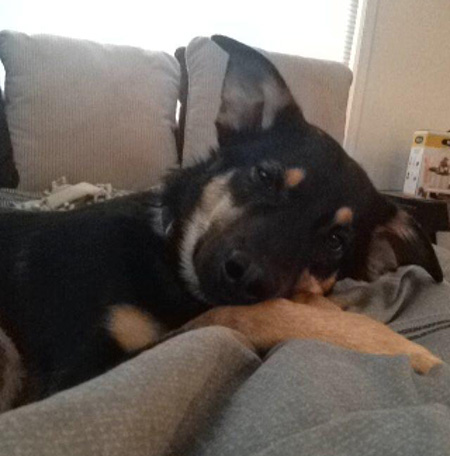 ---
August, 2013: "Today was our first day of no accidents inside! We had our first vet visit today where they estimated his weight to be around 60-70lbs. Gus is a big boy! He is 17lbs currently. I think he is finally secure and his personality is shining. He is very intelligent but aims to please. He will be a great guy when he gets older! He will sleep without a peep for at least 9 hours, which we appreciate greatly! The two boys love to wrestle but they both keep their distance at times similar to their first meeting. Gus is still very quiet. Maybe once a day during play he will bark at Madds but that's about it. I think it helps that Madds is not vocal. Phew! At night when Madds is patrolling and barking at who knows what, Loki always comes to stand by my side at alert."
---
Matrix was adopted in August, 2013. Here he is with his new mom!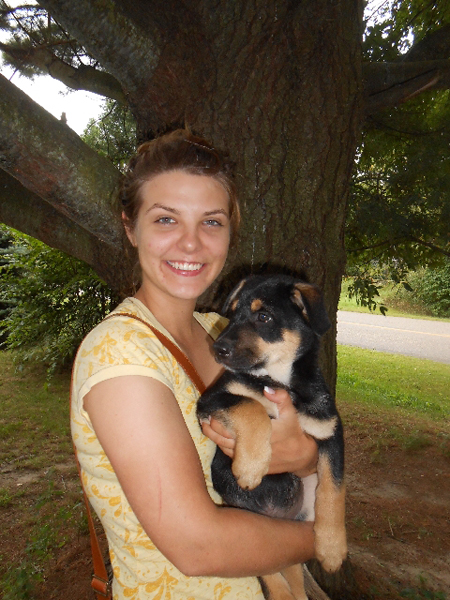 And brother Madds!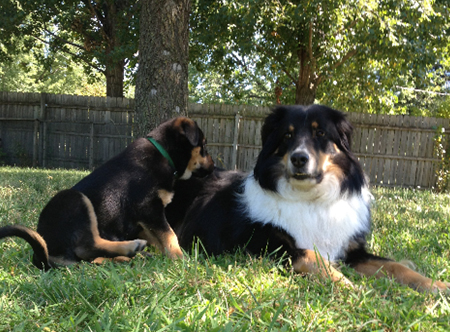 And an update: "Matrix is such a sweetie (for now). It's easy to see he is very intelligent. He understands "no." Madds has about 30 toys he never plays with so Matrix is loving that. He lays on top of them all and chews on each one. No favorite toy yet. Today he was playing to follow game to Madds. He is off and on with his playing. He'll play w a toy go outside come in and nap and then rotate that back and forth.
"I have just started what seems to be one of those horrible summer colds. I took a Benadryl earlier while we three were outside. Fell asleep an woke up to matrix and Madds bth snuggling me under a tree. Lol. Because of the Benadryl I was kind of in and out of it but he just followed Madds around or stayed next to me and chewed on a bone. Little guy sure loves his food! He knocked over his food dish at breakfast and lunch time he was happy to eat the leftovers scattered in his crate. Sleeps good too. I have to sit in the room for maybe a minute before he falls asleep and he slept all the way through the night without any messes.
"He is such a sweetie tho. I hope he continues to be a sweetie as he gets older! Fingers crossed. He was relatively good I the car ride too. He whined for about 20 mins then have up and went to sleep. He whines here and then and I think it's because it's such an adjustment from the bunch he was living with! He'll get used to it though. Madds is getting annoyed but now he knows how we felt when he was a pup! He just runs away from matrix once matrix falls asleep. Matrix wakes up and realizes Madds isn't by him and has to go look for him."
---
Matrix is 7 weeks old and full of spunk. He is a great combination of sweet and sass. With the energy to wrestle around and play with the pack, he also possesses the love of a good nap. He is loved by every child that has set eyes upon him. His sweet and gentle soul just sucks you right in as he gazes at you with his deep chocolate eyes.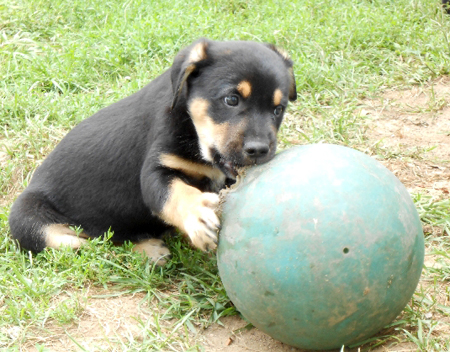 Healthy as an ox, he is ready to find his forever home. Do you have room in hour house and heart for a loving and loyal little dog who just loves to snuggle up to you? If so, Matrix might just be the dog for you.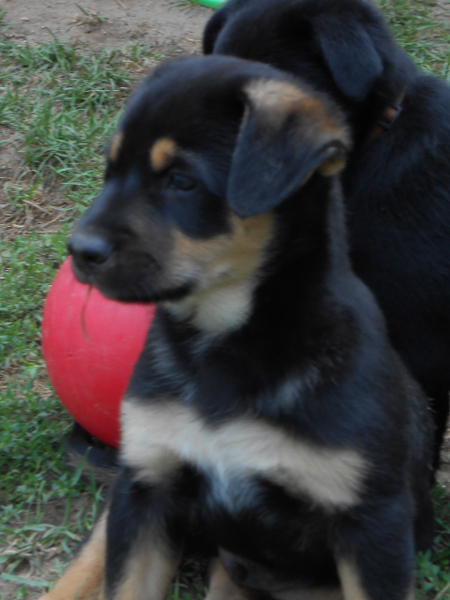 We are not sure how big Matrix will get. He is quite heavy now, but he has short little legs and a nice round belly. He is a sturdy little guy.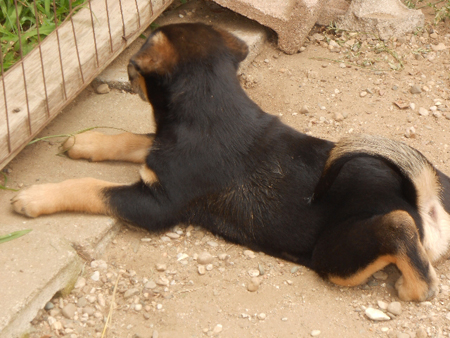 ---
---
Matrix is a big boy - his paws are huge! I agree with others who have commented that he may have Rottie in him. His black and tan markings make him quite handsome! He was the first to growl in play, but Venza's got him beat in the overall vocalization department!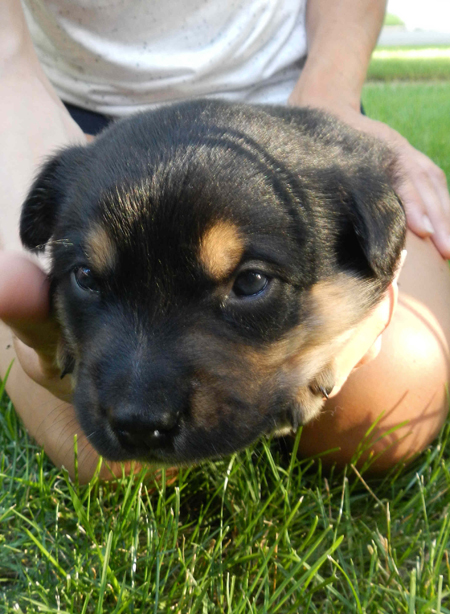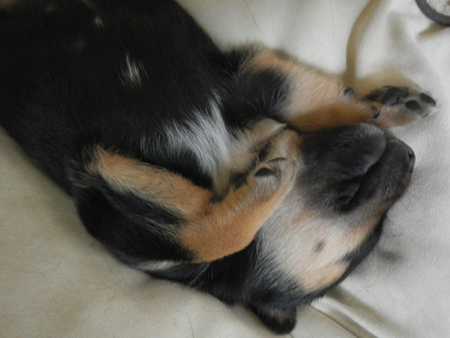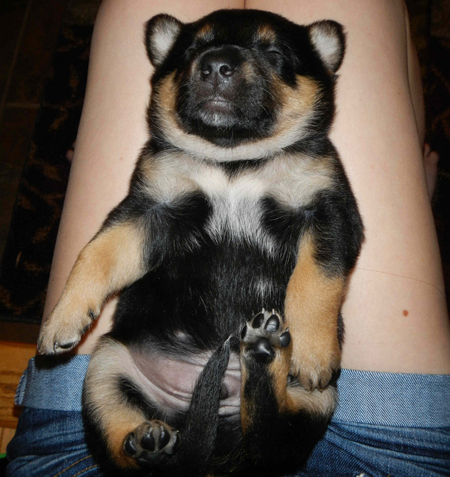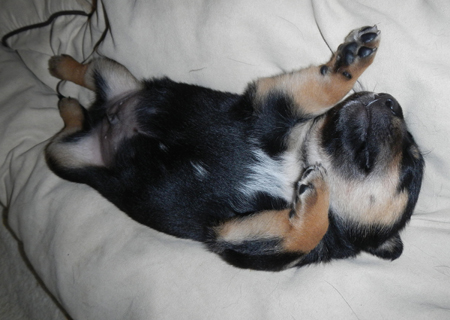 ---
Brand new Matrix, born June 23, 2013.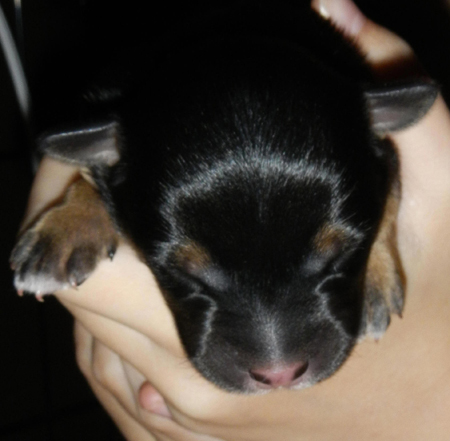 ---
---
Photos
---
Videos