Tramp
Gender: Male
Age: 1 Year
Height/Weight: 16" / 35 lbs
4 House-trained: almost!
Fenced yard required: Yes
Location: NW Indiana
Foster Home: Kathy P.


Crate-trained: Yes
Treat-motivated: Yes
Toy-motivated: Yes
Likes Car Rides: Yes
Good with cats: Yes
Good with kids: tbd
Commands: sit, down, come
---
October, 2014: Happy Halloween!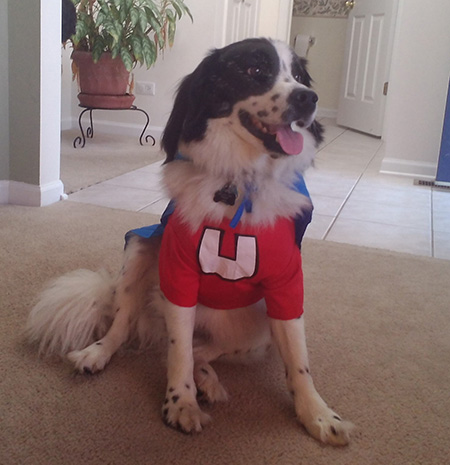 We wanted to send you a picture of Tramp in his Halloween costume. He is going as Underdog. And another picture of Tramp and Luigi, our neighbor's dog. We sometimes watch Luigi when his family is out of town.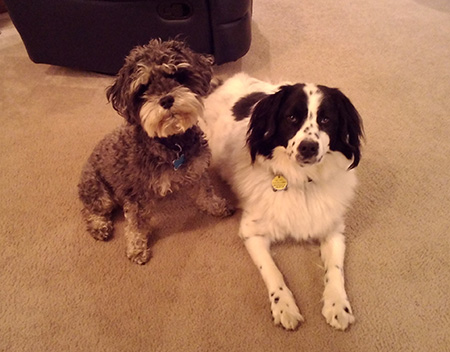 Tramp is doing awesome! He is a great family dog. He loves kids, which makes him very easy. We can take him anywhere...and we do!
---
March, 2014: "Tramp finished his winter obedience class and now we're taking a break. We are thinking of looking into another place to do obedience with the possibility of beginning agility. I think he would enjoy agility, but I'm not sure he's quite ready. Perhaps another obedience class and then we'll see. In the meantime, Tramp does pretty good on his walks. He doesn't always heel, but he doesn't pull either. More of a loose leash walk, very enjoyable. Tramp is really good at the "wait" command, never leaving the house until he's told "let's go." He's also good at "sit" and "off." He will do "come" most of the time in the house, but not quite so much outside with distractions. All in all, I think he's doing really well! We love him!
---
Tramp was adopted in December, 2013. We received the following update from his new family: "Just wanted to let you know, Tramp is doing well! We just got back from hiking in our neighborhood forest preserve and I think he had a lot of fun. He started off following deer tracks, probably looking for a good set of antlers to chew on. He didn't find any, but we'll be back to look again!"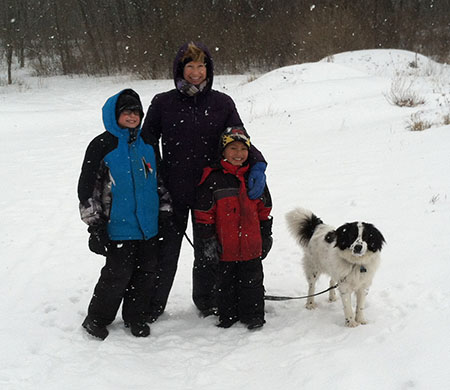 ---
Tramp is a fun and playful companion to every dog he has met. He is a medium energy boy and settles well if given proper exercise. He can get almost any dog to engage in play but can be a bit too much dog for an older playmate. He loves to chase and be chased. He is very easy going and happy go lucky. The best thing about Tramp is that he comes with little to no baggage. He loves to learn and loves to please. At this point he does require a fenced yard as he has no recall but we are working on that. While Tramps favorite thing is to play with other dogs his second favorite thing is toys. He will play with any type of toy and is learning how to play the game of fetch. He thinks the toy box should be empty at all times.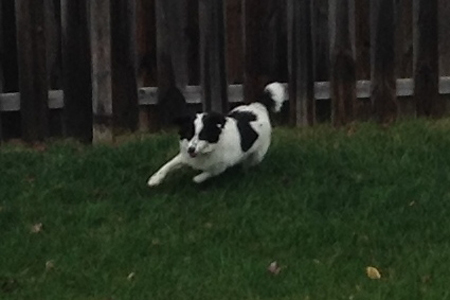 Tramp has met cats and does well with them. He would make a great family pet although may be a bit rambunctious for young children. This boy is an exceptional dog and anyone would be lucky to adopt him.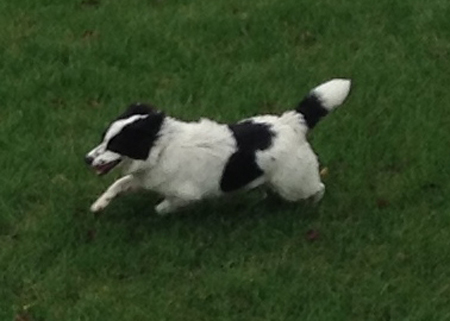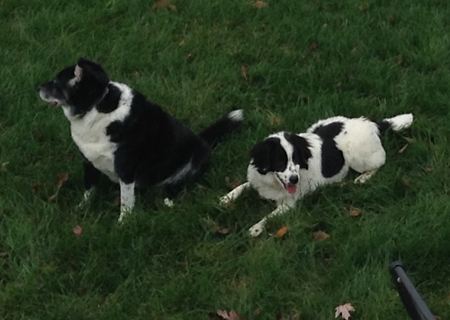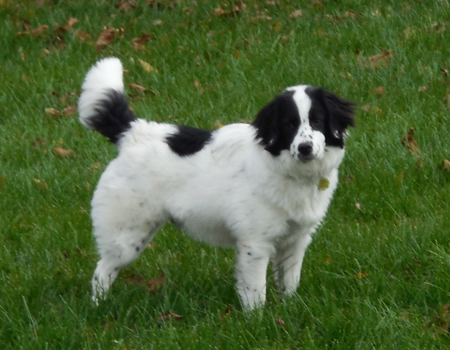 ---
Tramp is a lot of Border Collie in a small body. While he has a very happy go lucky personality he is a dog that will need a lot of training and consistency. He has a tendency to be naughty and doesn't really respond to scolding so needs someone that can find positive ways to bring out the best in this boy. He is cute as a button and playful beyond words but is constant motion in the house if not adequately exercised and tends to find his own type of fun (usually not anything I appreciate).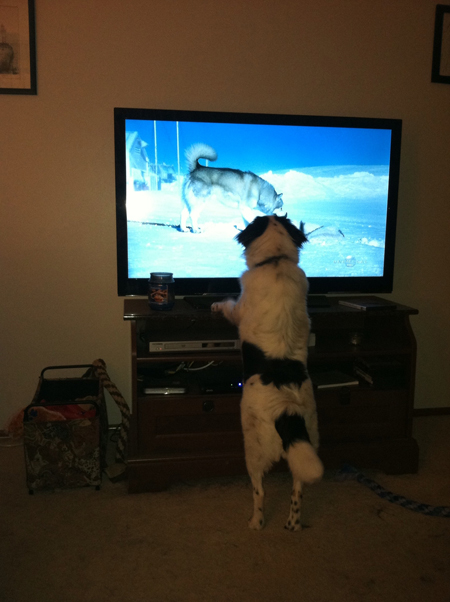 When Tramp first came to me he showed much more interest in my dogs than he did with me. Since coming here he is learning the goodness of people but needs a home that will continue to work on the human-canine bond. He really wants to be with me but isn't always 100% sure of what is expected of him. He has now adopted the "Border Collie lean" and wants to be in the same room as me. He gets along great with other dogs although he can be quite in the face of other dogs (in a playful manner) sometimes is a bit much for an older dog. He takes scolding from my older girl without any malice and if she insists she doesn't want to play with him, Tramp is happy to find a toy to entertain himself. He recently went to an agility trial where he met many people and dogs and loved and was loved by all.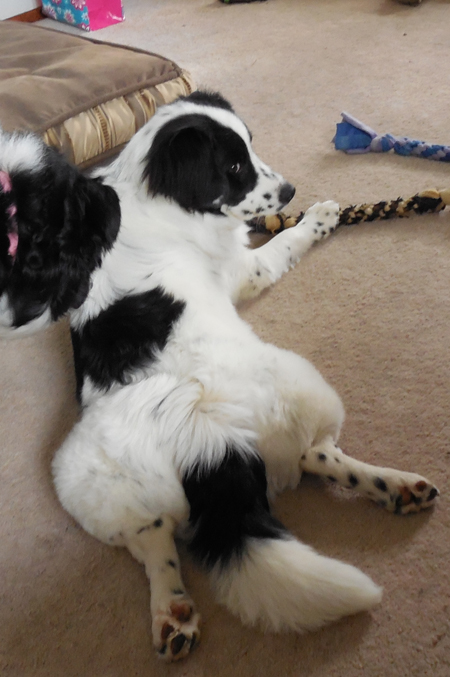 This boy has the potential to be the most awesome dog but needs someone with love and patience to guide him there. Don't let his cuteness fool you, he is not for the faint of heart.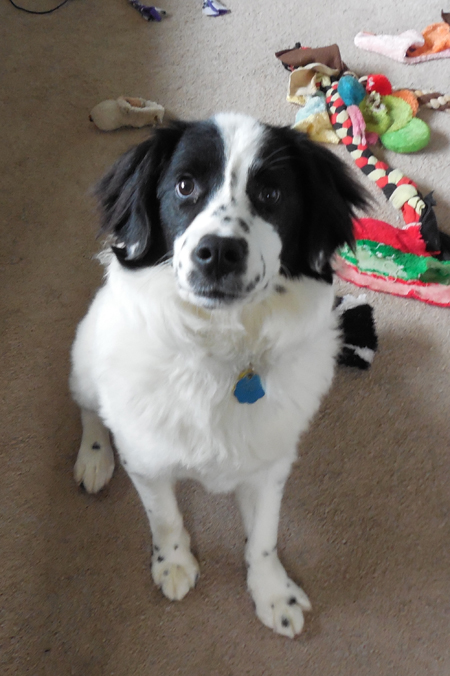 ---
Check out Tramp's new video!

---
This in one great boy!!! He is all about fun, fun, fun. He is a typical high energy border collie in a small package. He has only been with me a short time but he has been perfect so far. He crates nicely, allows anyone (even the groomer) to handle him and by all initial assessments he is housetrained. The shelter he came from estimated his age at 5-6 months but I would guess he is more in the 1 year range. He met both my canine girls and all he does is play bow and try to engage them. Neither are interested in playing with a young whipper snapper and when the give him a warning growl he happily runs away and looks for other forms of entertainment. He loves toys and balls. Still learning to play fetch but he thinks it's great fun so he continues to chase the toy and run by me when bringing it back. Anyone would be lucky to have this happy go lucky boy so get your applications in as he won't be with us long.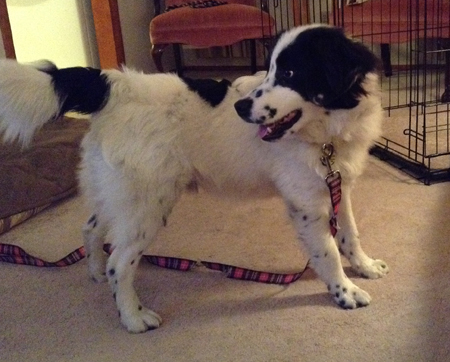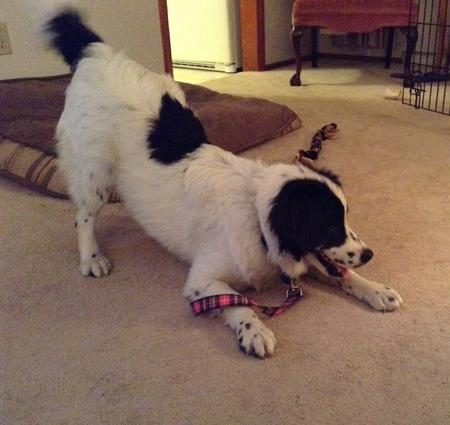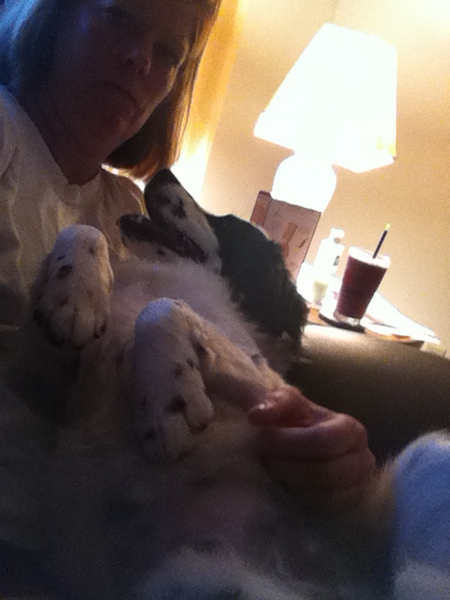 ---
---
Photos
---
Videos