Tundra, now Link
Gender: Male
Age: Puppy
Height/Weight: Wee Tiny
Housebroken:
Fenced yard required:
Location: SE Michigan
Foster Home: Sue


Crate-trained:
Treat-motivated:
Toy-motivated:
Likes Car Rides:
Good with cats:
Good with kids:
Commands:
---
December, 2014: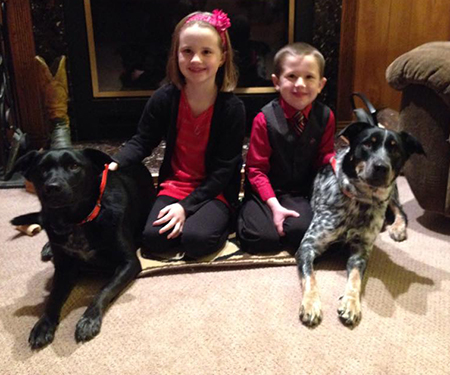 ---
From our Facebook page, July, 2014: "Cricket and Link's first time swimming ever and boy do they love it!!!!!!"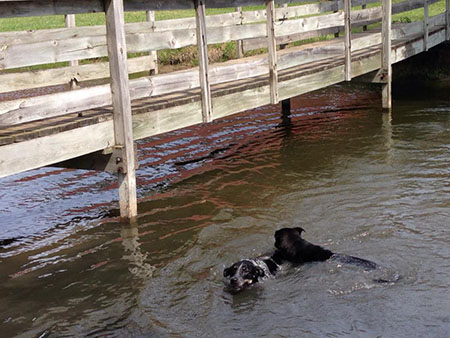 ---
March 21, 2014: "They are both doing amazing and are such great dogs. They both just got baths today due to all of the mud that is around now. Cricket doesn't mind the baths and loves to swim but Link hates getting wet. Cricket loves the cold and Link adores laying by the fire place. Link is the dominant one but quiet and cricket is very vocal. Cricket LOVES to fetch and Link is taking to herding the horses more. They are the best of friends but very much opposites. Here are some pics of them my favorite is when they wait for the kids at the bus stop."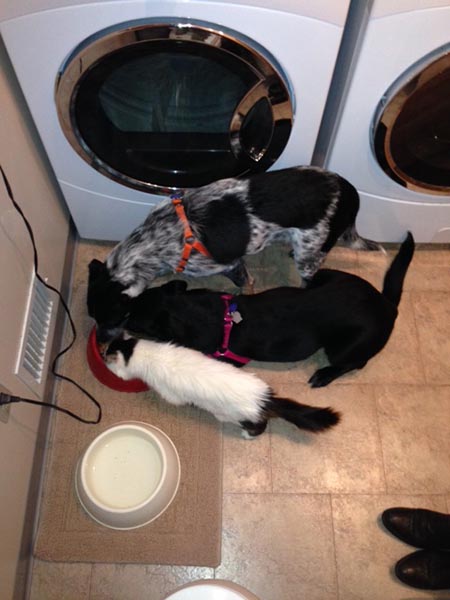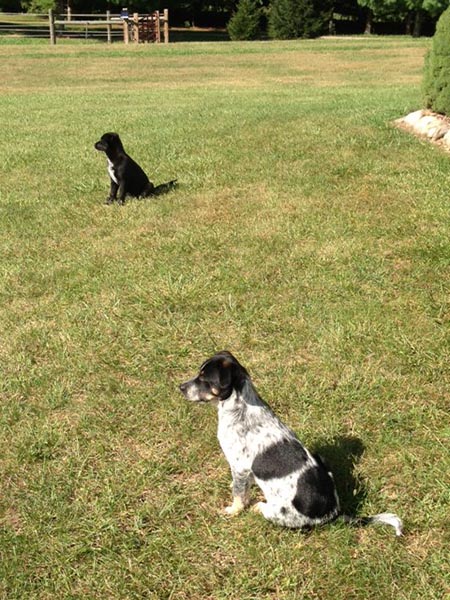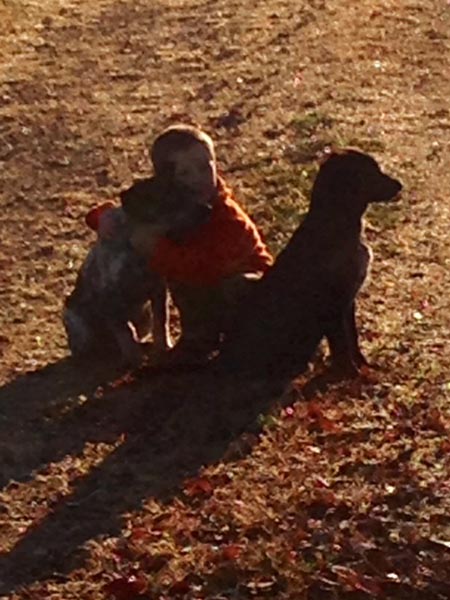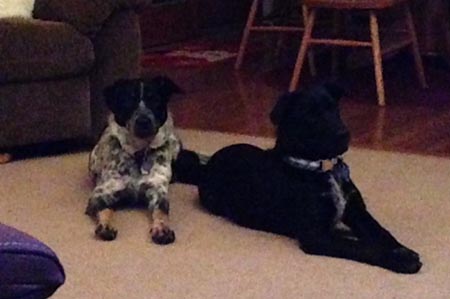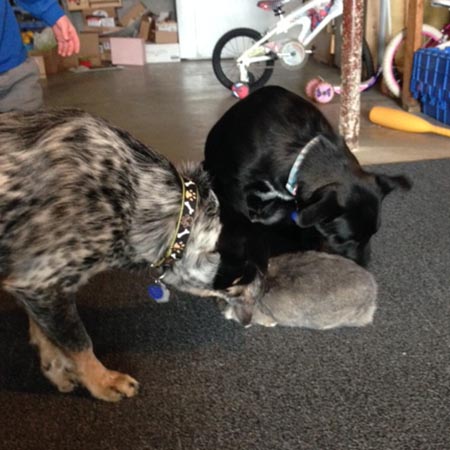 ---
Tundra was adopted in August, 2013 and is now known as Link. Here he is with his sister, Venza (now Cricket), who was adopted by the same family. Our first update: "I just wanted to send you an update on our two sweet puppies. They are both amazing little dogs and so very loved. We have been having lots of play time both inside and out as well as short one on one training time. Both pups know SIT and NO and are working hard on lay down and stay. They are also doing very well with house training and have only had a few accidents. We have taken a couple of outings to the store with them and they are loved by all. Best of all my kids are in love with them and very active in both playtime and training! We are so happy you gave us the chance to adopt these two sweet puppies."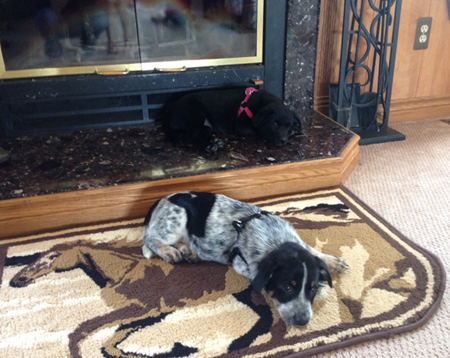 ---
Tundra is still the smallest of the puppies. He's the only one that still hasn't crested the 4 lb. mark, weighing in today at 3 lbs. 12 oz. He is the MOST spotty of them all, his little front paws COVERED in tan speckles, and his belly covered in black 'ticking.' Figures, I didn't get any shots of his little paws in this batch - he likes to keep them tucked under himself, because momma isn't terribly careful where she walks, and he's learned already that this position keeps his little tiny paws safe!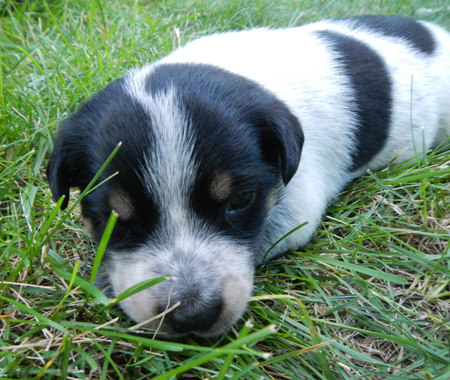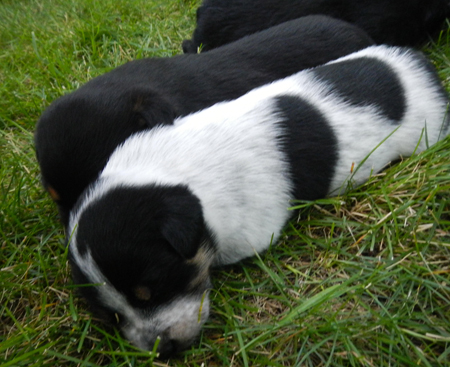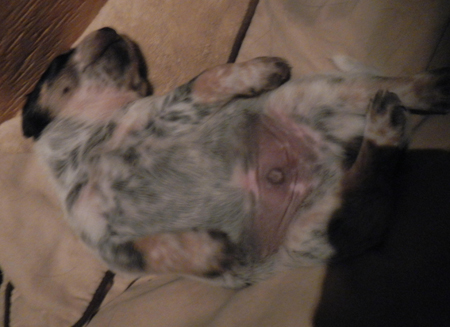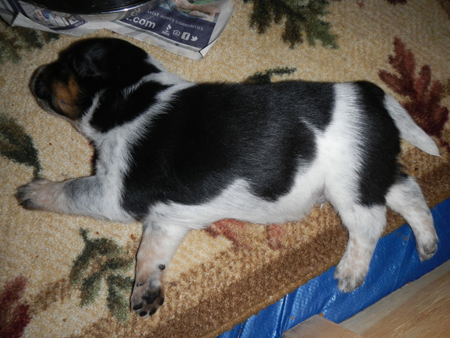 ---
Brand new Tundra, born June 23, 2013.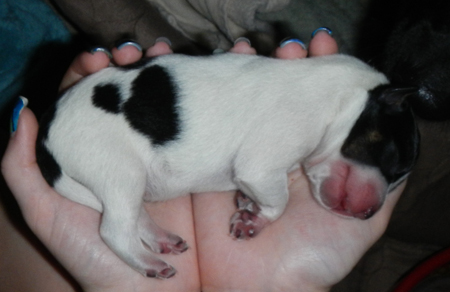 ---
---
Photos
---
Videos