Abbey
Gender: Female
Age: 10 Months
Height/Weight:
House-trained:
Fenced yard required:
Location:
Foster Home: Julie


Crate-trained:
Treat-motivated:
Toy-motivated:
Likes Car Rides:
Good with cats:
Good with kids:
Commands:
---
November, 2014: Abbey has been a great addition to our pack. Thanks so much Jenny for finding her and allowing us to foster her. Ken and I have said repeatedly how well she just fits with our lifestyle. She even has gotten my parent neurotic cattle dog to play without abandon. She finished her first training class Monday. We will continue to work on her focus, since she still has some issues with dogs on walks and strangers, but she has come a long way in two months. She is whip smart though. We also have been known to jokingly question each other, "Who wanted a SMART dog?"
Another exclamation in just is frequently, "why do you two get along so well?!?" Usually it is when we are trying to complete a task or worn on the computer. Scout and her continue to get along famously. Do all dogs hate humans working on the computer?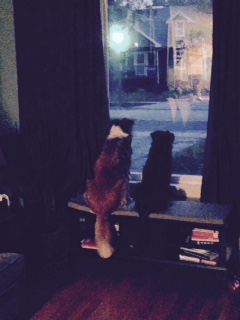 This week Scout was nursing a sore paw, so on Monday Ken and I planned to put her in our bedroom to chill out for the day while we were at work. Of course we had to keep Abbey with her big sis in her bedroom crate. One thing we failed to thing of is that the bedroom crate is cloth. As you probably guessed, Abbey escaped out and together, Scout and Abbey destroyed a wicker basket. No accident or other destruction which is good since we have a new carpet in there. At first we only blamed the puppy, but poop reveals all, and both dogs have been eliminating basket for a few days. ;) "Little sisters are trouble" was Scout's reply.
---
Pretty little Abbey was adopted by her foster home in September, 2014 and never made it to the GLBCR website. Here she is with her new sister, Scout!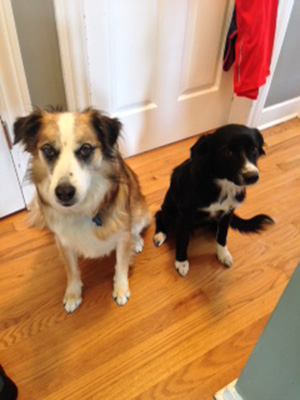 ---
Photos
---
Videos