Apollo
Gender: Male
Age: 4 Years Old
Height/Weight: 20" / 55 lbs
House-trained: Yes
Fenced yard required: tbd
Location: SE Michigan
Foster Home: Jeff and Hillary


Crate-trained: learning
Treat-motivated: No
Toy-motivated: No
Likes Car Rides: Yes
Good with cats: tbd
Good with kids: Yes
Commands:
---
October, 2014: I just wanted to send you an update on our Apollo. Well, has he ever blossomed!!! I think the Prozac was a good thing for him while he was transitioning into our home. He is now completely off of it and is as happy as can be. We just adore this guy and so happy to have him with us:) He goes to his toy box and pulls out toys to play with on his own, he can be in the yard by himself with his beloved balls for about ten minutes, he has started speaking to us in such a cute way, we play together all the time, we go on nice long walks (he still avoids other dogs), he lets us know when he wants to come in or go out and we can leave him loose in the house for a few hours at a time, with no problems. We have learned that he does not do well at doggy daycare so we have a dog walker who he loves and made made buddies with her dog, three times a week. He is doing very well in his confident canine class and will sit, down and shake on command and is very well mannered in a down stay during dinner.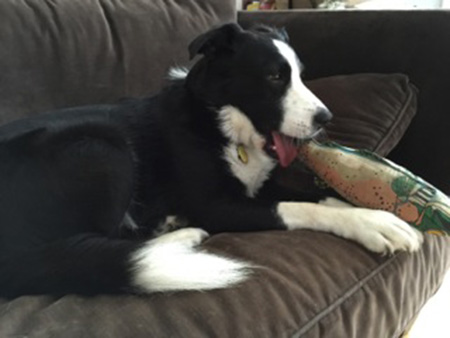 I saw that his sister was adopted! So fabulous, as I was worried about her. Hooray for Mackenzie!
---
Apollo was adopted in August, 2014. We've received the following updates from his new family:
"Apollo is doing better than expected:) he slept well, ate well and we took a nice walk this morning. He went in to wake Charlotte up and was all wagging tails for her. He joined us when I took her to school. We will be taking him to the dog park when we go pick her up. He is ignoring our cats but they seem to be cautiously interested in him:)"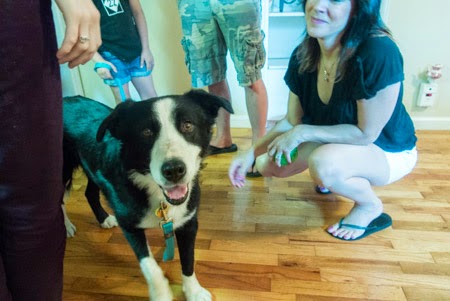 "Today went well except that a terrible storm came through with hail and the whole shebang. He was terrified and tried to hide, until I put the thunder shirt on him. He seemed to calm down quite a bit. I then put the scent collar on him and he calmed down even further and promptly fell asleep:) Yea!!!"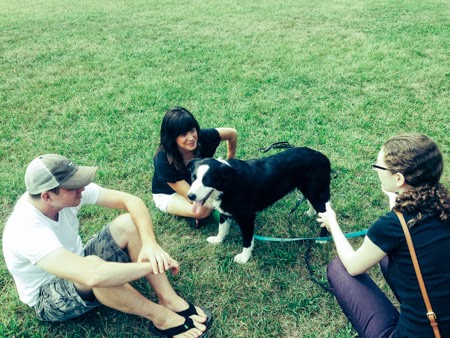 "Thanks so much for taking such great care of this sweetie. It must have been hard to let him go in a lot of ways. I would be a foster failure for sure."
---
Are you looking for a dog who loves to cuddle? A mellow companion who is content to be wherever you are? How about a well-behaved dog who greets strangers of all ages politely when they come to visit or when he meets them on walks? If these things are on your wish list, Apollo might be the dog for you!
Apollo's history is still a bit of a mystery. His owner surrendered him after being unable to care for him due to health reasons and he arrived very shut down right around July 4th; a scary time for any dog, especially one who just lost his entire family! He is very scared of any short and loud noises includes fireworks, gunshots, and clickers. When he gets scared, he usually hides behind our couch and emerges when he's feeling braver. Slowly, he's begun to show his true colors as a quiet, well-behaved people lover. He greets new people cautiously with a slow wagging tail and is happy as long as his person is around to give him his favorite head scratches and belly rubs.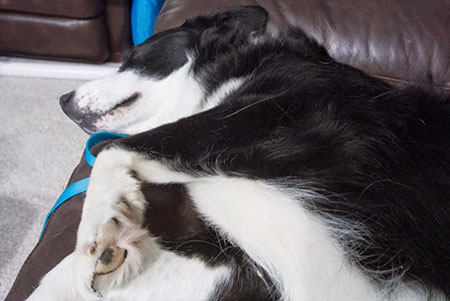 Apollo's laid back attitude along with his snout clearly shows the Lab part of his heritage. Neither treats nor toys seem to really motivate him too much and the only thing we've seen that gets him the least bit excited is training and playing with another dog. He enjoyed watching the other dogs play agility at the Highland Games. We think he wants in on the fun, but isn't quite sure how.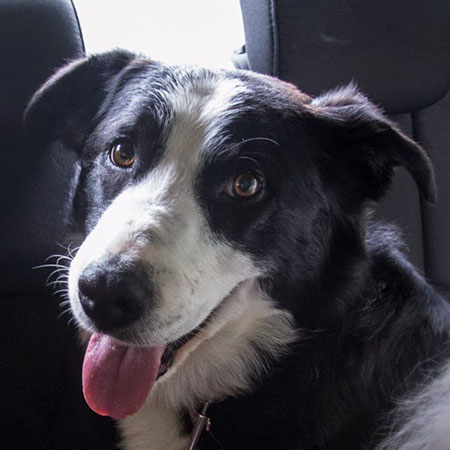 His overall demeanor, way he walks, and coloring though is classic Border Collie. He shows good body awareness and maintains a basic herding stance. He is OK on walks, but he can get spooked by reactive dogs so we are slowly increasing the length of his walks and exposure to new things. We are teaching him to come to either side of us and sit and he is starting to learn to love training and working for his meals and treats. It is great to see the light bulb come on as he figures out a new behavior that will make his person happy and earn him yummy treats.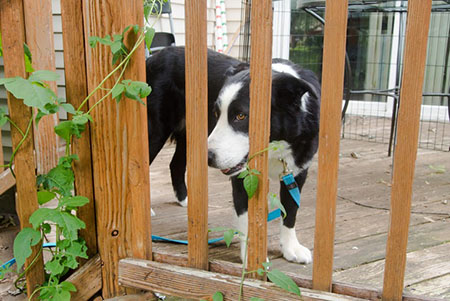 Apollo will do well at a home as an only dog or with a companion dog with similar energy level. He takes a while to warm up to other dogs so a slow introduction into the pack is best. He's learned to live with our resident dog under supervision and has even tried to initiate play a couple times. He's still very new at playing though so any fellow dogs should be willing to help teach him what's appropriate in play. We think the right dog could help him boost his confidence and provide additional comfort and companionship.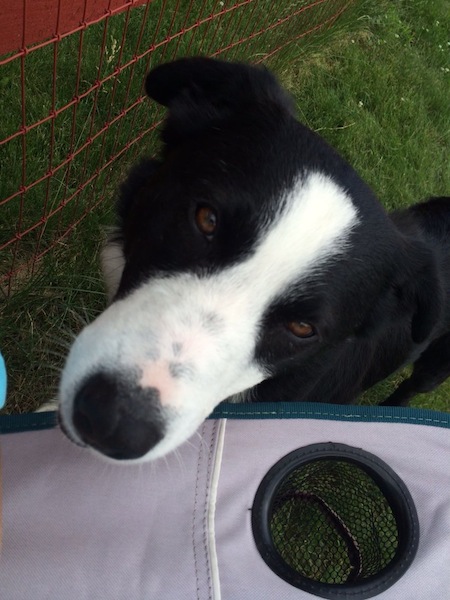 Our biggest challenge with Apollo is pretty severe separation anxiety, especially when put in a confined space like a crate or closed room. He has made progress in the time we have had him, but he will need someone to patiently help him gain the confidence he needs to spend the night or day alone. His anxiety is significantly lessened when he has more space to roam while alone, but he can still get into trouble and barks when he can't sense his people. Because of his containment anxiety, he is not crate trained, but he is starting to see his crate as a safe place when he is overwhelmed and he sleeps peacefully in his locked crate overnight in our room (though he would be happy to share a bed if that is your preference). We continue to play crate games to increase his comfort with the crate.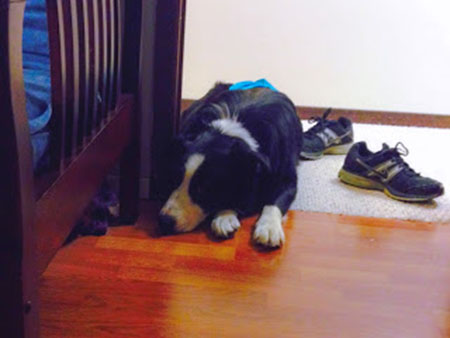 The best family for Apollo is a quiet one where he will have someone around most of the day--perhaps one where his owner works from home or can take him to work. His owner should be patient and positive in giving him confidence to be left alone. Any other dogs in the house should be of similar size and energy level.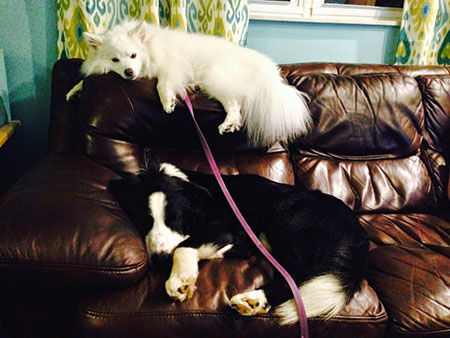 ---
Photos
---
Videos