Ash
Gender: Male
Age: 7 Years
Height/Weight: 20" / 45 lbs
House-trained: yes
Fenced yard required: No
Location: NW Indiana
Foster Home: Kathy P.


Crate-trained: yes
Treat-motivated: yes
Toy-motivated: no
Likes Car Rides: yes
Good with cats: tbd
Good with kids: No
Commands: sit, down, come
---
July, 2014: Just wanted to let everyone know that Ash has been a joy. Although he has been here only about a month, he has bonded so remarkably, it's like he has always been here.
Ash is a happy boy, he has his mouth open, relaxed and is within 2 feet of me at all times. He is very athletic, first up and down the stairs, so quick I am concerned he could hurt himself. I get a number of people thru the house weekly and he greets everyone at the front door with a gentle jump up, paws to the chest and turns his head to the side and looks everyone in the eyes. He is a good boy!
He is having a great time exploring the front and back yards. He has met the "pet" fish in the pond. My back yard has terraced sections that go up about 35 foot high. He enjoys running and jumping off the different sections. The front yard has more challenges for him because of the activity. The yard lines the street and the river across the street. There are bicycle riders, motorcycles, cars, trucks and the boats blasting down the river. Initially Ash was very reactive to the motion and noise; wanting to charge and growl. I am pleased he is getting used to the activity and has mellowed to a quick jump and bark.It is going to be a long time before I trust him to be off leash. He will get there, he is so smart.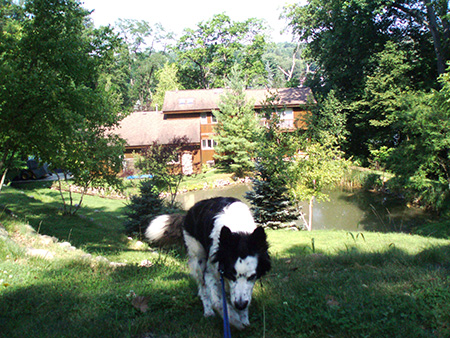 ---
Ash was adopted in July, 2014. His new dad writes: "Ash has been the sweetest boy. He takes a treat so slowly and gentlely; very unlike Jazzy that would strip the flesh from your fingers if you didn't retract them abruptly. He has been my shadow. He is very sight motivated, any car, truck, motorcycle, etc. that goes down the street in the front yard, he will jump and charge along the yard. He has not tried to run into the street. It will be a long time before I will trust him without a leash.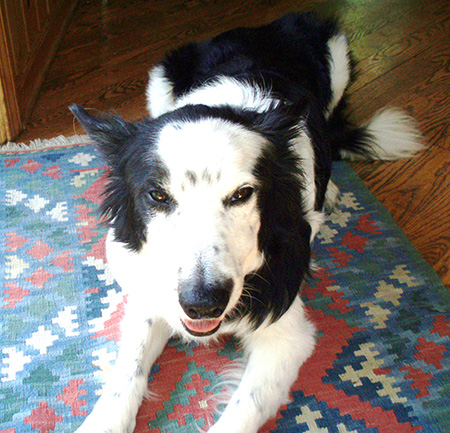 "Ash is a very smart and intelligent boy, he figured out that he can stand on the chair in the corner of the kitchen sunroom to see out to the driveway. Aspen has not figured this out, she still stands up and peers out above the sill. Not a very good view, I have suggusted she use the chair before but she doesn't get it. Yea for Ash, he naturally did it right away.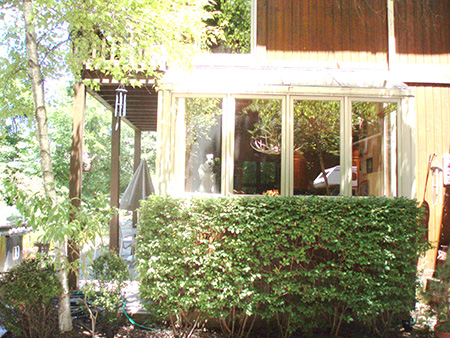 ---
Ash has a girlfriend!
---
Ash is feeling so much better and is really starting to show his playful, energetic side. He "discovered" the tennis ball and loves to play fetch (although he isn't great at always bringing it back he is learning). His fur has not all grown back but the bald patches he had are starting to fill in (see his new video for before and after pictures). We think we have narrowed down the skin issue to allergies with secondary infections. Taking an allergy pill each morning seems to be helping his condition so we are starting to slowly remove the other medications he is on.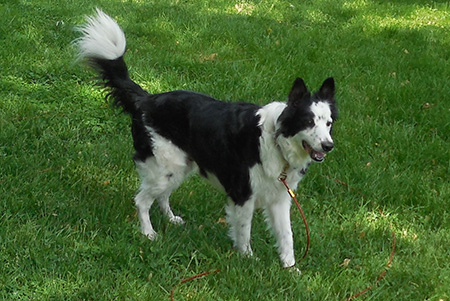 He is a work in progress with regards to his personality. Now that he is feeling better we are starting to see his true personality emerge. His background may have involved some sort of abuse so he gets nervous when unexpected things happen in his life. His ideal home would be one that is relatively quiet and routine. He will thrive with consistency and patience. Because kids provide unexpected noises and gestures he would do best in a kid-free home. A fenced yard would be ideal but not required.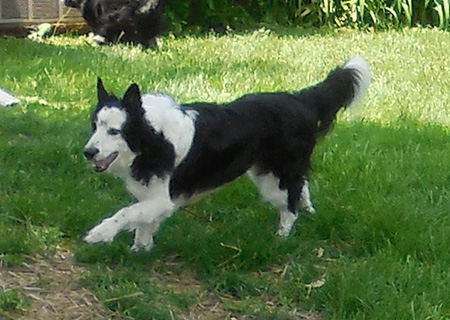 Ash is a complete love bug and would be happy to cuddle with his owner all day long. He meets people very well and seeks out petting from all new people. He gets along well with other dogs and really enjoys the game of "herd and chase." His big dark eyes look deeply into my own as if to say "please love me and I will be a very good boy."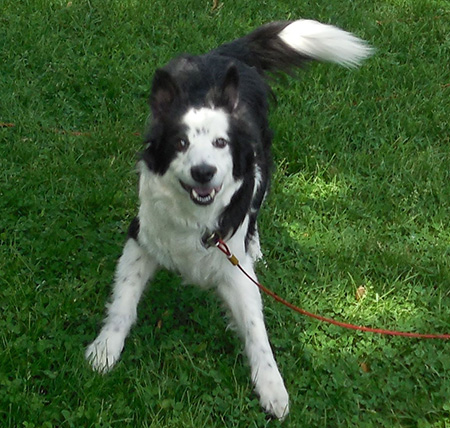 ---
Ash is back available for adoption. He was adopted out to a family that was a bit too busy for Ash's comfort level so has been returned. Ash is a very sweet boy who lacks confidence so does very well in a home with a more structured routine. While very little is known about Ash's history what we do know is that in times of uncertainty he becomes very fearful. We have been working on this issue and GLBCR recently had him evaluated by the Purdue Animal Behavior Clinic to help him work on his confidence and ability to deal with stressful situations. He will need someone that will continue on the plan set by Purdue. As part of the initial consultation Purdue is willing to work by phone and email for 6 months with the adoptive home so whoever adopts him will be able to take advantage of this great perk.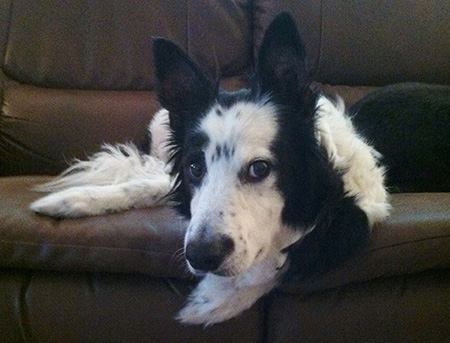 Ash has the kindest most soulful eyes of any border collie I have fostered. He loves people and will come to you with those eyes and just look at you as if to say "please pet me and love me, that is all I need in life." Because of his need for structure he would do best in a home with no children. He gets along with all dogs and would probably do best with a confident dog that can "lead" him and teach him. He gets on very well with my strong, confident dog and does not challenge her.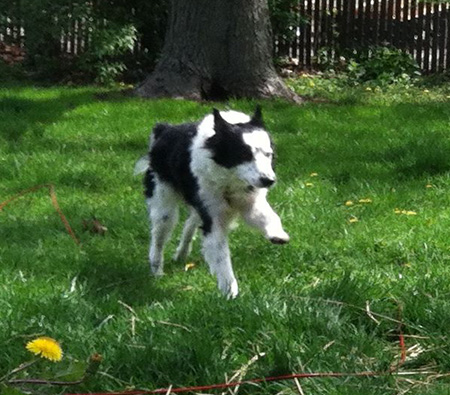 Ash is a tall, lean boy that has excellent house manners and a great off switch. He is happy to go for a daily walk and then just be a companion to his owner. His age is a benefit in that he no longer has the energy level of a younger dog but is active enough and Border Collie enough to still have the quirkiness that all border collie owners love. He is also a world class cuddler. He would be more than content to spend his time curled up next to you on the couch. So if you are looking for a companion level dog to keep you company then look no further; this sweet, gentle boy could be your perfect match.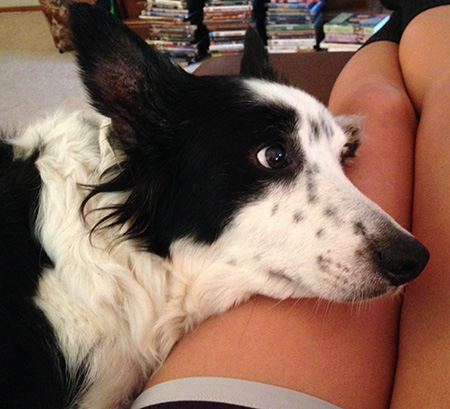 ---
Ash is feeling much better, his paws have grown hair and almost look "normal." He is getting very comfortable and is starting to show more playful behaviors outside. He has discovered the tennis ball and while he doesn't always want to give it back he is slowly learning that the game is more fun if I throw the ball for him. Now that the weather is starting to break and the snow has melted his comfort outdoors is increasing and he is showing some interest in other dogs. He has some herding instinct but not a long attention span although that is improving also.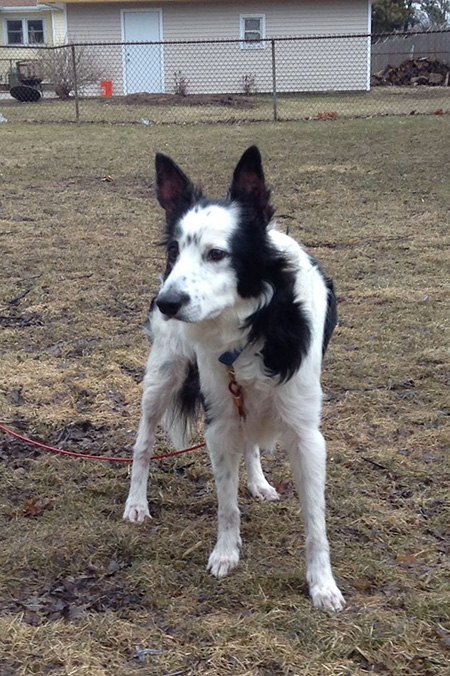 Ash is great with other dogs although he doesn't really want a playmate. He would also do well as an only dog so that he can soak up his human's attention. He is very much companion level and would be a great dog to just "hang out" with. He likes to explore and would enjoy long walks. He does prefer a quieter environment because of his naturally cautious nature.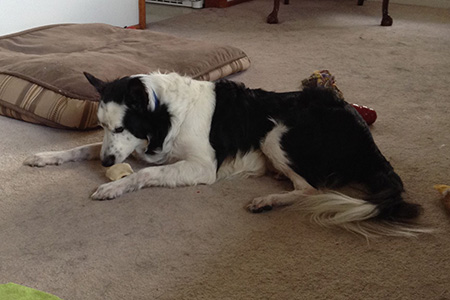 Now that he's feeling better he is looking for his forever home and would love to make his own spot on your couch curled up next to you.
---
---
So Ash has decided that during March Madness he will definitely be cheering for Indiana and not Kentucky. He is loving his new life and feeling oh so much better. Found as a stray in Kentucky he ended up at the local shelter where he was thought to be 10 years old. He was missing much of the fur on his body and feeling miserable. The hair loss was related to a yeast infection (often associated with food allergies) and is not contagious to other dogs. He has been on medication for 2 weeks now and while the hair has not yet grown back his skin is looking much better and he is feeling better. We are now estimating Ash to be somewhere around 7 years old. This is a great age because he still has a lot of youthful energy but has an off switch for those times that you just want to chill.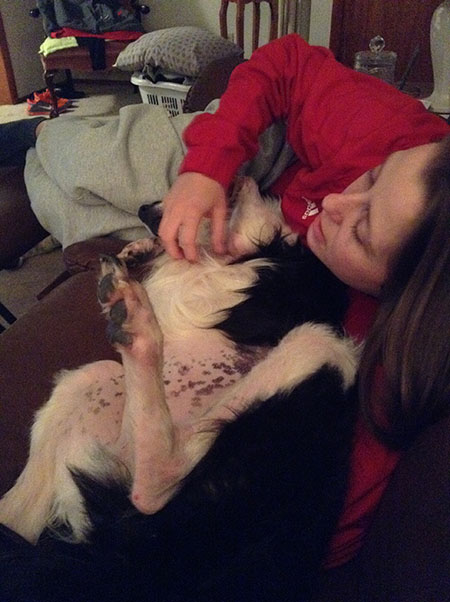 Ash is spunky and inquisitive and shows more and more of that side of his personality as he feels better and better. He would make a great walking partner and companion. He has discovered toys since coming into rescue and loves them all: bones, antlers, soft toys, tug toys and today he even picked up the tennis ball and was ready to go. He can be a little protective of his toys when we want to play fetch but as we work on "it's okay for mom to take the toy" he is getting better and starting to really understand and enjoy the game.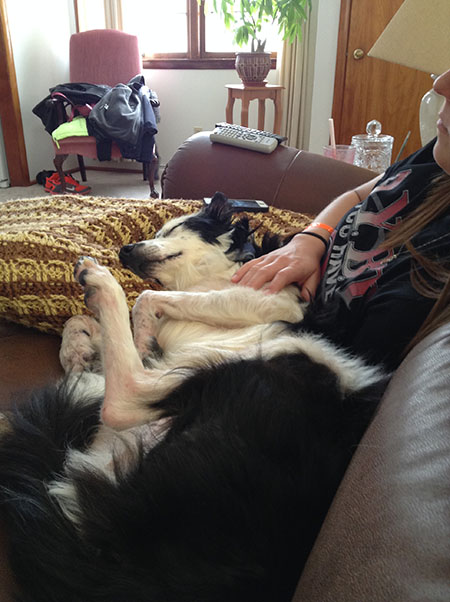 Ash wants nothing more than to crawl into your lap and be loved on. His biggest requirement in a home (in his mind) is you have to be a great cuddler. His favorite spot is curled up next to me on the couch, or preferably using me as a bed or pillow. He has had a rough handler in the past so needs someone that will give him gentle, consistent love and show him that people are a source of good. He is really starting to understand the human-canine bond but needs someone that will further his lessons in that area. He is very responsive to me and is my constant shadow in the house and checks in regularly with me when outside.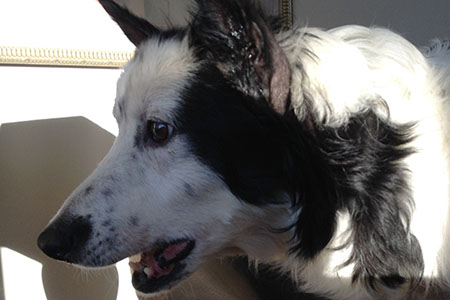 Ash is a mature boy looking for love. His gorgeous looks and loving personality will make him a popular guy now that he is available for adoption.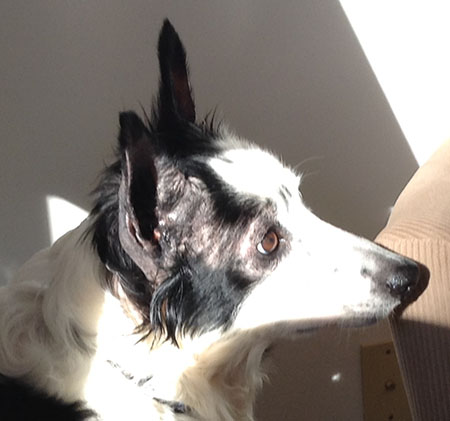 ---
Guess who...........
Discovered the toy box
Found squeaky toys
Is chewing bones
Is having add like a normal border collie
Thinks he should be a lap dog
Puts his head on mama's chest to ask for scritches
Yep, you guessed it......Ash!!!!!!!!!!!!!!!
Foster mama couldn't be happier.
---
Ash was a stray found in county and ended up at the county shelter. GLBCR got wind of this "senior" boy in the shelter with "some" hair loss. We brought him in and had a few surprises. The first is that he had hair loss over more than 1/2 his body. After multiple skin scraping and tests it was determined that he has a chronic yeast infection on his skin and ears. Yeast infections can be associated with allergies. He is now being treated with shampoos and medications but is expected to fully recover and grow all his hair back. His shelter picture is below.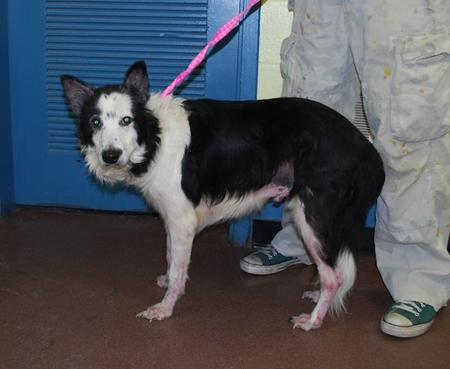 The second and best surprise is that Ash is probably not even close to the 10 years old that the shelter suggested. He is probably more in the 5-7 yo range. His haggard appearance with the hair loss and subsequent skin irritation makes him look older but his teeth are definitely that of a much younger dog.
We are still getting to know this boy but by first impressions he is a very gentle guy that just wants to be loved. It took him less than 12 hours to decide that his foster mom and her house were not a bad place to be. He has met multiple dogs and is curious about them and wants to investigat them but is very gentle when meeting them. He actively seeks out attention from people and will sit and gaze in your eyes as you are petting him.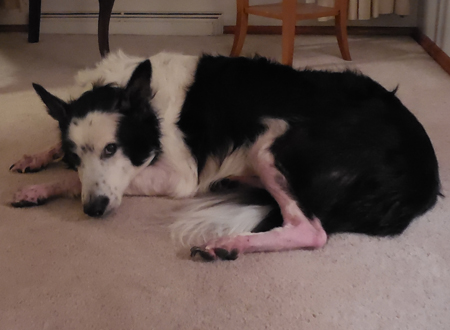 After 24 hours in foster care his tail is starting to wag and he is showing glimpses of his real personality. We are still getting to know this boy and will need to get his skin and fur much improved before he is available for adoption but stay tuned for updates on his medical issues and his personality. I bet we find out he is one fabulous dog.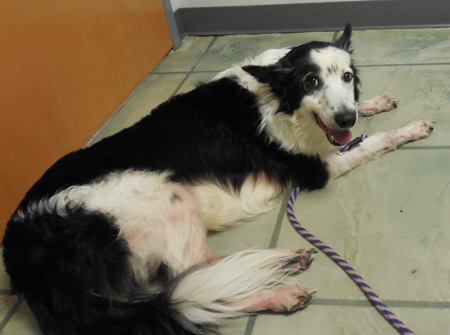 ---
---
Photos
---
Videos